15 Ideas To Spice Up A Boring Porch
Your porch can be the ideal place to host gatherings or spend time with the family. They offer an area to just sit and relax and enjoy the world around you. However, if you neglect this part of your home, it can seem less like an outdoor oasis and more like a drab deck. That's why it's so important to keep this area of your home fresh and exciting.
Not only can adding new furniture, slapping up a fresh coat of paint, or placing vibrant flowers around your porch make it seem livelier and more welcoming, but it can also add some value to your home. According to CNBC, your house's curb appeal offers a vital first impression to potential buyers, which could make or break the sale of your home. Even if you don't plan on selling anytime soon, it's always nice to have an outdoor area you are proud of. So here are some ways you can take your porch from boring to beautiful.
1. Add a colorful rug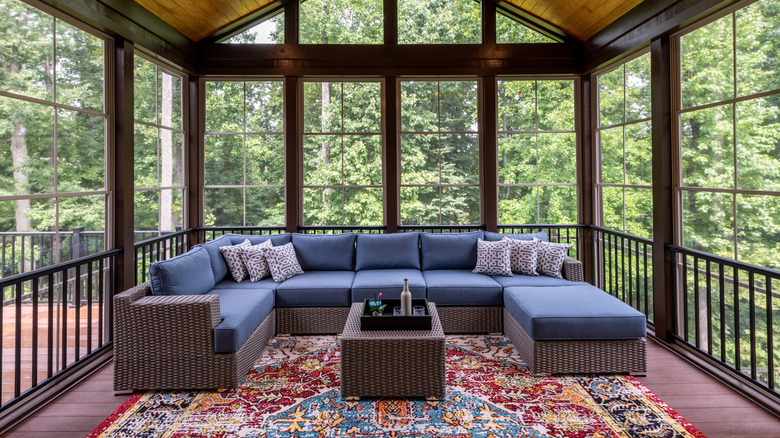 VIS Fine Art/Shutterstock
Sometimes all it takes to add a little color and comfort to your porch is to lay down a colorful rug. Not only can this be cozy on your feet as you relax in the fresh air, but the added pop of color and pattern can be a welcome piece of décor.
2. Porch swing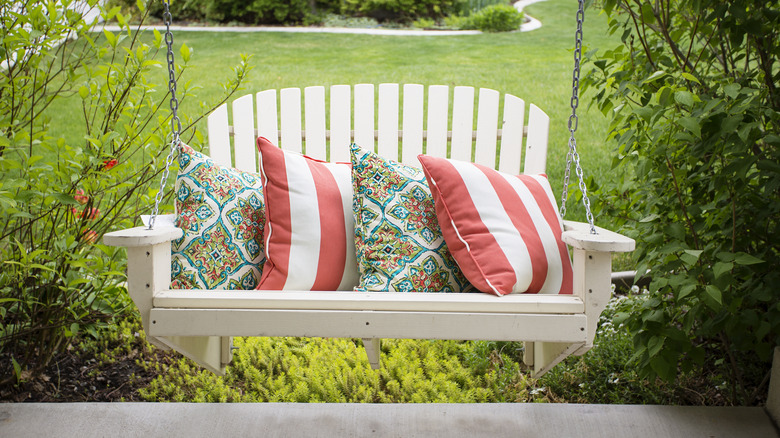 Brocreative/Shutterstock
For a delightful way to pass the time on your porch, try putting out a swing. You could spend hours swinging back and forth as you take in the scenery from the comfort of your home. In addition, a porch swing helps to create a playful atmosphere in the area and offers a wonderful spot to unwind.
3. Wicker furniture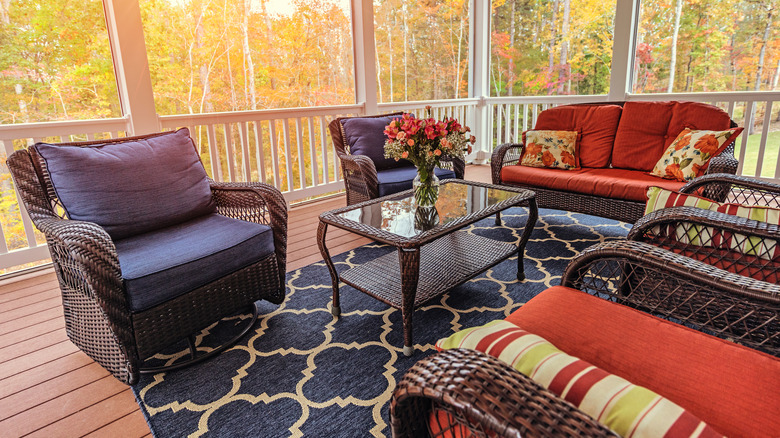 Stuart Monk/Shutterstock
If you're looking for durable, versatile, and attractive seating, then add some wicker furniture to your porch. The décor scheme is timeless, and the material can stand up to the outdoor elements. Also, depending on the color you choose, it could bring a much-needed element of style to your porch.
4. Potted plants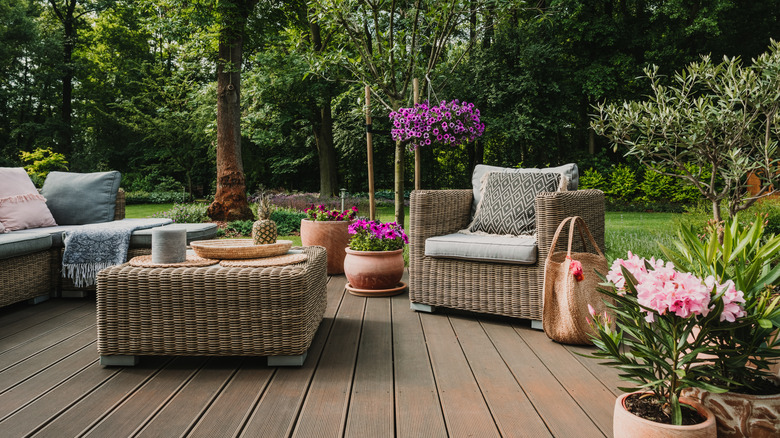 Photographee.eu/Shutterstock
Probably the easiest way to add flare to your porch is to bring in some potted plants. Not only can you play around with the style of pots they come in, but the choices of plants or flowers available are endless. Mix and match the types of plants to perfectly fit in with the rest of your décor.
5. Fireplace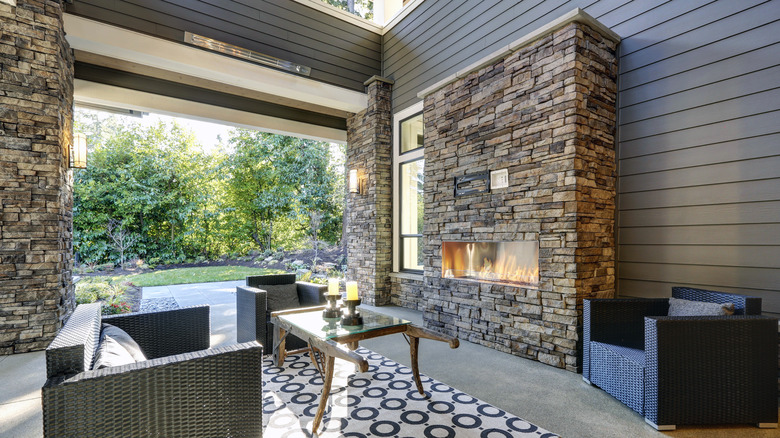 Artazum/Shutterstock
A fireplace is a sure-fire way to enjoy some pizzas on your porch. Whether you choose to have an intricate bricked-in fireplace, an electric wall unit, or even just a portable tabletop fire pit, it can definitely bring a sense of coziness so you can entertain all night long.
6. Lounging and dining area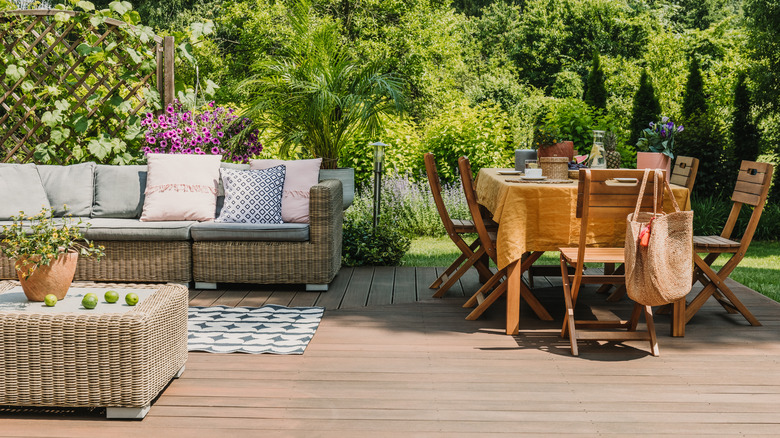 Photographee.eu/Shutterstock
Turn your boring old porch into the ideal spot for gatherings by making space for dining and relaxing. By simply popping in a small outdoor loveseat and coffee table plus a dining table with some extra chairs, you can make your porch area more suitable for entertaining.
7. Creative lighting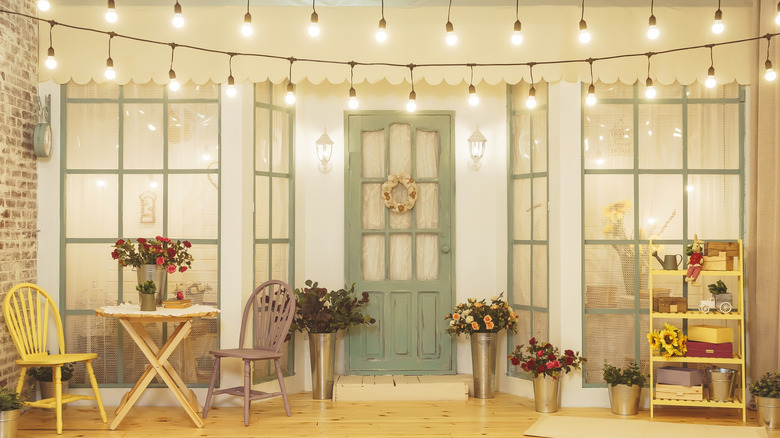 Yashkin Ilya/Shutterstock
Transform a drab porch into a delightful space with the help of creative lighting. Unfortunately, sometimes those pre-installed outdoor lights just don't cut it when it comes to illuminating your porch area. Luckily, there are plenty of string lights out there that would be ideal for brightening your porch and making it more welcoming.
8. Record player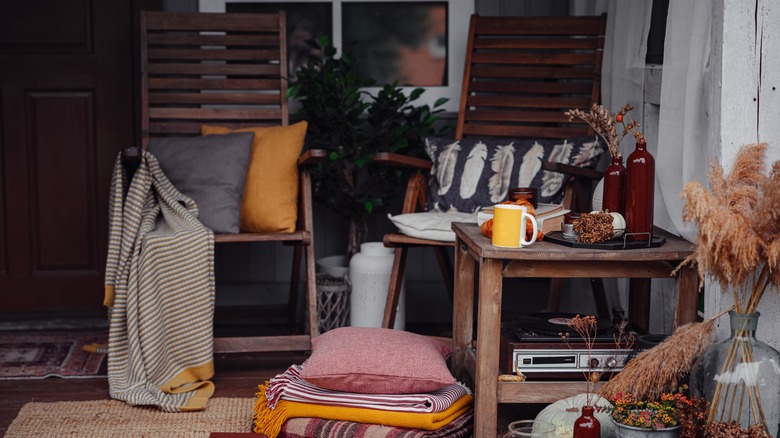 U__Photo/Shutterstock
Why keep your tunes confined to the inside of your home when you could be tapping your toes on the porch? A portable record player on the deck can be a great way to create a jamming atmosphere, especially if you want to drown out any possible noise from street traffic.
9. Lanterns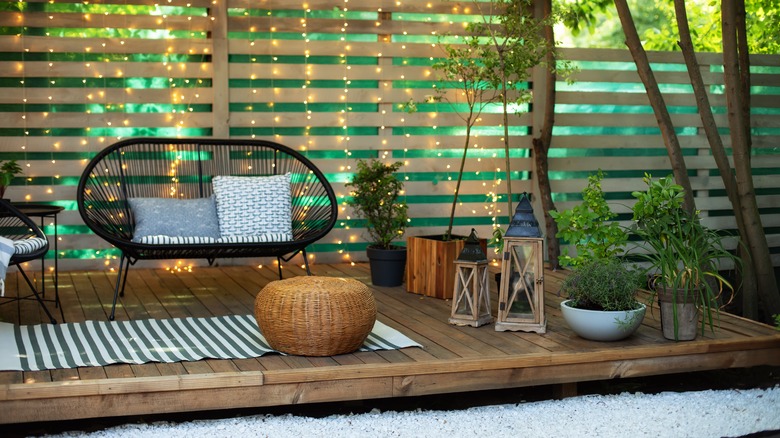 stock_studio/Shutterstock
Vintage lanterns can be a wonderful way to light up your porch and add some creative décor. Place them in corners, on tables, or hang them around your outdoor space to bring out some lovely mood lighting. The unique style of lanterns also has the bonus ability to look great both in the daytime and the nighttime.
10. Rocking chair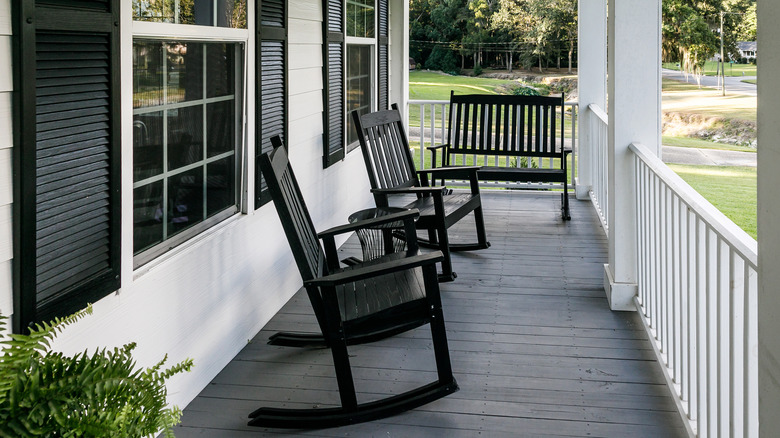 Ursula Page/Shutterstock
Rocking chairs have a classic quality to them that makes them an ideal choice for porch sitting. Not only can they be extremely comfortable, but they are very welcoming and can turn a stale porch into a relaxing conversation-worthy environment.
11. Pillows and cushions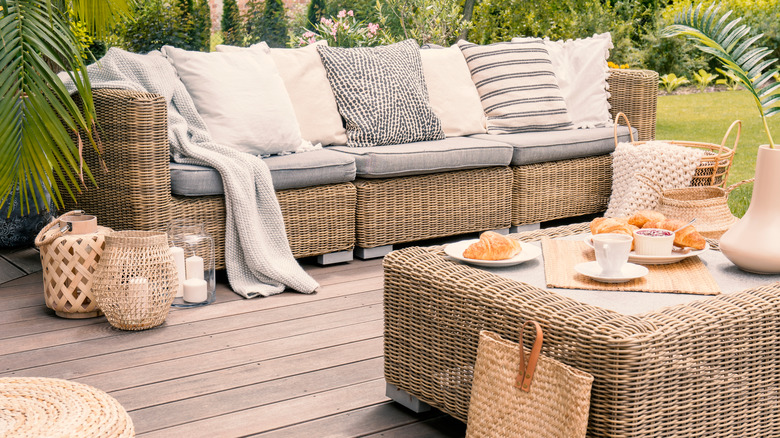 Photographee.eu/Shutterstock
A simple way to add some life to your porch furniture is to introduce some comfy pillows and cushions. Over time, some outdoor furnishing may dull in color because of exposed sunlight and regular wear and tear. However, new pillows and comfortable cushions can bring it right back to life.
12. Add some color
If you feel like your porch is looking a bit drab, it could mean it's time for a fresh coat of paint. This can come in the form of a drastic makeover like teal railings or lovely pink furniture. Either way, a new paint job is sure to make your porch area stand out.
13. Stain your deck
Constant exposure to the sun and elements can make the wood of your porch look dry and colorless. So before you pay a ton of money ripping up those planks, try treating your deck to a new layer of stain. This can help nourish the wood, add some extra protection, and make it look brand new.
14. Hanging plants
A nice collection of hanging plants can be just the thing to liven up your porch. Full-bodied ferns or bright, colorful flowers hanging from the sides of your porch can freshen up your area while filling in the negative space.
15. Wall décor
More often than not, the walls of your porch may be neglected when it comes to artistic décor. But popping up some artwork or even clever shelving ideas to display plants or vintage items can be the perfect idea to add some creative flair to the space.