Ideas On How To Create The Perfect Victorian Style Bathroom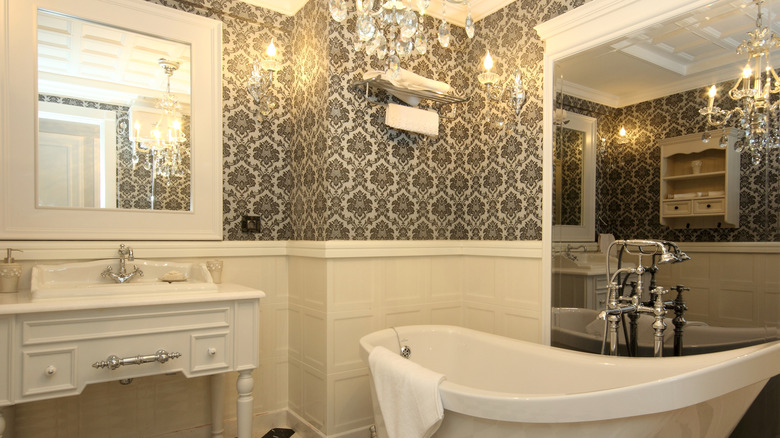 Arsel Ozgurdal/Shutterstock
The bathroom is an ideal room to try something new, as it's typically smaller and can easily feature some stunning appliances and decorations that won't fit in anywhere else in the home. And while today's homes have all sorts of design motifs, and while many opt for the most sleek and modern looks available, there's something to be said for the style and feel of vintage. 
The Victorian era was the start of indoor plumbing, according to SFGate, and wealthy households pulled out all the stops with stylish fixtures and beautifully finished wood. From simple to elaborate, if you are looking to renovate your bathroom, consider taking a cue from Victorian times. From claw bathtubs to brass sinks, there are features for every style and taste (via Victoria Elizabeth Barnes), and the end result will be a unique and aesthetically pleasing bathroom that will be a true talking point of your home. 
While Victorian bathrooms are stunning and unique, they might not involve a quick turnaround time. Many pieces can be ordered in home stores, but part of the fun of a vintage bathroom remodel is to spend your time finding applicable antiques and perfect accents. 
1. Gold and brass fixtures
While many modern bathrooms today have silver, chrome, or pewter metals throughout, this was not the case during the Victorian era; metal found in bathrooms during the 1900s would have been gold or brass. Warm tones were popular, and pipes were made out of cast iron. Not a fan of brass or gold? Try copper. 
2. Pedestal sinks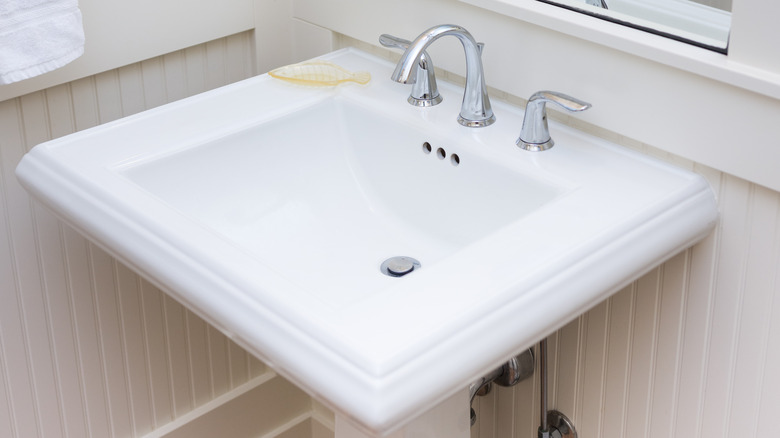 Brett Taylor Photography/Shutterstock
Pedestal sinks were incredibly common in Victorian times, and are regaining popularity today as they are found in the displays at many home stores. Their simplicity is inspired by the small spaces found in Victorian homes, as there wasn't much space for cabinetry or anything else that didn't serve a direct function. 
3. Vintage bureaus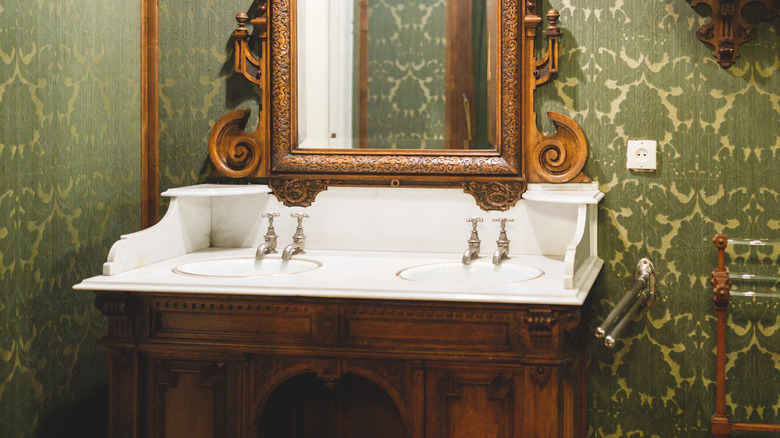 Mad.vertise/Shutterstock
Can't deal with the loss of storage space in the bathroom? There are other Victorian sink options. Try a marble or bronze sink set atop a vintage bureau. You'll still accomplish the look of the era while having space to stash your stuff. Choose a dresser with ornate design work for an even more authentic take.
4. Clawfoot bathtub
Clawfoot bathtubs are one of the most well-known features of Victorian bathrooms. Still popular today in many homes, this bathtub is sure to be the focal point of any bathroom remodel. Fortunately, today's models are more spacious than the originals. While they come in a variety of colors, a true Victorian bathroom will feature a classic white tub. 
5. Old-fashioned toilet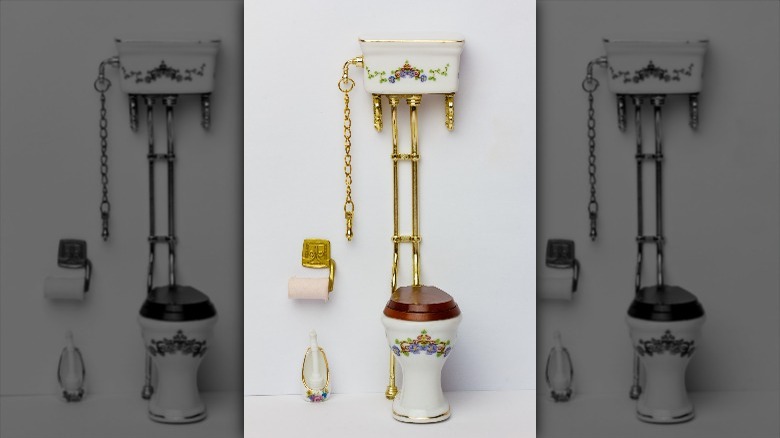 Maria-Kitaeva/Shutterstock
While installing an old-fashioned toilet might sound like a strange idea, they actually function very similarly to today's modern options. While tubs and showers have greatly evolved, the toilet has stayed relatively the same. The difference in a Victorian toilet is simply instead of a modern flushing lever, there's a chain with a decorative accent on the bottom.
6. Ornate antiques
tomertu/Shutterstock
Ornate antiques will really tie together your Victorian bathroom design. Look for elaborate mirrors, Victorian art, or trinkets for the shelves or counter. Estate sales and local antique stores are great places to find such treasures. 
7. Exposed pipes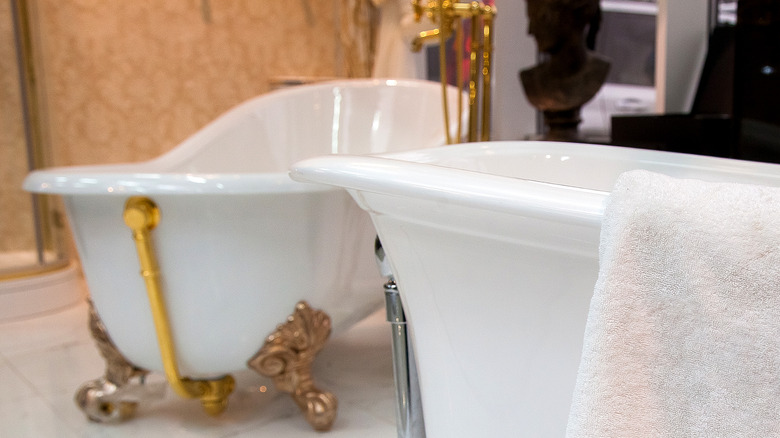 Bespaliy/Shutterstock
Pipes were often left exposed on the ceiling and walls in Victorian bathrooms. While this served more of a function back then, it can be an aesthetic enhancement today, even if the pipes in view are merely decorative. 
8. Colorful tiles
While they usually went with white or subtle colors for bathroom appliances, Victorian bathroom floors were another story. Floor tiles had dainty designs, bright colors, or a checkerboard pattern. Play up your new bathroom floor with a fun design that fits both the era and your own personality.