Executive Chairs Vs. Ergonomic Chairs: What's The Difference?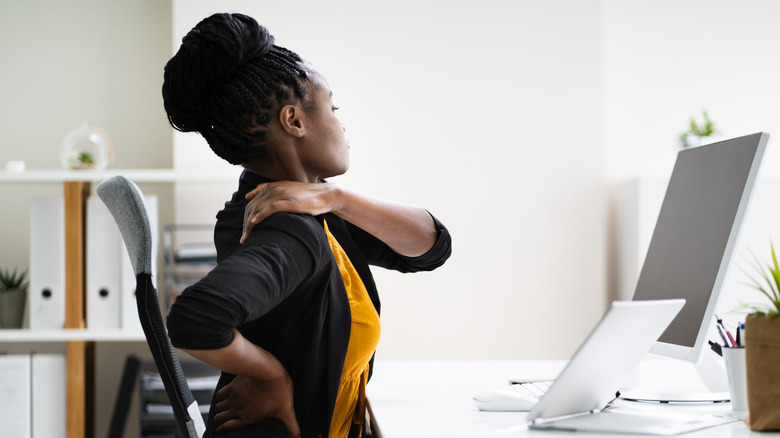 Andrey_Popov/Shutterstock
Today working from home is common. Having a functioning, comfortable home office adds to daily productivity by creating the right office environment that best fits the user. However, whether in the office or working from home, and of course, depending on your job description, some of us spend most of the day sitting while working. Having a comfortable chair is paramount to making it through an eight-hour day. 
If you find yourself being one of those people who experience aches and pains in the neck and shoulders throughout the day, it might be time to upgrade to a better model chair that offers more benefits.  Making the right choice in an office chair is personal, as there are chairs made for different heights and builds which offer more of a custom fit. Being comfortable throughout the workday is important and allows us to give our best to the task at hand.
In comparing executive chairs to ergonomic chairs, the sizes of executive chairs are larger and have a more distinguished, luxurious, and comfortable appearance, and are certainly a sign of prestige and status, while ergonomic chairs are made specifically to avoid pain and to provide the most comfort physically, based on the body's natural motion. The appearance of these two chairs is often quite different.
What are some good ergonomic office chairs?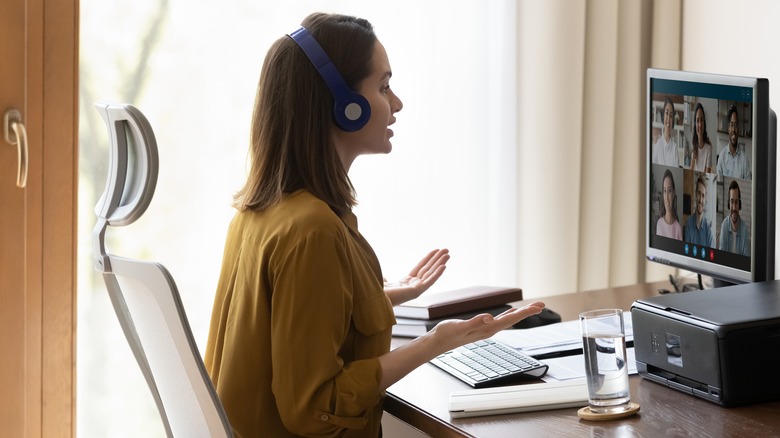 fizkes/Shutterstock
When shopping for an ergonomic chair, some of the chairs have an unusual design, which at first look may deter some from purchasing.  In terms of appearance and price of ergonomic chairs compared to executive chairs, Fully.com has an ergonomic chair that will make you do a double-take. Known as the Capisco Chair by HAG, this chair is described on the website as being inspired by the movement and form of the body. This particular chair has a starting retail price of $984 and is described as being 90% recyclable and made from 50% recycled material by the company. Interested buyers are offered a 90-day risk-free trial on the website. 
According to one company called All33, their chair called BackStrong C1, designed by a chiropractor, is described as a choice for healthy seating, and because of the design and patented technology, it puts the user in the position to perform better throughout the workday. According to the company, the chair is designed as such that the users' movements are not restricted while sitting. The listed benefits of the ergonomic design, as stated by the company, are to enhance well-being, reduce pain, and to improve posture. Most importantly, they state the chair is designed to provide relief from neck strain and to improve breathing. BackStrong C1 starts at $799.00 with a 60-days guarantee. 
What are some good executive office chairs?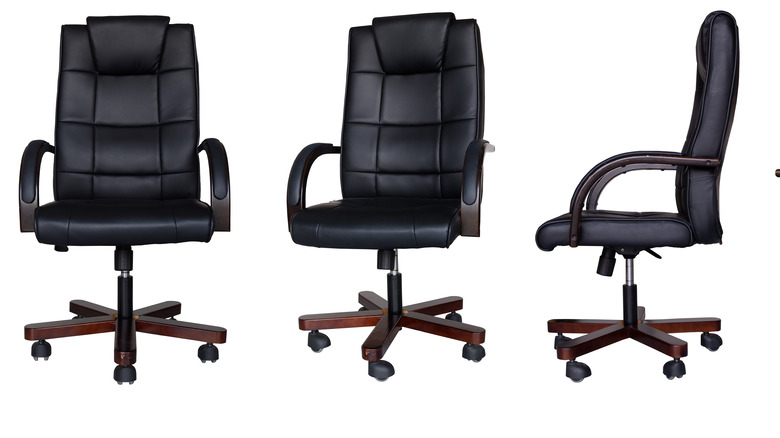 Nostagrams/Shutterstock
When looking at executive office chairs, they clearly make a statement. Usually large, made from genuine leather, though sometimes faux leather, cushy and overpowering, it would seem they are the choice of executives because of their power positions or just general comfort. According to National Business Chairs, which is a vendor of both ergonomic and executive chairs, the executive chair offers a luxury experience and appearance. 
Executive chairs, on the other hand, offer some adjustments to height and recline, have the appearance of status and comfort, and are beautifully crafted. Price-wise I found executive chairs starting at $239.00 and ranging up to $999.00 though they could certainly go higher in price based on details and design. The higher-end chair for $999.00 on their website is a leather wing-back executive chair that offers exclusive features, including solid wood, brass nailhead trim, and thick foam padded seats, which executives may find appealing.