15 Subtle Ideas To Incorporate A Space Theme In Your Home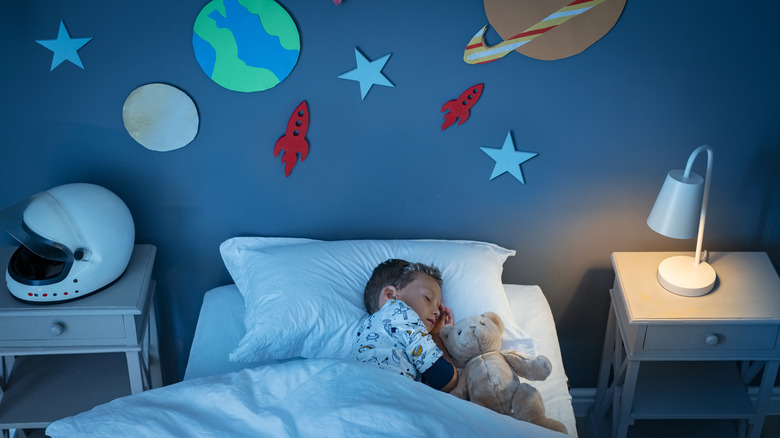 Rido/Shutterstock
Themes provide a great foundation for interior design, and a popular one to incorporate into your home's overall style is space. Whether you want to sprinkle in some subtle design elements or create an eye-catching display of décor, a space theme is whimsical yet modern and is sure to please everyone in your household. 
When you think about space, you probably conjure up images of constellations, the planets, the moon, stars, or even spaceships and space travel, points out Lushome. All these ideas are perfect for incorporating into a space-themed home design, and you can do so in a creative way to fit your specific style. Although space-themed touches are often featured in children's bedrooms, they can also be used throughout your entire home. Incorporating light fixtures that resemble objects in space, such as moon lamps, or hanging space art on your walls are wonderful ways to tie in this theme. Read on for some additional design ideas.
Space themed kids room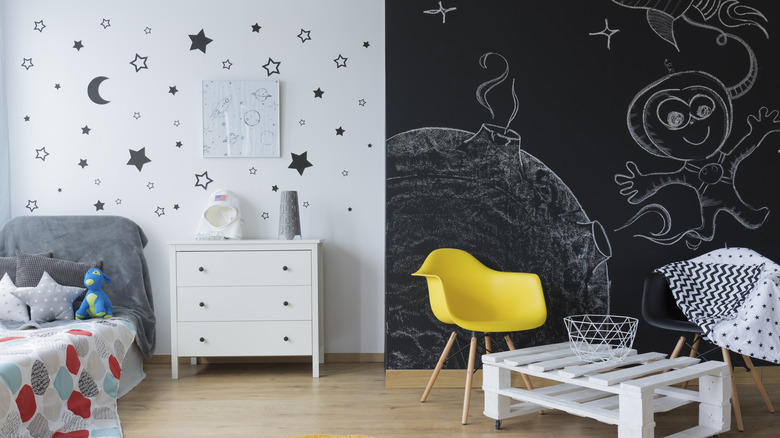 Photographee.eu/Shutterstock
One of the easiest ways to incorporate a space theme into your home is to include space-related elements in your children's bedrooms. This allows you to design from a child's point of view and get creative, leading to a really fun area.
Sunburst mirrors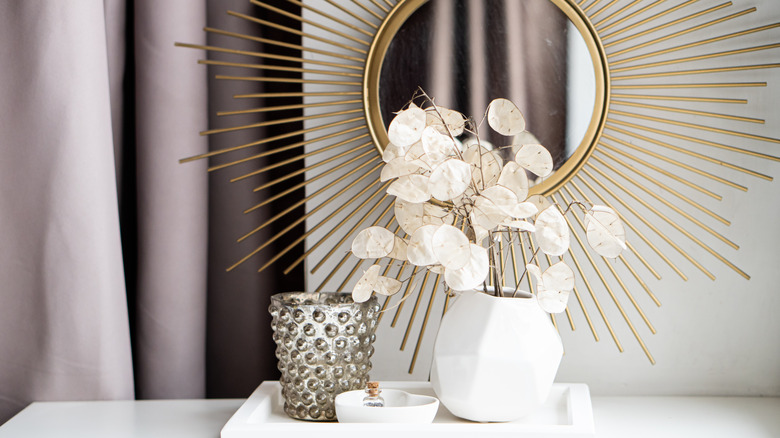 Daria Minaeva/Shutterstock
A space-related object that you can display in just about any room is a sunburst mirror. These mirrors can be small or large in size while bringing sophistication to the space.
Dark colors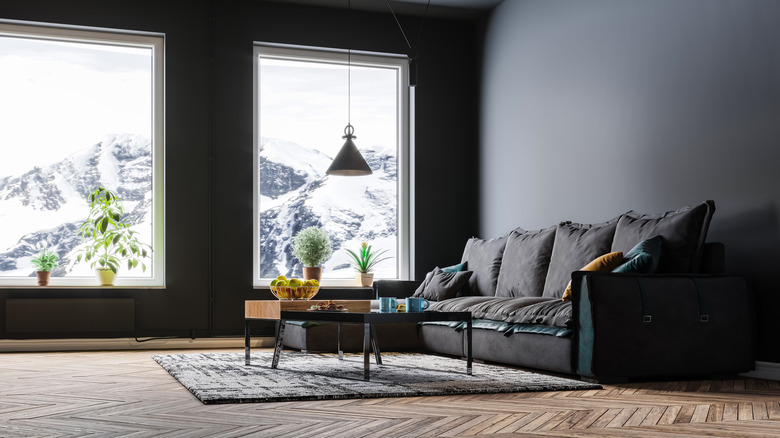 mixphotos/Shutterstock
Inspired by the night sky, painting your home a dark color and including dark-colored furniture is another way to tie outer space into your home. This design is an understated way to incorporate space without being too obvious.
Moon wall art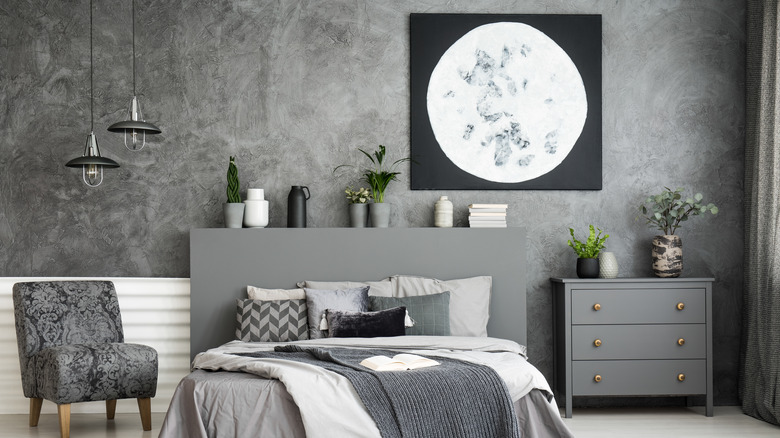 Photographee.eu/Shutterstock
Wall art is an excellent way to tie any theme into your home décor. This moon painting is eye-catching while adding texture and light to the space.
Moon neon light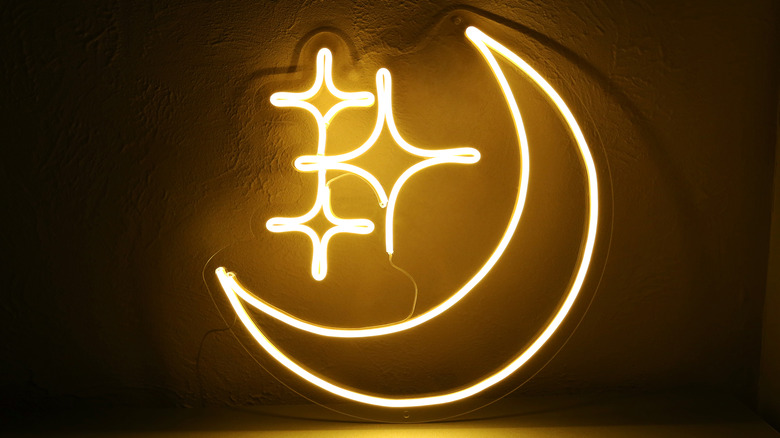 Iana Surman/Shutterstock
Neon lights have become more common in home design, making them a great way to expand the theme of a room. This moon and stars neon light can be used in a bedroom, living room, or kitchen.
Decorate with globes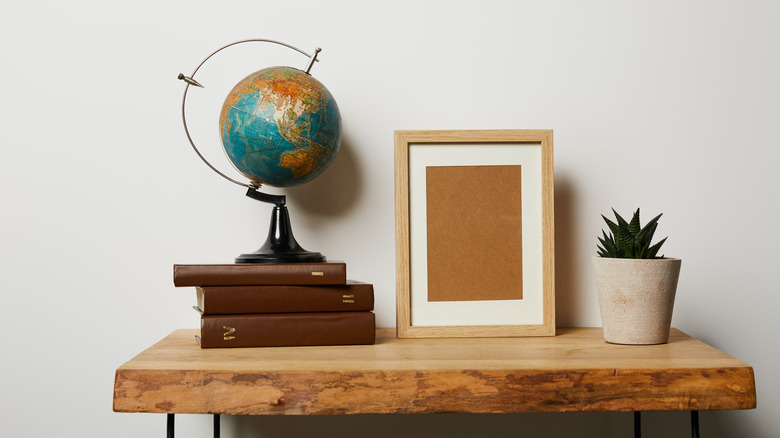 LightField Studios/Shutterstock
Globes can fit into many design styles. They also happen to be ideal for a space-themed home.
Star patterned bedding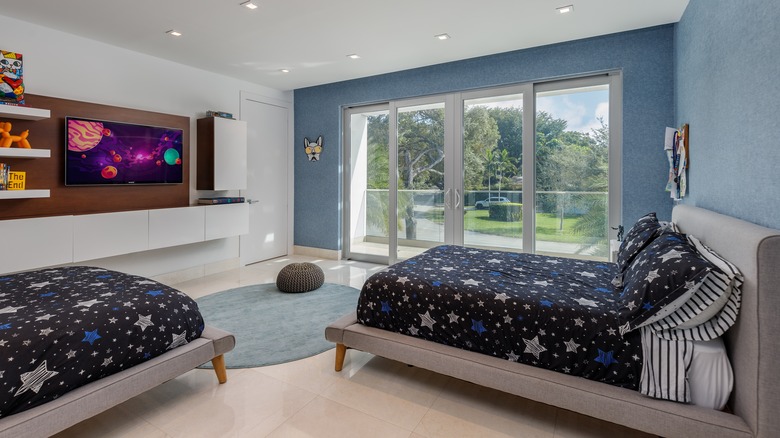 Cassanas Photography/Shutterstock
This bedroom is a perfect example of how you can use a subtle space theme in a bedroom without it looking overly childish. If you are designing a guest room but want a space theme, using star-patterned bedding is a great way to achieve that look.
Watercolor moon phase art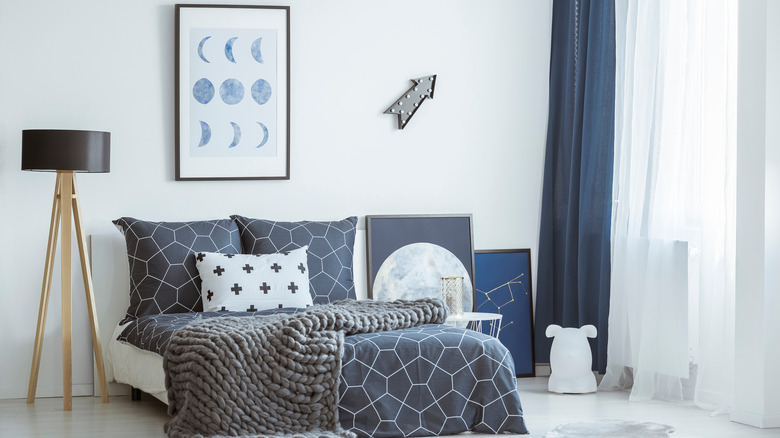 Photographee.eu/Shutterstock
Space-themed art often features paintings of the phases of the moon. Simple watercolor prints such as this one can be found in a wide range of colors.
Space knick-knacks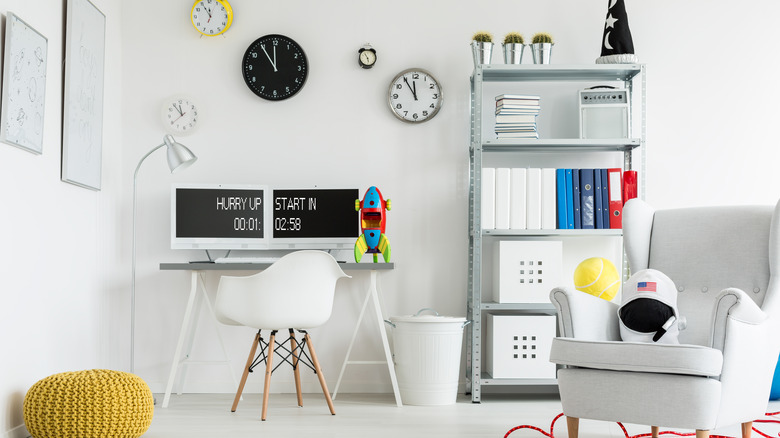 Photographee.eu/Shutterstock
Knick-knacks are another way to bring outer space into your home. This home office features a rocket ship and some other space-related items.
Galaxy lamp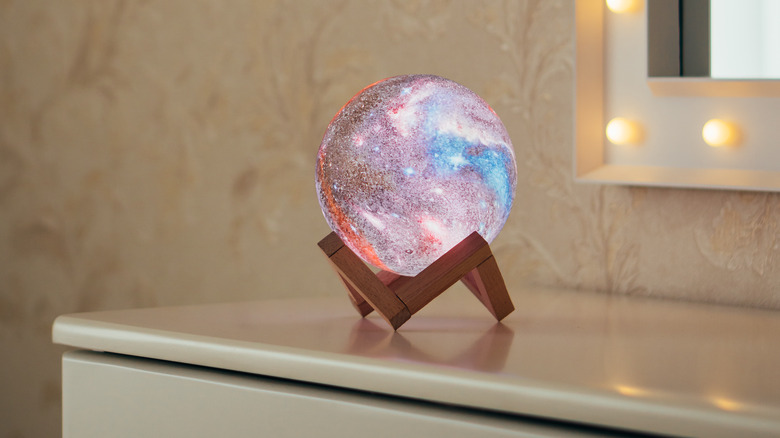 Yarmolovych/Shutterstock
These galaxy lamps have become popular in recent years. They are a beautiful way to incorporate a space theme into a room while also adding a fun lighting element.
Space desk décor
Followtheflow/Shutterstock
Space décor can take a variety of forms. For example, this desk features some constellation pieces and geometric elements that perfectly enhance a space-themed design.
Moon lamp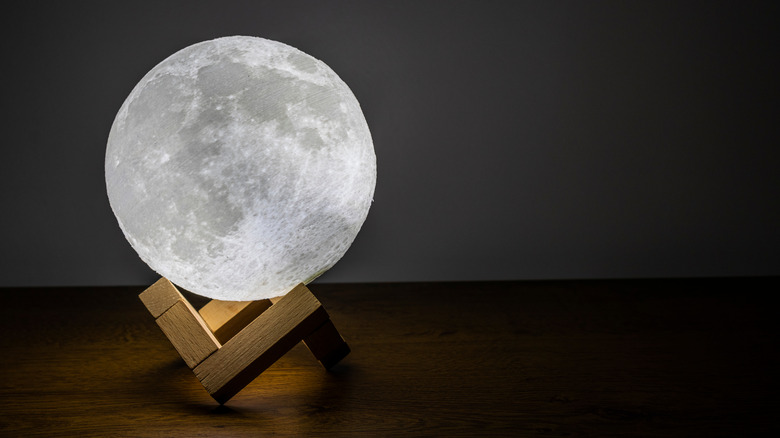 cesarvr/Shutterstock
Similar to galaxy lamps, these moon lamps give off a soft, warm glow that will make any room feel cozy. You will feel as if you've taken a trip to outer space yourself.
Galaxy art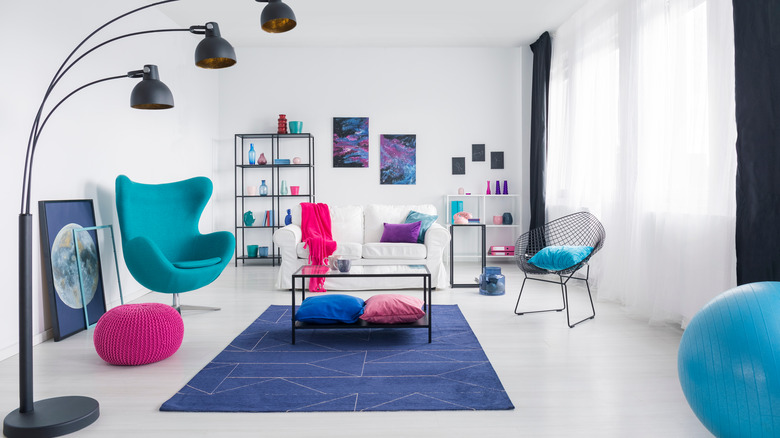 Photographee.eu/Shutterstock
With the rise in popularity of the galaxy theme, the colors pink, blue, and purple are often featured together in art and home décor. This room includes galaxy wall art and matching colored décor for a classy space theme.
Space pillows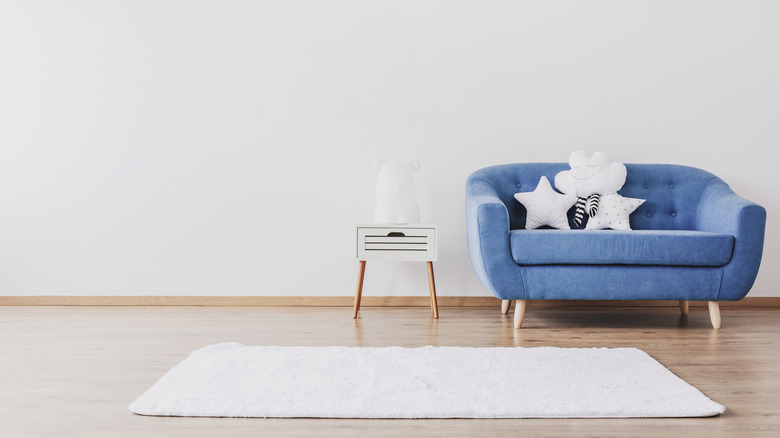 Photographee.eu/Shutterstock
Throw pillows are a wonderful way to change the feel of any space with little effort. These star-shaped pillows immediately bring out the outer space aesthetic in this room.
Functional or decorative telescopes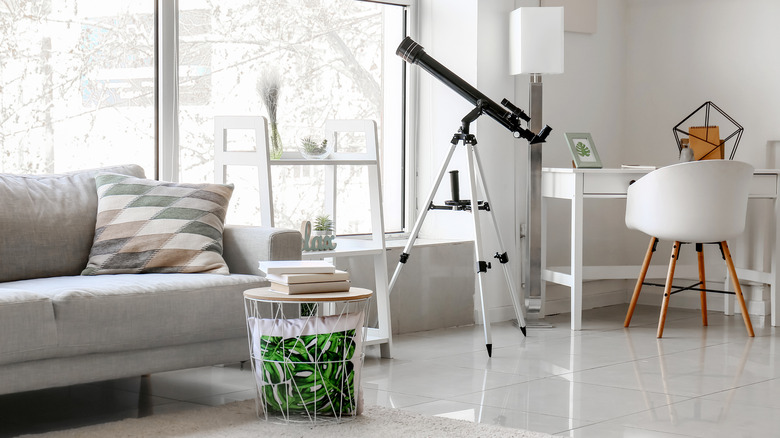 Pixel-Shot/Shutterstock
Telescopes are a popular feature included in space-designed homes. You can set up a functional telescope for your own use or a decorative one simply to add to the theme.