40 Ideas To Bring The Beach To Your Bedroom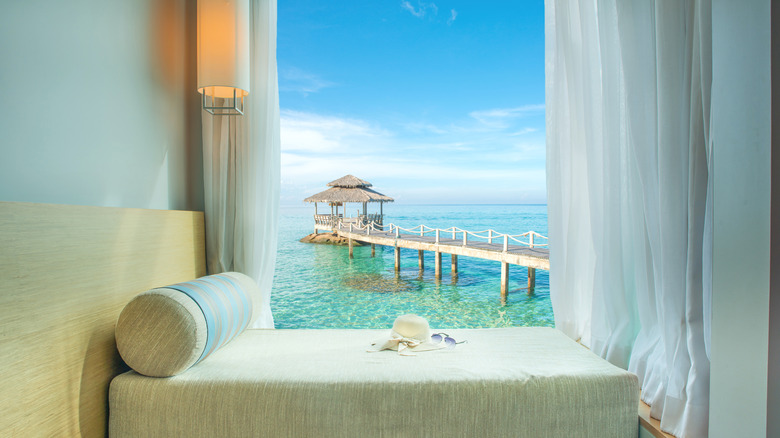 Travelpixs/Shutterstock
If you love the beach as much as we do, this next bedroom inspiration will truly amaze you. We can't get enough of the allure of the ocean's waves and beautiful colors, the beautiful light color of the sand, and those incredible candy-colored sunsets. It's no wonder why people love an ocean aesthetic and may feel inspired to bring beachy decor into the bedroom.
As The Spruce points out, there's no need to go over the top either. The outlet says that it can be easy to bring the beach into your room and capture the feeling by showcasing distressed wood, choosing natural textures, and featuring artwork that features fish, seashells, coral, sea horses, and an octopus to pull the room together. Southern Living also shares a slew of design inspiration to pull together the perfect coastal retreat, from creating an ocean-like bedroom to designing a tranquil space. Keep scrolling to get inspired with ideas on bringing the beach to your bedroom.
A modern bedroom with a view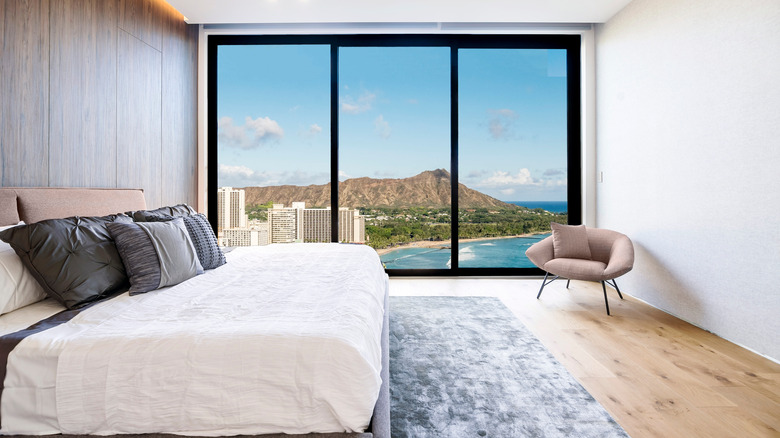 MDV Edwards/Shutterstock
These floor-to-ceiling windows give beautiful views of the city skyline and the incredible beach.
Light teal walls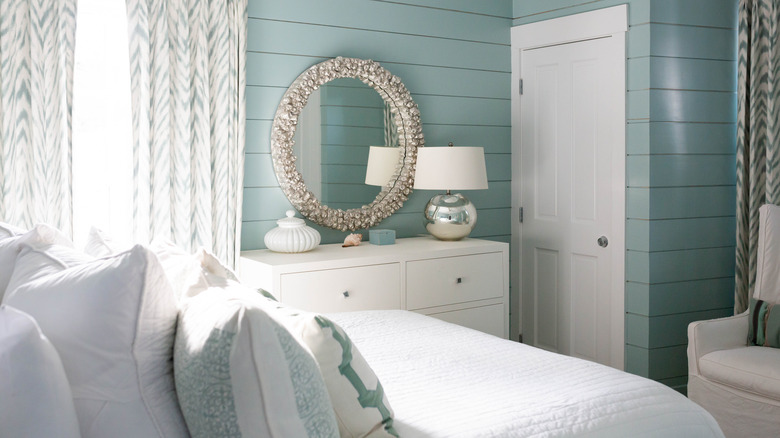 Karen Culp/Shutterstock
These light teal walls evoke a relaxed feeling we get at the beach, without the sand all through your bed.
Show off your surfboard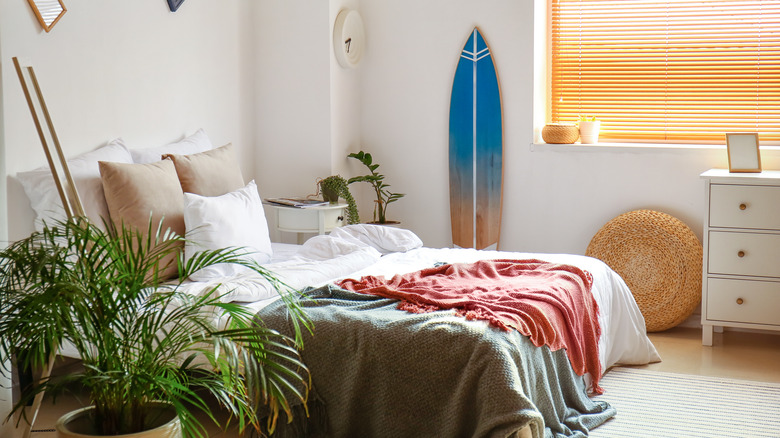 Pixel-Shot/Shutterstock
Nothing says the beach more than surfing, so show off your love for the sport and make it a focal point of the room.
Into the blue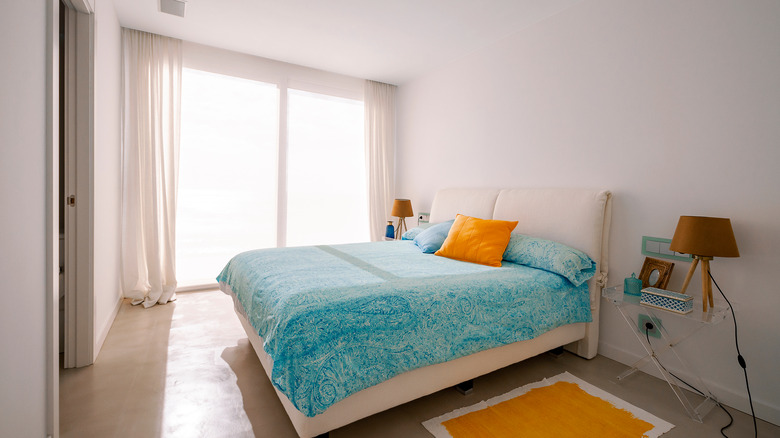 Stefi Panchesco/Shutterstock
The light blue bedding on this bed matches the ocean perfectly, and we love the orange accents that make this room pop.
Beach views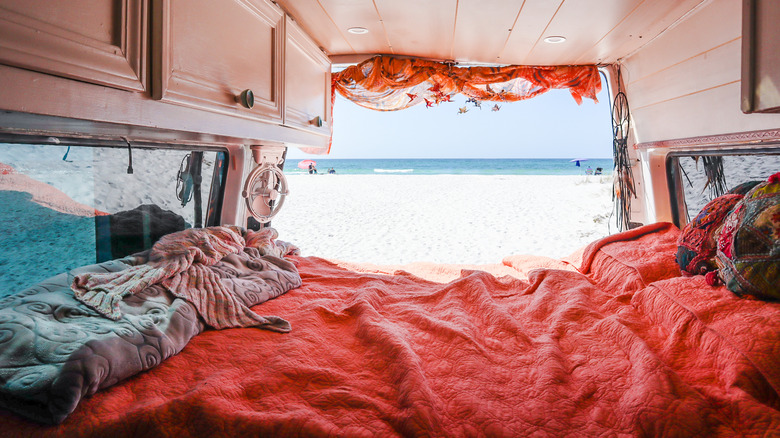 Abigail Marie/Shutterstock
If you have an RV, you can head to the beach, which is the main point of inspiration. We love the orangey-red bedding that reminds us of coral.
Surfer art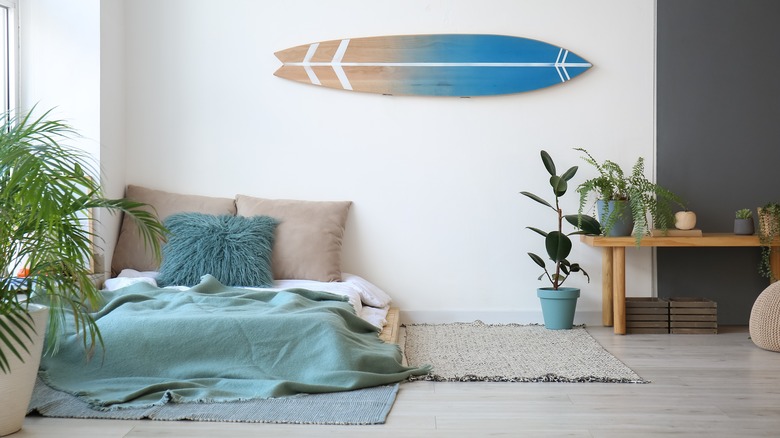 Pixel-Shot/Shutterstock
Hang a new or vintage surfboard on your wall as it makes a beautiful art piece for your beach-inspired look.
Crisp white and blue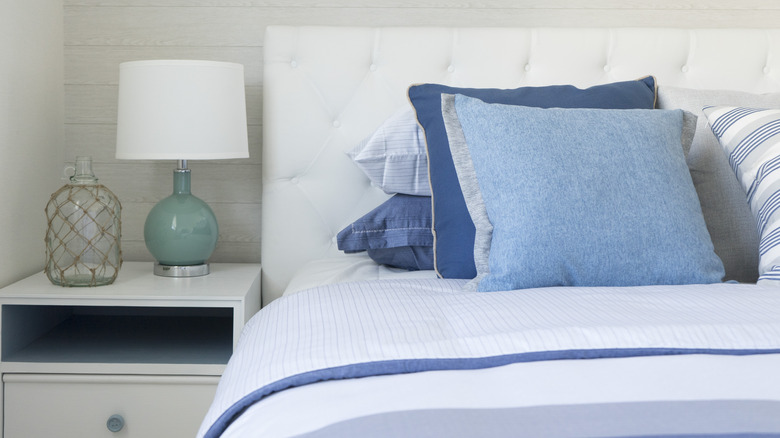 ben bryant/Shutterstock
White bedding and blue pillows in several shades of blue make this room have a beachy vibe.
Beautiful coral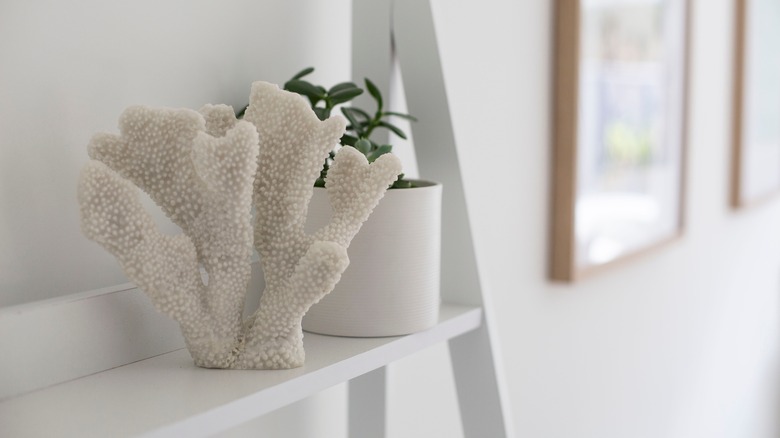 Amy Richmond/Shutterstock
Bring the ocean into your bedroom by placing a large coral on a shelf to remind you of your travels.
A variety of blue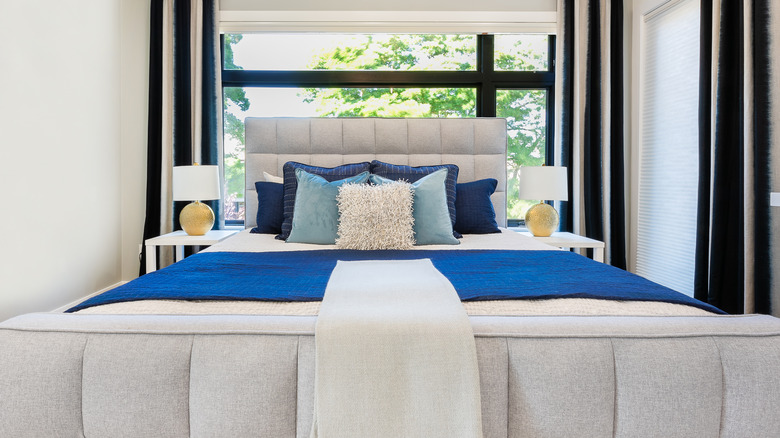 Sheila Say/Shutterstock
Create a gorgeous bed that rivals a hotel with several different colors of blue pillows inspired by the hues of the ocean.
Boho beachy vibes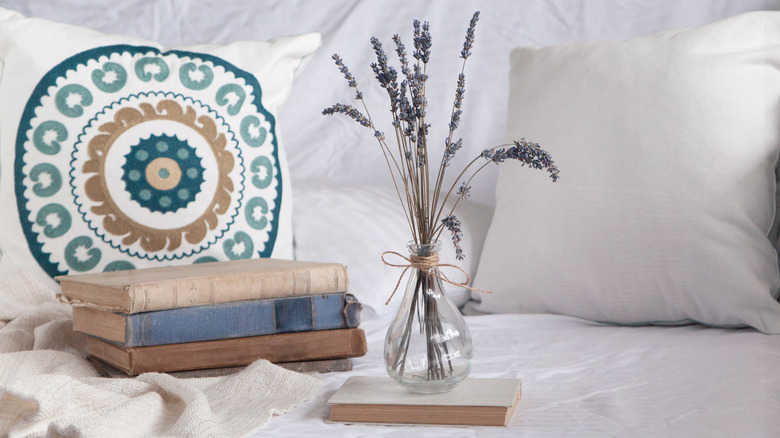 Tatyana Korotun/Shutterstock
Boho cushions in shades of blue and tan evoke images of the ocean and would look perfect on clean white bedding.
Cottage bedroom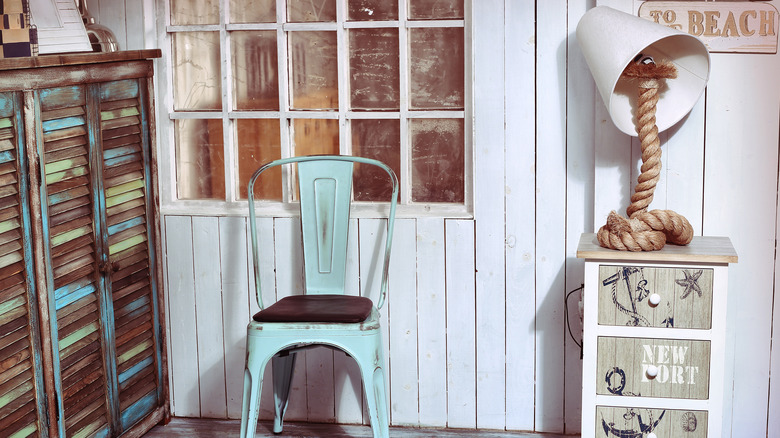 Lapina/Shutterstock
Shiplap walls, a light turquoise, and a lamp accented with rope really bring the beach aesthetic to life.
A beachy corner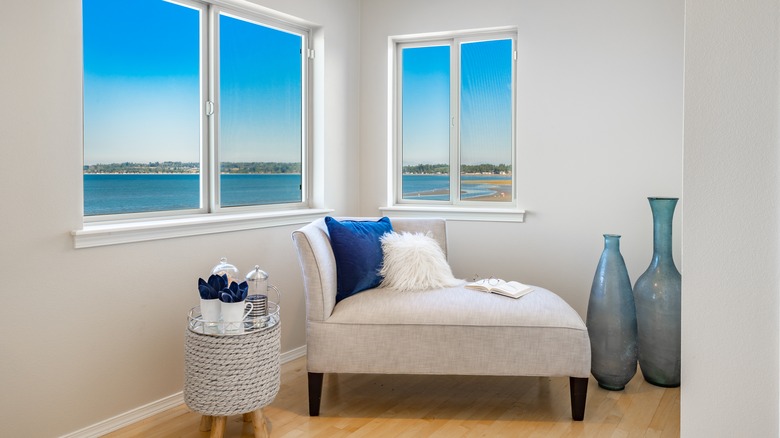 Sheila Say/Shutterstock
Place a stunning chaise lounge in the corner, preferably in front of windows with an ocean view.
Display an assortment of shells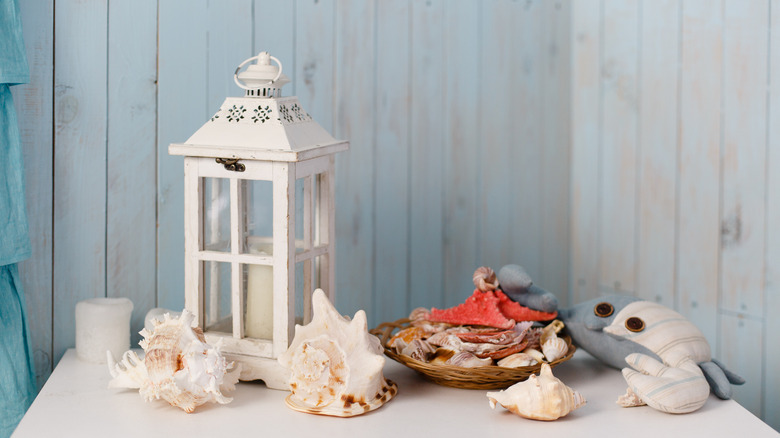 JasminkaM/Shutterstock
On your next tropical trip, make it a point to walk the beach and find shells that you can display on a dresser.
360-degree views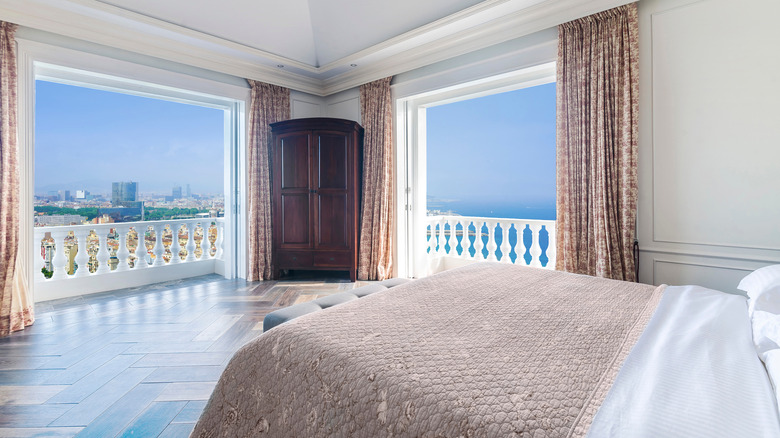 MDV Edwards/Shutterstock
Gorgeous water views look immaculate in this light-filled room. The neutral bedding and drapery have us looking directly outside to the ocean.
A beachy seating area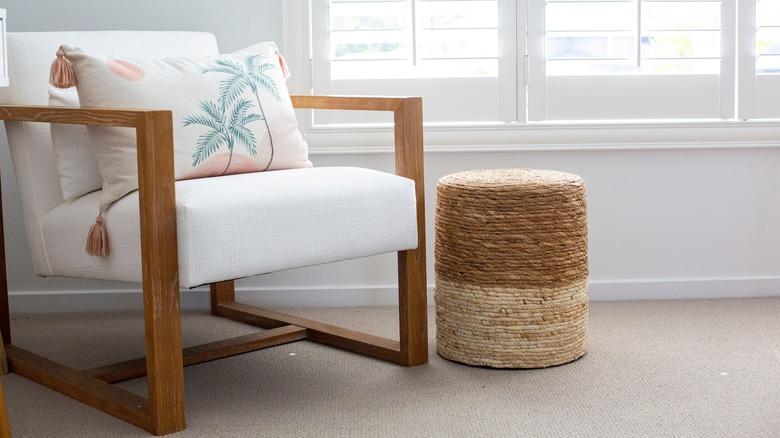 Amy Richmond/Shutterstock
A white chair with a palm tree pillow is the perfect seating situation in the corner of your beach-inspired boudoir.
A minimal soothing design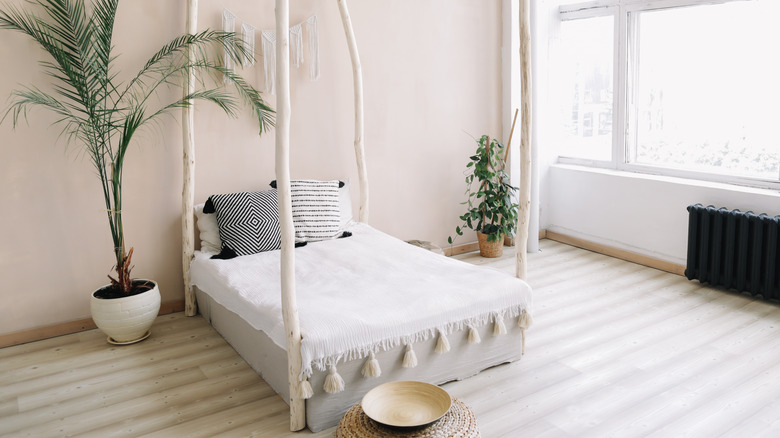 paralisart/Shutterstock
This relaxing room features a light wood canary bed with white tassel bedding and plants, which make us feel as if we are in a tropical destination.
Shades of blue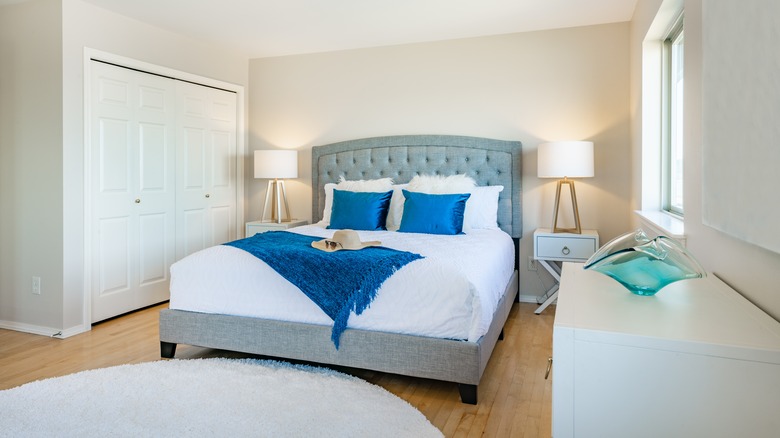 Sheila Say/Shutterstock
The light blue tufted headboard and the royal blue pillows and blanket stand out in this bedroom.
Seeing stars and seashells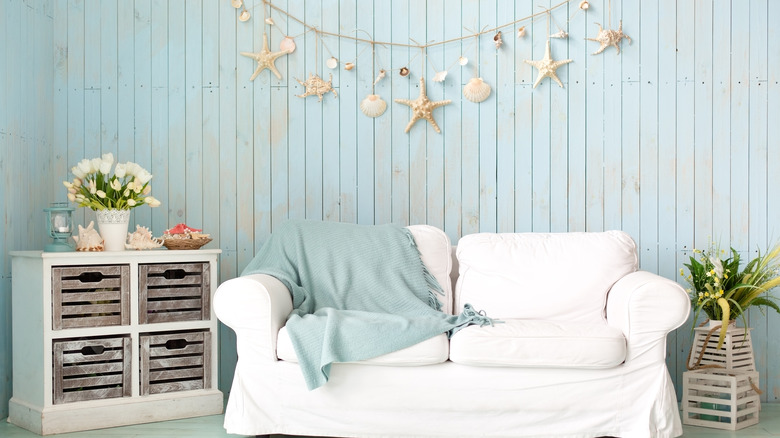 JasminkaM/Shutterstock
A light blue shiplap wall gives us total beach vibes, and if you have a massive bedroom, why not add a loveseat and sea stars and shells as art above it!
A gorgeous assortment of sea inspiration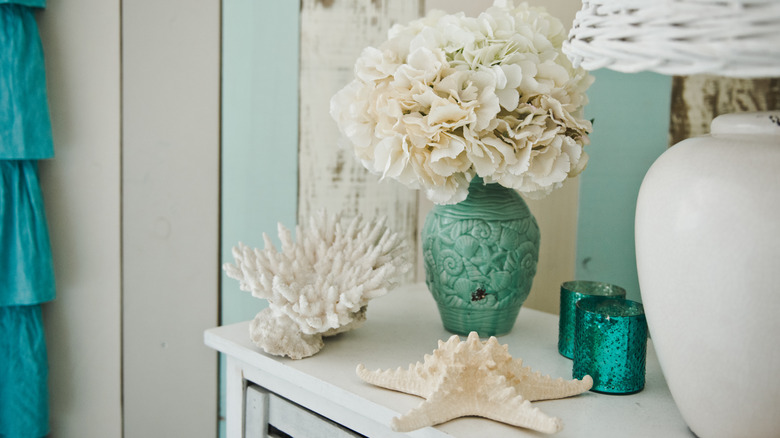 Vikkin/Shutterstock
Beautiful coral and a large sea star go perfectly with the turquoise vase full of flowers and matching candles.
A dreamy ocean overlook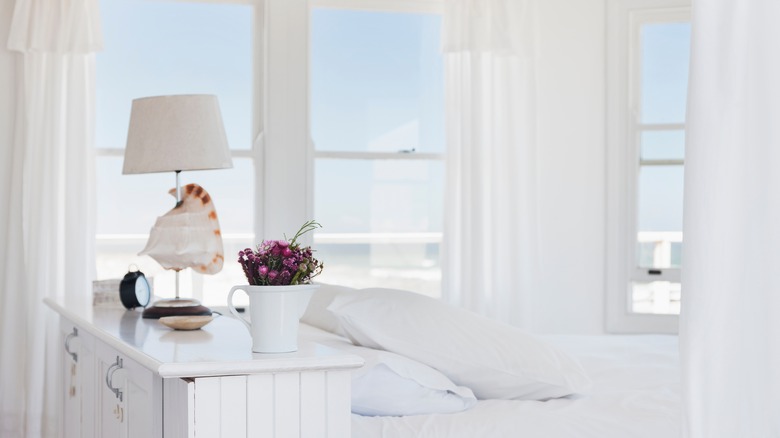 Kotoimages/Shutterstock
This ethereal space is like a dream. Imagine overlooking the beach through these large windows as soon as you wake up. All-white bedding and drapery look fresh, and we can't get enough of the shell lamp to round out the room.
A love for sailing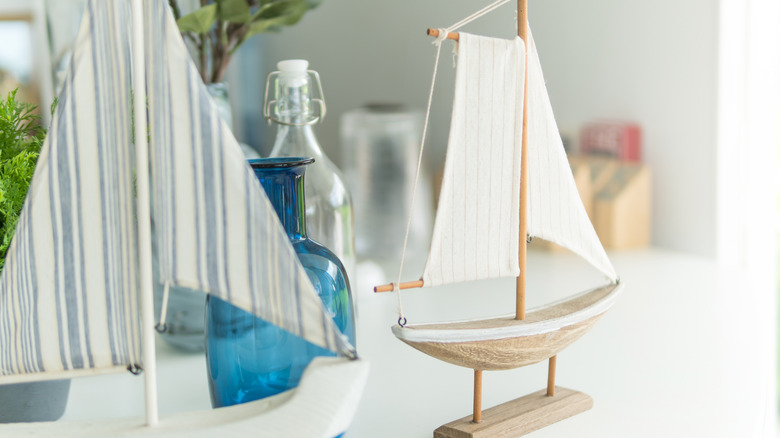 everytime/Shutterstock
If you love sailing, consider placing a sailboat on your dresser or bedside table to spur up unforgettable memories.
Shabby chic sea inspiration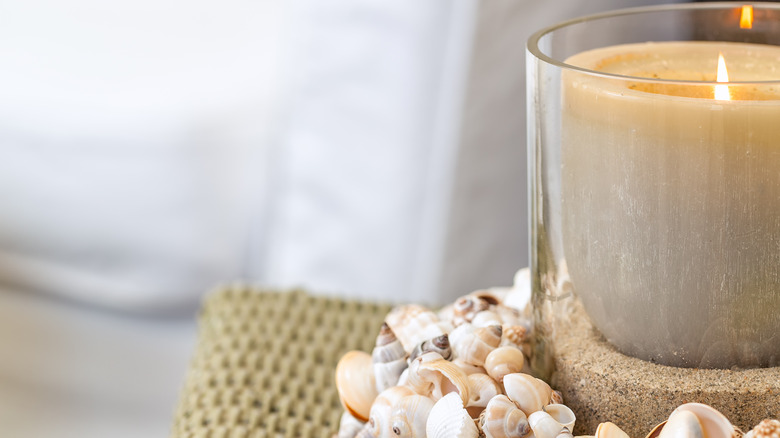 cdrin/Shutterstock
If you've picked up loads of shells during your long walks on the beach, think about creating a statement-making candle that would look perfect on a table or dresser!
A tropical oasis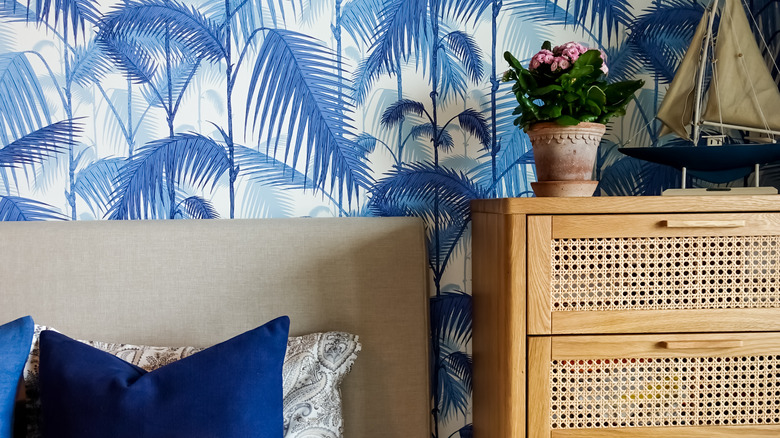 Nicholas Ahonen/Shutterstock
Gorgeous blue tropical wallpaper is a brilliant look for a beachy-inspired bedroom. Pair it with a wicker and oak dresser, and you can't go wrong!
A bedroom inspired by the color of sand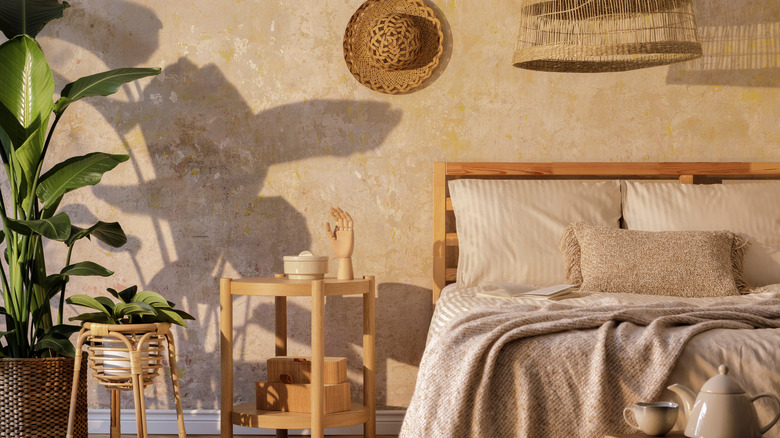 Followtheflow/Shutterstock
We love sand almost as much as we love the ocean, and this light tan bedroom reminds us of the beach. It's a relaxing space and has plenty of natural elements like the wicker hat hung on the wall and rattan planters.
A tropical dream
Shcherbyna Nataliia/Shutterstock
This bedroom has a lovely open-air patio, and we can envision a nearby beach and the sounds of the waves crashing as we sleep in this beautiful space.
Rounding out a tropical vibe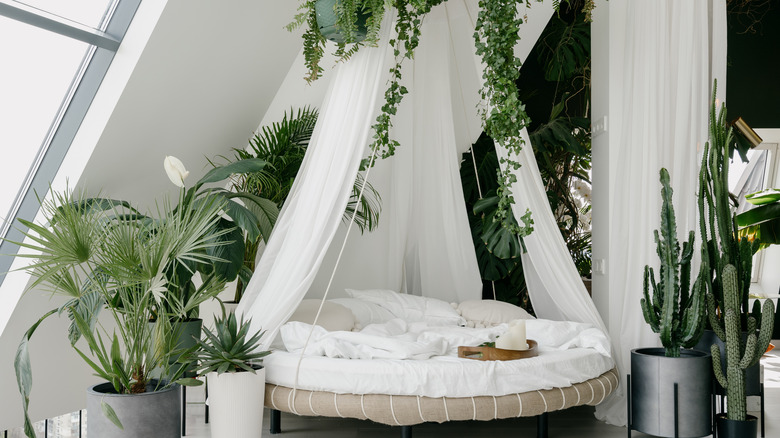 brizmaker/Shutterstock
A round bed with white bedding and a canopy gives us the boho aesthetic we love. Just surround the bed with lush greenery, and you have yourself a beautiful bedroom.
A light blue accent wall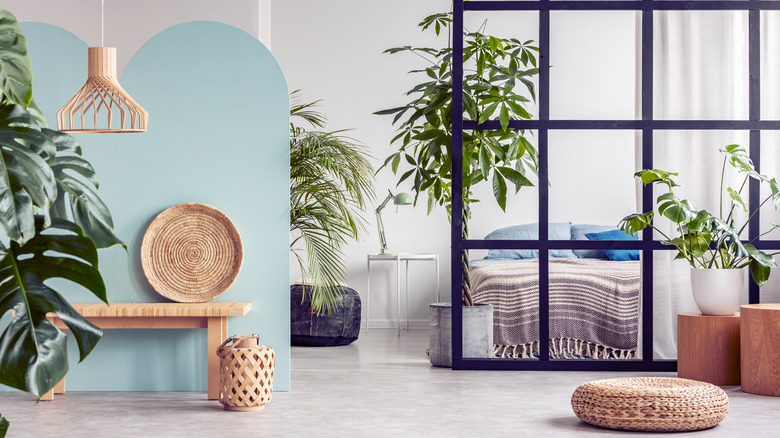 Photographee.eu/Shutterstock
Lush tropical greenery, wicker accents, and a light blue accent wall bring beach vibes to this light-filled room.
Ocean-inspired room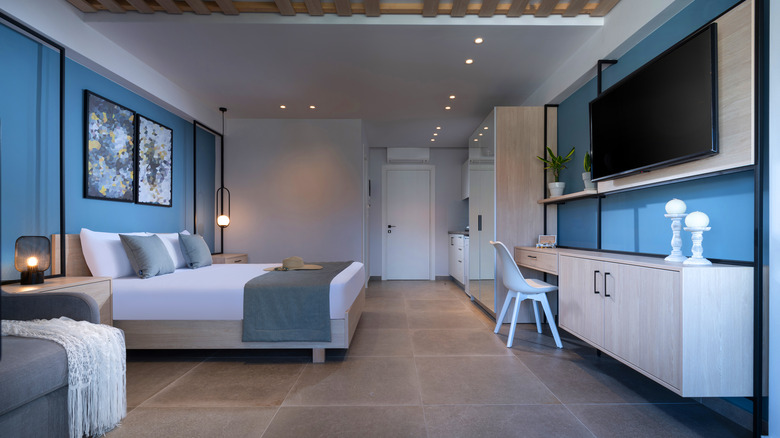 George Tsamakdas/Shutterstock
Wood furniture and bright blue walls bring the ocean inspiration to this modern bedroom space. It's crisp and soothing.
Vacation vibes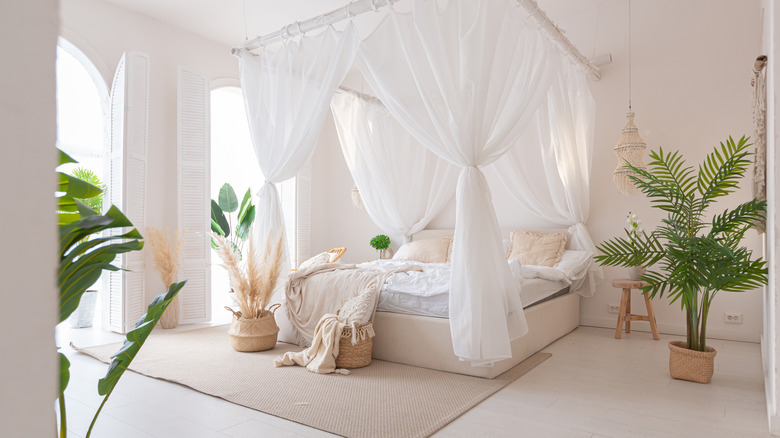 Pinkystock/Shutterstock
Bamboo furniture and a white canopy give us total vacation inspiration. The crisp white room is accented with live greenery.
Making waves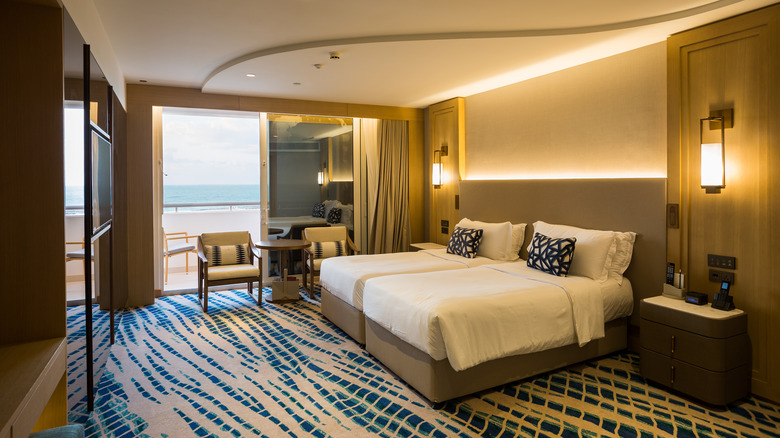 M101Studio/Shutterstock
The carpeting reminds us of ocean waves which is fitting considering the incredible beach view.
All white bedroom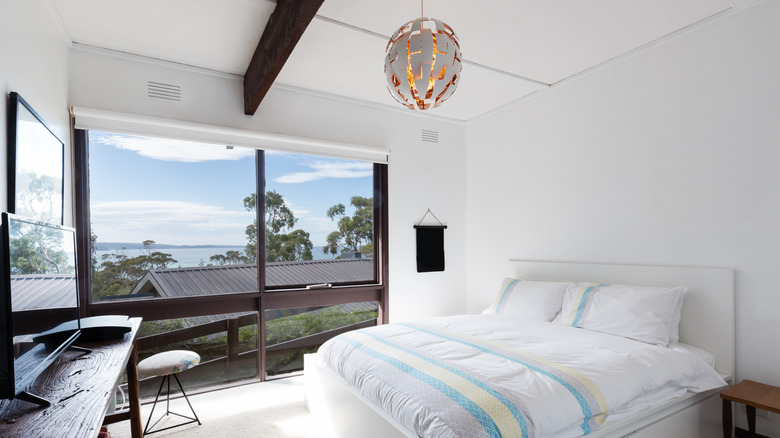 Jodie Johnson/Shutterstock
This all-white bedroom with ocean views features unique modern lighting and white bedding with a hint of blue and yellow.
Surf's up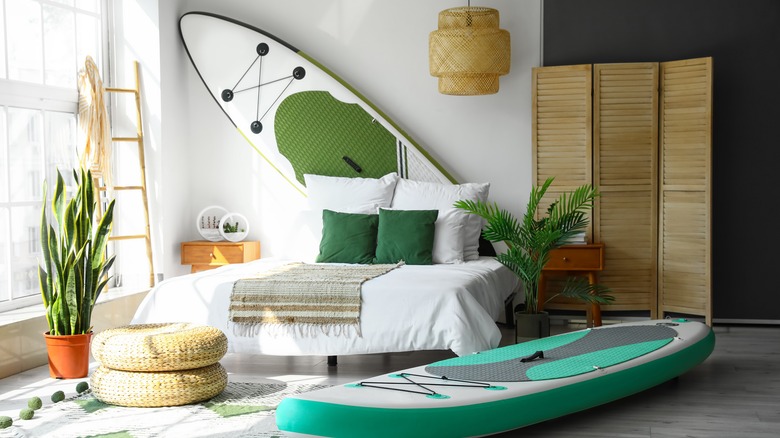 Pixel-Shot/Shutterstock
Paddleboards become part of the overall design in this gorgeous bedroom that is perfectly suited to anyone who loves water.
Blue ombré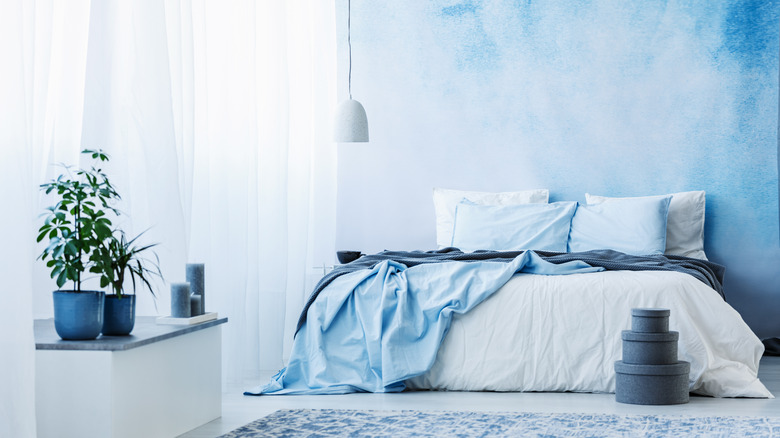 Photographee.eu/Shutterstock
The sky blue ombré design in this bedroom is absolutely gorgeous. You'll feel like you're sleeping under the clouds.
Nautical bedroom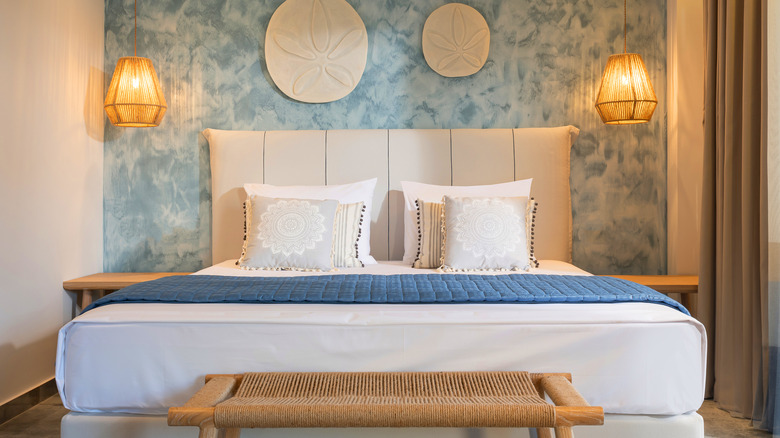 George Tsamakdas/Shutterstock
Marine style abounds in this stunning and inspiring nautical bedroom. The beachy art on the wall is fun and inviting.
Seashell candles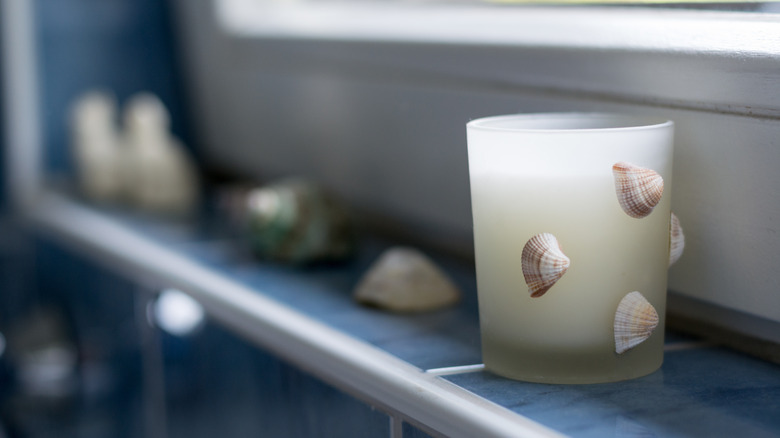 Asvolas/Shutterstock
It's all in the details, even when it comes to candles. For a beach-inspired bedroom, add a few small shells to the exterior of your candles.
Baby blue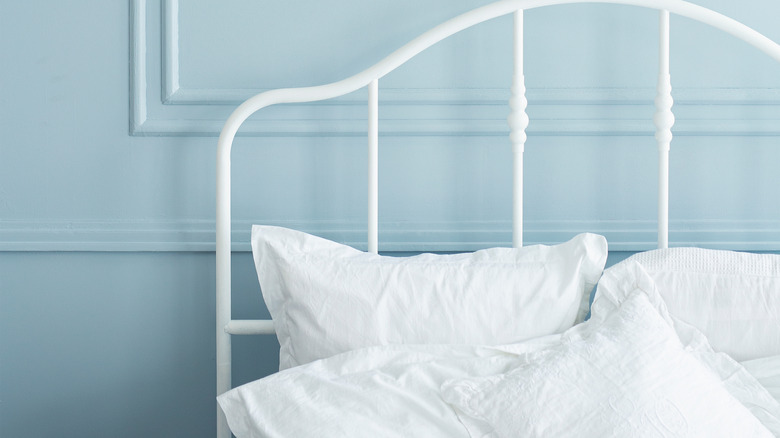 Krasovski Dmitri/Shutterstock
This blue is the perfect shade to remind you of the beach on a calm and smooth day.
The Deep Sea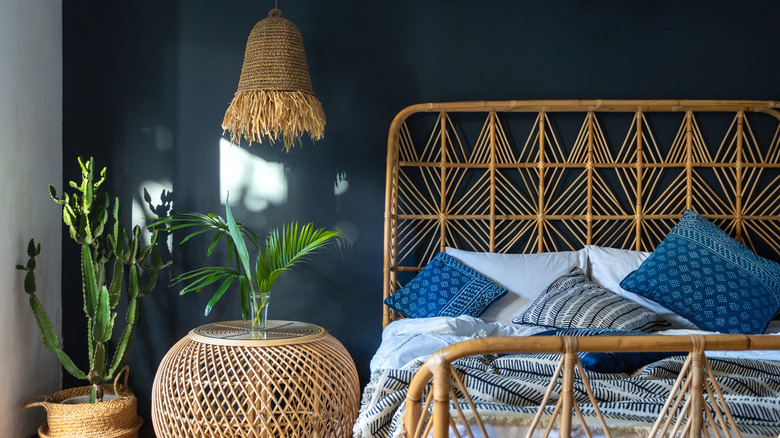 brizmaker/Shutterstock
This room reminds us of the deep blue sea and uses rich shades of blue, reminding us of the ocean.
Artistic expression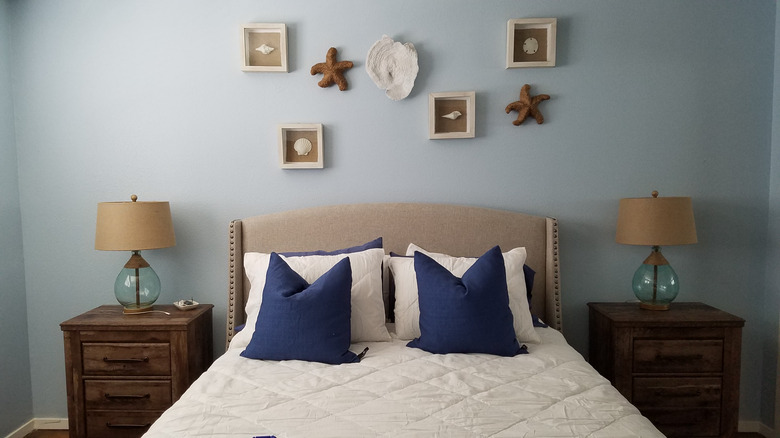 Waynderson/Shutterstock
This beachy bedroom features artwork that reminds us of the ocean, from the starfish that almost look like they're dancing to the pretty framed shells.
Ravishing Shells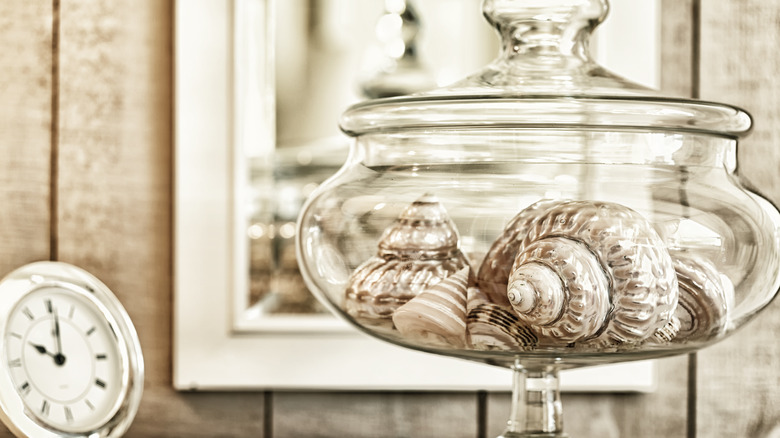 cdrin/Shutterstock
A glass jar full of shells placed on a dresser or bedside table is a beautiful addition to your bedroom.
A dark blue hue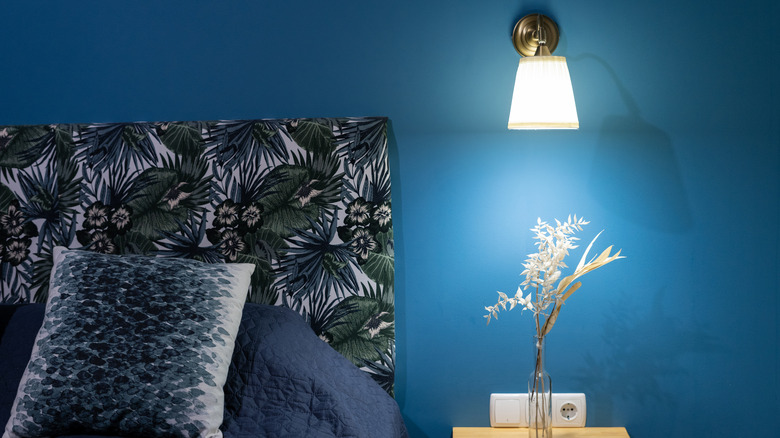 brizmaker/Shutterstock
The ocean can be many shades of blue, and we love this deep shade that looks incredible in the bedroom.