This House In Houston Is Decorated To Look Like The Set Of Friends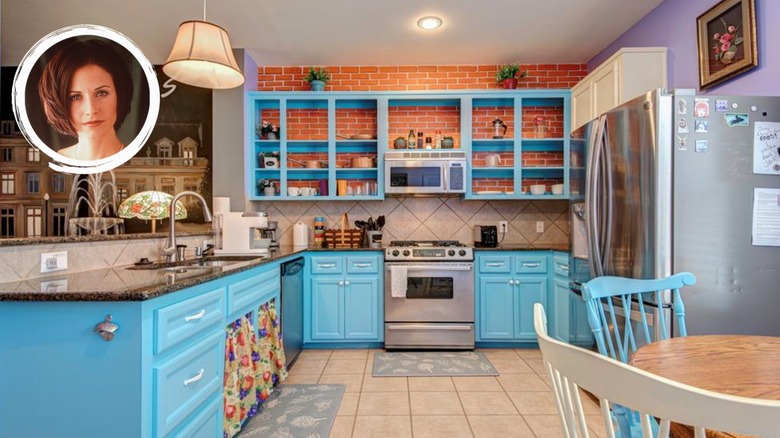 Getty Images/Getty Images/ Static Media/Better Homes & Gardens Real Estate
Could the owner of this house be anymore of a "Friends" fan? Many are asking that in their best Chandler voice following the discovery of a Houston home that has been completely decorated like the "Friends" TV show set. This 2,015-square-foot townhouse leaves Texas charm behind in favor of the fictional New York world that includes Monica's apartment, The Central Perk, and more, per Better Homes & Gardens Real Estate. 
Located at 1706 Bevis Street in Houston, Texas, every detail is here, including Monica's famous blue kitchen cabinets and purple walls, Chandler and Joey's foosball table, and even recognizable wall décor. Each room of the home truly feels like a different piece of the "Friends" universe, and fans will appreciate how much effort was put into this novelty house. The home is valued at a sale price $330,000, which is far more reasonable than the exorbitant rent Monica and Rachel would've had to pay for their spacious living quarters in modern day New York. 
Fan murals and extra touches
One of the fun things about this Houston house is it doesn't simply recreate the "Friends" sets — it pays homage to the show through quirky art as well, according to Better Homes & Gardens Real Estate. One example of this is a large painting of David Schwimmer's character Ross trying to pivot his infamous couch up the staircase. There is also a print of the fountain featured in the opening credits of the show spanning the length of an entire wall, complete with a patch of AstroTurf to simulate the park grass. Add in a large mural replicating the Central Perk window and details like the picture frame around the front door peephole, and you have a fully immersive experience that is any devoted fan's dream. 
The home was previously used as an Airbnb, where groups would rent the house for special events or for a weekend to geek out on all the special touches from their favorite show. The house went up for sale in 2022.