How To Choose The Right Range Hood For Your Home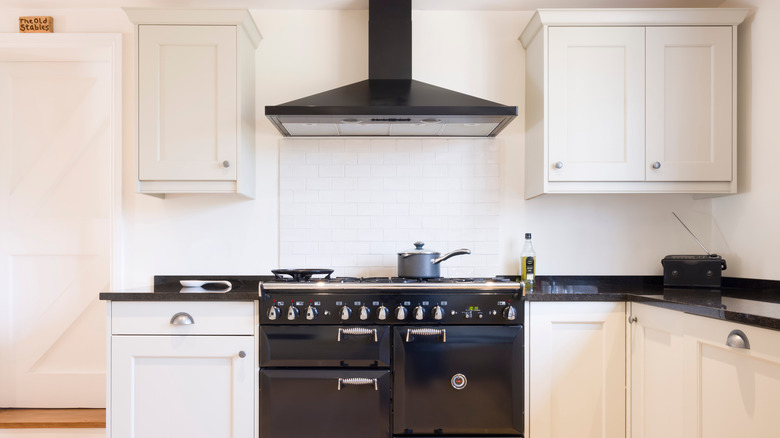 Paul Maguire/Shutterstock
If you love frying up some early morning bacon to snack on before beginning your day, you know that nothing is more distracting than a smoky kitchen and blaring smoke alarm when you are just trying to prepare your breakfast. When reflecting on those past kitchen nightmares, it's easy to see why many homeowners find that investing in a range hood is an instant upgrade for both their kitchen and their life. 
Evidence even suggests that regularly cooking in a kitchen that is not properly ventilated can be wrecking your home's air quality and even impacting your health, according to This Old House. For this reason, a high-quality range hood shouldn't be viewed as a luxury purchase, but as an essential feature of your kitchen that allows you to breathe clean, healthy air. Thankfully, there are a wide range of attractive range hoods on the market, so you probably won't have to introduce an eyesore into your kitchen in order to take advantage of the many benefits a great range hood can offer.
Choosing the right range hood for your kitchen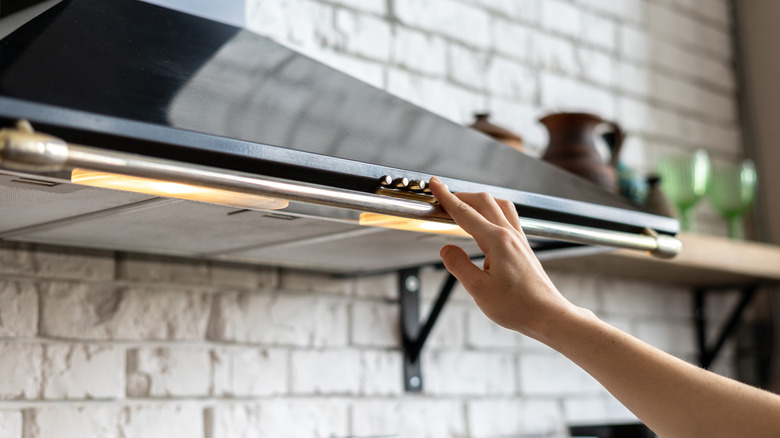 brizmaker/Shutterstock
Lets face it, most of us don't live in a multimillion-dollar mansion that can accommodate just about any extravagant kitchen appliance known to man. Thus, it's important to be realistic when on the prowl for the perfect range hood for your home. If your kitchen comes equipped with air ducts, investing in a ducted air hood is the ideal solution for those who want to eliminate unpleasant odors, heat, and air particulates from their kitchen, according to HGTV. 
If your kitchen isn't ducted, you can likely save some cash by investing in a non-ducted range hood. However, be prepared to regularly change its charcoal filter so that it can eliminate grease and odors to the best of its abilities. Keep in mind, however, a high-end ducted range hood won't do much good if it is half the size of your range and lacks a motor that is powerful enough to move air throughout your kitchen's vents.
A type of range hood for every kitchen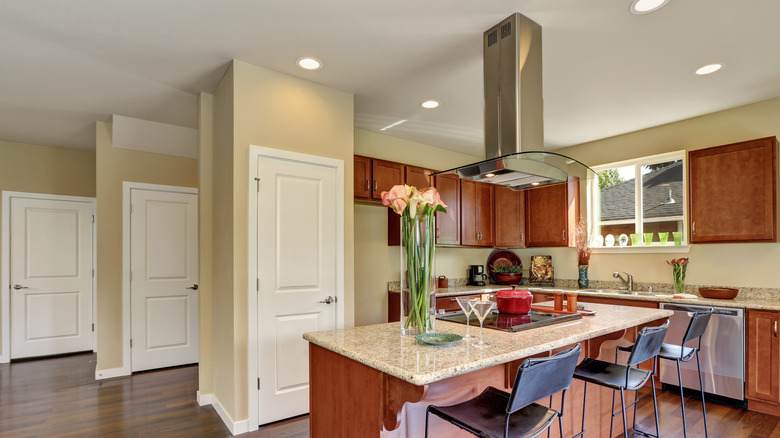 Artazum/Shutterstock
Modern kitchens employ a lofty array of sizes, layouts, and features, so not every type of range hood will be suitable for your kitchen. If you're seeking a versatile option, wall-mounted range hoods are suitable for a wide variety of kitchens that employ an open floor plan or large range, per Build. They also tend to be an attractive choice, thanks to their distinct metal bodies and characteristically tapered design. However, if your range is situated in the middle of your kitchen, you might require an island range hood. These sleek, sophisticated hoods can be quite pricey, but make up for it via their impressive ability to provide ventilation to wider, more open spaces.
Of course, as many people know, open space is not bountiful in every kitchen. If you have written off range hoods in the past due to a lack of vertical space, an under-cabinet model or a hood insert may be your best bet. According to Build, these are attractive options for smaller spaces where outdoor venting isn't readily available. They are also typically among the most affordable range hoods on the market, so even those who are on a tight budget can benefit from cleaner air and an attractive-yet-functional kitchen staple.