Kitchen Cabinet Ideas To Spruce Up Your Log Cabin
Log cabin kitchens can be dark, rustic, and heavy, but that's part of their charm. Natural woods, matte hardware finishes, and earthy colors are the norm, informed by the outdoors. It's possible to incorporate these qualities without allowing them to take over the whole decor vibe — a balanced design, with some contrast, highlights woodwork and architectural features so they don't disappear. 
A desire to live surrounded by nature is motivation for making a log cabin a primary residence or vacation home; Log Home Living explains that log cabins connect us to our past. So a kitchen, whether traditional or primitive, should be simple and efficient — perfect for preparing unfussy food. Occupying the imagination as a place of casual coziness and comfort, there are styles within that template, including spare Scandinavian, ski chalet, western lodge, and Americana. The Spruce suggests combining different elements, like rustic and mid-century modern, for an eclectic and personal design. We share some ideas for freshening and updating kitchen cabinets within the context of a log cabin.
Paint them a cool neutral
Painting cabinets a cool color gives the eye a rest from all the warm tones inherent in natural wood. It will make the space feel more modern, while the mid-range value is not as stark as white cabinetry.
Opt for glass doors
Replacing some of the wooden doors with glass makes the space feel visually lighter. Choose a textured or frosted treatment to obscure the objects inside.
Replace doors with beadboard
For interest, or to salvage damaged doors, consider installing beadboard, available in natural, white, vinyl, and wood. In this example, painting the trim lessens the prevalence of wood tones while retaining some of the warmth. The high contrast lends a crisp, graphic result; however, a shade closer to the stain color will be more subtle. 
Revitalize them
Natural wood has a tendency to become dry. Clean grease build-up with mild soaps and wipe off excess water. Once thoroughly dried, apply lemon oil or beeswax to protect the wood and help define the beautiful grain. 
Don't be afraid of color
Color opens up a whole universe in regard to design, and it's common to be overwhelmed by it. Create a mood board to help narrow down inspiration, and take adjacent stain and color samples with you to the paint store. Always swatch paint in its true setting before buying a large amount, as color qualities vary tremendously in different lighting.
Swap them for shelving
If storage allows, replace a few upper cabinets with shelving to make your kitchen feel more open. This is a contentious design choice, and best left to those with an editing eye. Use shelves for pretty collections or matching dishware rather than packaged food and clutter.
Soften them with a curtain
Hide unsightly pipes, supplies, or foodstuffs with a hanging curtain. When combined with wooden cabinetry, it creates a soft variation in texture. Curtains also conceal appliances (like the mini-fridge here) — perfect for leaving the modern world behind for a while.
Light them up
Lit glass-fronted cabinets are practical and make a dramatic impression on stormy afternoons and at night. Purchase them already outfitted; alternatively, you can add electric or wireless lights to existing cupboards. Remote control options mean not having to open doors or shift items around to turn lights on and off.
Install a plate rack
Utilizing a plate rack adds needed storage while also providing texture. And they're not just for plates — they can house cutting boards and trays as well.
Hang utensils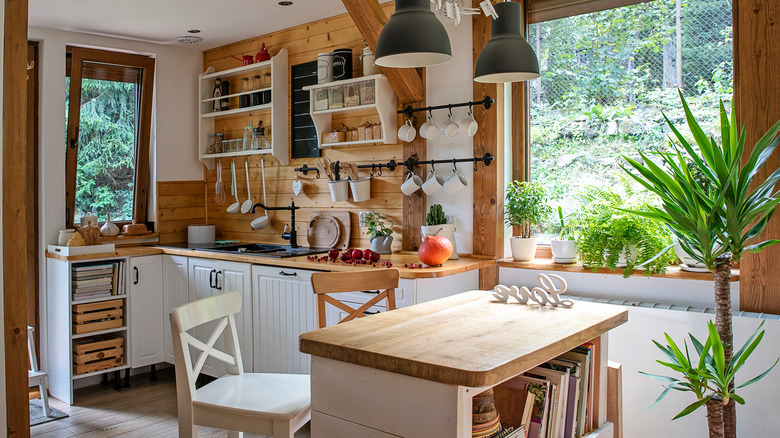 liloon/Shutterstock
Play up a rustic or industrial interior with utensil racks and hooks. They're especially useful for kitchens with a lack of closed storage spaces and keep everything on hand, making workflow more efficient.
Go modern
Balance the rawness of wood with a sleek, modern kitchen. The convenience and technology deliver simplicity, whether you're looking to spend more free time outside and less in the kitchen, or are an avid cook wanting top function. 
Remove the doors
This idea seems a little counterintuitive, but removing some cabinet doors to showcase favorite pieces offers a nice visual effect. There are many ways to have fun with this: paper the backs in a beautiful print or paint them a contrasting color, then fill them with colorful, patterned, or monotone crockery and forest treasures.
Paint them white
Nothing freshens up a kitchen like white paint. In a home with a great deal of wood, white cabinets are a beacon — helpful when stumbling to that morning cup of coffee.
Incorporate a freestanding piece
Flanking the range with antique sideboards creates the sensation that the space is evolving over time — the same effect that sprinkling antiques throughout a home imparts. Small cupboards can be mounted on the wall like cabinets while a jelly cupboard is ideal storage for a rustic cabin.