Here's How Often You Need To Clean Or Change Your Air Filters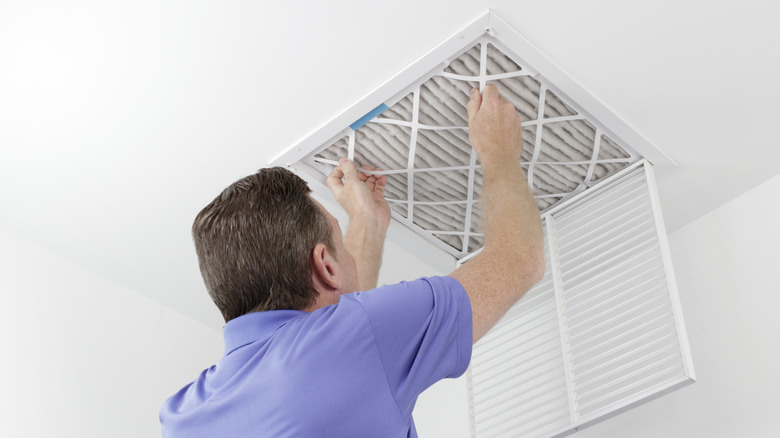 Serenethos/Shutterstock
A clean air filter is very important. In an HVAC unit, a dirty air filter can cause allergies and respiratory issues by letting dust and allergens into the air. It can also require the HVAC unit to have to work harder, making the unit more prone to break-downs and resulting in higher energy bills, according to This Old House. To avoid these issues, you should check your air filters each month and change them when they appear dirty. The frequency in which you need to change your air filters depends on how many people live in your home, whether they are sensitive to allergies, and if you have any pets.
There are two different types of air filters. Fiberglass filters are more affordable, although they will need to be replaced every month. Pleated filters are of higher quality and can last up to three months. It is important to note, however, that if you have pets you will need to replace a pleated filter more frequently, at least every two months.  
Clean and replace regularly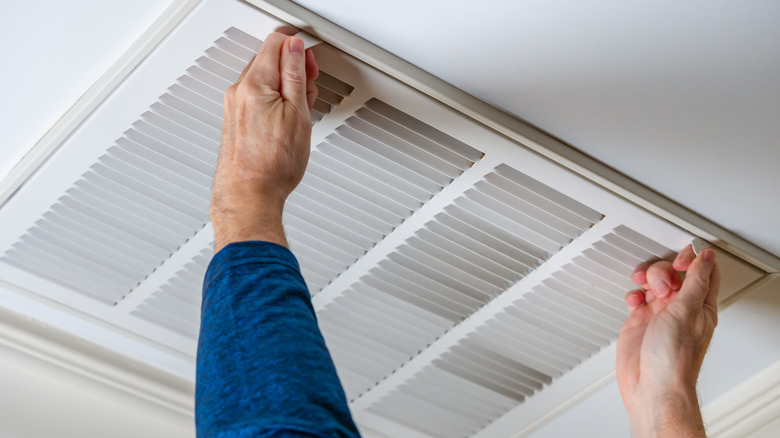 The Toidi/Shutterstock
After checking your air filter every month, you will start to notice a pattern regarding when it needs to be replaced. Then, rather than checking each month, you can stick to replacing it when you know it's dirty. To check if your air filter is clean, Home Depot suggests that you hold it up to a light source. If the light doesn't show through, the filter is too dirty to function properly and should be changed. 
There are air filters in your home other than in your HVAC air ducts. You should also check and clean the air filters in your stove hood fan, vacuums, and dehumidifiers. According to Molly Maid, you should clean these other household filters every other time you replace your HVAC filter. To clean your hood fan filters, use hot water and a degreaser — it may need to soak if it's very dirty. Vacuums have two different types of filters. Foam filters can be cleaned by squeezing the dirt out of them in warm water. Cartridge filters can be knocked against the side of a garbage can to dislodge dirt, but they need to be replaced yearly. The air filter in dehumidifiers should be washed in warm, soapy water.