How Much Does It Cost To Finish An Attic?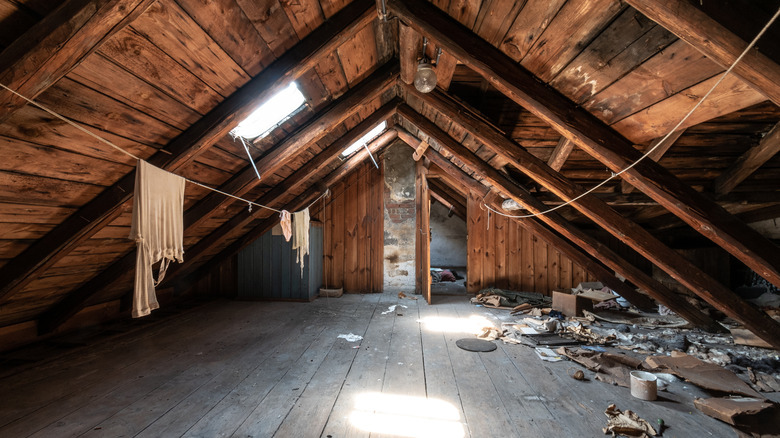 Tim Berghman/Shutterstock
Finishing an attic is a great home improvement project option for homeowners looking to make a significant change in their property's utility and value. While there are a number of specific features and approaches that can influence the final expense of a transformation in this part of the home, standard attic finishing tasks like drywalling, insulation, and fan installation run roughly $30 to $60 per square foot, according to Angi. Depending on the size and specifications that will dictate your renovation, you can expect a total cost ranging from $12,000 up to more than $70,000 with an average hovering around $40,000 (per HomeAdvisor).
Other outlets offer additional insights for those thinking of tackling an expansion project to boost floor space in their homes. Lee Wallender, a home improvement pro at The Spruce says that the attic offers an excellent opportunity because the area is already self-contained and won't need the same kinds of preparation and structural work that makes a traditional home expansion so costly.
A finished attic can take the form of an office, new bathroom, reading nook, or additional bedroom; the sky is the limit when it comes to taking command of this underutilized area of the home. Now is the perfect time to reimagine your space, incorporating elements that promote better footfall across the entire property and that will enable continued property value appreciation that unlocks future fiscal mobility.
Factors for cost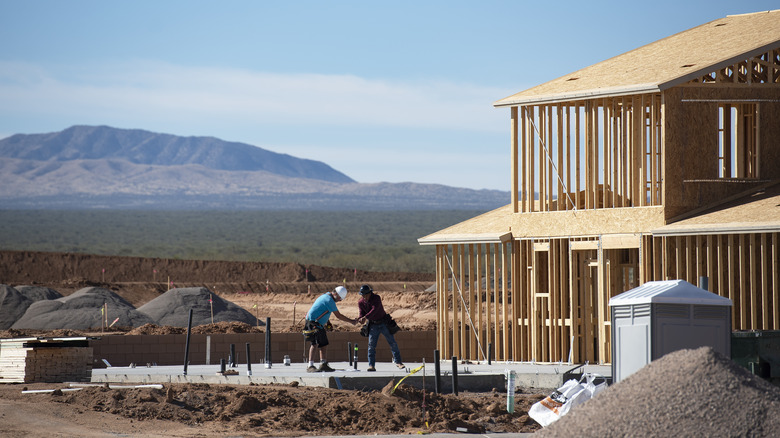 Bloomberg/Getty Images
One of the first tasks that any attic finishing will have to contend with is the transition of the flooring from a space that can handle what is known as a dead load to a live one with a much greater overall load-bearing rating, per The Spruce. Some attics aren't built with any load-bearing functionality and are simply drywalled and stuffed with wiring and insulation, as required to support the living space beneath. Others will make use of plywood or other planking to create simple storage in this overhead area. Additionally, some attics are built with future construction in mind and have already incorporated some of the essential elements that are a must for creating the conditions necessary to support a live load — that is, the movement of weight and resulting pressures that comes through active use of a space rather than static storage of boxes or furniture.
Shore up the flooring with a structural survey, joist additions, and a subfloor
Bob Vila reports that virtually any attic can be converted to incorporate the flooring stability that a living space requires. Some attics are prebuilt with tight spacing between joists and make use of large enough structural beams that a subfloor can simply be constructed on top of the existing structure. This is a task for a professional though, as structural engineering calculations can be immensely complex and only an engineer can give you the exact rundown required when it comes to making the attic habitable — and perhaps more importantly, safe for those both above and below the intended addition. Many houses will require the introduction of I-joists, sistered joists, or other additions that will shore up the structural integrity, but once this is complete, constructing the subflooring that will support electricity, ventilation, heating and cooling, and all the other staples of modern living typically will only run you around $500 to $800 (via Angi).
Utilize intelligent drywall additions to frame the dimensions of the room
Drywalling is a must in any living space. The use of sheetrock (commonly used as a moniker for drywall) to finish creating the dimensions of a room goes back many decades, and the material itself was invented by the United States Gypsum Corporation in 1916 (via The Atlantic). It quickly took hold in American building, replacing the plaster that was expensive, fire-prone, and far more difficult and time consuming to work with while finishing off the construction of new properties throughout the country and soon the world. Today, drywall is a mainstay in the construction industry, prized for its ease of installation, low cost, and light yet durable weight.
With a drywall solution, it's easy to create full-sized walls or shorter knee walls that will eliminate the tight edges that provide little use and make the new space feel cramped and cluttered. Framing a new room with squared off walls that minimize low headroom areas begins with this part of the overall task and is a relatively inexpensive component of the process. Costs here range from $1.50 to $3.50 per square foot, and roughly $580 to $1,800 to complete a 12x12 foot room with standard requirements that typically go beyond the limited needs of an attic drywalling project, according to HomeGuide.
Utilities are crucial to bringing this space up to snuff
Plumbing, electrical connectivity, and air conditioning are some of the final touches that really make an attic space feel like just another part of the home. In today's world, you simply can't create an interior space that doesn't incorporate lighting and air conditioning. Running these services up to the new room will cost between $1,000 and $3,400 for new electrical connections, depending on the scope of wiring needs, number of lighting installations, and more (via Angi).
Personalized design and need will dictate your timeline and generalized costs in these areas
Flooring, air conditioning, plumbing, drywalling, and electricity are all crucial to finalizing a finished attic, but the way you intend to use the space will dictate both the cost and timeline associated with the overall project. A space that will be intended as a habitable area (such as a bedroom) will need an additional egress point beyond the stairs that link this addition to the rest of the home, according to standardized building codes elaborated on by the NTA.
One of the most popular ways to achieve this and to create a flood of natural light and additional space for movement and airiness around the room is with a dormer. Angi estimates that a dormer (depending on size and number) will cost between $4,600 and $16,400.
Additional costs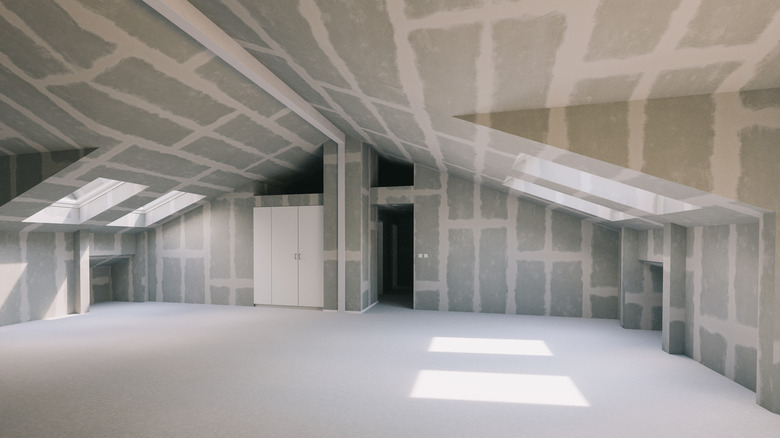 r.classen/Shutterstock
Aside from the standard expenses that come along with the project, there are some other key features to keep in mind as you begin to budget an attic upgrade. Surveying the home's existing elements to understand the overall scope of the renovation is essential, but it can also add to the final bill. As a result, it's important to factor in these costs to your total estimate as well.
Starting with the type of roofing structure that your home sports is a great way to make sense of the options, limitations, and running costs of the project.
Requirements tied to the home's fabrication: Rafters versus trusses
It's important to note that not all attics can be retrofitted in this way with immediate effect. Modern home construction makes use of either rafters or trusses to hold up the roof and tie the whole property together (via RoofingCalc.com). Trusses are more cost effective to install in a property, but they make the attic expansion project a little trickier. In fact, as a result of the interior weight distribution function of a truss system, you'll need to convert your home's overhead structure before starting on an attic conversion in earnest if your property makes use of this type of roofing construction. This can raise the cost of an attic completion project and add a significant time requirement to the whole process.
There are some significant benefits to the truss system, resulting in the popularization of this modern construction option. Rafters have been a staple in the fabrication of homes all over the world for many decades and centuries (as reported by Residence Style); however, they lack the same quality controls and overall stability that a truss system brings to the table. Built offsite and with the help of computerized measurements and drafting software, trusses are often more expensive and preclude a home from attic expansion projects, but are becoming a go-to solution today in areas that experience intensely windy conditions or other more extreme weather patterns throughout the year.
Fortunately, it is possible to convert truss systems in order to create additional over-ceiling space for an expansion project. This is crucial for homeowners who have purchased a newer home, as HomeReference reports that four out of every five new homes built today incorporate a truss system into the roofing design — as opposed to the nearly-universal fabrication by way of rafter that once dominated home construction.
By installing steel beaming across the expanse of the attic space, you can recreate the stability that is achieved through the use of each successive triangular support in a complete truss construction (and the feature that is directly responsible for minimizing usable space overhead). While the installation of this additional step can be costly, Hunker reports (by way of the UK's Nationwide Building Society) that an attic or loft conversion can increase your property's value by more than $54,000, making the project incredibly valuable in more ways than one.
Permits and a structural survey are integral to success with any attic finish
As mentioned, no project that involves a foundational piece of your home can go ahead without the signoff of a structural engineer. This ensures that your home will remain secure for many years to come and that severe injuries caused by disastrous structural failures or other catastrophes won't take place in the home during or after the overhaul to your property.
Real Homes reports that structural engineers can act in a number of specialized capacities when it comes to planning and executing a home improvement project. Ensuring that building materials and designs are up to code and following up on potential issues in load distribution, environmental concerns, and safety specifications are core responsibilities of these professionals. When it comes to work on the attic, there is a real danger in weak design elements that can put the building and those who live in it in real jeopardy. For this reason, hiring a structural engineer to ensure that weights, framework, and other fabrication components of the building process are safe and standardized is a must.
Checking in on local building codes in your state or local community (via resources such as BuildingsGuide) is another great way to beef up your understanding of standard building practices when it comes to the renovation and proper care of your family home. HomeAdvisor reports that an engineer's services will cost an average of $514, and permits can vary by state and local jurisdiction, so checking with local authorities and speaking with your engineer on these points is vital.
Types of attic options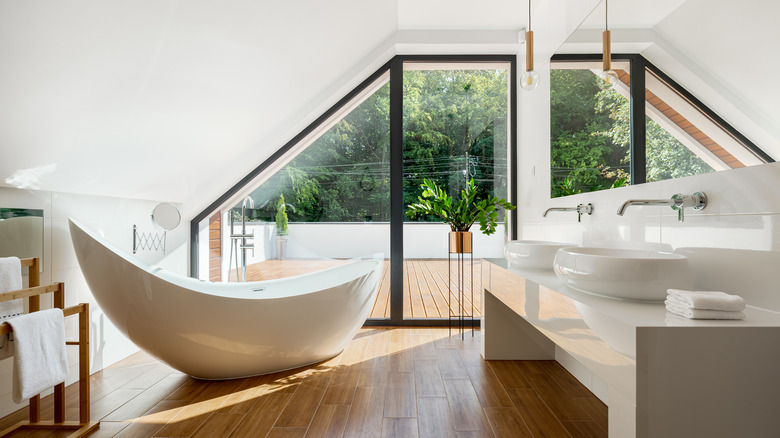 Dariusz Jarzabek/Shutterstock
The most important consideration to make when taking on this task is the end use that you're hoping to achieve. Homeowners have a dizzying variety of unique needs that are a product of equally personalized circumstances. The truth is a finished attic can take on many forms.
Building out the home to include more functional living space has taken on new meaning in modern times. With an increased hunger for travel, strenuous home office requirements, and more, homeowners are finding themselves caught increasingly between visits from in-laws and family friends, more activity throughout the property at all hours of the day, and tighter budgets as inflation increases, breaching a decades-long peak set in December 1981 (from Trading Economics). This makes the utility value that a finished attic can bring to the fore all the more impressive and important for homeowners seeking expanded opportunity in their property that can support the increased needs of the current time.
Office space
An attic office is great for those who have suddenly found themselves working from home for an extended period of time. An office above the main residence areas of the property will require electrical, data, and phone line connections as well as lighting, ventilation, and temperature regulation. A comfortable office is one that provides an equilibrium, so heating and cooling elements to help mitigate the rising heat in the warmer months and severe cold that can creep in during the winter will be necessary to finishing any type of work environment in this space that is notorious (without having taken the proper steps) for extreme swings in internal climate, according to Total Home Supply.
Bedroom
Attic bedrooms offer a unique atmosphere and can provide a blank template for an immense variety of customizations. Whether you're seeking to create a one-of-a-kind master suite or a more simple room to give a child their own space in the home, finishing the attic with lighting and a fan, a dormer (and all the wonderful natural light that follows), and more is a great way to transform the home with a straightforward floorplan addition that won't break the bank like a more traditional home extension (ringing up anywhere between $8,000 and $30,000 depending on the size of the finished room, according to Angi).
Bathroom
An attic bathroom can add significant value to your property, considering the basic bedroom-bathroom ratio that is used in listing any home for sale on the open market. Adding this facility to the upper component of your property is often fairly straightforward (via Renovations Roofing), and running plumbing up from an existing loop beneath the target location is one of the easier tasks in any attic conversion. Attic bathrooms take the stress out of schedules that your family members may be hoping to keep in coordination with one another. A Friday night in a busy household can be manic as everyone works around one another to get ready with limited bathroom resources. An attic bathroom can alleviate this strain with ease.
Storage
Storage spaces are simple to complete and can bestow upon your home a more comprehensive calm. With basic flooring that can support the dead load of boxes and items that are collecting dust in other parts of the home, removing important yet unused belongings from the walking path, living space, and easy access storage areas of your primary home environment will provide your family with a renewed and decluttered way of living that's amazingly mentally refreshing (via WebMD).
Why you should focus on the attic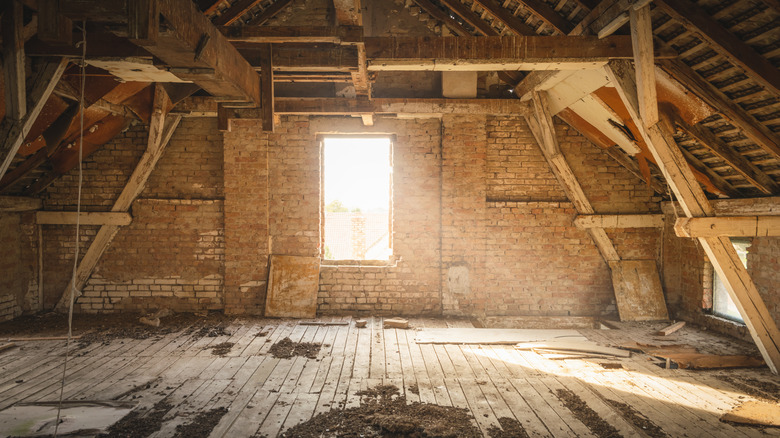 Beliphotos/Shutterstock
Transforming the attic offers homeowners a unique approach to creating an entirely new atmosphere in their property. Focusing on this part of the home can give you a fascinating talking point while removing some of the clutter of life from more high traffic areas of the home.
Balancing home and work responsibilities is simpler with a dedicated office space
For many, working from home has become a new normal in the age of the COVID-19 pandemic. Outlets like CNBC were quick to highlight the potential staying power of a new hybrid future of work that sees more days spent communicating digitally with teammates and clients from home rather than in the traditional 9-to-5 setting of the office building that so many people are accustomed to.
With a finished attic, homeowners who are spending more time than ever in their properties are able to maintain the healthy work life balance that office culture actually reinforces quite well. Forbes notes that this balance can become increasingly blurry as your physical spheres of work and relaxation become ever closer to one another in both scheduled time and physical location. Removing your workplace from the kitchen table or living room couch is a great way to segment these components of a typical day; by finishing your attic and moving workplace operations upstairs into this discreet location, many people find themselves suddenly transported into an environment that helps them thrive during the day and make the most of the late afternoons and evenings with their loved ones after shutting off at a reasonable hour.
A playroom, guest bedroom, or additional bathroom provides flexibility and functionality to any home
Turning your attic — or a section of the space — into a guest bedroom or a totally new room for your teenager to put their own distinct mark on is a great option. Many families continue to grow in one way or another; whether you're suddenly planning the welcome of another child or need to accommodate for elderly parents or increased guest visits from family and friends, remaking this space to provide expanded living areas is a wonderful way to quickly and easily add to the footprint of your property. Deco Alert Magazine suggests that a basic conversion can take as little as 10 days, while a more in-depth project can be finished in just four to eight weeks.
A bathroom is also a great way to enhance the quality of life that you and your family enjoy in the property. Growing families increasingly find strain in the bathroom routines and needs of each member. As children grow older, their demands on preparation time for the day or evening activities increase exponentially. A homeowner dealing with timing issues in this department can find fast-acting and powerful lifestyle improvement with the introduction of a new attic level bathroom that can accommodate the overlapping needs of each person in the home.
Simple storage upgrades are worthwhile, even if you aren't planning a comprehensive vision for additional living space
Finally, the value of great storage space is something that many people underestimate when viewing a home on the market. Homeowners are constantly searching for innovative ways to increase their storage capabilities, and there are many in-home approaches that seek to enhance the utility of bedroom furniture and other routine inclusions in the home (like this list of 37 organization ideas from This Old House).
But attic storage is a precious commodity that many homeowners forget about. With a few finishing touches that will protect your belongings from leaks and other potential pitfalls, attic storage can be achieved with great effect (via The Spruce).
Keeping holiday decorations, clothing, picture albums, and other family documents in secure storage locations that are out of the main living space is perhaps the best way to ensure the longevity and overall safety of both the belongings in question and the home itself. Many of your possessions of this nature won't require constant access and placing them in attic storage frees up essential room for the things that you do need on a regular basis. Getting creative with storage space means blending long and short term solutions to provide the best set of options for any need that you may face. A well-kept attic is one of the most useful resources that homeowners have at their disposal.
Benefits of a finished attic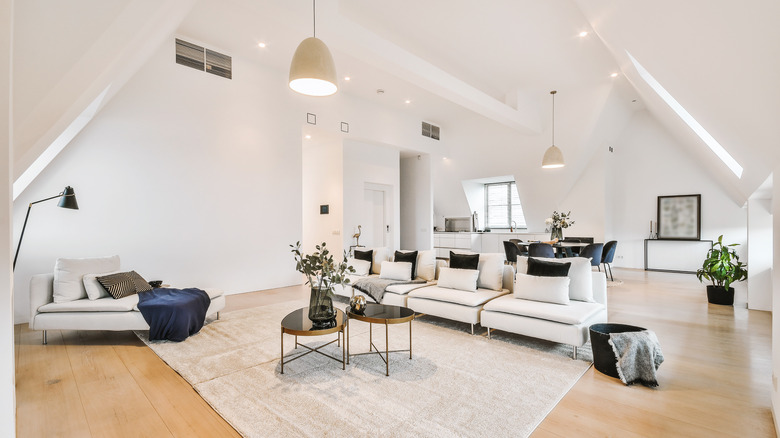 Procreators/Shutterstock
A finished attic can serve many roles, and homeowners who have taken the step to round out the previously untapped potential of this overhead space are able to take advantage of a wealth of benefits from secure storage to office or bedroom space that can elevate the lifestyle and financial value that the property provides; finishing an attic can ramp up the value of your home by an estimated 20%, according to Deco Alert Magazine.
Adding essential floorspace to the home can help you create a more vibrant lifestyle for everyone who calls the property home, and with strategic upgrade options built into the project, matching a blend of storage, bedroom, and workplace needs together into one comprehensive renovation project can reimagine your home as a new space that suits your family's ever evolving needs more closely. An attic update is a favorite among homeowners in all corners of the United States and it can give you the boost you're looking for in your home.