40 Pool House Designs That Will Make You Long For Summer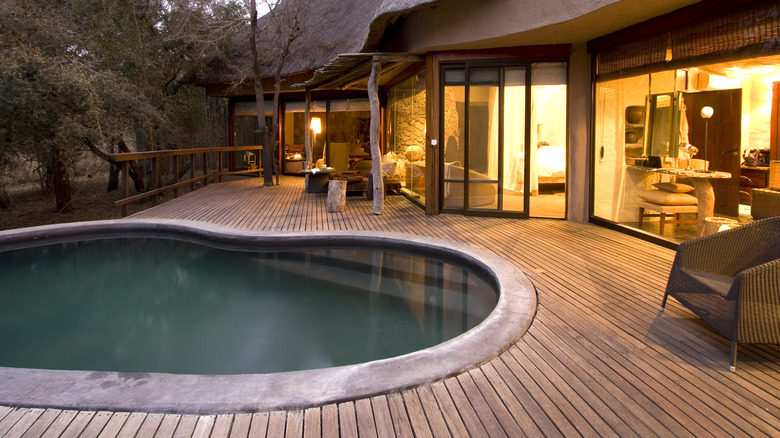 Harm Kruyshaar/Shutterstock
The summer months are undoubtedly some of the best months of the year. Of course, enjoying cocktails poolside can help, but a pool house can make this area even more enjoyable if you have a beautiful pool. House Beautiful has a few ideas to make your pool house feel like an endless vacation. The outlet suggests a few ways to make this entertaining space really stand out, such as adding a bar and using it for storage; however, they recommend using solid materials that can stand the test of time and putting an area to hang out after swimming such as a gazebo with plenty of vines that can shield you from the sun, not putting rugs (for obvious reasons!), and potentially turning this space into a guest house either for Airbnb or for friends and family when they come to visit.
Gardeningetc explains that the possibilities are endless. Depending on your needs, your pool house could be as simple as a she-shed or as elaborate as a modern house with electricity and all of the comforts of home. So if you are ready to get ideas for your own garden shed, check out these 40 designs that will make you long for summer.
1. A pergola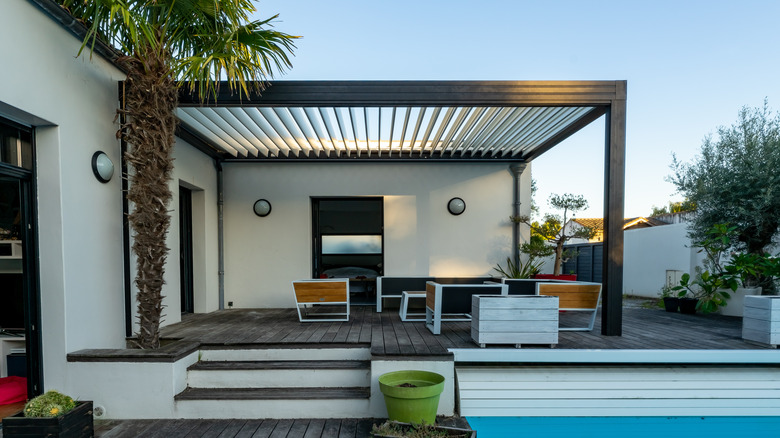 MATHILDE.LR/Shutterstock
This somehow Greek-style pool house has wood touches in the pergola, furniture, and the stunning deck. The covered space is perfect for shielding yourself on hotter days.
2. A modern entertaining style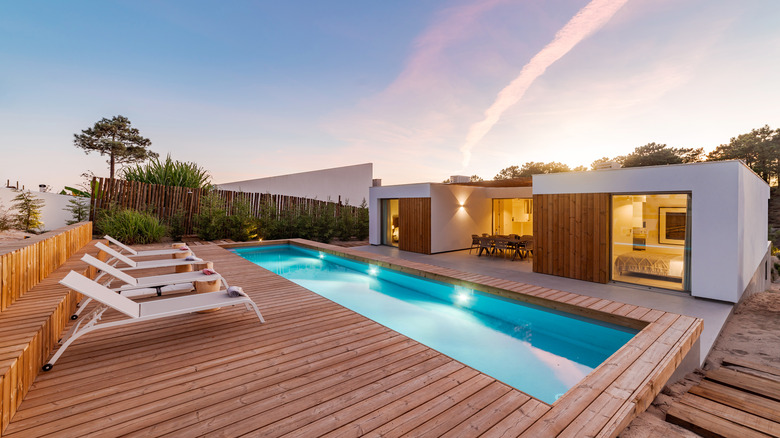 Luis Viegas/Shutterstock
This modern garden shed has contemporary touches we love for entertaining, the perfect accent lighting, and a massive deck.
3. An incredible view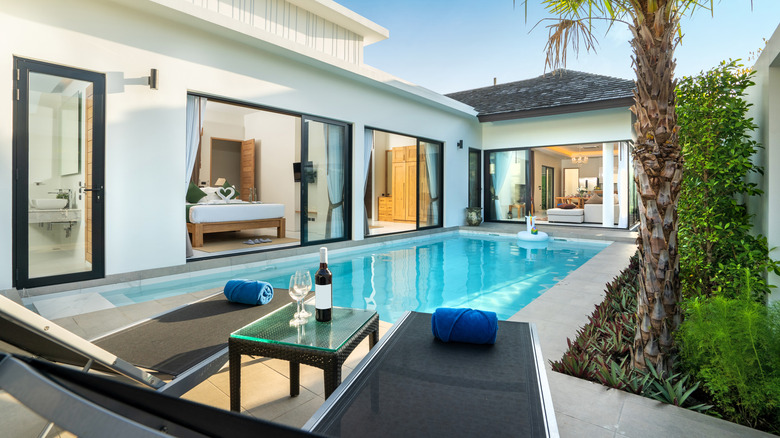 stock_SK/Shutterstock
The bedroom, living room, and rest of the house are positioned perfectly to make the pool the centerpiece. You can take a quick dip before bed or entertain inside the house on colder nights, still enjoying a stunning view.
4. A steamy retreat
stock_SK/Shutterstock
The all-white exterior makes this pool house feel really modern, and the floor-to-ceiling windows would make us never want to leave.
5. Close quarters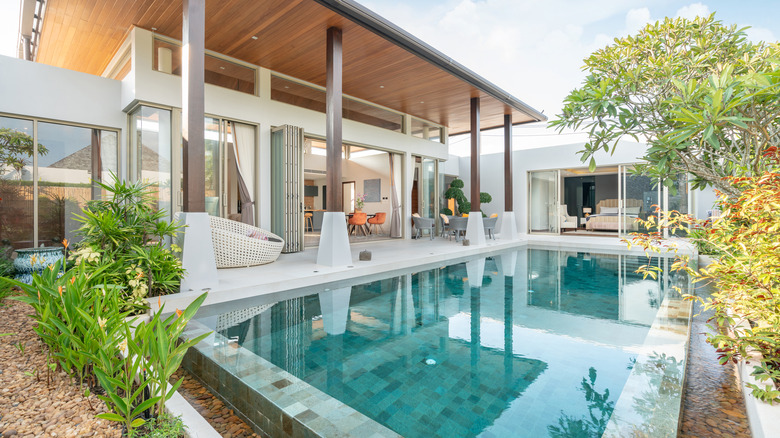 stock_SK/Shutterstock
This modern garden shed features rich woods and clean white paint. Being that it's steps to the pool, getting a dip in is easier than ever.
6. A full kitchen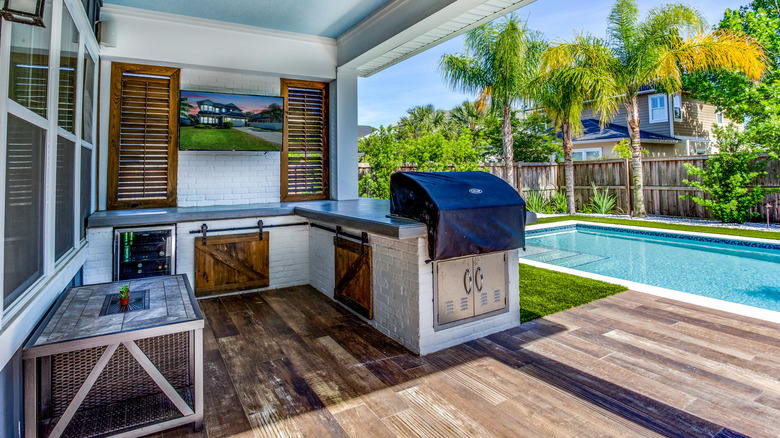 Pipas Imagery/Shutterstock
Consider putting a full kitchen with a gas grill in your open garden shed so if you want a snack, it's within arms reach.
7. A tropical abode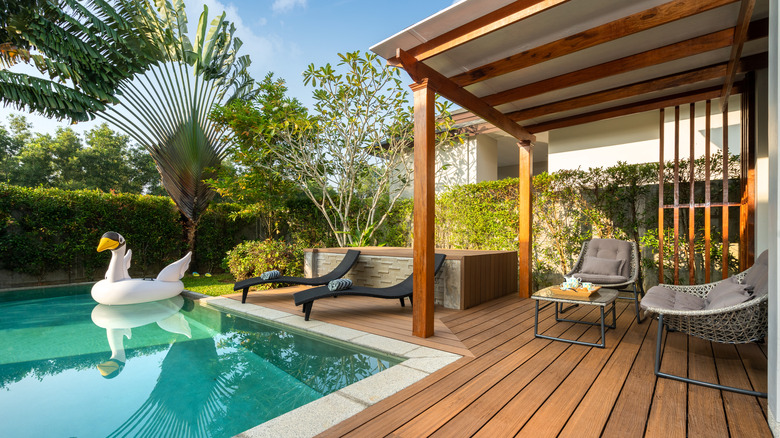 stock_SK/Shutterstock
This tranquil space with a pool features rich wood throughout and is surrounded by lush greenery that brightens the place.
8. A chic tiny pool house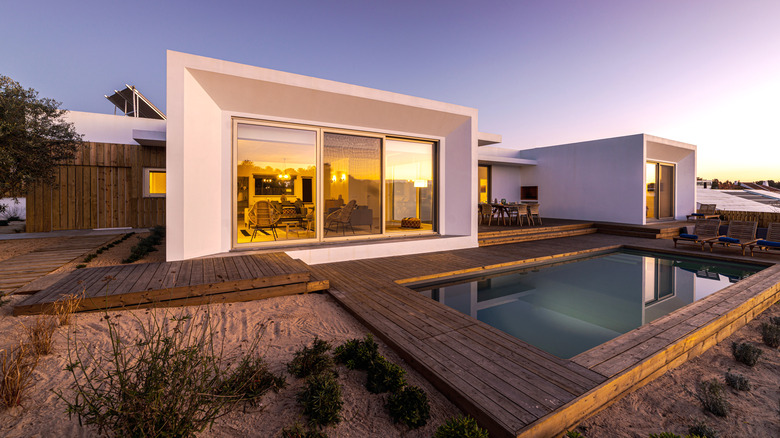 Luis Viegas/Shutterstock
This gorgeous tiny pool house looks pretty epic during golden hour, but we imagine it is an idyllic spot no matter when you enjoy it.
9. An expansive deck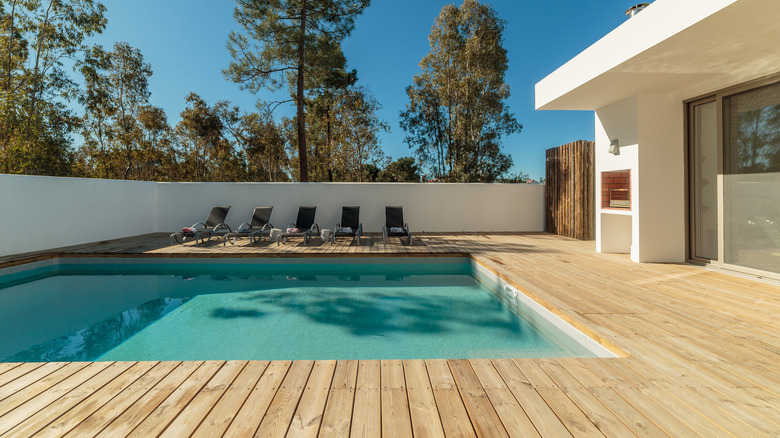 Luis Viegas/Shutterstock
This garden shed has plenty of open space on the deck to throw an epic party for all of your friends and family.
10. A secluded escape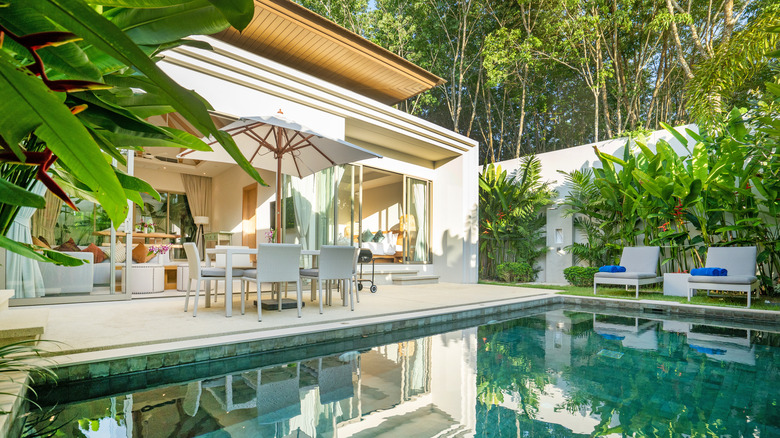 Alan SK/Shutterstock
This dreamy pool house has a ton of privacy, and we love that it has an indoor and outdoor flow.
11. The perfect placement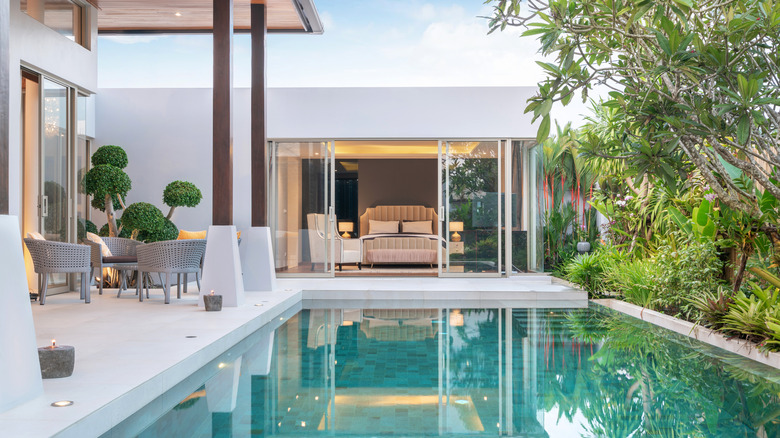 stock_SK/Shutterstock
Imagine waking up in a bedroom just steps from the pool — although we may idle a little longer to take in the view.
12. A Balinese hideaway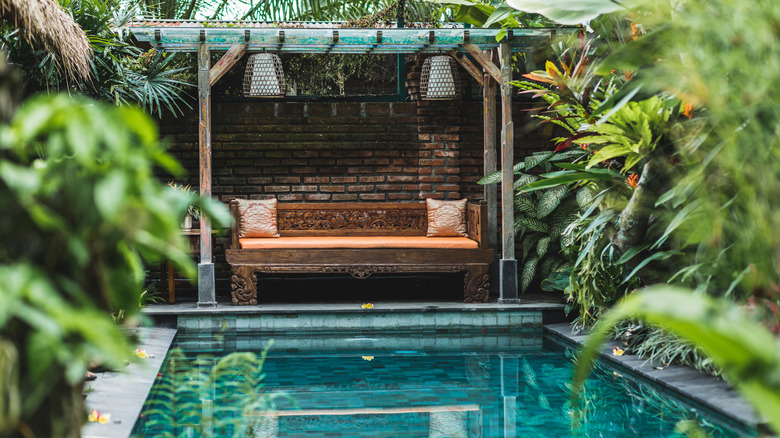 Breslavtsev Oleg/Shutterstock
Bali's small wooden pool house brings much inspiration for design and blends ideally in this lush backyard.
13. A beautiful mix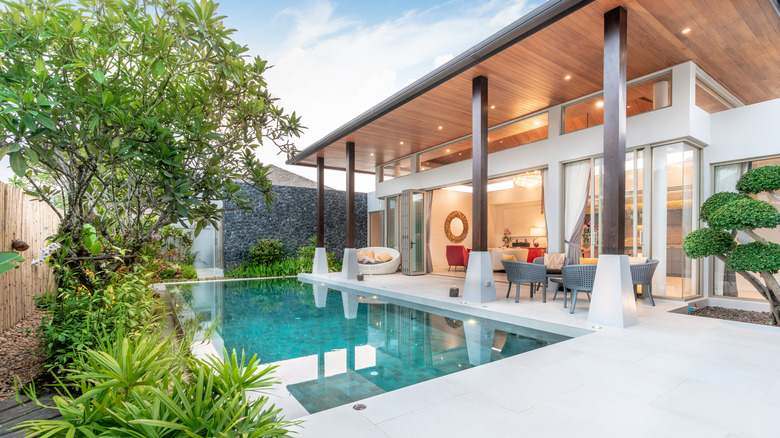 stock_SK/Shutterstock
This garden shed uses a mix of natural elements to stand out. It has an entire living area and easy indoor/outdoor access.
14. A year-round stunner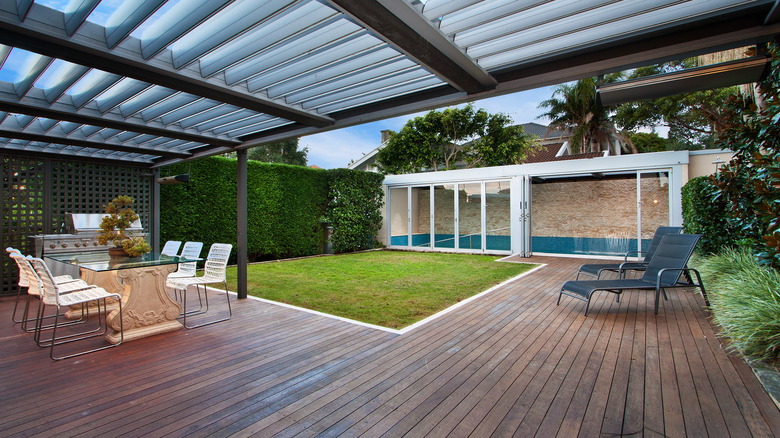 Dimasik_sh/Shutterstock
This enclosed pool with an attached pool house is an ideal option for taking advantage of swimming all year round.
15. An adorable guest house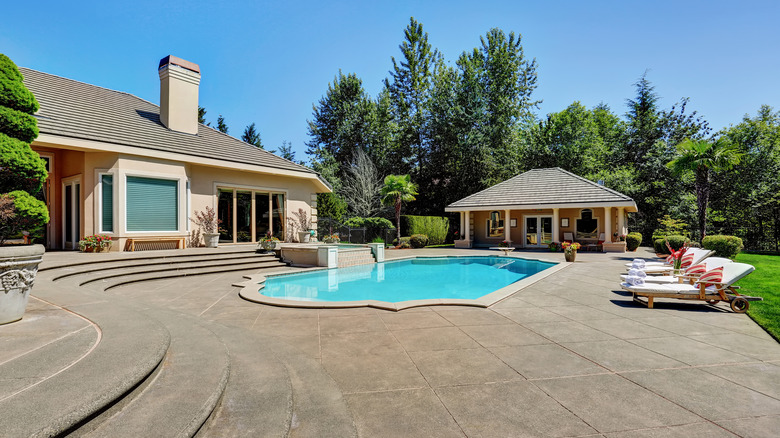 Artazum/Shutterstock
This backyard with a uniquely shaped pool has an incredible pool house that doubles as a guest house.
16. A stylish development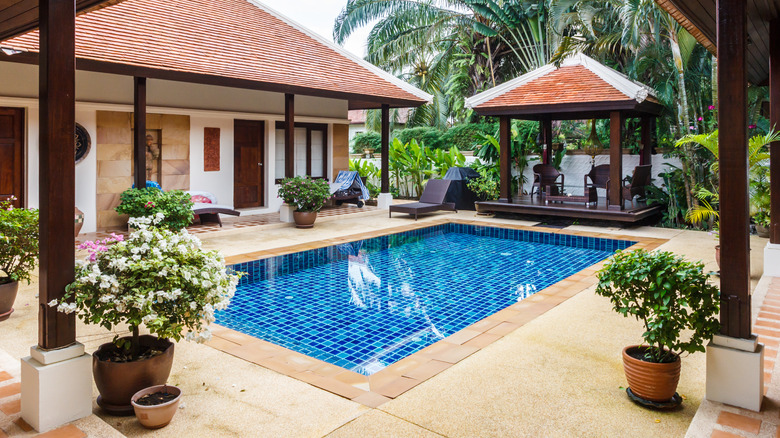 Kevin Hellon/Shutterstock
This unique pool house design features a large guest home and a small open-air seating area. The dark-colored wood brings the place an Earthy element, merging beautifully with the rest of the décor.
17. An expansive oasis
Artazum/Shutterstock
This massive pool and hot tub area is the focal point, but we can't help but notice the pool house structure with beautiful columns that make this entertaining spot a luxurious retreat.
18. A unique cedar-style pool house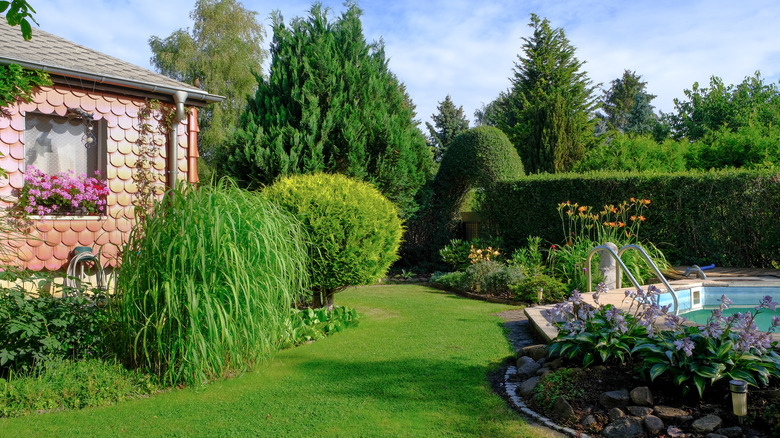 ozzanddi/Shutterstock
Consider creating a secluded pool house with beautiful cedar siding. This design is definitely a relaxing getaway in your backyard with lush landscaping.
19. A different kind of standpoint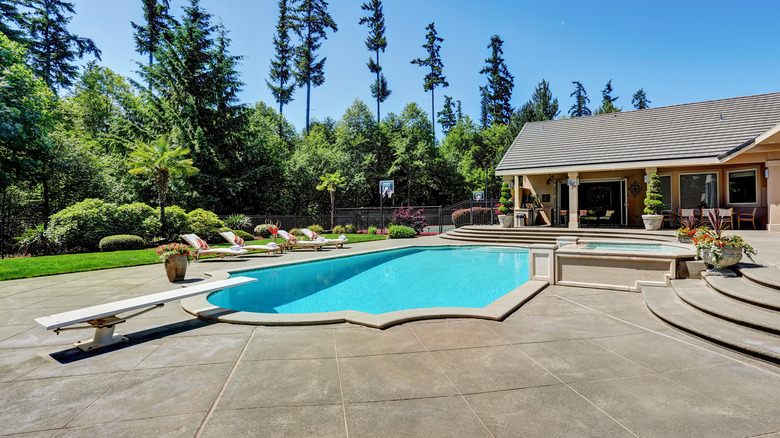 Artazum/Shutterstock
This pool house comes with an epic view of a pool in a unique shape, which would be lovely to wake up to every morning.
20. Outdoor seating area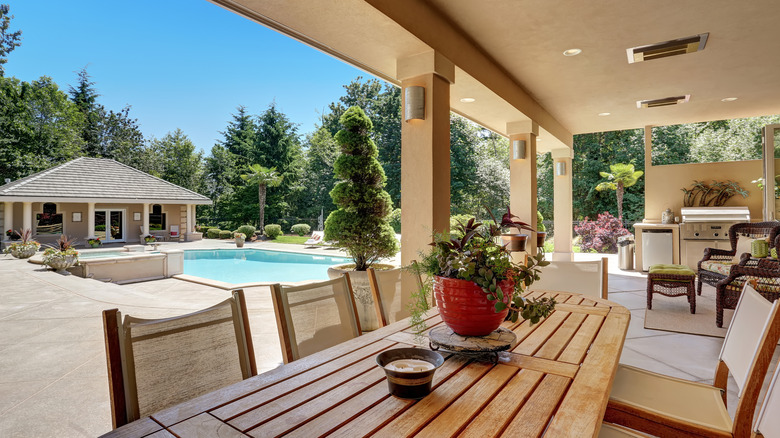 Artazum/Shutterstock
We love this outdoor area with plenty of seating with views of the pool and pool house.
21. An infinity pool panorama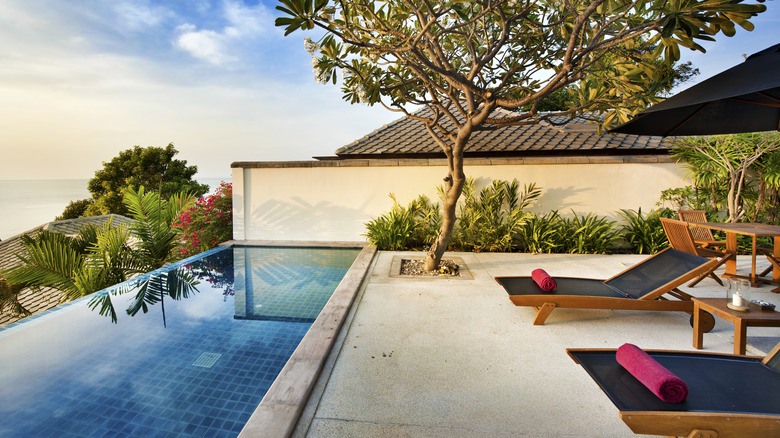 worradirek/Shutterstock
If you have an infinity pool, we can see why you may want to spend hours overlooking the view, which you can do from the pool house,
22. A beautiful courtyard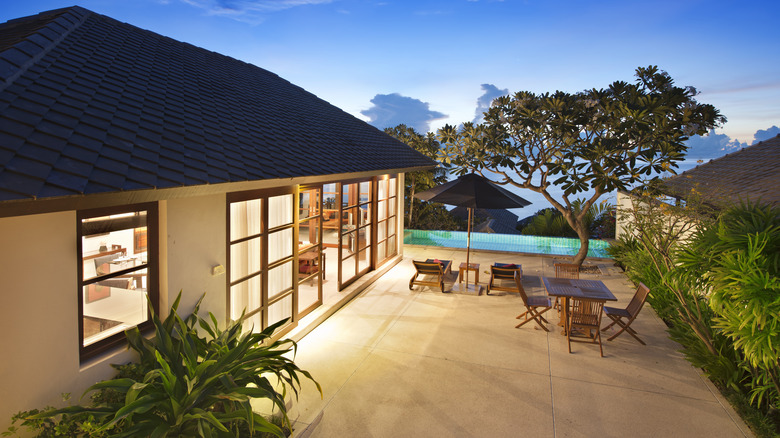 worradirek/Shutterstock
Imagine the entertaining one could do with such an expansive courtyard patio. Plus, the luxurious pool house isn't bad to look at either.
23. An abode in the forest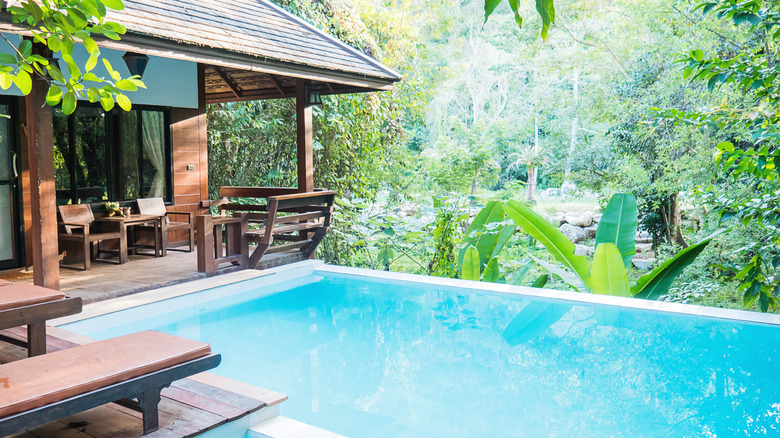 Pair Srinrat/Shutterstock
This gorgeous pool home in the middle of the jungle is the perfect escape. We can't get enough of the natural wood of this epic retreat.
24. A relaxing haven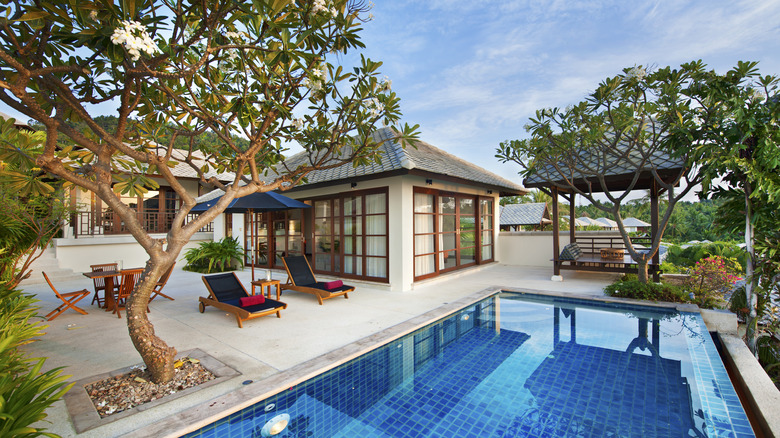 worradirek/Shutterstock
This tiny pool house boasts a ton of character with floor-to-ceiling windows accentuated with wood to give it a natural vibe ... which just so happens to be the best place to relax.
25. A humble pool house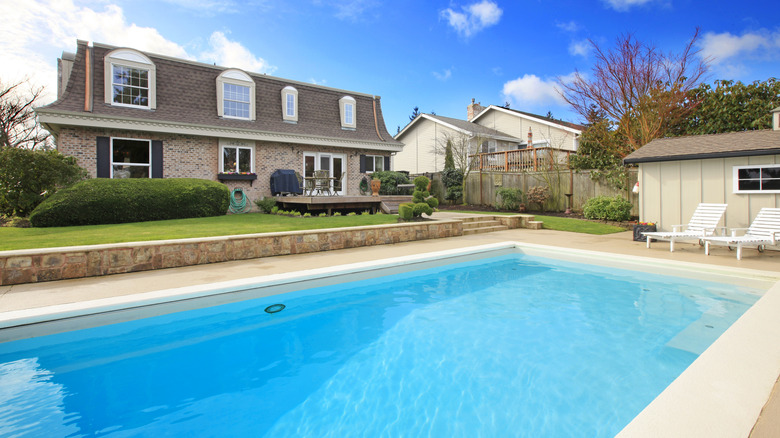 Artazum/Shutterstock
At first glance, you may miss this one. The small beige pool house exhibits a simple style but totally works as a place for a quick change in or out of your bathing suit.
26. Glass doors aplenty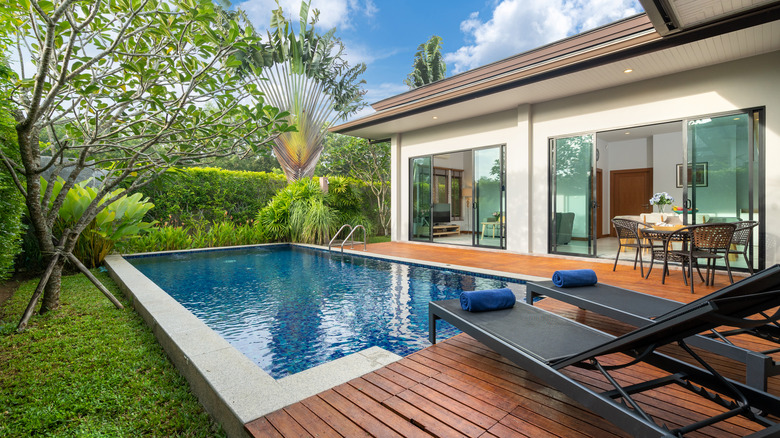 stock_SK/Shutterstock
Consider adding sliding glass doors to your pool house for a beautiful indoor/outdoor flow. They will bring a chic element to the entire style, complementing it yet being practical.
27. A solar-powered stunner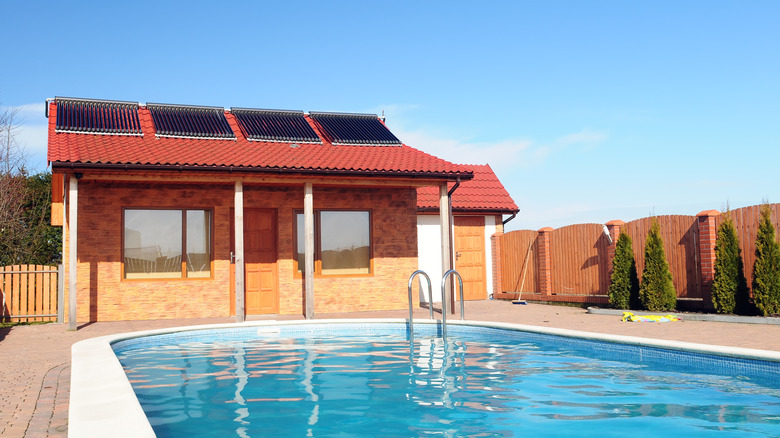 luiggi33/Shutterstock
This gorgeous brick pool house has a thatched red roof and solar panels for an Earth-friendly option.
28. Privacy abounds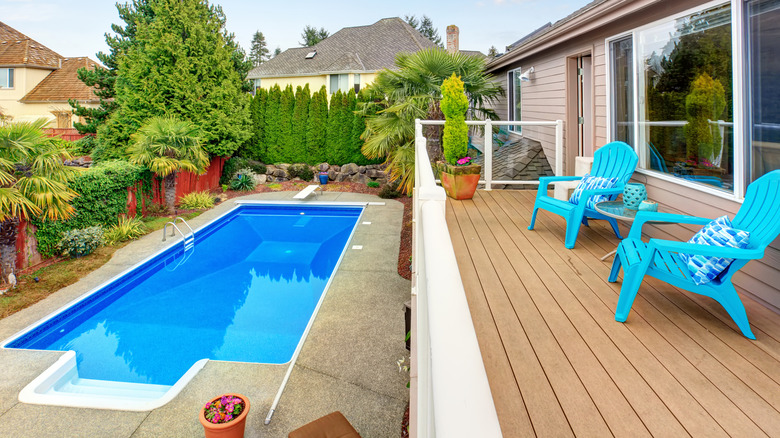 Artazum/Shutterstock
This neutral home with a raised deck and turquoise Adirondack chairs offer incredible landscaping for the best amount of privacy.
29. A 70s-style stone pool house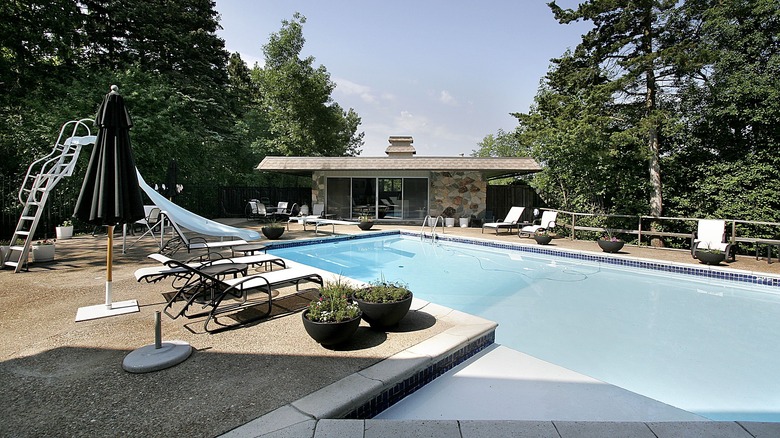 pics721/Shutterstock
Go back in time with a 70s-style pool house made of stone that overlooks the expansive pool. Simple yet impressive, it will provide the shade you need on hotter days.
30. Light it up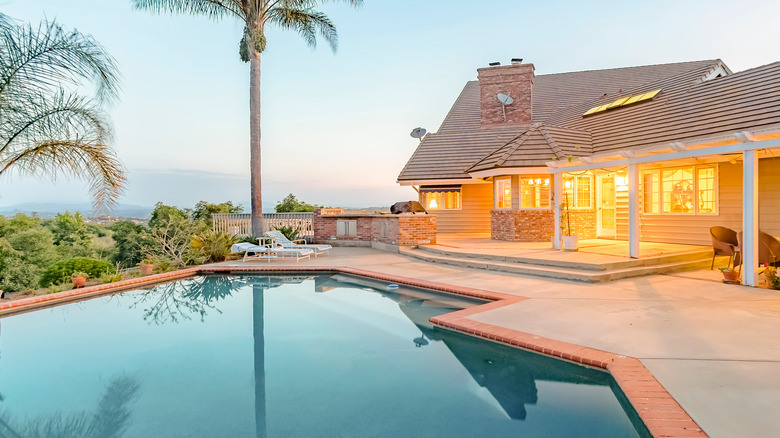 Jason Finn/Shutterstock
This gorgeous guest house looks beautiful with all of the right lighting, and the view it exhibits is pretty incredible too.
31. A romantic sanctuary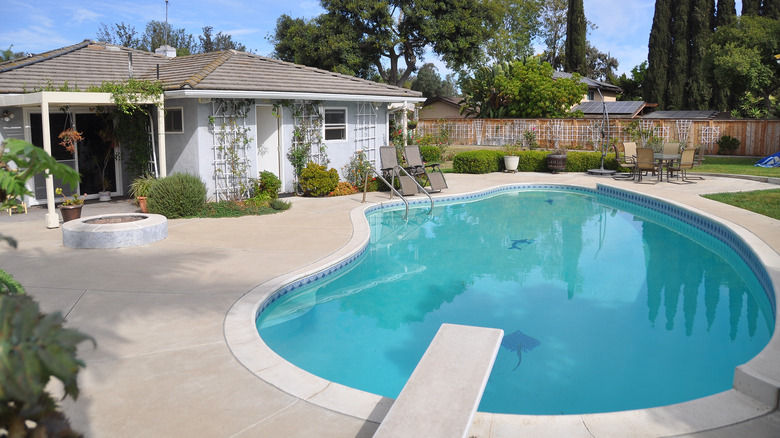 Don Serhio/Shutterstock
This gorgeous white pool house has romantic ivy cascading down the front, and quite frankly, we can't think of anything more beautiful.
32. In the shade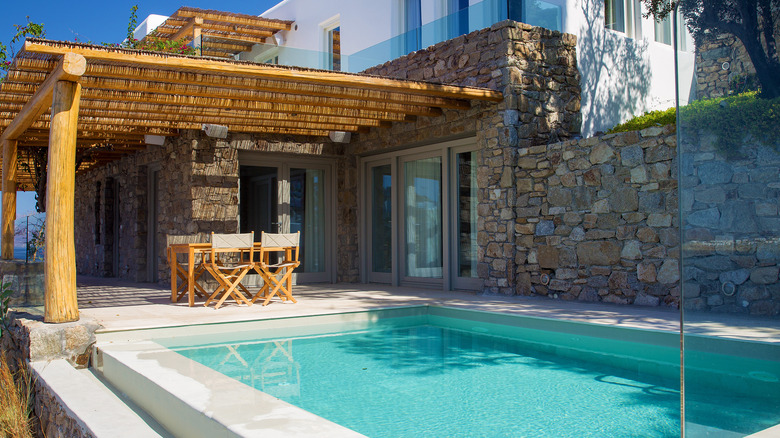 Marat Lala/Shutterstock
This stone pool house has a unique design with its rustic-style pavilion near the pool — a perfect way to complement the rest of the scenery.
33. A dreamy retreat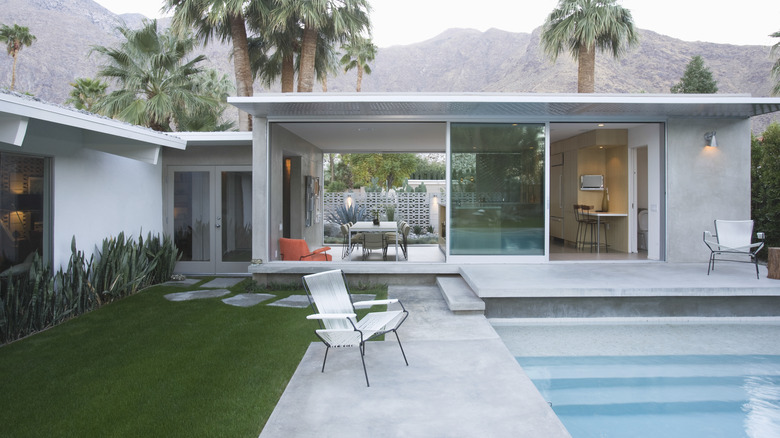 sirtravelalot/Shutterstock
This pool house has a sleek yet simple design, with the entire exterior featuring a sliding glass door, perfect when guests are coming over.
34. A chic temporary option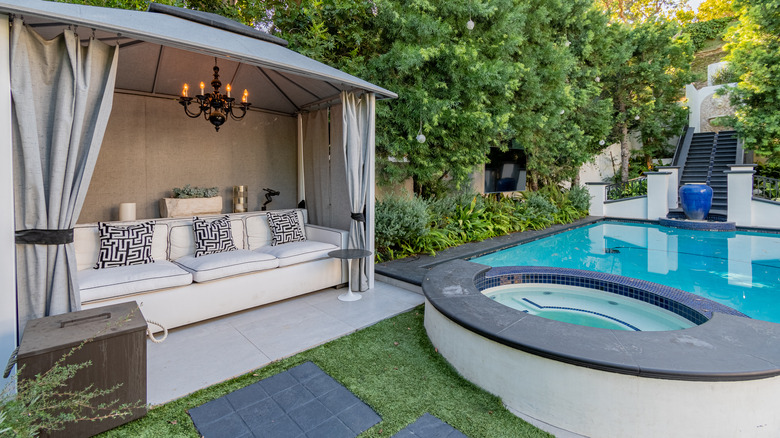 Justin P Bradley/Shutterstock
This cabana-style design idea is excellent, especially for privacy needs like changing in or out of bathing suits since it has curtains.
35. A nice poolside workspace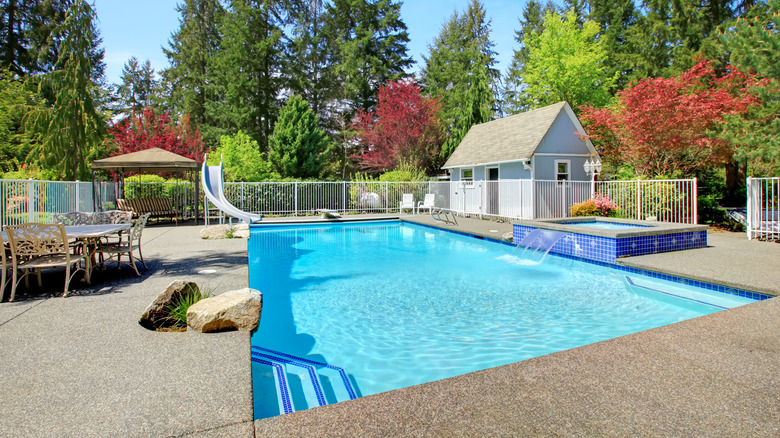 Artazum/Shutterstock
If you need a home office, this pool house could double as a unique space to work with a stunning view.
36. Small but stunning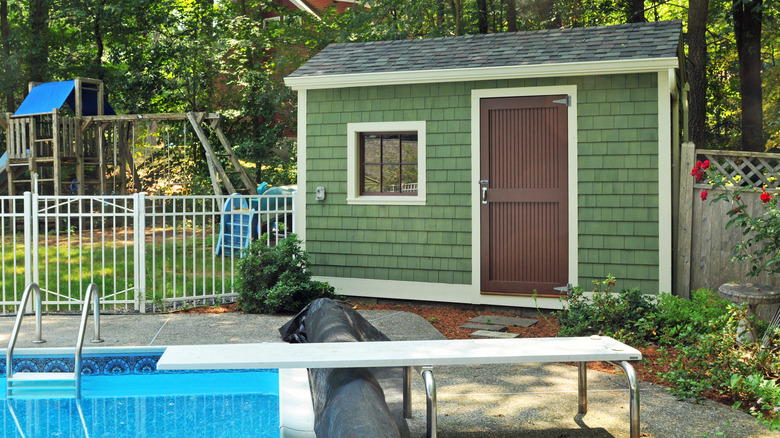 Steven Belanger/Shutterstock
This cute green shed does an incredible job of showing that a tiny lodge can be a creative design option.
37. An epic backyard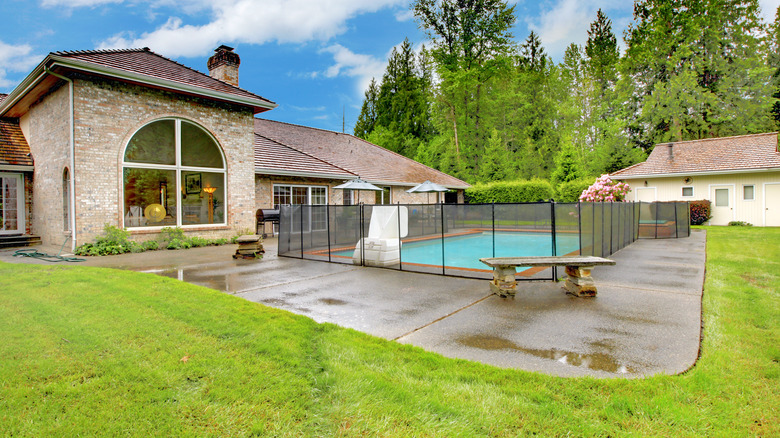 Artazum/Shutterstock
This incredible backyard of this light brick home features a unique beige guest and garden shed close to the pool and patio.
38. A dream-like harbor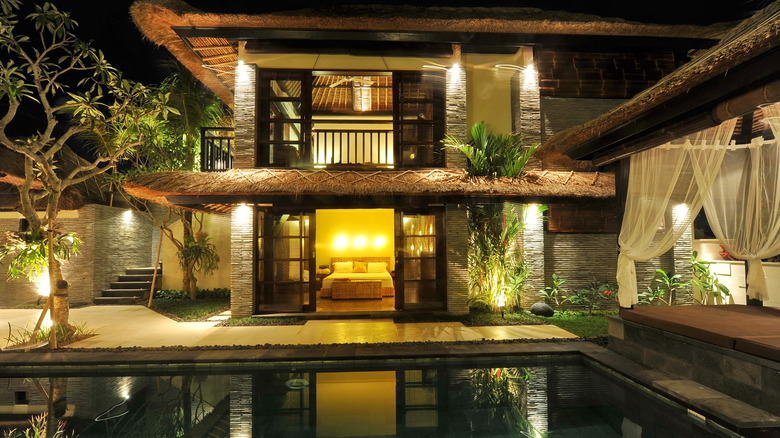 Visionsi/Shutterstock
This two-story pool house makes for a dreamy destination and is the perfect place to spend your time.
39. A pool hut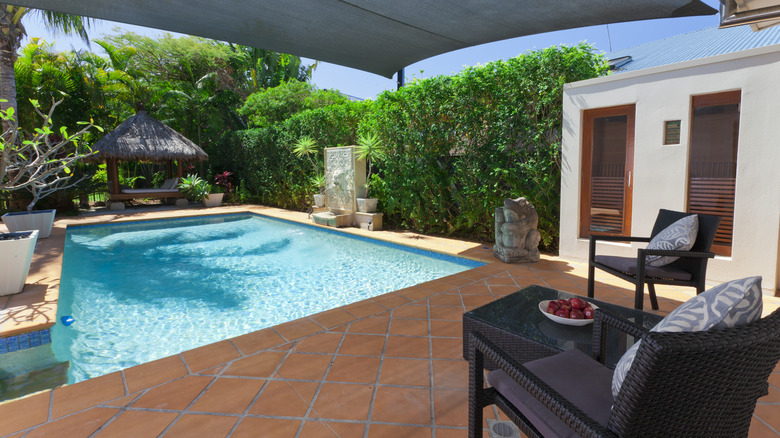 Image Supply/Shutterstock
If you add a pool with relaxing lawn chairs, it will become a space that you will enjoy for hours.
40. A private outdoor shower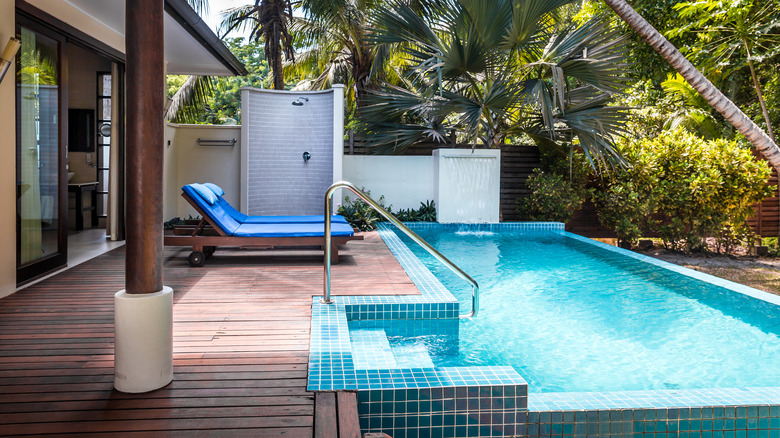 Maciej Czekajewski/Shutterstock
A private outdoor shower is an amenity if you have a pool. It's a fantastic way to clean off the chlorine after your dip or shower before a swim.