Dexter's Michael C. Hall Lost A Whopping Sum On Sale Of NYC Apartment
Popular American actor Michael C. Hall was born in North Carolina on February 1, 1971. At a relatively young age, Hall lost his father to cancer and was solely raised by his mother. He eventually found his way into acting, and eventually found himself pursuing a master's degree in Fine Arts after completing his undergraduate degree at Earlham College in Indiana, according to Biography.
Hall's acting career first took off when he took his first major role in the television series "Six Feet Under" and was even nominated for an Emmy Award due to his incredible performance. Not long after, he began a new role for another television series, "Dexter." This series brought him even more success than his first role, eventually leading him into winning several Golden Globe and SGA awards. Although his acting career thrived, he faced many highs and lows in his personal life. Throughout filming "Dexter," Hall discovered he had Hodgkin's lymphoma, which he kept secret until his treatment became noticeable in 2010. Today, Hall remains in remission following his disease and continues to stun audiences with his jaw-dropping acting performances. Although the success in his acting career continues to rise, he did not seem to have nearly as much luck on the recent sale of his New York City apartment. New York Post states that the apartment was first placed on the market for $4.28 million but was only sold for $4.1 million. Let's take a closer look at this New York City apartment.
The West Village apartment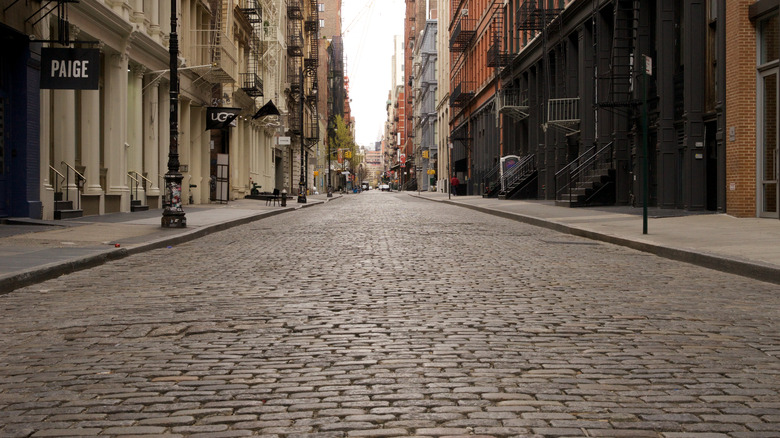 George Wirt/Shutterstock
The home is located in West Village in Manhattan, New York. West Village is most commonly known for its style. NYC: The Official Guide states that the neighborhood is a unique mix of both historic and modern spaces. This is seen in the modern interiors of most homes and pre-war outer style. Even the streets of West Village are covered in cobblestones. Michael C. Hall's apartment is located in this area where it is found in the building at 160 West 12th Street.
According to New York Post, Hall's unit contains a total of 1,585 square feet of living space, which includes two bedrooms and two bathrooms. The luxurious features of the home include tall beamed ceilings, hardwood floors, a steel door entrance, and a full chef's kitchen. Despite what may seem like an unsuccessful sale, Hall remained content and quickly moved on to bigger and better pastures. Although he still remains in New York City, he resides in the even more luxurious home he purchased for $4.3 million in 2017.