What's Wrong With Ted Mosby's Apartment In How I Met Your Mother, According To Interior Designers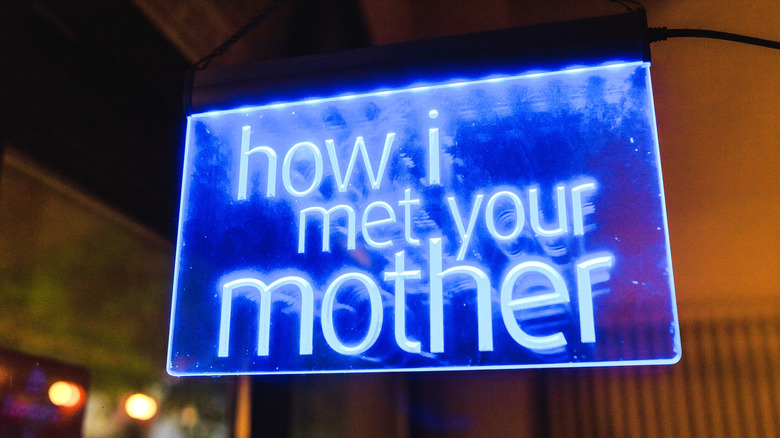 frantic00/Shutterstock
"How I Met Your Mother," which aired from 2005 to 2014, featured a handful of unforgettable sets, including McLauren's Pub and the infamous apartment. As per Screen Rant, the sitcom followed Ted Mosby and his friends for nine seasons leading up to Ted meeting his wife, who he eventually had two children with. The iconic apartment was home to most of the show's characters, starting with Ted (Josh Radnor) and Marshall Eriksen (Jason Segel), and later Lily Aldrin (Alyson Hannigan) and Robin Scherbatsky (Cobie Smulders).
The two-bedroom, one-bathroom apartment on the third floor of a multi-family walk-up was seen in just about every episode of the show as the primary hangout spot for the group of friends, according to Julep. Despite being off-air for nearly a decade, fans still love this easy-to-watch, slightly episodic sitcom. With a couple of streaming platforms picking it up, such as Amazon Prime, more people are falling in love with the characters and storylines every day. They also have some things to say about the undeniably unique apartment.
The apartment needs creative storage solutions
You can't expect much from a TV apartment that is modeled after the creators' self-described "awesomely crappy apartment" in New York City, as per TV Guide. Almost every square inch of this place has some kind of décor, furniture, or something else covering it. Los Angeles-based interior designer Lonni Paul told Insider that the clutter is completely out of control in an article that features a handful of designers picking out the problems within our favorite TV apartments.
The clutter and the layout work together to create a space that feels immensely cramped, yet strangely welcoming. However, these feelings may just come from the show itself, which often depicts how great the bonds of friendship can be. New York interior designer Alec Holland expressed to Insider his feelings about the apartment's counterintuitive layout, focusing on the fireplace, which has become an afterthought amid so much furniture. He suggested flipping the entire room around and closing off Ted's architecture workspace with curtains. With some creative storage solutions and a little rearranging, this could look like a whole new home.
Interior designers want to see less red
The primary complaint gathered by Insider is the intense use of red all over the apartment. There is a red couch, a red chair, two red rugs, several red knick-knacks, and lots of artwork featuring red details. It's unclear how this flaw made its way into the apartment. That said, it could just genuinely reflect the real-life apartment of show creators Craig Thomas and Carter Bays.
Other elements of the apartment are also warm-toned, making the red feel even more overwhelming. Reddish hardwood floor is used around the entire place while much of the wooden furniture has warmer hues. What's worse, the apartment doesn't appear to incorporate any other color. Large areas of red are only separated by warm browns, yellows, and shades of beige. One breath of fresh air comes from a single blue-doored side table that is sometimes seen next to the couch. Interestingly, in the spin-off show, "How I Met Your Father," the old apartment received a fresh coat of blue paint, as per TVLine.