How To Create The Perfect Parisian Bathroom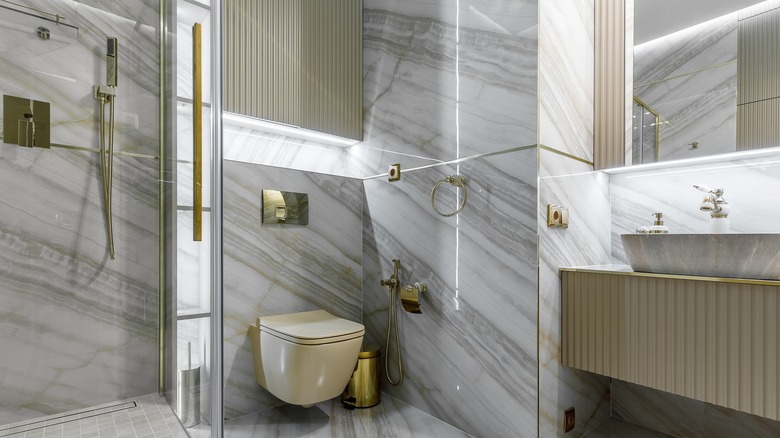 miroha141/Shutterstock
When it comes to travel locations, Paris is never a bad choice. But have you ever considered bringing some impeccable French style into your home to enjoy on a daily basis? The bathroom is a popular room to tackle when people get the itch to redecorate a space, and creating a Parisian vibe will take it from a simple functional space to a relaxing sanctuary. 
French décor incorporates old-world charm with accents of modern style and romance. As Bay-Area designer Julie Rootes told Chairish, "When I visit Paris I am always in awe of these gorgeous hotel bathrooms and all of the details that go into them." It is a region of the world like none other, known for its innovative style paired with timeless design. If you are ready to transform your bathroom into a Parisian paradise, get ready for marble finishes, vintage knickknacks, and muted, soothing color hues. 
Simple and white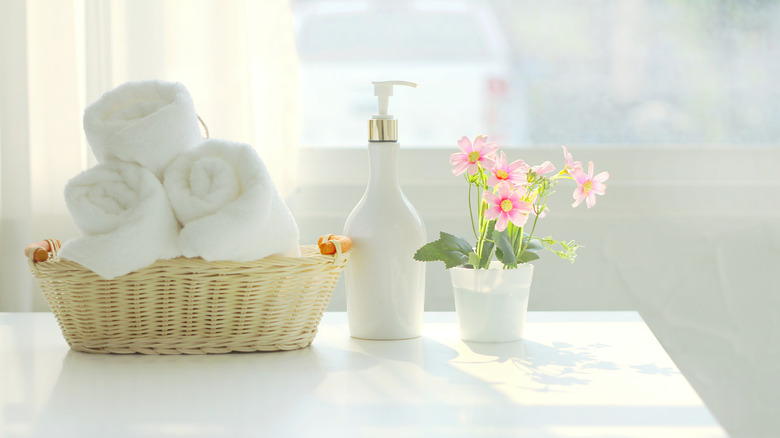 Bird stocker TH/Shutterstock
When it comes to Parisian bathrooms, the goal is to create a space that is relaxing and rejuvenating. In this famous European city, that means indulging in some luxury. A white-on-white palette freshens and opens up a bathroom while also lending a very sophisticated feel. Think of the fanciest hotel room you've ever seen or stayed in — chances are, the bedding was white. The same is true for the bathroom — white tub, walls, and towels make for a modern look that appears much more expensive than it actually is.
When decorating her own home bathroom, designer Janet Parrella Van Den Berg incorporated white sheepskin, linens, and floorboards into the space to play with texture. As she told Homes & Gardens, "With a white palette it's all about how the light falls, the sun shines and the shadows play. White changes through the day and brings details and shapes into focus. It makes me feel uplifted but calm."
Let the light in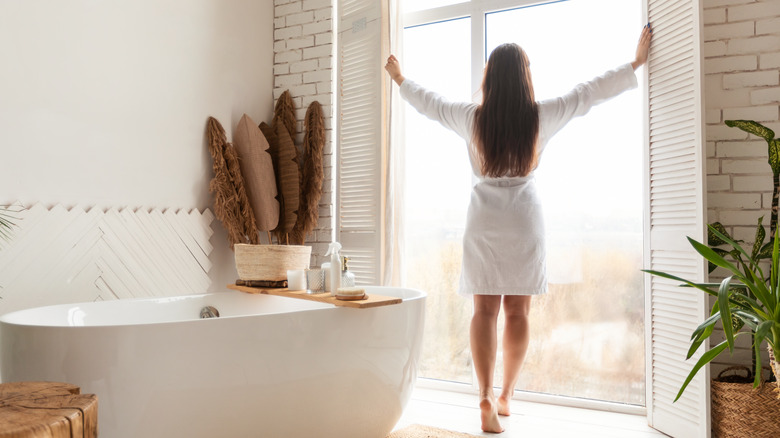 Prostock-studio/Shutterstock
Another way to brighten up a bathroom is with plentiful natural light. Parisian homes are full of wide-open windows. If you are able to, install a large window on the wall or even invest in a skylight. With the light pouring in during a relaxing bath soak, your bathroom will truly feel like a sanctuary away from the fast-paced world. Some people are fortunate enough to already have bathrooms with windows, but many have frosted glass or shutters and curtains that block the light. If it makes sense privacy-wise, consider opening these up or replacing them with sheer curtains that let as much light in as possible. If you are replacing or adding windows, opt for one as large as you are able to fit in your selected space. 
If windows aren't an option, invest in some natural light LEDs or lamps. These will come close to simulating sunlight and will soften your bathroom's environment. As a bonus, they will help you choose your clothing and apply makeup, as the natural lightbulbs will more closely resemble the outside world than fluorescent bulbs. Home design websites like Hello Project emphasize the importance of light when it comes to creating a truly relaxing bathroom environment.
Statement pieces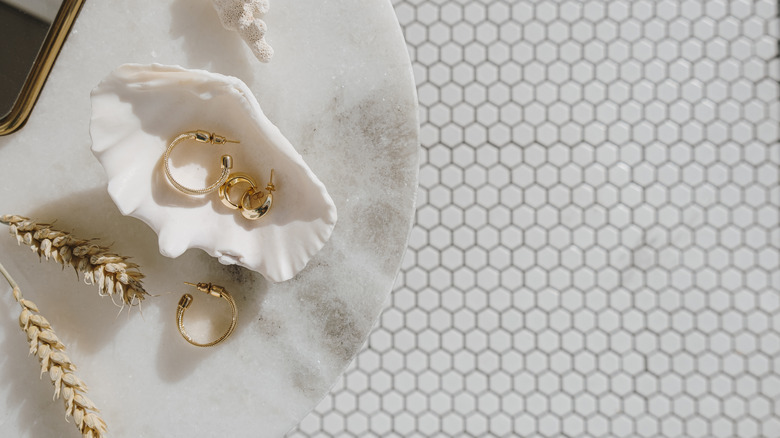 Floral Deco/Shutterstock
Statement pieces and knickknacks placed throughout the bathroom can give it a lovely Parisian feel, even if you can't remodel or redecorate in major ways. Gold mirrors are popular, as are whimsical chandeliers and woven baskets. Stick with gold and neutral colors. Other options include seashell jewelry trays, ivory-colored vases and bowls, and flattering plants like ferns. Wall hangings are also popular — choose modern art, black and white photos of the Eiffel Tower, or prints of the French countryside. If you want to go big, cover a section of the wall in blue herringbone tile, or paint a Parisian wall mural. Anewell is a great website for inspiration, as well as for purchasing wallpaper that simulates a mural if you don't have the time, talent, or resources to paint your own. 
One of the best ways to decorate your Parisian bathroom is to find items legitimately sourced from Paris. Visit antique stores, search on websites like eBay, and visit French bakeries and restaurants in your area to ask them where they found certain decorations. Or, if possible, take a trip to Paris yourself and bring back some decorative items for your new Parisian bathroom!