Elliot Page Used To Live In An Unexpectedly Modest Home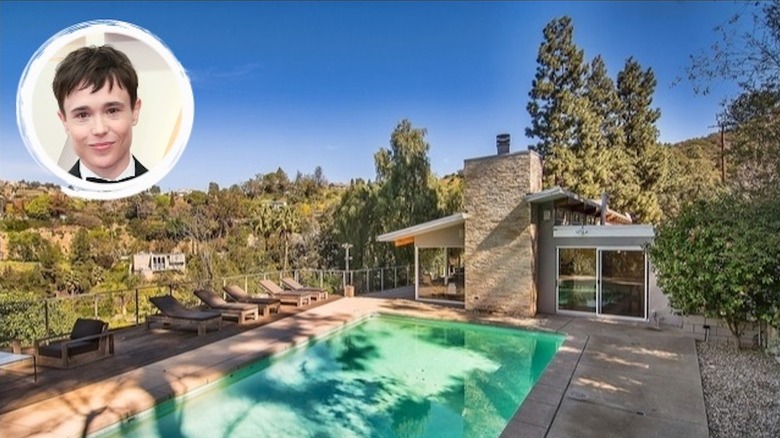 David Livingston/Getty Images/Redfin/Static Media
It seems actor and multi-millionaire, Elliot Page, best known for his role in the popular film "Juno" is even more down-to-earth than we thought! The Canadian actor, who has received over 31 accolades for his film and television projects, per IMBd, used to live in an unexpectedly modest home. This news is a delightful surprise, considering Hollywood stars are no strangers to massive, opulent residences set behind gated communities.
Page bought the Los Angeles property from Venus Williams in 2014 for $1.7 million but sold it only four years later for a $400,000 profit, according to Realtor. The house is truly spectacular, showing bedrooms that overlook Nichols Canyon and have a front-row seat to picturesque views composed of lush landscaping and assorted greenery. But that's not all! The large, open-concept floor plan, hillside displays, retro interiors, and minimalistic arrangements will have you in awe, too. The home is near hotspots like Laurel Canyon and Studio City.
Canyon views from the backyard
According to Realtor, the 1,528-square-foot home, constructed in 1955, consists of a gorgeous contemporary interior. It features an extensive surrounding area with a multi-motor court and an additional two-car port set behind a private gate. Like Lonny, we find the terrace entryway that leads to the front of the house particularly beautiful. The pathway employs gravel and cement steps encased in a topiary-trimmed hedge to make a statement.
Moving along the house, the backyard presents itself as a peaceful and private oasis composed of stunning landscapes and an inground pool right in the center. You'll find multiple lounge chairs lining the pool, nesting in the inviting shade of the trees that tower over the property. Past the pool and deck is a beautiful green patch of land that makes for a lovely picnic spot. The backyard also gives easy access to the bedrooms, each one displaying an unobstructed view of Nichols Canyon.
Mid-century modern interior
The property has three bedrooms and two bathrooms — all following a neutral color palette, minimalistic layout, and modern wood furniture theme. The bathrooms also showcase floor-to-ceiling tiled walls, a wood finish vanity, and a glass walk-in shower in the en-suite bath. Per Lonny, Elliot Page converted one of the bedrooms into an office space, and we can't help but admire his keen eye for detail and interior décor. It features mid-century modern furniture and a stunning wooden desk with an all-leather swivel chair.
In the kitchen, there's complete custom wood cabinetry, a beautiful skylight allowing natural light to fill the space, and stainless steel appliances. As one can expect with an open-concept floor plan, the dining area and living room flow into each other and even share the same type of mid-century modern furniture. And due to the presence of high ceilings and giant windows, natural lighting is no stranger to this space. Other amenities in the actor's former home include a living room featuring a white brick wall with a fireplace and two lounging areas adorned with vintage couches and armchairs.