40 Bathroom Decorating Ideas For When You're On A Budget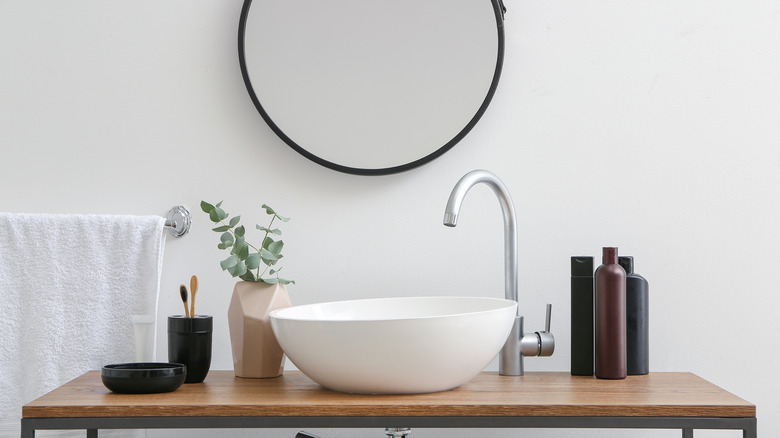 Pixel-Shot/Shutterstock
When considering rooms in your home to renovate, kitchens and bathrooms are at the top of most wish lists. Deciding whether to update countertops with marble or quartz, getting a new vanity, and refinishing your floors can be such a fun project, whether you're searching for inspiration online or from an interior designer.
According to HomeAdvisor, the average bathroom renovation will run a homeowner anywhere from $6,000 to $16,000, with the national average hovering around $11,000. But just because an average renovation can be pretty pricey doesn't mean that there aren't ways to upgrade your bathroom on a budget. Per Real Homes, there are many ways to upgrade your bathroom without breaking the bank, from recycling furniture to create a unique vanity to simply decluttering the space; these ideas can be a game-changer.
Keep scrolling to get inspired with 40 incredible decorating ideas for designing your bathroom on a budget.
Add texture with shiplap walls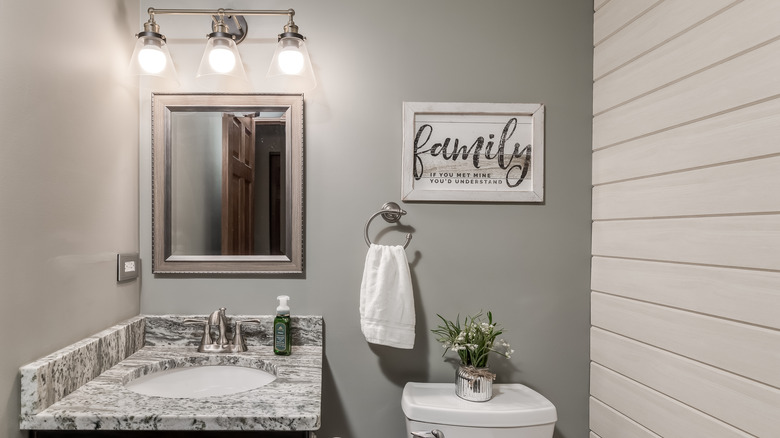 Hendrickson Photography/Shutterstock
A shiplap accent wall is an excellent idea to add visual texture to your bathroom.
Lush greenery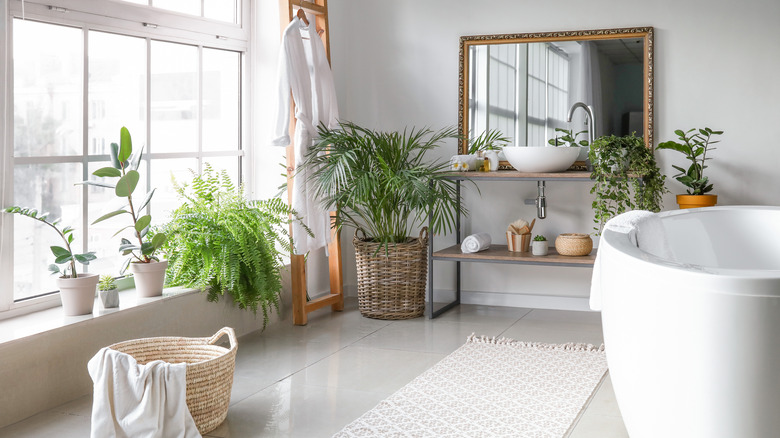 Pixel-Shot/Shutterstock
One of the most cost-effective upgrades you can make to your bathroom is adding lush greenery, which brings a bit of nature indoors.
A ladder for display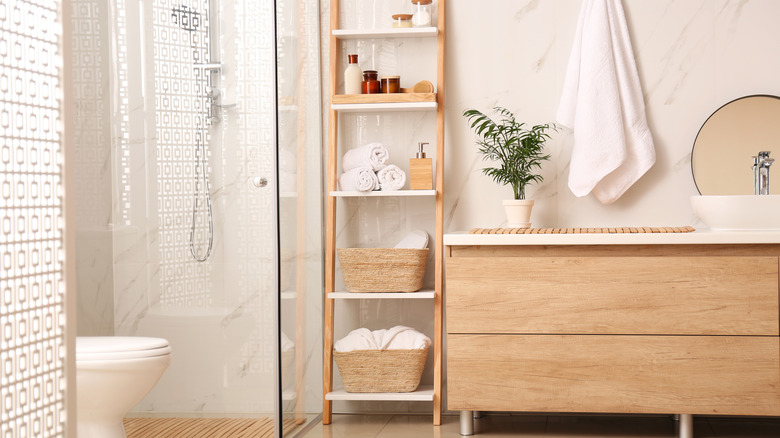 New Africa/Shutterstock
This bathroom is a beauty with its light wood tones. Adding a ladder to display your favorite items is an easy upgrade.
A colorful bathtub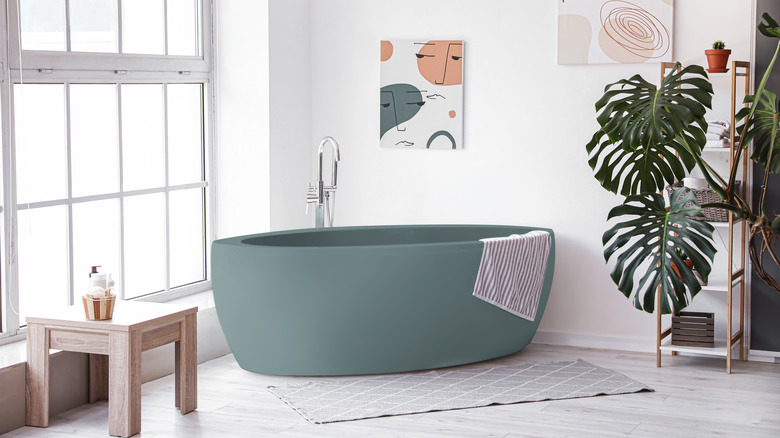 Pixel-Shot/Shutterstock
While this green bathtub is undoubtedly expensive, try giving yours a couple coats of colorful paint to add a touch of luxury.
Wicker accessories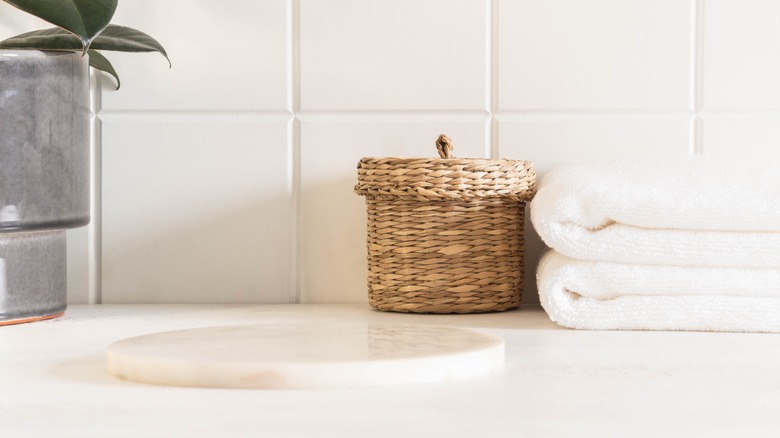 Sentelia/Shutterstock
To store away bathroom necessities, pick up some natural wicker baskets that will look pretty on your counter.
Create a spa-like feel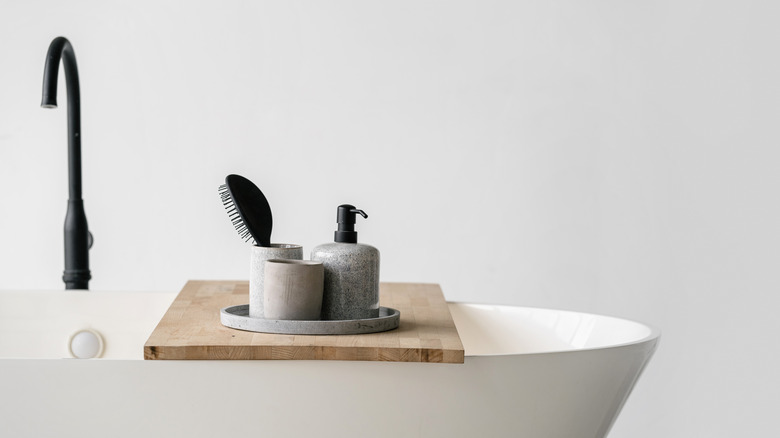 brizmaker/Shutterstock
Make your bathroom feel as luxurious as the spa by adding a wooden tray on top of your bathtub with luxe accessories and great-smelling candles.
A sink upgrade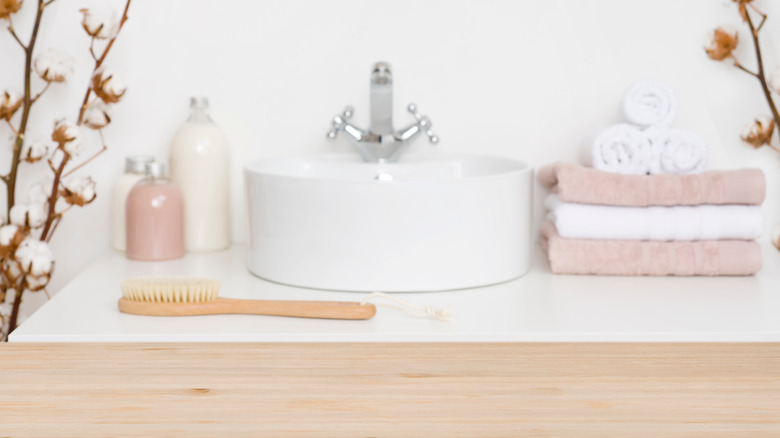 Didecs/Shutterstock
Sometimes something as simple as upgrading your sink to a more modern look can go a long way.
A circular mirror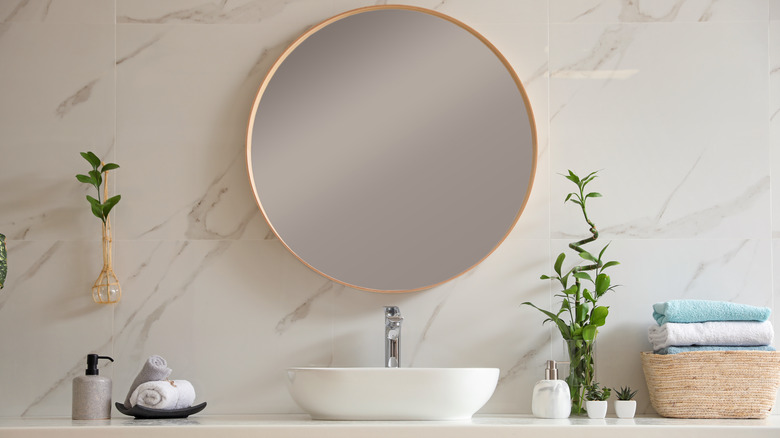 New Africa/Shutterstock
Consider changing up your mirror for a budget-friendly upgrade. We love the circular shape of this option.
Matchy-matchy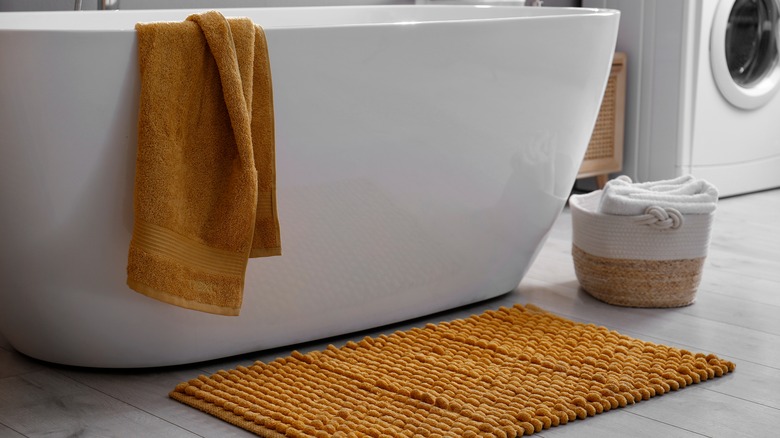 New Africa/Shutterstock
Bring in the matching towels and rugs for a look that is pulled together. Bonus points if the color is eye-popping!
Rattan lighting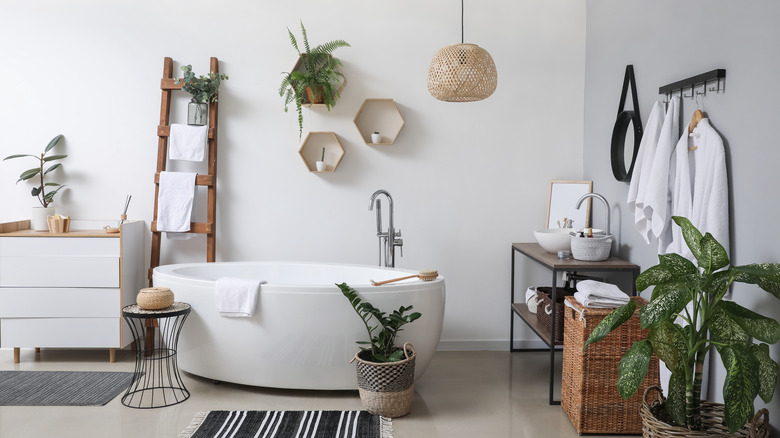 Pixel-Shot/Shutterstock
Consider adding in some rattan lighting features, which are generally affordable and bring a natural element to the space.
A mauve beauty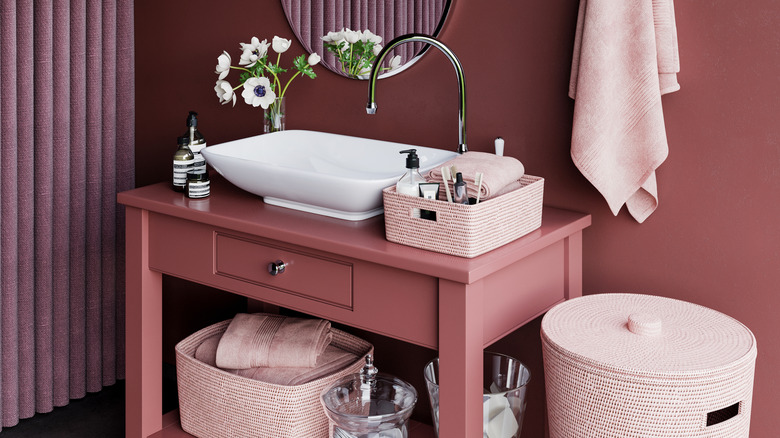 Miljan Andjelkovic/Shutterstock
This gorgeous bathroom's entire look is upgraded with a bit of mauve paint on the walls and vanity.
Artistic expression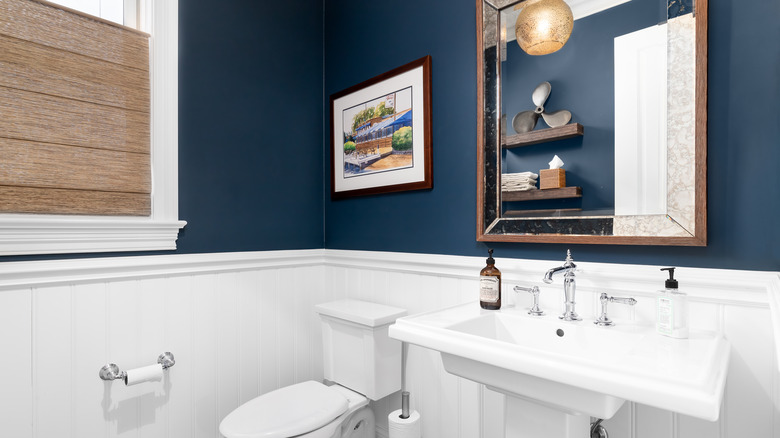 Hendrickson Photography/Shutterstock
These gorgeous navy walls make the artwork above the toilet really come to life. The two-tone look also adds visual interest to the space.
It's in the details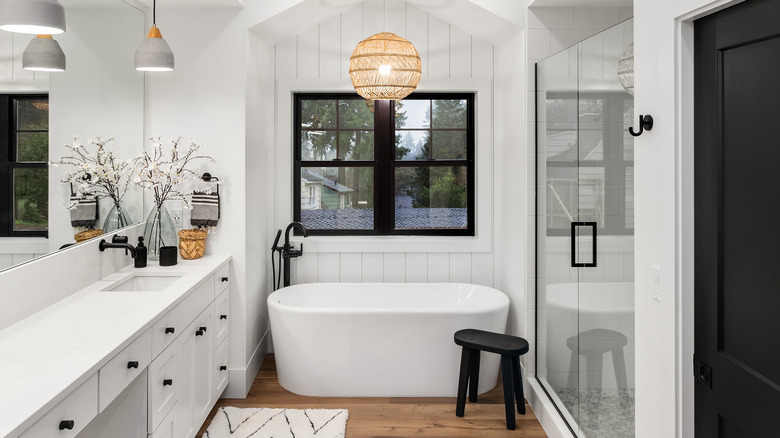 Breadmaker/Shutterstock
While this bathroom is full-on luxury, you can still get inspired for your bathroom on a budget. We love how the window frames are painted black, bringing out the beautiful details.
Bring the spa to your bathroom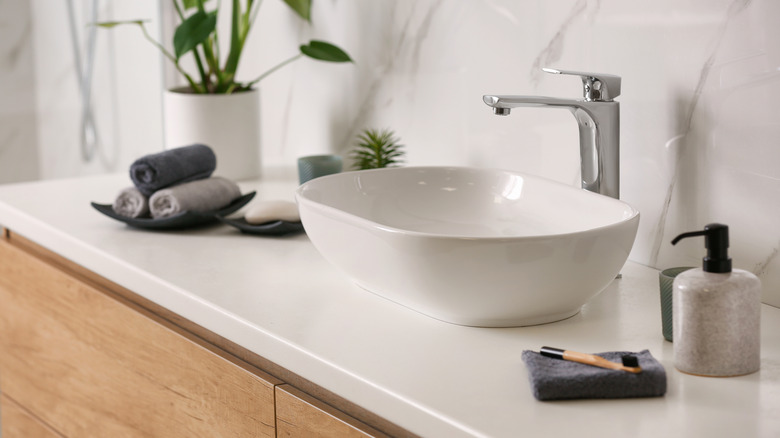 New Africa/Shutterstock
A bathroom upgrade can be as simple as bringing in plush towels to place strategically on your pristine countertop, giving the space a spa-like feel.
Wallpaper accent wall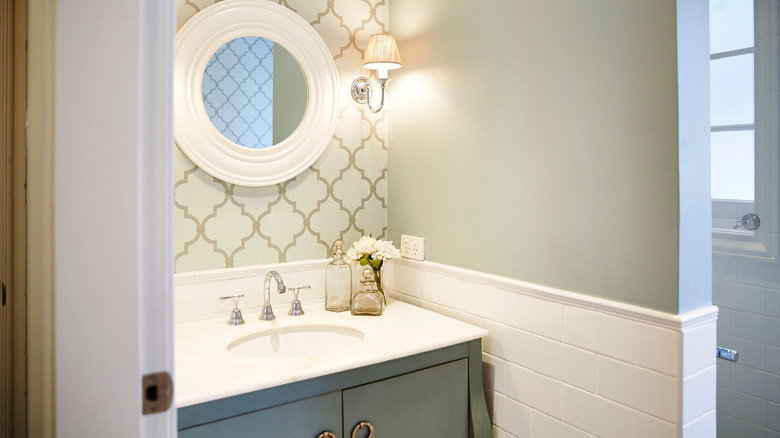 PhotoMavenStock/Shutterstock
One easy update can be incorporating a wallpapered accent wall, such as this one, for an inspiring and cost-effective result.
A cabinet in a deep, dark hue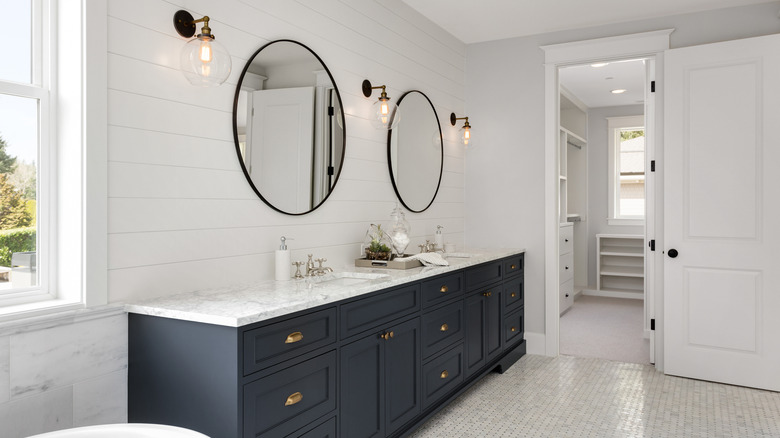 Breadmaker/Shutterstock
To easily upgrade your bathroom, paint your vanity a deep navy for a luxe look. The marbled countertops take it to the next level.
Classic tiles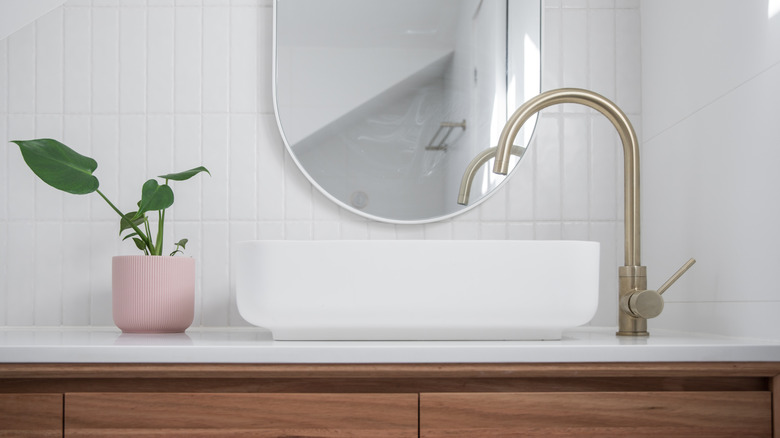 Lightitup/Shutterstock
Choose a classic tile that will stand the test of time for years to come.
Luxury accessories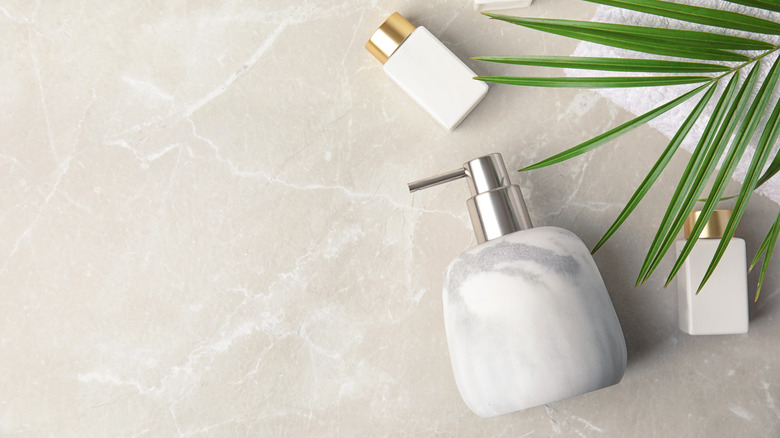 New Africa/Shutterstock
Pick up some luxe bathroom accessories, such as a marble soap dispenser and jars for creams, to hold everything you need.
Tiled accent wall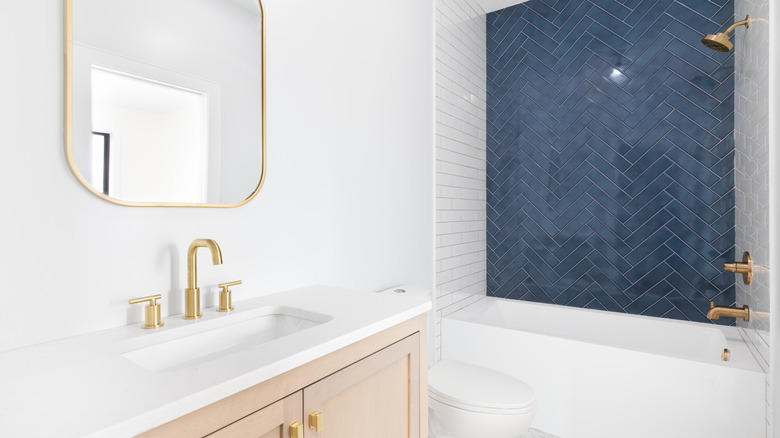 Hendrickson Photography/Shutterstock
If you're using tiles, think about creating an accent wall. We love the dark blue herringbone pattern of these tiles.
Unique lighting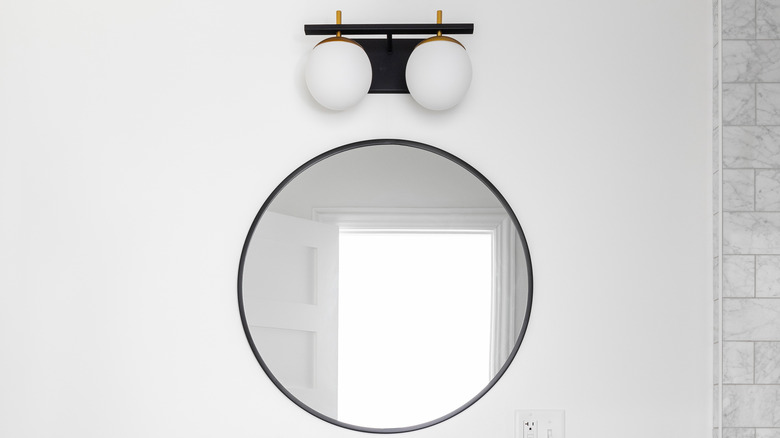 Hendrickson Photography/Shutterstock
The spectacular light above the mirror is a show-stopper, and there's no need to break the bank for high style.
Wood-framed mirrors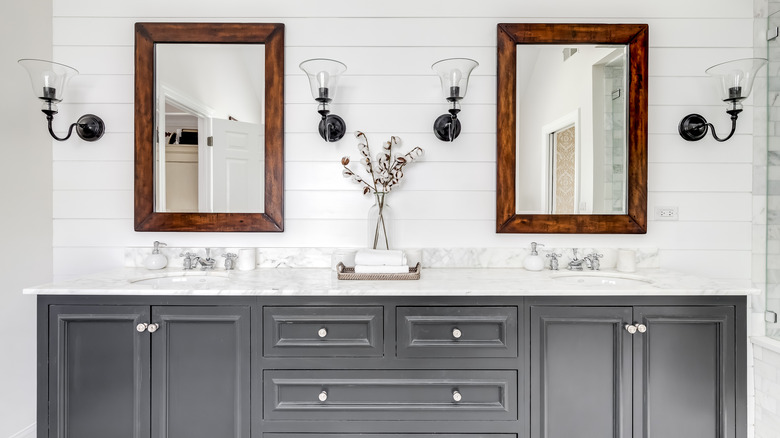 Hendrickson Photography/Shutterstock
This upscale bathroom serves up plenty of inspiration. We love the wood-framed mirrors, which could be an easy and affordable DIY option using wood dye from your local hardware store.
The golden rule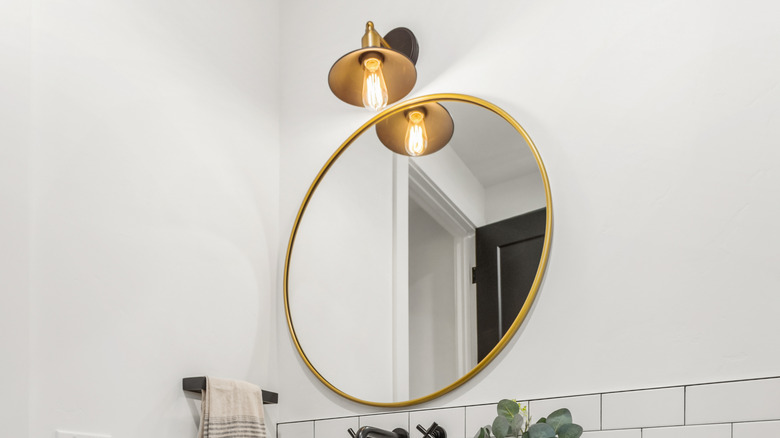 Breadmaker/Shutterstock
One idea to create an opulent environment in your bathroom is swapping your basic mirror with one lined in luxurious gold.
Out-of-the-box art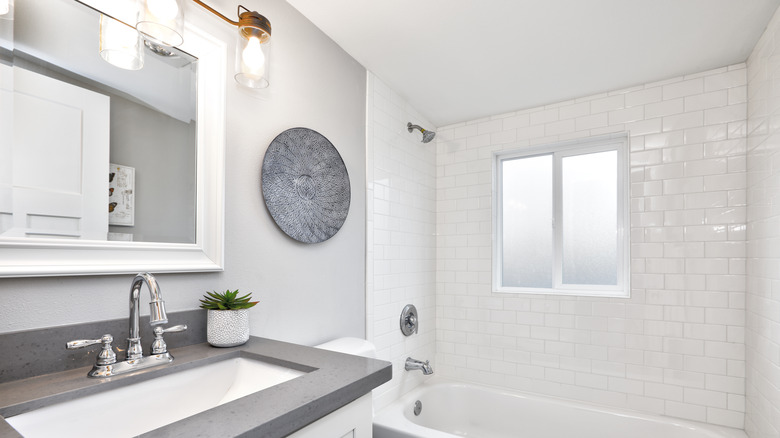 Artazum/Shutterstock
This all-white bathroom is made more appealing with a circular piece of artwork to add a focal point.
Patterned tile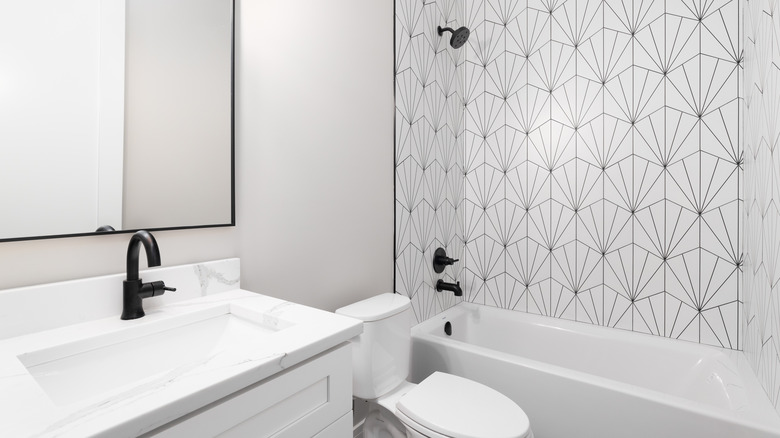 Hendrickson Photography/Shutterstock
For a new look for your bathroom, patterned tile is a brilliant idea, especially if you decide on an elegant design like this one.
In the pink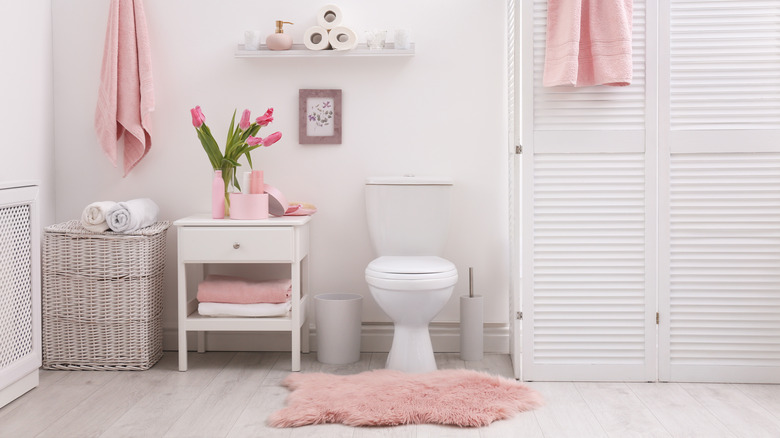 New Africa/Shutterstock
Add romantic details, from a pink rug to towels and soap dispensers, for a simple and feminine upgrade.
Black and white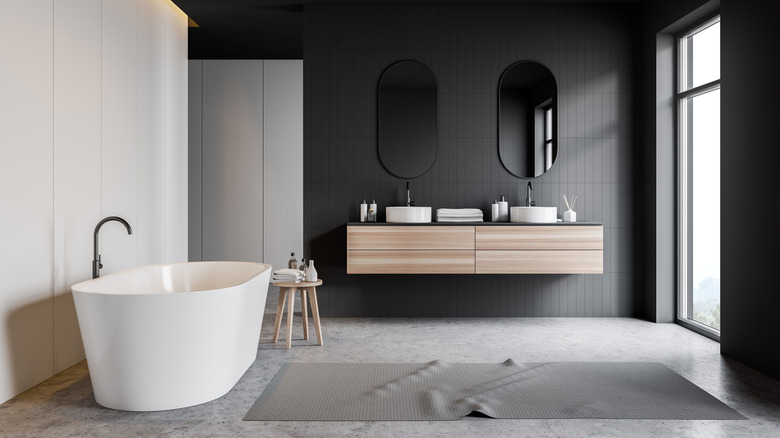 ImageFlow/Shutterstock
The floor-to-ceiling windows, the chic black walls, and the white accent wall with a soaking tub give us plenty of ideas for a two-tone bathroom update.
An elegant set of mirrors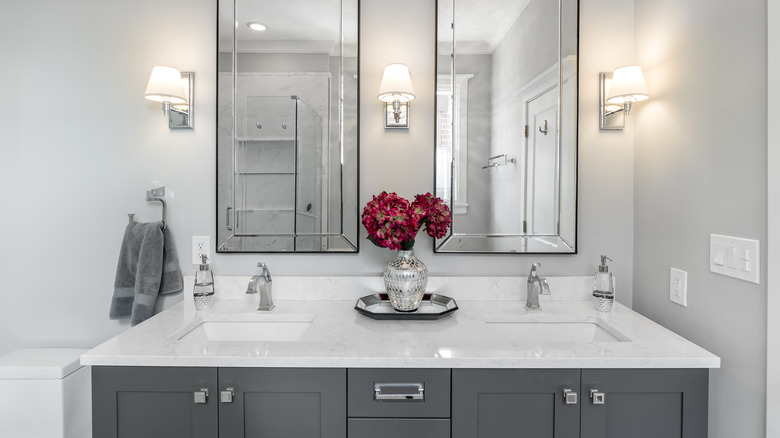 Hendrickson Photography/Shutterstock
An upscale set of mirrors may be all you need to create a new look in your bathroom.
An elaborate wallpaper design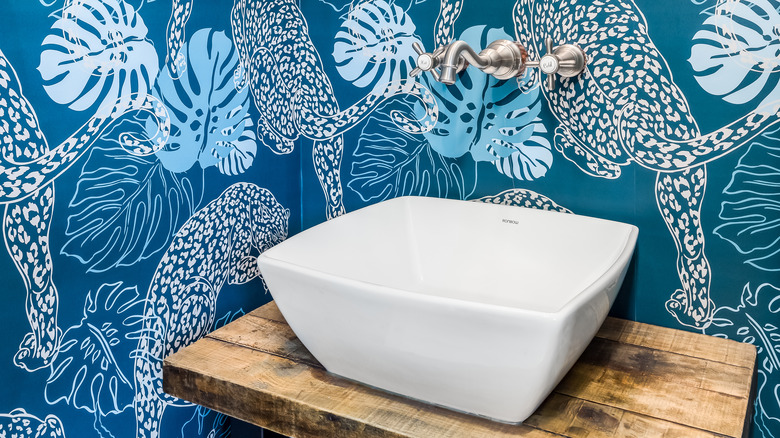 Hendrickson Photography/Shutterstock
Wallpapering your entire bathroom can take a once-simple space and transform it into pure elegance. 
A well-traveled bathroom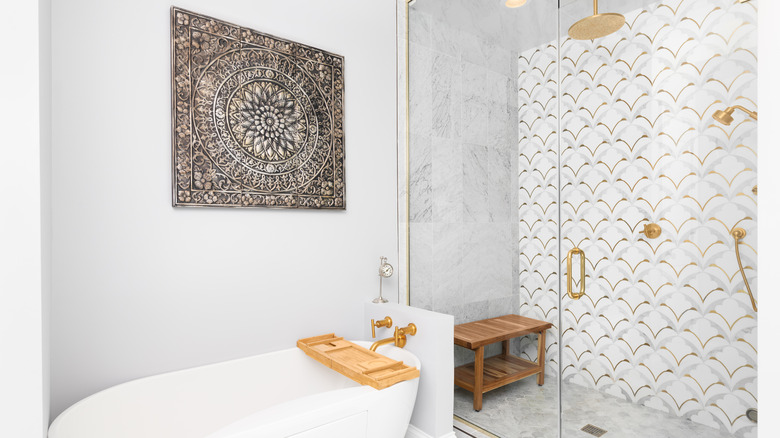 Hendrickson Photography/Shutterstock
This bathroom features beautiful gold and white tiles, but it's the mosaic art piece we can't get enough of. It looks like it was picked up overseas during a trip and is definitely a conversation piece.
A wooden wall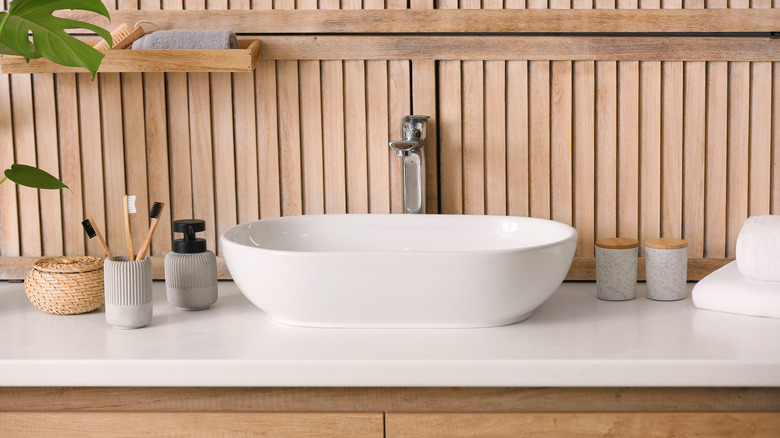 New Africa/Shutterstock
The bright white countertop and sink offset the accent wall designed with textured, natural wood.
Upcycle furniture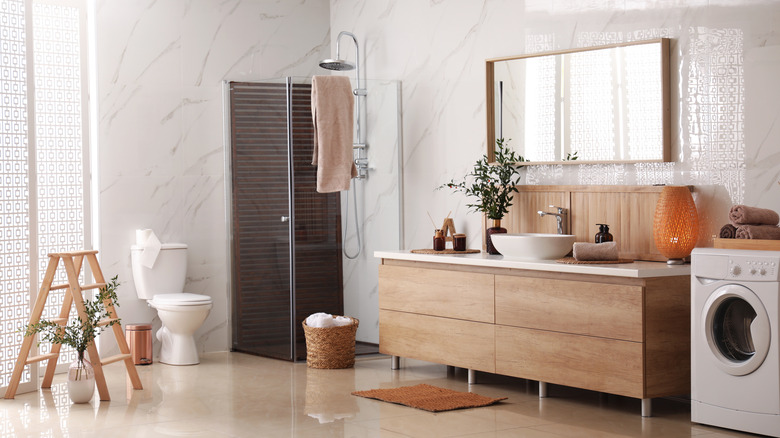 New Africa/Shutterstock
One excellent idea to help save money on your bathroom renovation would be upcycling furniture. We love this idea, especially for a unique vanity, so watch out for dressers that can be transformed.
Bright orange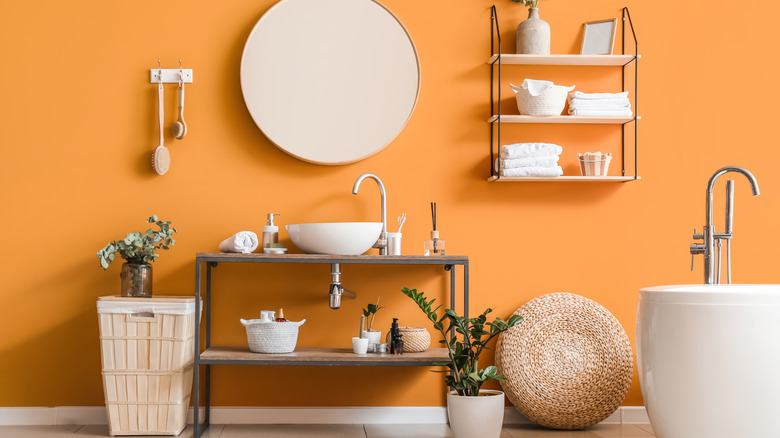 Pixel-Shot/Shutterstock
An easy bathroom upgrade is painting your entire bathroom in an eye-popping color like orange.
A wood accent wall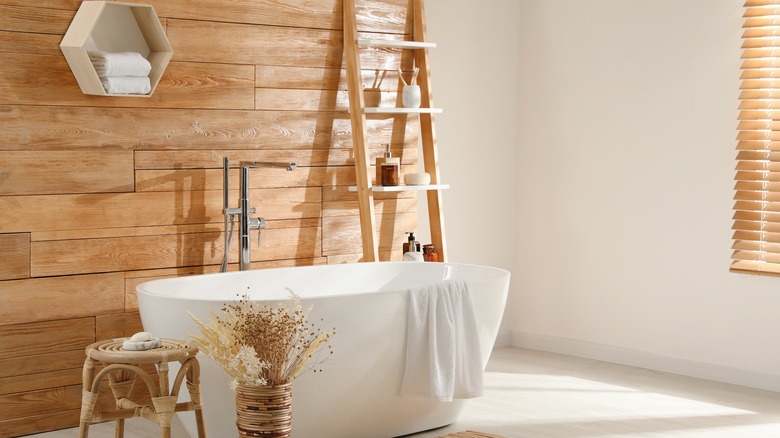 New Africa/Shutterstock
Create an interesting look by using light wood to cover an entire wall. This wall complements the other wooden accent pieces in the bathroom, such as the ladder and blinds.
Green with envy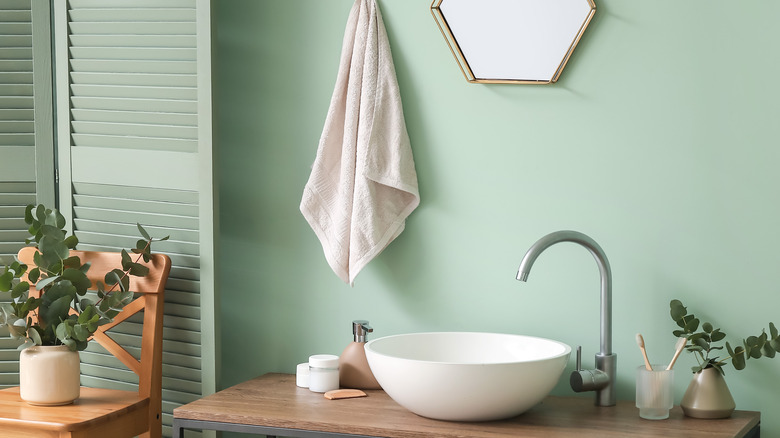 Pixel-Shot/Shutterstock
This light green bathroom has a relaxed feeling, and would be a quick weekend fix.
A wood herringbone pattern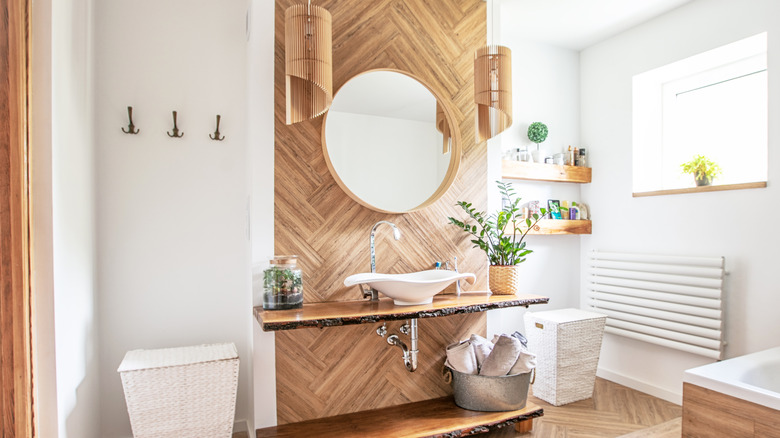 NeonShot/Shutterstock
Make a statement in your bathroom by creating a unique focal point like this accent wall with wood pieces fixed in a herringbone pattern.
A vintage style bathroom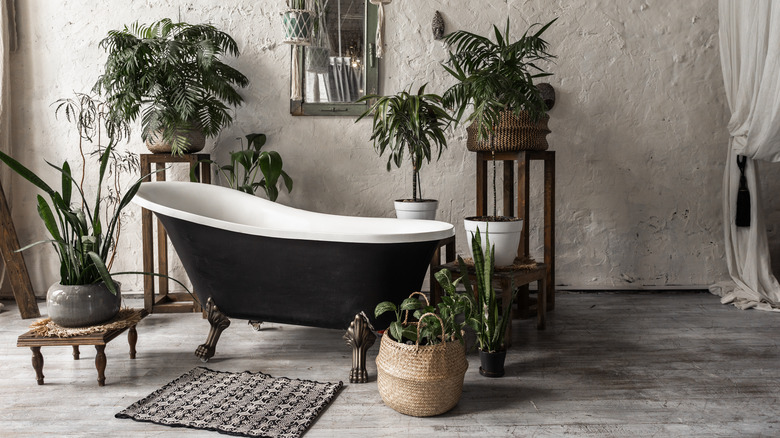 brizmaker/Shutterstock
A clawfoot tub could be an exquisite secondhand find, and a weekend refurbishing project could turn it into an awe-inspiring statement piece. Add lush greenery for the final touch!
Light it up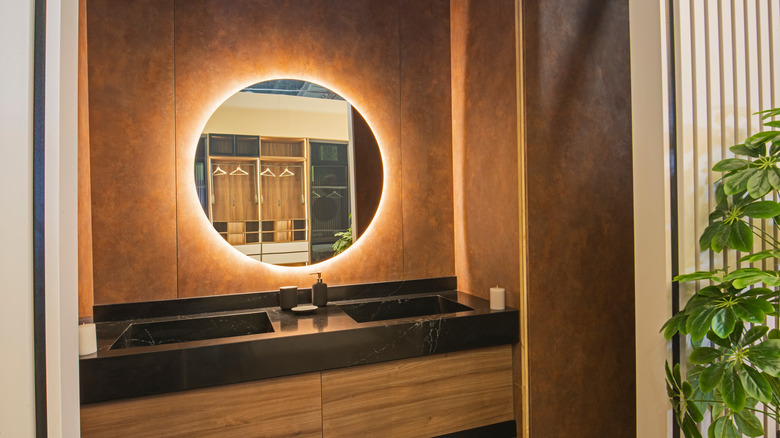 Paul Vinten/Shutterstock
Add LED lighting behind your bathroom's mirror to wow all of your guests and give the space some flare.
Go for an unordinary color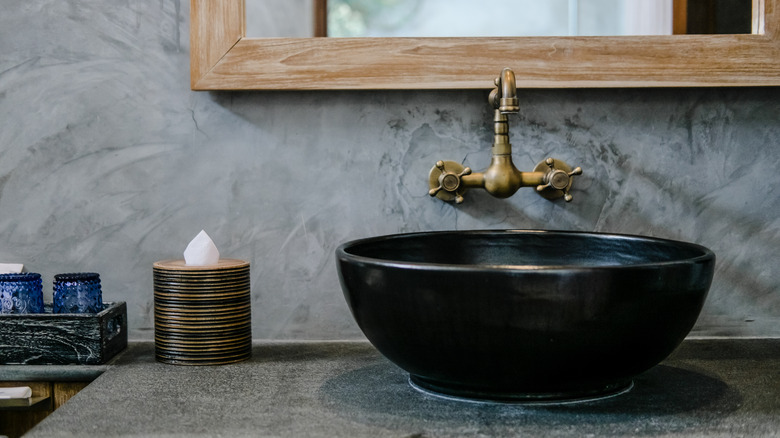 July Prokopiv/Shutterstock
Instead of getting a white bathroom sink, perhaps opt for a black one to be anything but ordinary.
Neutral colors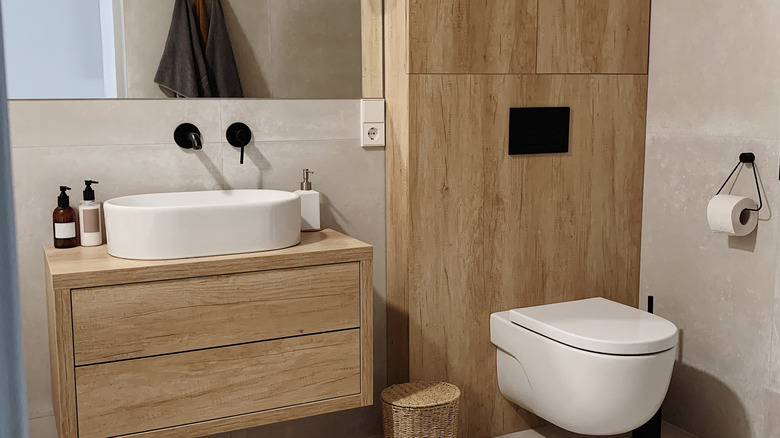 Floral Deco/Shutterstock
The beige, light-wood tones throughout this bathroom provide plenty of inspiration for a relaxed environment.
Simple style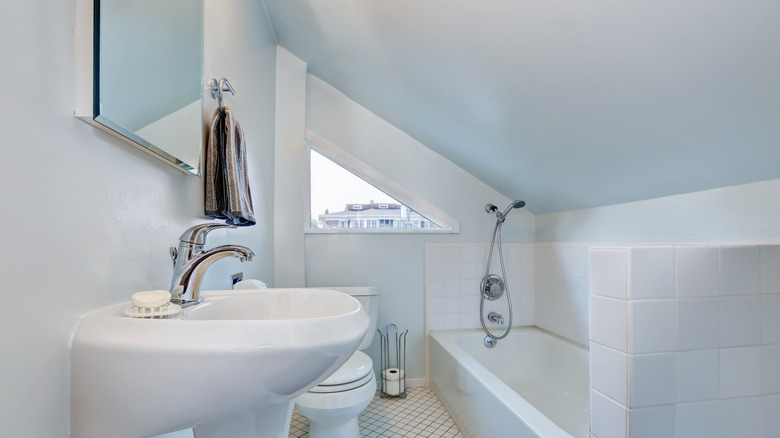 Artazum/Shutterstock
A white standing sink, beige walls, and a massive circular mirror may be simple, but can also serve as a total upgrade for any bathroom.