Inside Cher's Former Island Home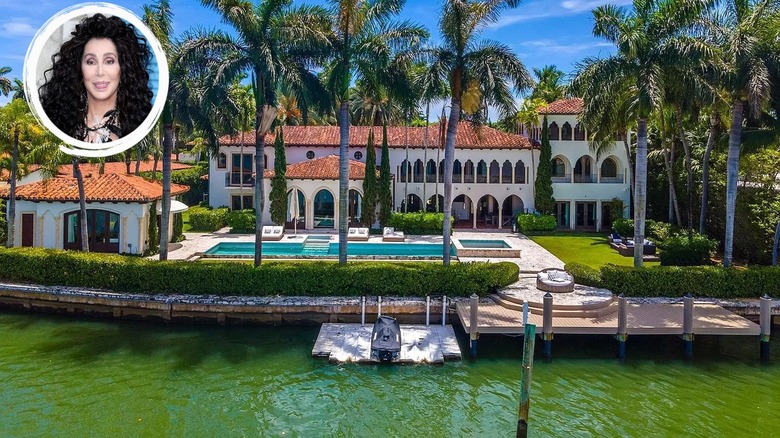 Cubankite/Shutterstock
Cher has established herself as one of the most iconic artists of all time in both the music and film industries, with five No. 1 singles and an Oscar under her belt, per Billboard. Having earned the nickname "The Goddess of Pop," she may now have also established herself as the "Goddess of Real Estate," having made waves in the real estate industry as well over the course of her world-renowned career. According to The Richest, Cher spends much of her $360 million fortune on luxury real estate and has bought and sold an impressive portfolio of properties over the years in locations all over the world, from Venice to London to Hawaii.
One of the most lavish properties Cher has ever owned was a mansion on La Gorce Island in Miami Beach, which was most recently sold in December 2020 for $17 million. Though Cher sold the property in 1996, she would be happy to know it has not lost any of its luxurious charm and character since her occupancy.
An oceanfront oasis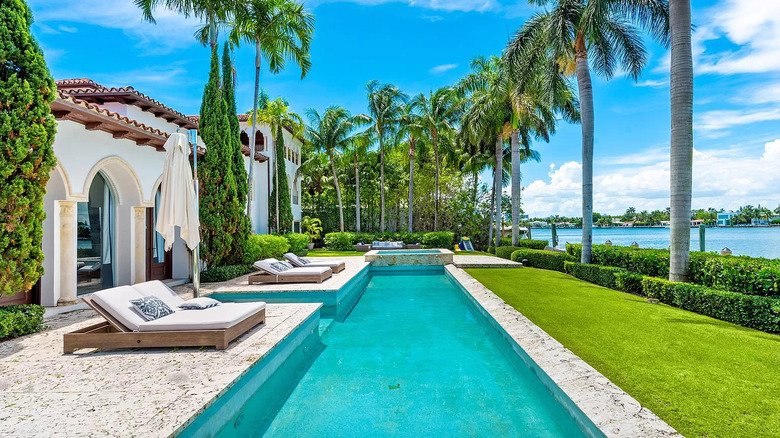 Zillow
The island mansion, located at 64 La Gorce Circle in Miami Beach, Florida, was bought by Cher in 1993 for $1.5 million before she sold it in 1996 for $4.35 million, per Los Angeles Times, nearly tripling her investment. Architectural Digest writes that during her time living there, Cher renovated the 11,460 square foot home into a grand villa and drew inspiration from Venetian and Moorish design. She filled it with religious-themed art, beautifully carved woods, richly colored fabrics, scrolled ironwork, and stone.
The palatial estate spans two-thirds of an acre, as reported by Los Angeles Times, and is one of only 59 properties located on La Gorce Island, a luxury community located in North Miami Beach.
The property, built in 1953, sits on 158 feet of water frontage and features a private dock with direct ocean access, per People. The island property is also surrounded by several large courtyards boasting impressive stone archways that add to the Italianate feel of the property. The multiple courtyards all feature palm trees (in true island paradise fashion) and fountains scattered throughout. There is a swimming pool on-site as well, for days when you feel like swimming laps instead of going for a dip in the ocean.
Gated Miami Beach luxury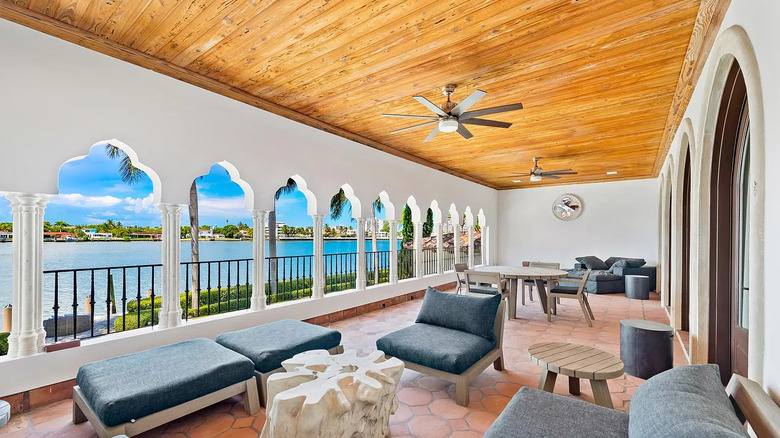 Zillow
Though the stunningly luxurious exterior of the estate seems impossible to top, the inside is equally as impressive, and according to the listing, the iconic mansion houses six bedrooms and seven bathrooms spanning its three-story floor plan and also features a dining area, home office, media room, game room, wet bar, and a gym. Adding to the property's luxury are a double staircase and an expansive foyer upon entry. The home was sold fully furnished by luxury French furniture maker Liagre, and each piece was strategically selected to add a sense of elegance and character to the white walls and neutral color palette. 
Equally as luxurious as the home itself is the neighborhood it resides in, as the La Gorce neighborhood lies within a gated community, providing a sense of privacy and exclusivity to residents while still allowing easy access to the world-class dining, shopping, and nightlife that Miami Beach is famous for.