Madonna's Former London Home Is Surprisingly Modest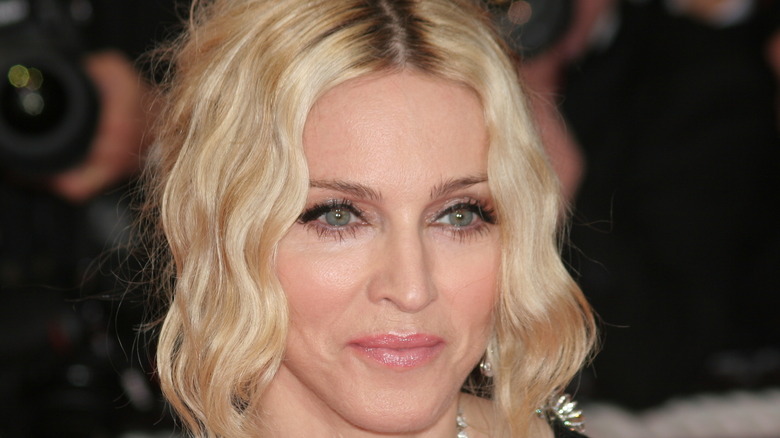 Denis Makarenko/Shutterstock
Need a holiday? Take time to celebrate megastar Madonna's previous London home, which is amazingly low-key. Nestled in the classic South Kensington neighborhood in London, England, the Georgian-style mews apartment is cozy yet chic. Part of the Queen's Gate Mews district, the area features a cobbled through-road with four cul-de-sacs, and historical mews, or stable-converted row houses, with grand terraces and squares that are occupied by business owners and residents, per Everchanging Mews. Fit for the Queen of Pop, she shared the luxury apartment with her now ex-husband, filmmaker Guy Ritchie, during their courtship in the early 2000s. A few scenes from Ritchie's 2004 British crime film "Layer Cake" starring Daniel Craig, were also filmed there. In 2018, the quaint flat was listed as available to rent for approximately $925 a night through the popular vacation rental website Vrbo (formerly Home Away) and London Perfect, although it currently appears absent on both, per CNN Travel. Utilized before marriage and prior to the couple's divorce, the gorgeous residence has a new unidentified owner.
Divided into two floors, the old coach house is simple with English charm throughout. The interior is bright and practical with modern farmhouse elegance that includes two bedrooms, two bathrooms, and a combination chef's kitchen, dining room, and living area. The open floor plan also features wood floors, high arched windows, a built-in bookcase, and grand piano. The posh apartment is perfect for two to four people but can sleep up to six.
Madonna's South Kensington neighborhood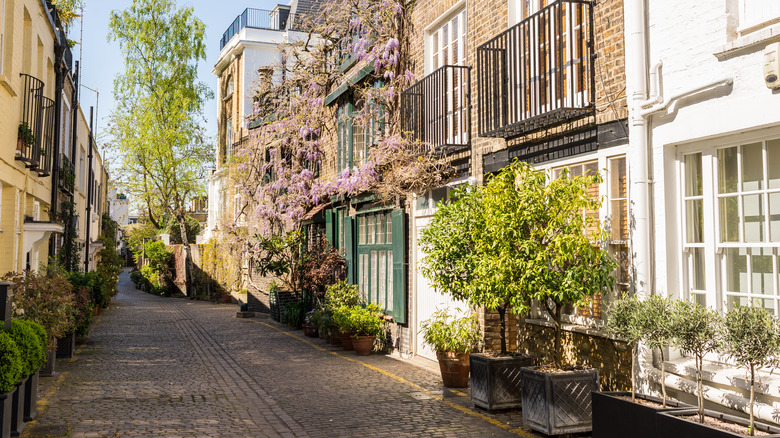 DrimaFilm/Shutterstock
Despite the humble appearance of Madonna's former London apartment, the location and neighborhood are just as exclusive. Known for its Victorian architecture, cafes, attractions, and upscale shops, South Kensington is located west of Central London in the royal borough of Kensington and Chelsea. A day for the pop star outside the flat might have included a stroll through Hyde Park and Kensington Gardens and Palace, then on to Kensington High Street, where shopping is a must, per House & Home. Other attractions located within walking distance include the Natural History Museum, Royal Albert Hall, and Victoria and Albert Museum. If you plan to visit the area, the closest tube stations are Gloucester Road and South Kensington.
With bustling London all around, the pop star could come home to a serene abode to play the piano in the library or cook in the gourmet kitchen. The master suite features a Juliet balcony, where the actress could relive her role as Eva Peron in "Evita," looking upon the old mews from her porte-fenêtre, or window door. The second bedroom is a smaller dorm-like space that may fit twin beds. The overall layout is beautiful yet astonishingly traditional compared to the original focus of the "Material Girl." According to the Observer, Madonna may have owned six different homes throughout West London at one point, including over 50 acres in Bridgehampton, New York, and a townhouse on the Upper East Side of Manhattan, among other potential properties.