Hidden Downside Of Ninja Blenders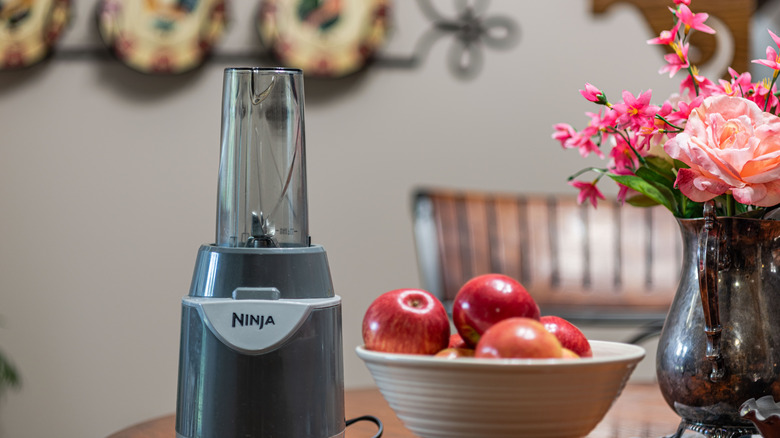 shugmc/Shutterstock
The sensational smoothie trend has taken the world by storm. One of the best ways to whip up a sweet concoction is by using a Ninja blender to create a refreshing treat. Whether it's packed with fruit, veggies, nuts, or other fresh ingredients, the power of the popular Ninja blender plows through ice and even the thickest ingredients like a champ.
Ninja was founded by Mark Rosenzweig in 1993 and is now just one of many brands under the household appliance company SharkNinja, according to NinjaKitchen.com. The company is a leading innovator in home tools and appliances, and popular products such as their Shark vacuums have made them a household name and a global success. 
The Ninja blender is a powerhouse, functioning as both a blender and a food processor.  It has several blades attached to a powerful motor able to break down all types of ingredients to create the desired consistency for a delicious drink or new recipe. If you're looking for a large blender for parties and entertaining, or a personal device to quickly make breakfast smoothies, the Ninja brand has a variety of options to perfectly suit your needs. But are the Ninja blenders really all they're cracked up to be? While they do have their strengths, there are a few lesser-known downsides, too. Read on to learn more about some surprising drawbacks you should consider before purchasing a Ninja blender.
Super sharp blades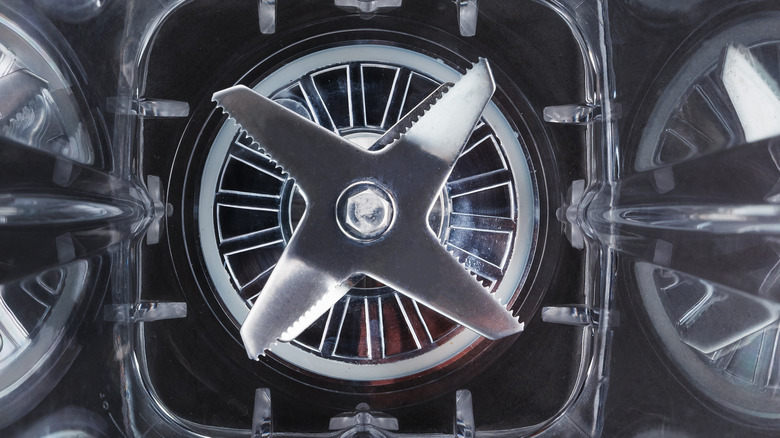 Aleksandr Grechanyuk/Shutterstock
A major concern regarding Ninja blenders is the blades. Though both common sense and prominent warning labels remind us to use caution when handling and cleaning any sharp kitchen tool, the blades in a Ninja blender are extremely sharp. Some models contain up to six blades, sharp side-up, located at the base of the model, according to NinjaKitchen.com. Others, such as the personal-sized Nutri Blender Plus contain only one blade, but it is still very sharp. Consumers have reported getting sliced by the blades when handling, cleaning, or removing food from the units. 
Several Ninja products were actually recalled for a laceration risk back in 2015, according to the United States Consumer Product Commission. The Ninja BL660 series professional blender was included in the recall, and the unit was quickly pulled from shelves across the country after over 50 people reported injuries after using the product. Unfortunately, lacerations resulted when consumers inverted the pitcher to pour after removing the lid. The blade assembly was not securely fastened to the base of the pitcher and fell out onto the hands of unsuspecting users.
Other issues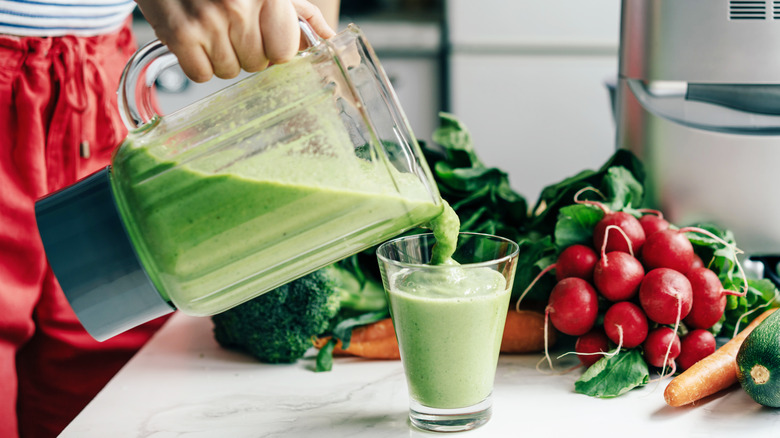 Ilona Kozhevnikova/Shutterstock
While sharp blades raise a serious safety issue, there are also less serious downsides to the Ninja blender as well, explains Blenders Guide. Issues from excessive noise to the lid not sealing properly can downgrade the experience of using the appliance. 
Every blender or food processor is expected to make a lot of noise, but some Ninja products have particularly loud motors when in use. Pair that with the added difficulty of blending hard ingredients such as ice or nuts, and you're likely to produce an ear-piercing blare. Another underlying source of excessive noise could be broken bearings or worn washers in the blade assembly, according to eReplacementParts.com.
There have also been reports that Ninja products do not always blend properly, despite the sharp blades. Your recipe may require some additional preparation beforehand, and then still result in poor consistency. Furthermore, the lid on the glass pitcher apparently does not always seal down securely, resulting in the unit leaking or splattering its contents. The company recommends that consumers wipe the area around the lid down completely, and dry thoroughly.
In any case, it's important to use caution when handling a Ninja blender. As a precaution, check if your product has been recalled due to safety or operation hazards at Recalls.gov. If you experience any problems with your Ninja product, contact the company directly via their website. Worn-out or faulty parts may be covered under a limited warranty, or the company will stand behind its products.