Beyoncé And Jay-Z Just Lost A Land Sale To A Nature Preserve
Land is precious, and a battle! Amidst a bidding war between music moguls Beyoncé and Jay-Z and Ana Meier and her husband Daniel Creighton, the proprietors of 2.7 acres on Long Island's Georgica Pond, the pre-existing owners have given it to nature preservation instead. Represented by Town & Country Real Estate's Linda Batiancela, the pristine waterfront property was originally listed in 2021 for $11.75 million but was recently sold for $8.5 million to the Peconic Land Trust. With the desire to expand, the 18 Jones Creek Lane property is conveniently located near the power couple's $26 million property they've owned since 2017 on 81 Briar Patch Road. After bidding continued to escalate, Meier and Creighton decided to place the valuable property into the hands of the trust instead of receiving a likely higher offer from the potential buyers, per the New York Post.
Located in the prestigiously wealthy East Hampton Village of New York state, the area of Georgica Pond is a coastal lagoon which nearly leads to the Atlantic Ocean and consists of 290 serene acres. Fellow neighbors include legendary film director Steven Spielberg and banker and investor Ronald Perelman, as well as the site of former President Bill Clinton's Summer White House in the late 1990s. Currently, real estate transactions are trending while prices still increase even though the housing market is so capricious. Land is vital and valued for many regardless of their intentions. Read on to learn more about the preservation of this East Hampton property.
Preservation of the Jones Creek Lane property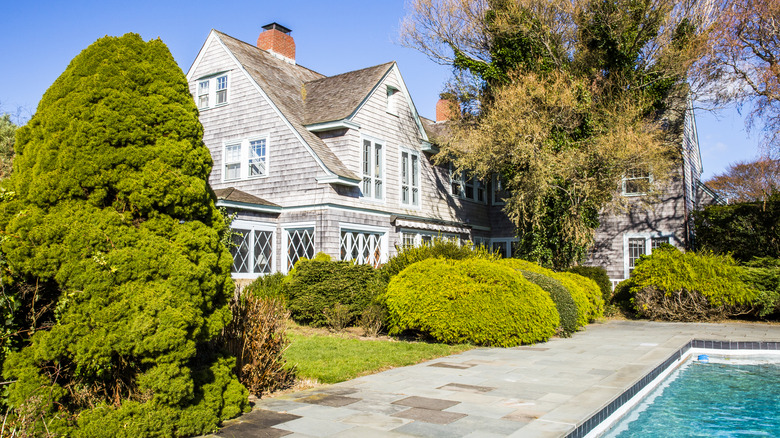 Bloomberg/Getty Images
With the families' homes located only about one mile from each other, it's easy to see that the celebrity family of five are so "Crazy in Love" with the coveted parcel for its added landscape and value. Already separated by Fulling Mill Farm Preserve, the Georgica Pond estates are also located less than a mile from the ocean. According to The Real Deal, Beyoncé and Jay-Z have faced challenges with the Meier family in the past by their attempts to preserve the land and their waterside view. Artist and renowned celebrity architect Richard Meier built the 8,325-square-foot home on Jones Creek Lane for his daughter, Ana Meier, only a few years back. However, Bey-Z disputed the fact that it would interfere with the outlook from their 12,000-square-foot Gatsby-esque mansion.
The new property owners have worked hard to preserve local farmlands for almost 40 years. Established by John v.H. Halsey, the Peconic Land Trust aims to protect natural lands and farms among its landowners and communities, as it has succeeded with over 13,000 acres throughout Long Island. The trust has also recently purchased a 100-acre waterfront lot in Broad Cove for $11.5 million, per Behind the Hedges. It will be interesting to see how the superstars will approach their new neighbors with whatever changes are ahead. Although the former CEO of Def Jam Records won't be running this town today, there's always hope in the world of real estate.