10 Outside Front Entry Decorating Ideas For Your Home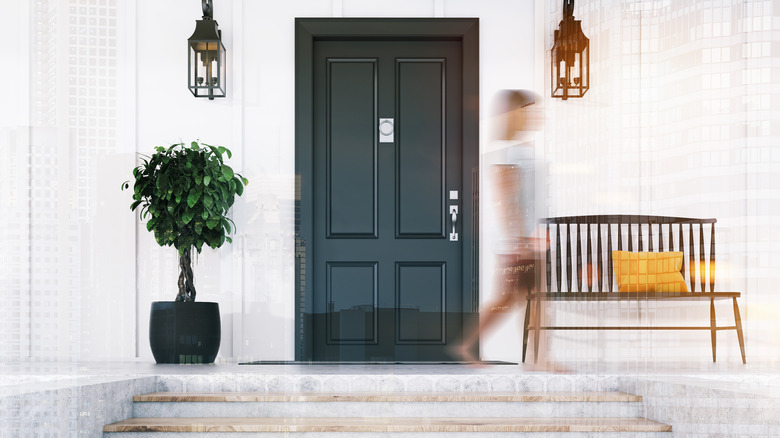 ImageFlow/Shutterstock
Designing your front entry is an excellent way of letting guests and those who pass by know what kind of style the rest of your home may look like, Houzz says. There are so many ways to go about it, and it all depends on the design and functionalities you desire. When designing your front entry, there are several important ideas to consider, such as color, lighting, seating, greenery, and more. There are also plenty of design elements to mix and match to create an outside front entry to best represent your fashion.
On the other hand, are a few other things to keep in mind besides styles, such as daily use and your foyer, Vintage Millwork + Restoration notes. Always consider outdoor weather that may be extreme at times to evaluate the durability of your dream design. Also, examine the exterior of your home to see what you can add to your existing design elements. It would also be wise that the transition from the front entry to the foyer flow smoothly with consistency and themes set in place.
1. Furniture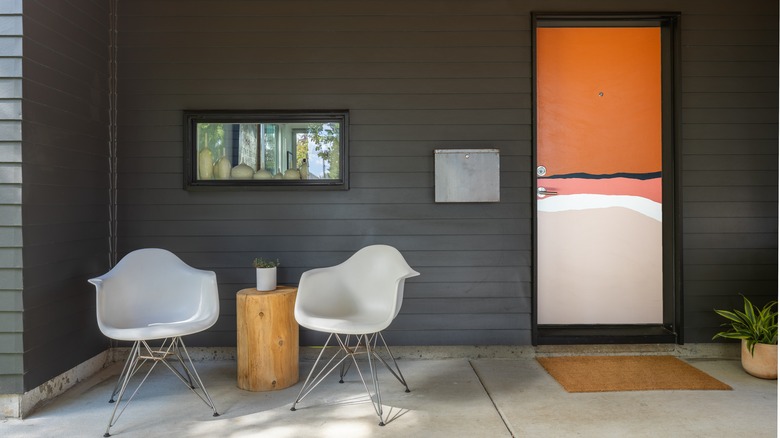 David Papazian/Shutterstock
If you have enough room for chairs or other furniture in your front entryway, including certain pieces can add a feel of coziness. Most people have two chairs on one side of the door or a chair on both sides. Those dealing with more space can consider adding a bench, a tabletop set, or a swing chair.
2. Plants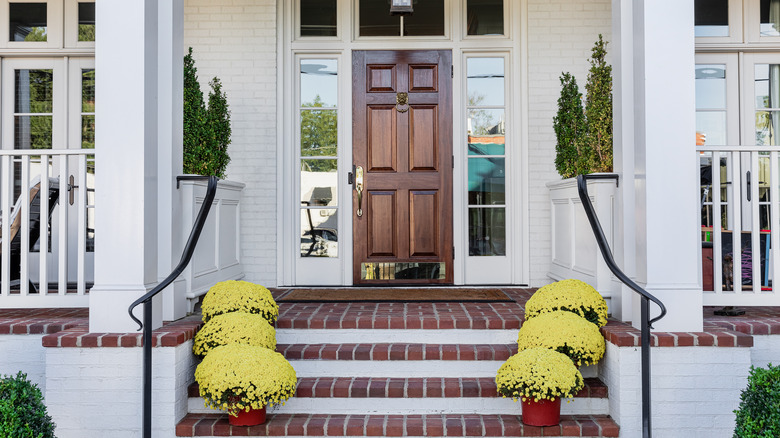 David Papazian/Shutterstock
Plants can be a great way to express yourself and show off your gardening skills. Place potted plants on your steps or on either side of your front door. If there are windows available, you can also create a window box with flowers of your choice, maybe with something that contrasts the color of your home.
3. Lights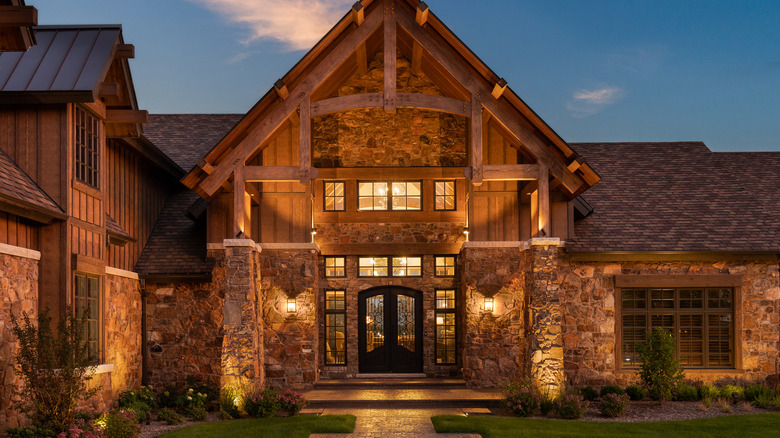 Hendrickson Photography/Shutterstock
No, you don't have to be celebrating a holiday to design your home with lights — especially when there are so many cool lighting options. From string lights to lanterns and light posts, the choices are endless. If you live in darker areas, this could also add an element of safety as you sit outside at night on summer days.
4. Paint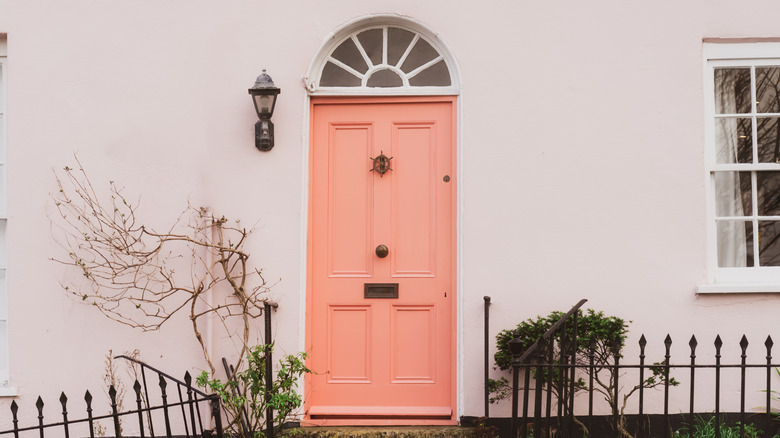 Okrasiuk/Shutterstock
Make your entryway a focal point by splashing a can of paint on it. Focal points are always an essential factor when designing your home. A fun way to do that is to pick a creative color and either paint your door frame or your door — or even the whole entryway.
5. Floor tile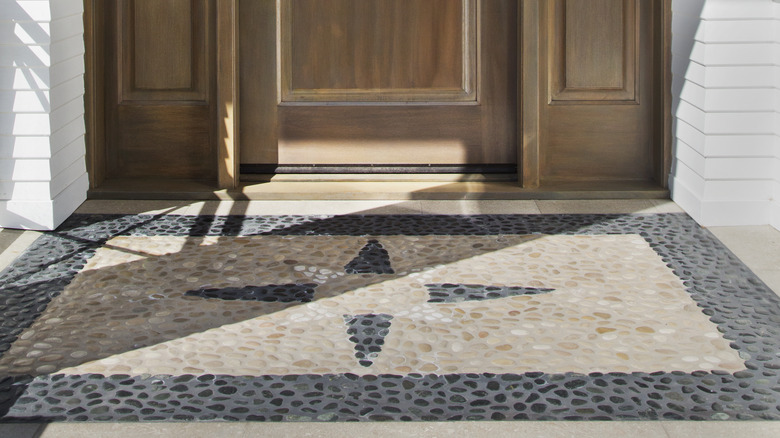 David Papazian/Shutterstock
For those who love to be different, installing a unique pattern to your outside front entryway can be a way to make your home distinctive from other properties. Any design can work, but it's imperative to choose a durable tile that can endure outside weather, such as porcelain.
6. Awning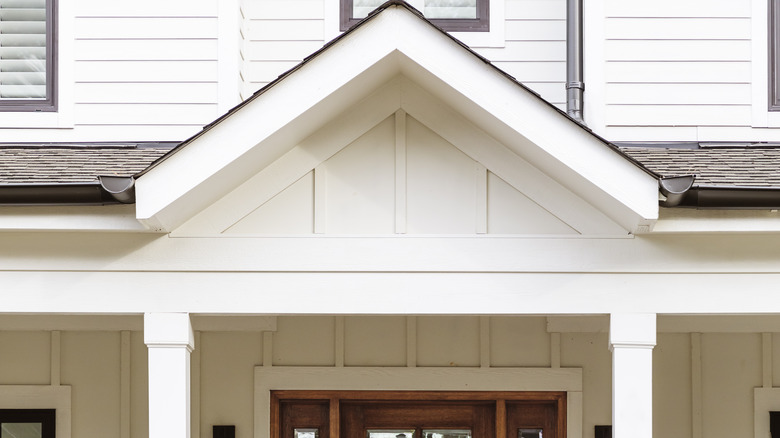 David Papazian/Shutterstock
An outdoor front entry awning can really accentuate the theme of your home design if chosen correctly. There are several ideas to choose from, such as wood awnings that are square and straight for those who desire a modern look or awnings made of fabric for a traditional feel.
7. Décor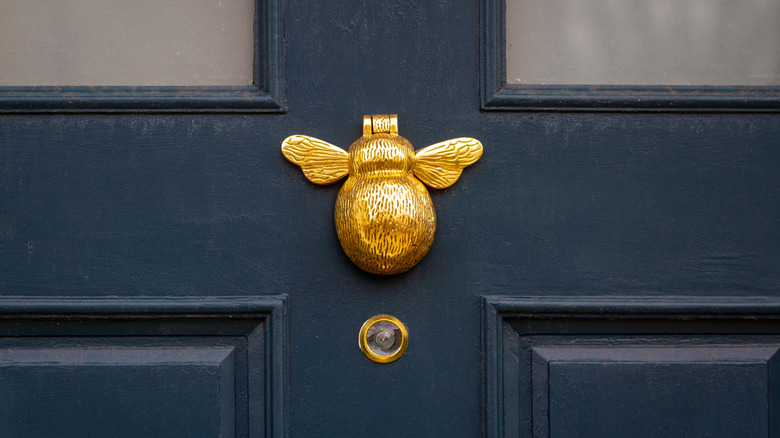 Christina Hemsley/Shutterstock
Add décor items unique to your front entryway. Whether framed art, a mirror, or a metal wall decoration of your family name, you can choose something special and comforting for you and those walking through your front door.
8. Rug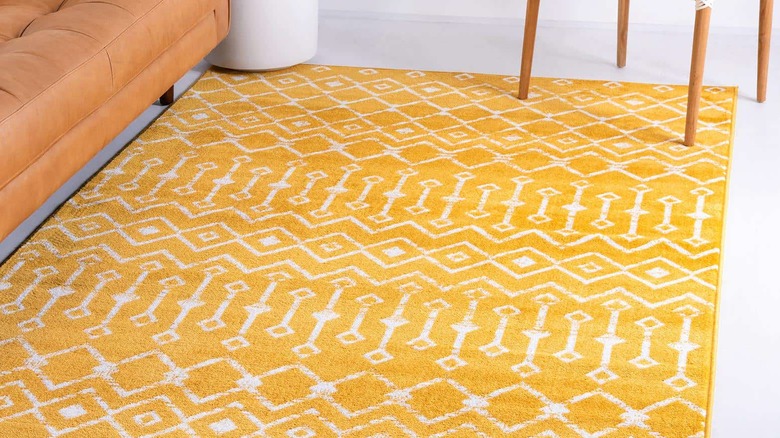 DesignStock09/Shutterstock
Rugs are not just for inside your home; you can also place them outside. However, since these carpets will face different weather types, it'd be wise to get a rug made of bamboo, sisal, hemp, jute, polypropylene, nylon, and polyester.
9. Contrasting staircase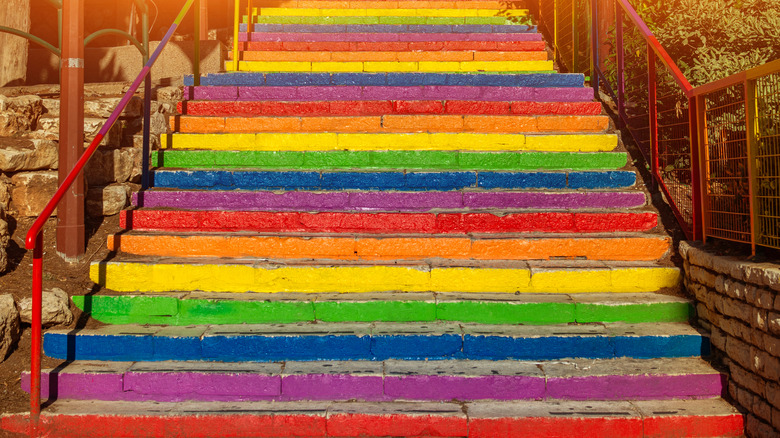 Renisons/Shutterstock
Implementing contrasting colors may do the trick if you want your staircase leading up to your door to really pop out. Depending on your overall design, you can also use whatever colors work for you. People typically paint the step darker and the riser lighter, but some choose to flip the contrast.
10. Wall-mounted mailbox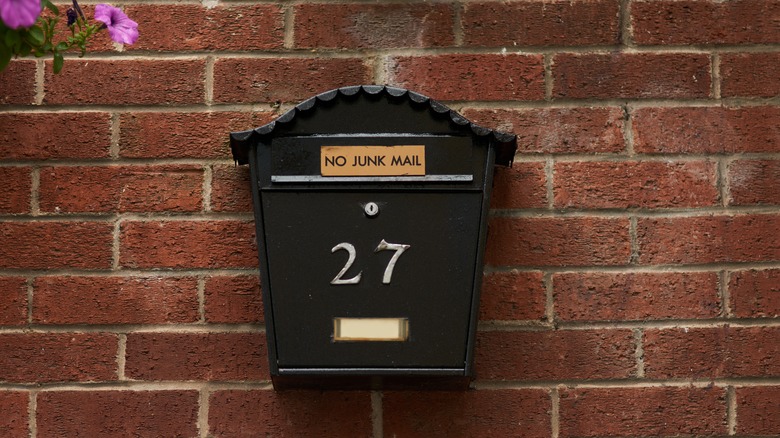 PeopleImages.com - Yuri A/Shutterstock
Mount your mailbox on the wall next to your door for a more vintage look. Wall-mounted mailboxes and through-the-door mail slots were the first easy ways to deliver mail back in the 1900s, so those looking for an old-American design can find mailboxes in various designs.