Is Property Brothers One Of The Worst Home Renovation Shows?
Drama, drama, drama. Typically, home renovation shows contain an ample supply of melodrama, which is present to keep you fixed. Interior designer Taylor DeBartola recently expressed his opinion on some of the best and worst home improvement programs on the HGTV and DIY networks, including HGTV's "Property Brothers." Like most viewers, DeBartola likes the Canadian reality series, hosted by twin brother renovation duo Jonathan and Drew Scott, yet the show lacks what may matter most, a sense of realism, he told Insider. Areas of concern include estimated time frames, budgets, and expectations of the job to be completed. In comparison, enduring shows like "This Old House" (since 1979) or "Love It or List It" (2008), are both recognized as being continuously authentic and edifying.
With its initial airing in 2011 on Canada's W Network, "The Property Brothers" has maintained continued success regardless of its latest criticism. With about eleven years under Jonathan's tool belt, the boys have advanced beyond their popular renovation show with several other successful spinoffs like "Brother Vs. Brother," "Forever Home," "Buying and Selling," and "Property Brothers: At Home." No matter how many houses the twins renovate, Jonathan has said that they thrive on being themselves on and off camera, (per Us Weekly). Whether or not Jonathan and Drew's HGTV show is somewhat unrealistic, it evidently doesn't fall short of being genuine and entertaining.
The Property Brothers' episode layout
Amongst the criticism that the Canadian duo receives, one of the main complaints is that the show appears simulated. Older twin Jonathan Scott, a nearly professional magician, plays the part of a contractor, and younger twin Drew Scott is a real estate agent. With each episode, the boys are indisputably funny and likable, yet the layout is simple. Drew presents homebuyers with a house they all know is too expensive, then creates their interior design options by using innovative graphics. Jonathan comes in to go over the details and move forward with the construction. According to Showbiz Cheatsheet, the homebuyers need to meet a budget of approximately $65,000 for the renovations. DeBartola has reacted by claiming that the twins mislead home buyers about how much a fixer-upper actually costs. For example, staying under budget when purchasing a property doesn't necessarily generate money for renovations.
Other discrepancies include the façade of the house-hunting procedure, including squabbles that occur between the property hunters. Jonathan has admitted that for the show to run smoothly, many of the buyers have already found a house they like or are already under contract. Additionally, he perhaps doesn't work on the property as much as is shown. According to Distractify, the brothers may succeed in obtaining dream homes for their guests, but local contractors are often employed to do the bulk of the grunt work. Like any reality show, they are often scripted, even HGTV shows. That's entertainment!
The Scott Brothers' Road to Renovation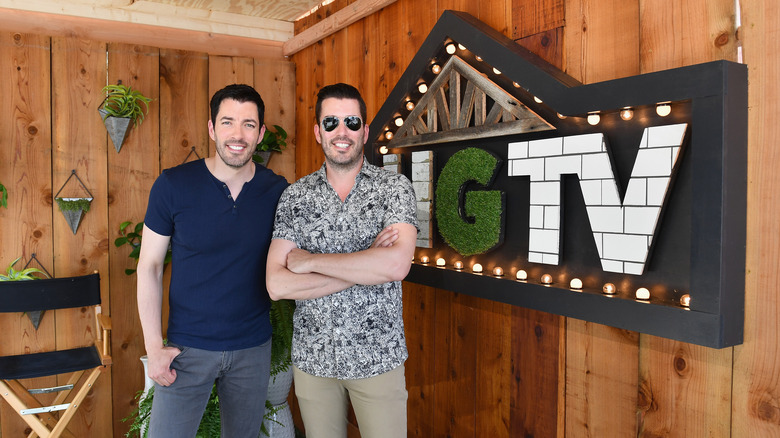 Jason Davis/Getty Images
From their cowboy days on a ranch in Vancouver, Canada, to their successful home improvement career with HGTV, the Scott brothers have created a path for themselves. With Drew's stage background and Jonathan's illusionist experience, the duo has combined their talents with a similar interest in real estate. By the age of 7, the boys were producing fabric-covered wire hangers, which over time made an overall profit of $15,000 (thanks to a Japanese wholesaler), per Realtor. After several odd jobs, the twins established Scott Real Estate, Inc. in 2004, which they described as a "one-stop-shop" for real estate and home renovation. Continuing with their passion for acting and real estate, they moved on to Calgary College in Alberta, where they purchased their first house. Later, Drew landed a spot as host of a real estate competition with Cineflix Productions, which led to "My Dream Home," the first show they hosted together. By that time, Jonathan was a licensed contractor and fit the part with his brother perfectly.
After several lucrative years of "Property Brothers," the reno twins are not standing still. Despite reproach, their long list of success endures, from their two bestselling children's books: "Builder Brothers: Better Together" and Builder Brothers: Big Plans," to their home furnishing line "Scott Living" and lifestyle magazine "Drew + Jonathan Reveal," (via Suggest).