10 Tiny Homes That Are Shockingly Affordable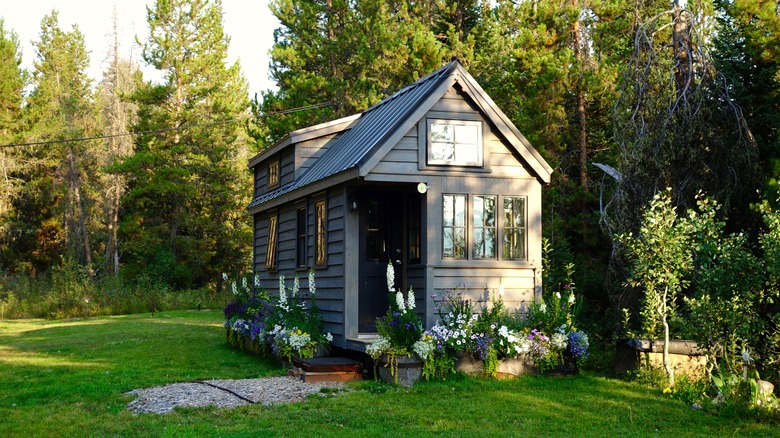 Ariel Celeste Photography/Shutterstock
The housing market keeps thriving. However, this also means that home prices have been skyrocketing as buyers compete to place the highest bid, Vox says. This can also be stressful for those who may not have disposable income to battle others for a new home. On that end, there are other affordable options for buyers if they are willing to downsize.
A tiny home can be a satisfying option, especially for first-time homebuyers. Comfy Living says 55% of those living in tiny homes in the United States have been able to sustain a higher savings account than others. And although those small homes are only about 100 to 400 square feet, the monthly costs have been noted to be sometimes under $600. To that end, many people choose to downsize, reduce clutter, get out of debt, and even live off the grid in tiny homes, which can also build themselves. To really save costs, most tiny homes are built from scratch and can range in price, depending on the facilities you'd like to include.
1. Tiny wooden 56-square-foot home
This home is at a meager price of $5,000. Although that may seem high for such a tiny home, those who live a minimalist lifestyle will appreciate the ample storage available for books, clothes, and more. An additional fun feature is a small ladder that leads up to the loft to provide extra sleeping space.
2. Rustic home
This tiny home only cost $8,000 to build. It was made with a few windows to allow lots of natural light in to brighten up the space. Although small, there was enough room to create a long countertop and stove in the kitchen, a spacious sitting area, and a loft for the bedroom where there are additional windows.
3. Modern tiny home
For about $12,400, this tiny home shows you don't have to sacrifice aesthetics for space. This small residence has an open floor plan that stays so by maintaining efficient storage, such as cubbies underneath the bed. Black hardware and appliances are seen throughout for a modern look, and the home also features a sunlit shower.
4. An eco-friendly home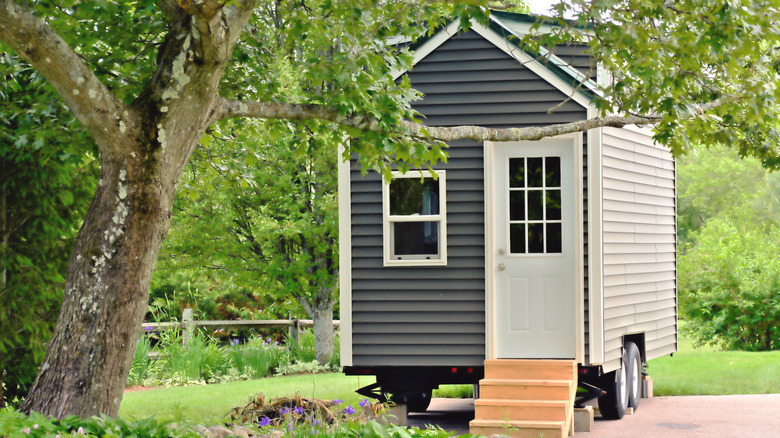 Lowphoto/Shutterstock
A tiny home that is only 64-square-feet had only cost about $400 to build within three months. This house was made with recycled materials and has enough space for storage and sleeping. It sits on communal land where areas for bathing and cooking are available.
5. 70s-style tiny house
This home was about $12,000 to make but the interior looks comfortably spacious and soothing. With some 70s flair, the exterior mixes light green paint, wood, and green french doors. Large windows bring in natural light, and the bathroom features a rain shower head beside a plant to give off the feeling of showering outside.
6. A different tiny home shape
The great thing about tiny homes is all the different ways you can create them. For example, this residence, selling for about $10,000, is dome-shaped. This structure helps create a focal point in the middle of the room, making it easier to place furniture around the interior for ample walking and lounging space.
7. Solar-paneled house
This tiny home that required about $14,000 to build has a modern interior and two solar panels on the roof to power the electricity. Once inside, the elaborate space can make one forget that it's only about 160-square-feet. There is a clear path to the kitchen, bathroom, and upstairs to the sleeping area.
8. Vacation-style tiny home
This property in Hawaii took two months to build and $5,000 to make a total of 230-square-feet vacation fun. You use a ladder to enter it, and you have a swing underneath it to enjoy in the evenings. This dwelling also features solar panels for clean energy and has large windows for the sun to enter through.
9. Off the grid in California
This tiny home was built for $40,000, but that is incredibly affordable in California. The incredibly beautiful residence has white french doors, a skylight, and a propane fireplace to keep warm during the cold months.
10. Cottage-style tiny home
The exterior of this tiny cottage home is inviting and warm, with light wood, white and black framing, and a front porch for guests to sit. To achieve this look, the builder spent around $7,500. However, they also saved money by using recycled materials from scaffold plants to build parts of the kitchen.