How To Match Wall Paint Colors With Wood Floor Colors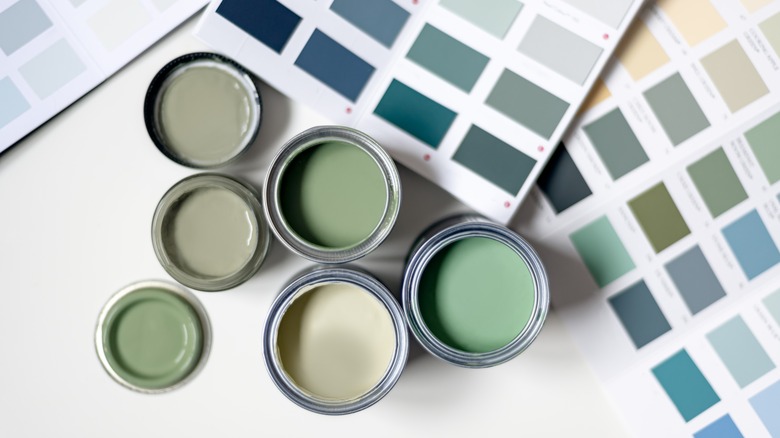 Anna Mente/Shutterstock
It's understood that matching paint colors to anything is can be quite difficult. Usually, homeowners attempt to match paint colors with furniture, backsplashes, and art. The hassle of finding the right color and contrast can be exhausting even to the most skilled interior designers, but it is possible if you follow certain steps. When matching paint colors, some may not realize the importance of also considering the colors and tones of their wood floors.
Modsy says that picking the right color to match your wood floors is key to creating a well-balanced room. While many people focus on furniture and decorations when designing a new room, it is the colors and tones of your walls and flooring that will ultimately determine the mood of the space, meaning that your intended design may go up in flames if the wrong colors are chosen. We have some tips to help you avoid a color disaster.
Choose paint colors like a pro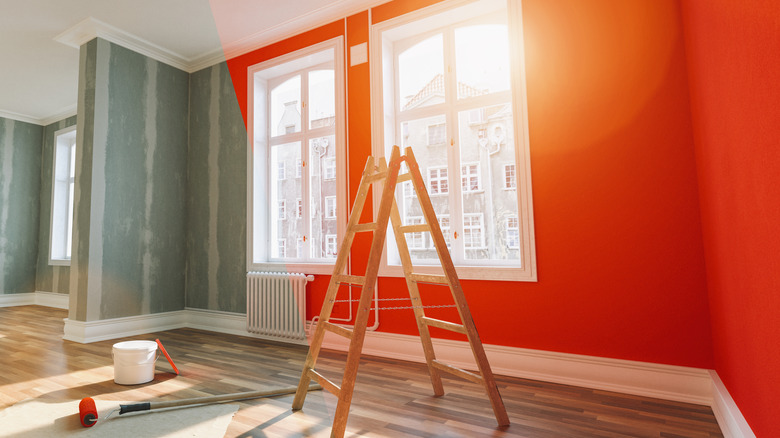 r.classen/Shutterstock
There are a few elements that everyone should be aware of when picking paint colors for their home. Lighting may be the most important factor that many homeowners forget about. HGTV says when choosing paint colors, it is important to figure out the direction of sunlight and light filtration to ensure you are choosing the correct colors for your space. A tip to follow is to stick on a few samples on each wall to see how colors change throughout the day when exposed to the sun.
In addition to lighting, each color has an undertone that you should consider when choosing a paint color, Modsy says. Colors either have a warm or cool undertone, and it is important to note those tones in both your paint color and floor color. Materials with warm undertones will have hints of red, orange, or yellow; cool tones will appear slightly blue or purple. Modsy recommends contrasting these two undertones; however, when picked carefully, matching undertones can also create a beautiful space.
Once you've chosen your color, HGTV says to pick out a sheen prior to purchasing your paint. Sheen can have a major impact on how your color looks: Colors that are glossy or semi-gloss can end up with a light tone when reflecting sunlight; colors that are matte or eggshell appear more vibrant once sunlight is absorbed.
Matching colors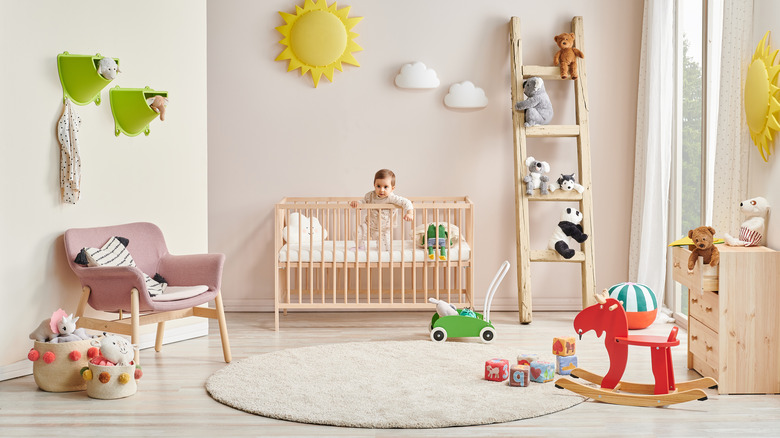 united photo studio/Shutterstock
If you're looking to create a dynamic space and make your furniture stand out, try using contrasting undertones. For example, a very light and warm floor would look great with a cool, dark gray paint color on the wall. With cool undertones in your wood, a light and warm pink color on the walls will create a bright vibe in your space. If you want to create a warm and inviting space, you can make the undertones of your wall and wood floor match. Empire Today recommends colors like terra-cotta, brown, beige, cream, or peach to create cohesion with warm undertones in your flooring. 
In addition to the warm or cool undertones in you walls and flooring, it is important to consider the dark or light tones. When working with dark wood floors, Empire recommends avoiding dark walls. While this dark-on-dark look is trendy at the moment, it can make your space dreary and look smaller than it really is. Instead, they recommend keeping your walls at least three shades lighter than your floors. If you're looking to use dark paint on your walls, a lighter wood floor is a good choice. 
Light wood floors can go with light-toned paints for a bright and clean aesthetic. Light neutrals like grey, beige, or taupe look great with lighter floors. White walls are a great option if you're looking to bring in bright furniture that will add pops of color to your space.