Here's Where You Can Visit Max's House From Hocus Pocus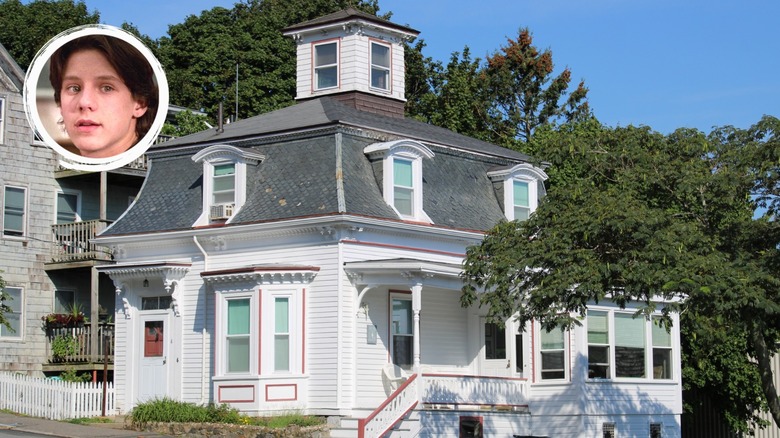 Jaclyn Vernace/Shutterstock/Static Media/YouTube
Although there is a surplus of films to enjoy in October, only a few Halloween movies are as nostalgic and iconic as Disney's 1993 "Hocus Pocus." The film starring Bette Midler, Sarah Jessica Parker, and Kathy Najimy has become a beloved Halloween staple for several decades, despite underperforming initially. With Kenny Ortega as the creative lead — who is known for directing iconic films such as "High School Musical" and "Descendants" — it's no wonder that "Hocus Pocus" has stood the test of time. 
The cult classic follows the return of the Sanderson sisters, who were accidentally brought back to life on All Hallows' Eve, 300 years after the Salem Witch Trials. It has even inspired a sequel, "Hocus Pocus 2," which sees the siblings attempting to thwart the plans of evil witches, via IMDb.
If you're a fan of "Hocus Pocus," you can visit the infamous city of Salem, Massachusetts, to see the various places the movie was filmed, including Max's house. Even though the house is closed to the public, Boston Globe Media says that the owners welcome respectful fans wanting to take photos of the exterior.
Other filming sites
If possible, the first place you should visit in Salem is Max's house; according to Good Housekeeping, it's located at 4 Ocean Avenue. The 1,305-square-foot residence, built in 1870, sits close to the beach and features three bedrooms and one bathroom. Despite its unassuming nature, Zillow has estimated its value at almost $650,000. It is also just under a 10-minute walk from the Salem Pioneer Village, depicted as Thackery Binx's house at the beginning of the movie.
Aside from Max's house, "Hocus Pocus" fans can visit numerous museums and historical landmarks, including the Ropes Mansion. The 1727 Georgian Colonial estate located at 318 Essex Street was the exterior of Allison's house, per the Peabody Essex Museum. It is currently a dog-friendly museum open to the public year-round at no charge.
Although "Hocus Pocus" was set in Salem, Massachusetts, most indoor scenes were filmed on sound stages in California, via Den of Geek. For instance, scenes in Max's bedroom were shot on a film set, while the Ropes Mansion's interior belongs to another home. If you're a cinephile, you may have noticed the interior of Allison's house in movies such as "Matilda" and "Scream 2," per Hooked on Houses.