This Shocking Art Trend Is Causing Home Buyers To Walk Away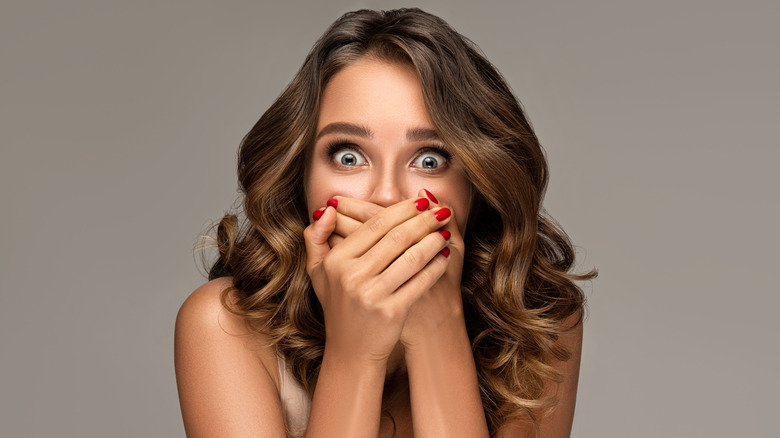 Sofia Zhuravetc/Shutterstock
When it comes to selling your home, you want to make sure to do everything you can to increase the value of your house in order to entice the highest bid possible. Some easy do-it-yourself ways of raising your home's buying potential are to slap on a fresh coat of neutral paint, remodel your front porch to liven up the curb appeal of your home and perform some simple landscaping on your front or backyard. These steps could make all the difference when it comes to getting the price you deserve for your home. However, just like the many ways there are to increase the price of your home, there are just as many ways to make the value of your home plummet.
Uncontrollable factors such as noisy neighbors, air pollution, and surrounding commercial billboards can definitely put a damper on the asking price of your home, according to Business Insider. However, there are also certain personal touches to avoid when you're thinking of selling your home. Aside from choosing a paint color that may be too niche or having too much clutter in your home, the artwork that you display — which you may find appealing — could turn off potential buyers. In the case of a New York City condo on the market for $19 million, their illicit taste in artwork might actually be pushing blushing onlookers right out the door. What is this shocking art trend that could drop the value of your home in the real estate market?
Elicit art won't entice potential home buyers
In the world of art, controversial or shocking art can actually increase its value. When the artwork relates to nudity, that price might just explode. In 2015, a piece of art titled "Nu Couché" by the 20th-century painter, Amedeo Modigliani, sold for a whopping $170.4 million at Christie's Auction House, per The New York Times. Featuring an outstretched nude figure, it could make for a lovely piece in any home or art gallery.
However, when it comes to having these types of artwork on display in a home that is up for sale, it might not garner the same lucrative results. For the $19 million condo located in the trendy Greenwich Village area right near Washington Square Park, there should be nothing to stop potential buyers from snapping this property up, except for the saucy artwork by John Giorno that is on display. As seen on the listing photos on Zillow (and shared here), the word art piece reads something a bit risque in bold letters on a rainbow background. According to New York Post, because home buyers rely on their gut feelings when it comes to dropping major dollars for a new investment, these types of explicit artworks may put out more of a negative vibe and actually dissuade people from making an offer. So when it comes to getting your home ready for the real estate market, maybe you should think about putting those cheeky art pieces away.