The Hidden Downsides Of Fire TV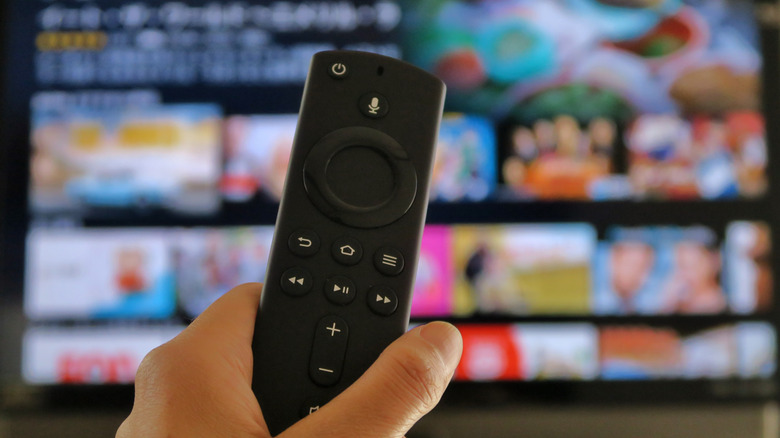 Picturesque Japan/Shutterstock
We may receive a commission on purchases made from links.
If you're upgrading your home theatre setup, you may have looked into Amazon's Fire TV devices. Even the modestly priced Fire TV Stick can turn even the most outdated television set into a smart TV (as long as your TV has an HDMI port, but those have been standard for years), allowing you to access thousands of shows, movies, songs, and more right from the comfort of your couch. Amazon's premium Fire TV Cube comes with voice recognition so you don't even have to reach for the remote when you're channel flipping. Tired of streaming subscriptions? You can access free content through services like Tubi and Pluto TV — you'll just have to deal with a few commercials, as noted by Amazon. Not a bad deal, right?
Unfortunately though, the Fire TV isn't quite as glamorous as it initially seems. While the features are cool, you probably don't need a Stick to get them (via GoodEReader). Plus, Amazon has reportedly designed the Fire TV's layout with one goal: earning more money (at your expense).
Most electronics can already connect to a TV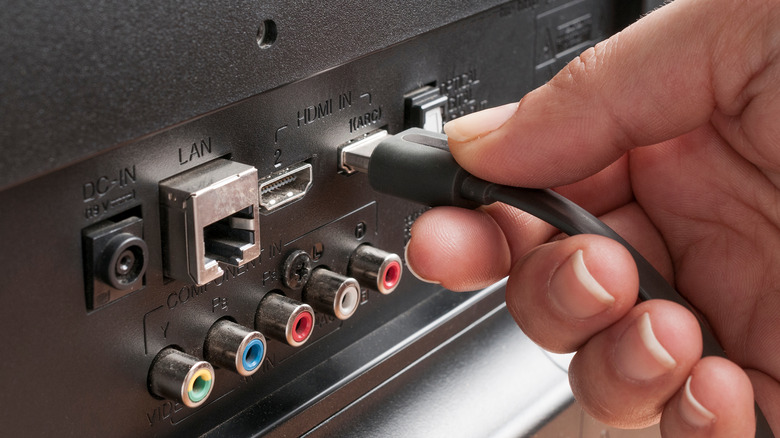 Cristian Storto/Shutterstock
The Fire TV's biggest draw is its ability to stream content directly to your TV, according to How Stuff Works — definitely a cool feature. But while we could justify being impressed when smart TVs were relatively new, most devices today can connect to your television and do the exact same thing. The most convenient option? Modern gaming consoles, which support most of the big streaming services and are already hooked up to your TV (per PC Mag). If you're looking for a more specialized streaming service, just plug in a laptop. Remember those free streaming services that Amazon was advertising? You can access them via the web too, so you won't be missing out on any content by using a non-Amazon device.
Although Fire TVs are modestly priced, it's difficult to justify spending money on a device with features that you probably already have. Plus, when it comes to hardware, Amazon's strategy is to sell products for a cheap price but then use them to encourage additional purchases (via Moltey Fool) so there's a greater chance that you'll spend more over time.
Fire TV devices encourage extra purchases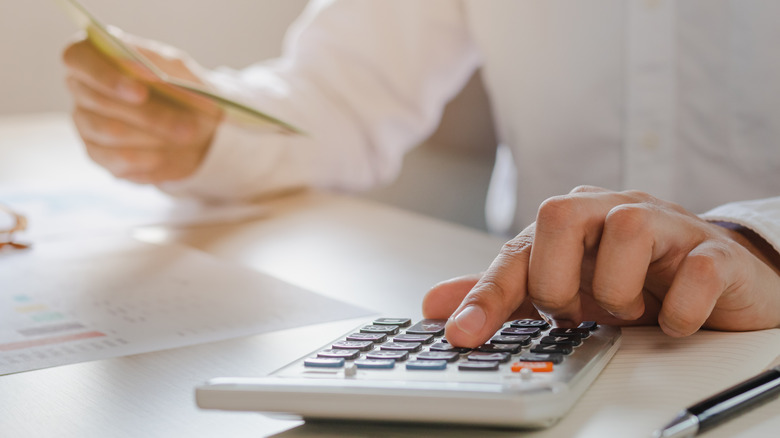 Kmpzzz/Shutterstock
When you buy a device, you want it to serve your interests. Unfortunately, the Fire TV devices have another goal in mind: maximizing Amazon's profit. Even if you purchase a device with the intent of only accessing free content, you'll still be inundated with ads to subscribe to Amazon Prime or rent movies and shows from Amazon's digital marketplace (via Moltey Fool). Although it isn't surprising that Amazon is trying to earn as much money as possible, it is frustrating to constantly sift through advertisements on a device that you own.
You may also feel encouraged to purchase other products once you own a Fire TV device. Like many brands, Amazon has created an ecosystem where its (and select partner companies') electronics pair nicely together. For example, in a recent press release, Amazon announced their latest Fire devices and highlighted smart home capabilities. If you already own a Fire TV device, you're more likely to feel pressured to buy the latest compatible doorbell, speaker, or thermostat, ultimately costing more money in the long run.