15 DIY Murphy Bed Projects To Maximize A Small Space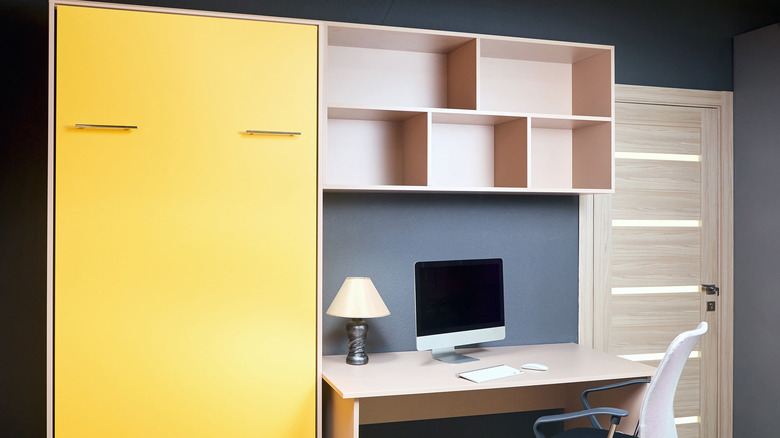 RYosha/Shutterstock
Depending on your living situation, space can be a real issue. If you live in a large metropolis like New York City or Chicago, you may need to make a studio apartment function properly and create a better sense of segmented spaces. A Murphy bed is an excellent solution when it comes to this dilemma. It provides a way for you to conceal your bed during the day or when you have guests over, leaving plenty of room to maneuver. According to The Spruce, a Murphy bed is a great way to ensure you have enough space in your apartment, but they are not one size fits all. They point out that some even come with some pretty savvy amenities, from shelves to weight capacity options to fit every need.
You may be wondering whether or not they are comfortable. Thankfully, the editors at Apartment Therapy decided to investigate more, consulting owners who live in apartments that range from 425 square feet to 600 square feet. They found that all owners thought their Murphy beds were comfortable, and in some cases, even more comfortable than a regular bed — now we are genuinely intrigued! If you are looking for a space-saving solution, keep scrolling to peruse 15 DIY Murphy bed options that will help you get the most out of your space.
A Murphy bed that is the Jack of all Trades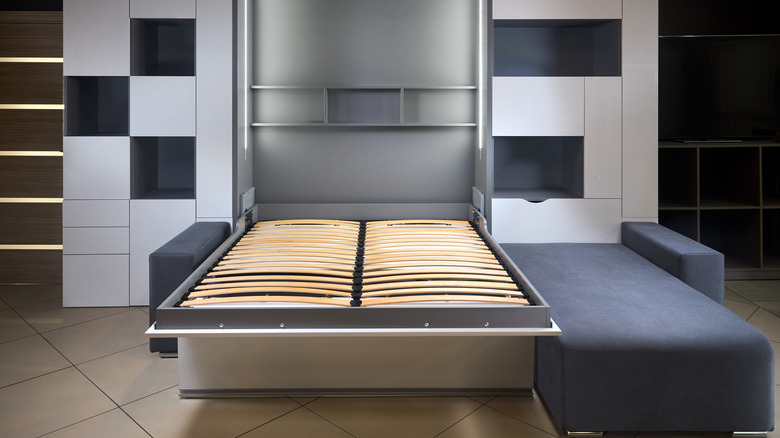 RYosha/Shutterstock
This one-size-fits-all Murphy bed would be a total game-changer for any tiny city apartment. It has a wardrobe with shelving to store all of your clothes and necessities, and when it's put back in place, the lovely oversized gray sofa will be grand for when you entertain friends. A win-win all around!
A cute, all-pink girl's room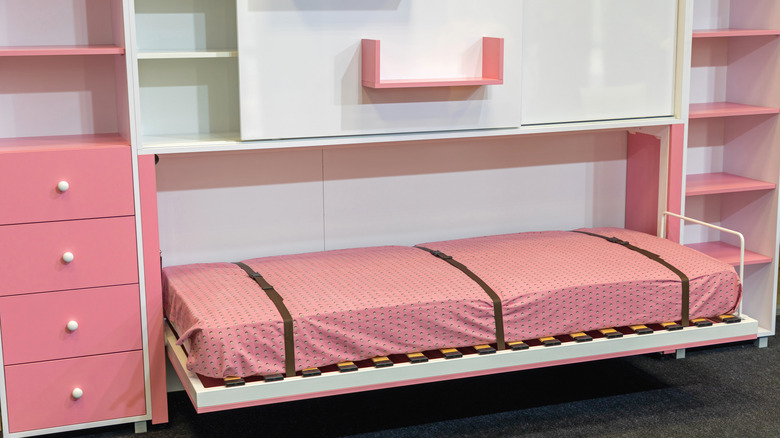 Baloncici/Shutterstock
This adorable girl's room has a twin-size Murphy bed that can be stowed away for ample space to play. There are drawers on one side of the bed to keep clothes and other essential items. There are also pink shelves flanking the other side of the bed, so your little girl has plenty of room to show off her most prized possessions!
A room with a Murphy bed and a beautiful view
Pipas Imagery/Shutterstock
This gorgeous Florida condo has an incredible view of the ocean, which we are betting you are not going to want to take your eyes off. But when you aren't using your Murphy bed for sleeping or relaxing, it can easily be stored away for entertaining your friends and family at your beachside escape.
A unique backstory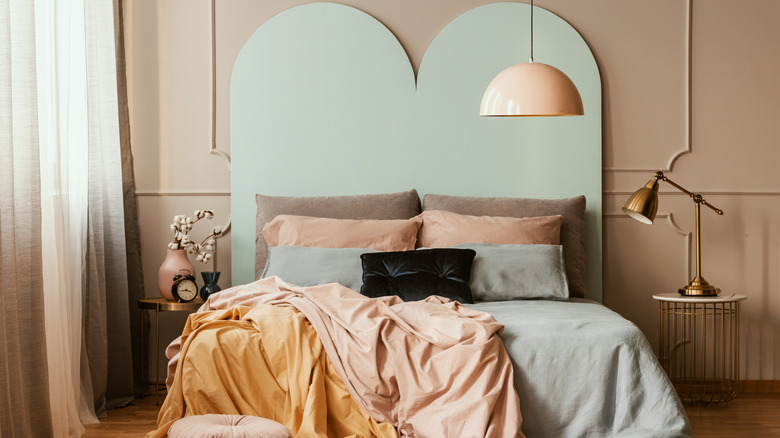 Photographee.eu/Shutterstock
When designing your DIY Murphy bed, think about creating a unique look with an exciting headboard so that when you have your bed pulled out, it has extra architectural details that inspire. A little creativity can go a long way, and we love how this homeowner styled the oversized wooden headboard and then painted it in a light shade of teal. The look is finished off with complementary desert shades, including light rust, blush pink, and a soft gray.
Bright city lights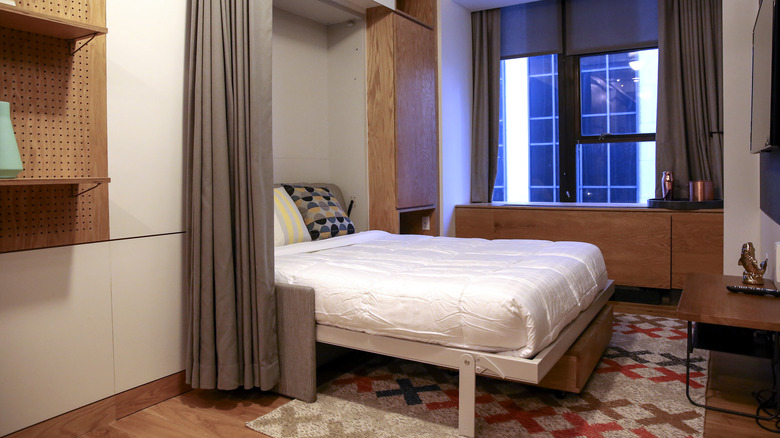 Bloomberg/Getty Images
This New York City apartment is simple in design. Resting upon a rug that features large x's in brown, red, and blue, our focus is drawn to a basic Murphy bed that can be put away to unveil more space. We also love that you can enclose the bed with a chic curtain for an extra dose of privacy in the big city.
A Murphy bed with a workspace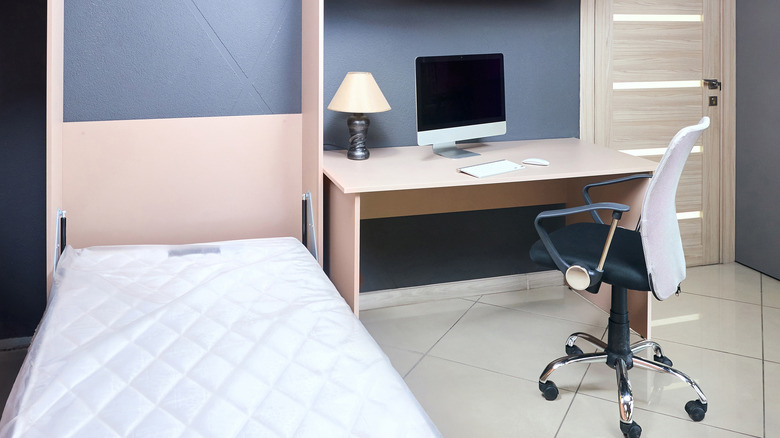 RYosha/Shutterstock
If you want or need to have a work area in your home, consider making a DIY Murphy bed that has room for a workstation with extra open shelving above it. This is an excellent idea for a variety of situations, whether you need it for your own job or want to create a space for your kids to finish homework after school.
An iconic loft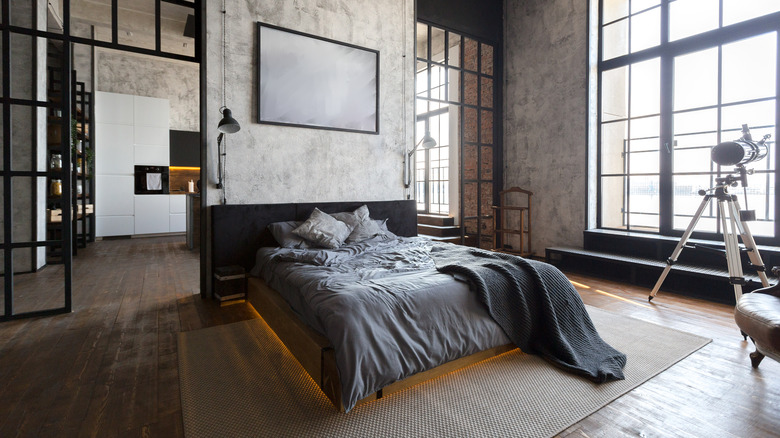 Pinkystock/Shutterstock
If you want to create even more space in your gorgeous loft with floor-to-ceiling windows, concrete, and wood floors, you can DIY an equally beautiful Murphy bed. Intended to store away when friends are over, it's an excellent option for living in a busy city. If you look closely, you can see LED strips casting light from under the bed, which bring an element of excitement to the space and a cool look once evening arrives.
An all pink magical wonder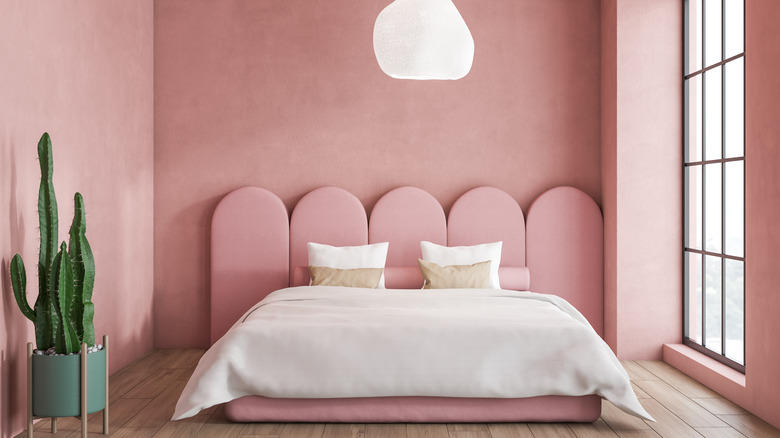 ImageFlow/Shutterstock
When designing your DIY Murphy bed, be sure to think about the color scheme of your headboard and overall room. We love this monochromatic bubblegum pink room, but you could go with any color that fits your personal style. Then, when you put your bed away, you have plenty of space to take in those gorgeous views from the large window.
Focus on shelving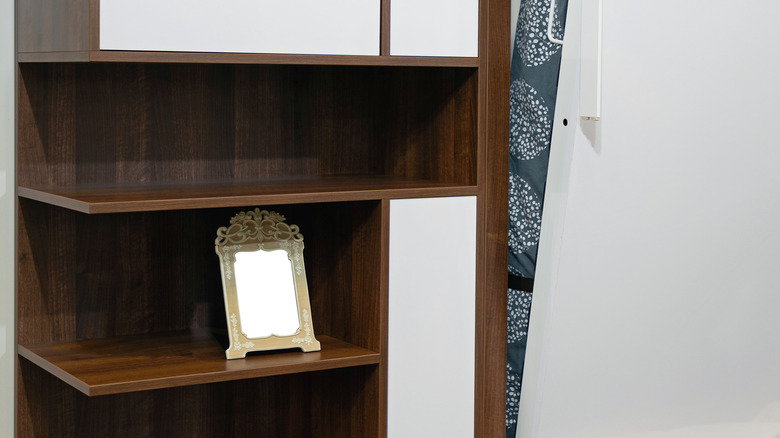 Baloncici/Shutterstock
Another significant space-saving idea to consider when designing your DIY Murphy bed are the extra storage options available to you. Creating shelving to store your items or to display sentimental objects like family photos, vases and more is an excellent idea to help you personalize your home. These beautiful shelves feature dark wood and white cabinets for a contrasting look that stands out.
Add a divider wall to separate the space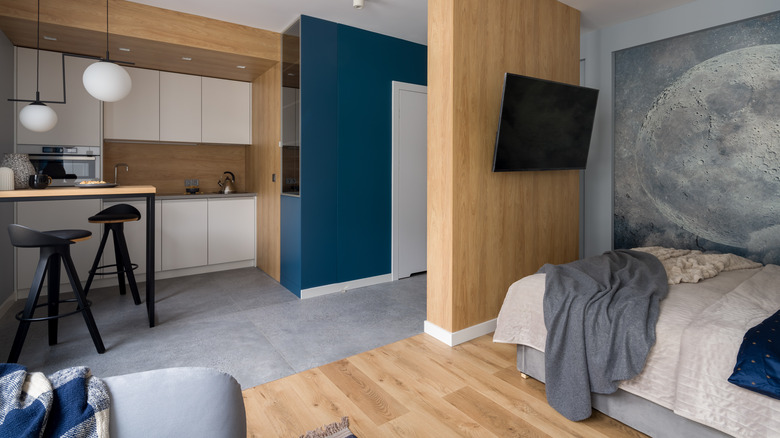 Dariusz Jarzabek/Shutterstock
To create the illusion of separate rooms in a studio apartment, you can place a divider wall between your kitchen and your bedroom area. That way, even when your Murphy bed is rolled out and on full display, there is still a sense of privacy between rooms. This segmentation also lends prominence to each area.
Go chic with luxe surfaces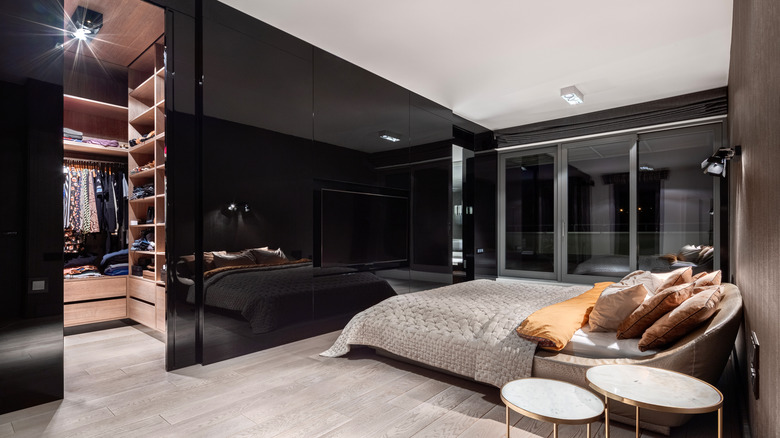 Dariusz Jarzabek/Shutterstock
This luxurious bedroom has a shiny accent wall in black which looks incredibly chic, and if you didn't already know, black walls are having a moment! With floor-to-ceiling windows and brass accents, this room inspires us to create a more opulent space in our own bedrooms. You could throw a soiree in this stylish space when you fold up the Murphy bed.
An artistic focal point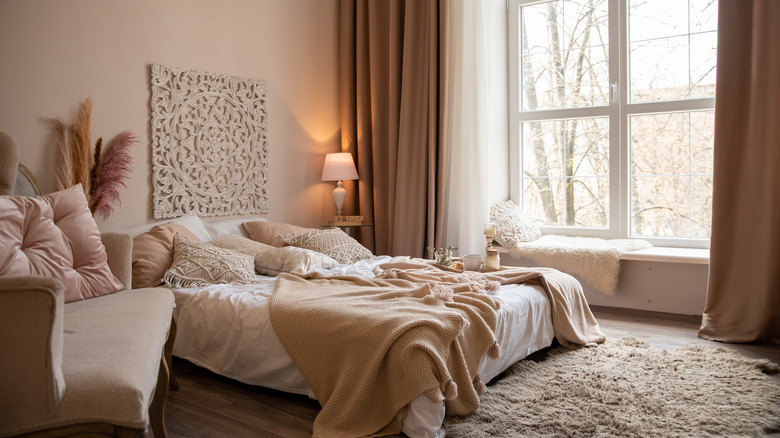 Marianna_ Zh/Shutterstock
When designing a Murphy bed, you can truly find inspiration everywhere. Beige tones abound in this bedroom, and we are here for it. We adore the idea of placing an exciting art piece above the bed so when it's down, you have the best kind of focal point — a jaw-dropping art piece that will stun anyone who sees it.
A natural accent wall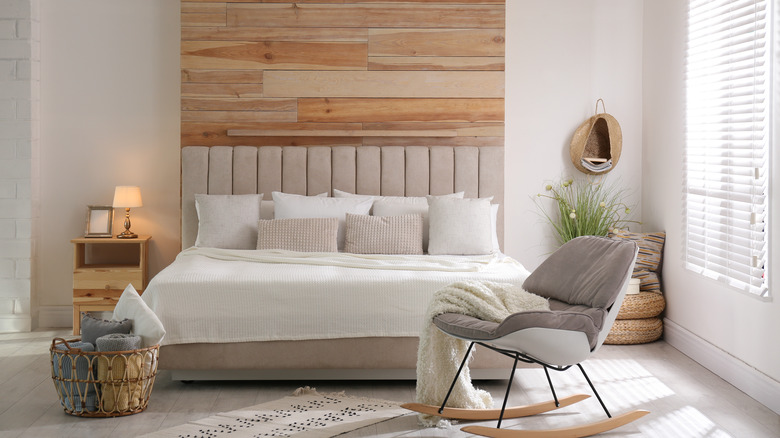 New Africa/Shutterstock
This reclaimed wood wall is an excellent way to add natural elements to your room and some visual interest when your Murphy bed is down. Add complementary nature-inspired elements like wicker and hyacinth grass baskets for storage. Finish off the look with crisp white bedding, plenty of pillows, and a cozy rocking chair complete with a soft throw.
A different texture for a stunning transformation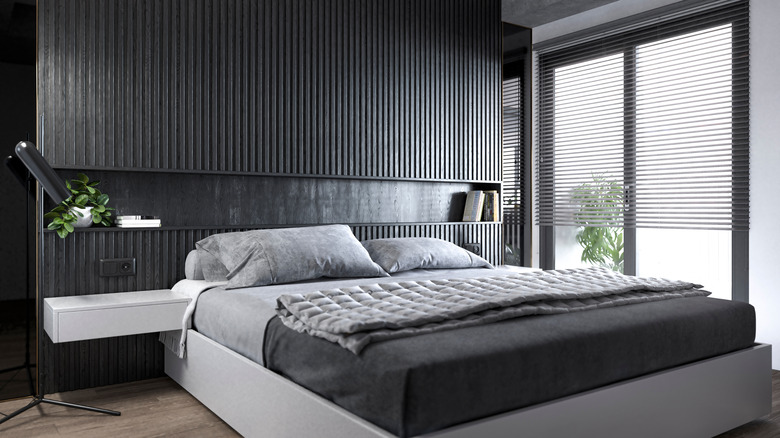 RenderStock/Shutterstock
One exciting way to make your bedroom unique is to experiment with different textures, especially on the walls. Case in point: this bedroom makes use of ribbed steel painted in a luxurious deep gray to create a look we haven't seen before! When your Murphy bed is on full display, it will surely get guests talking.
A naturally beautiful bedroom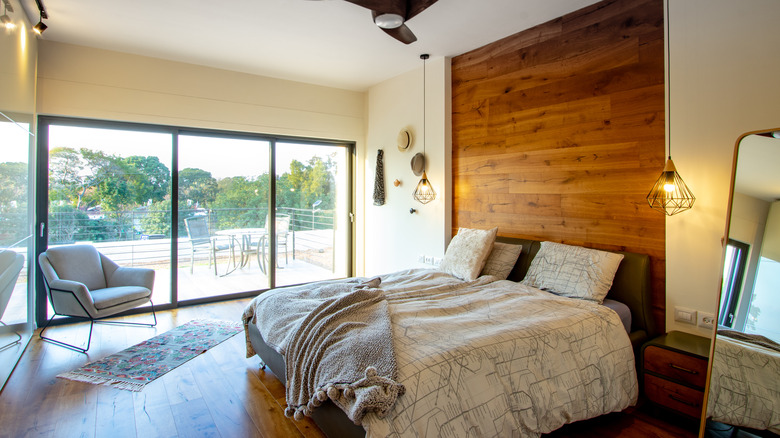 Luciano Santandreu/Shutterstock
We love natural elements, and this expansive bedroom epitomizes the classic aesthetic. It features a warm, honey-colored wood accent wall in the same style as the gorgeous wide-plank hardwood floor, creating an effect you'll be excited to show off when your bed is on full display. Plus, the two pendant lights flanking either side of the bed add a warm glow that really highlights the natural beauty of the room.