20 Vanities That Will Make Putting On Makeup The Best Part Of Your Day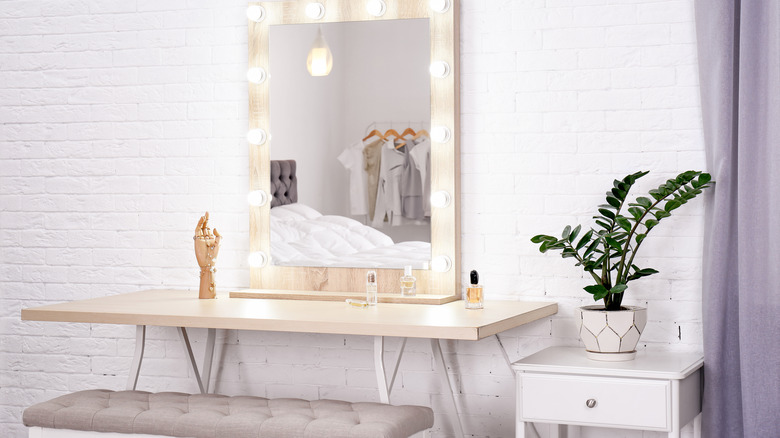 New Africa/Shutterstock
We love the scenes that show a woman getting ready at an old-school vanity in a, let's say, 50s movie. While modern life may be a bit more hectic, most of us embrace the thought of adding a glamorous vanity to our bathroom or bedroom that we know will make putting on our makeup for the day that much more enjoyable. House Beautiful makes an excellent point of showing that a makeup vanity is a beautiful and functional piece of furniture that can hold everything you need to put on your face for the day, including makeup, skincare necessities, fabulous smelling fragrances, and more. But, a ready-made vanity isn't your only option, thankfully. The outlet provides a slew of ideas to create a charming vanity, from installing a floating shelf to even using a side table.
Finally, there's one thing you don't want to forget about when it comes to your vanity, and that is lighting. Bob Vila brilliantly brings up this point, so be sure you add a mirror with all the lighting bells and whistles to ensure you leave your home looking fresh-faced without makeup splotches with the right lighting scenario. Read on to get inspired with these 20 vanities that will surely make the start of your day better.
1. Keep it cool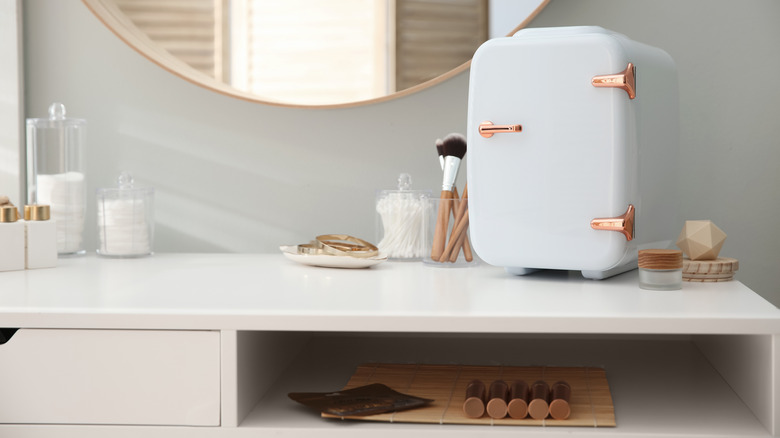 New Africa/Shutterstock
This bathroom vanity knows how to keep it cool. While the white cabinetry is classic, the cosmetics refrigerator is the main focus. A fridge for your cosmetics? Hear us out. You may want to think about this investment because it can prolong your products' lifespan by keeping them cool at around 45°F to 50°F.
2. Organize it to perfection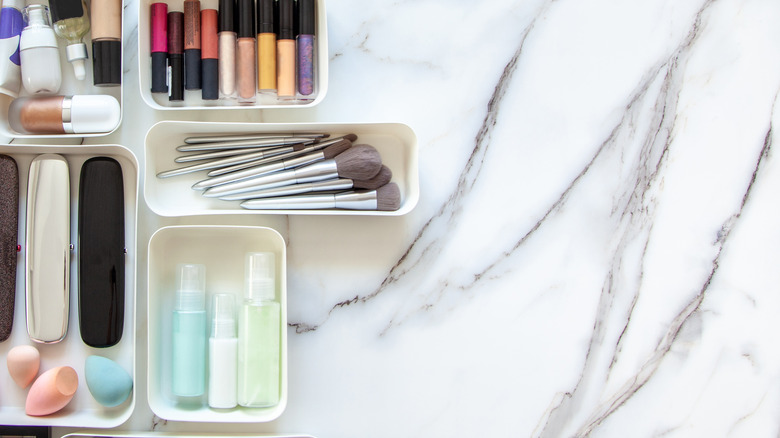 Kostikova Natalia/Shutterstock
This vanity made of luxurious marble can be even more fabulous by using an organizer to get all of your products in order. Not only will your beauty products be easier to find during a rushed morning, but look how pretty the lip glosses are in a kaleidoscope of colors. There's a spot for it all!
3. A simple yet pretty vanity option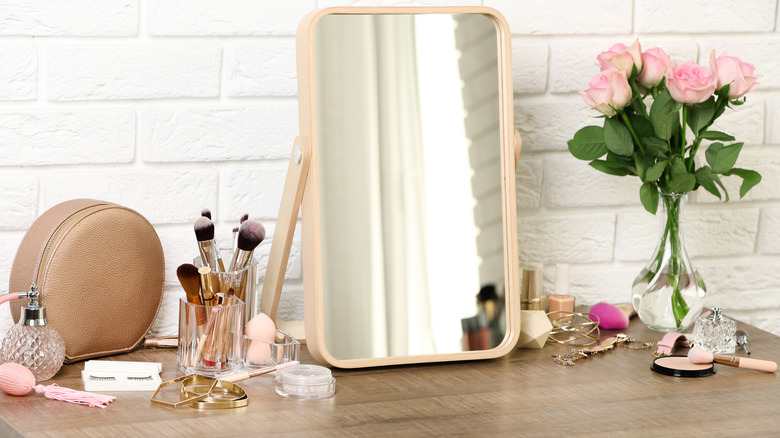 New Africa/Shutterstock
A vanity could be as simple as using a wooden table and placing a mirror on top of it. Voilà! You have a space that you will love to get ready at! Pro tip: look for a mirror with lighting to ensure that your makeup looks flawless.
4. Display it proudly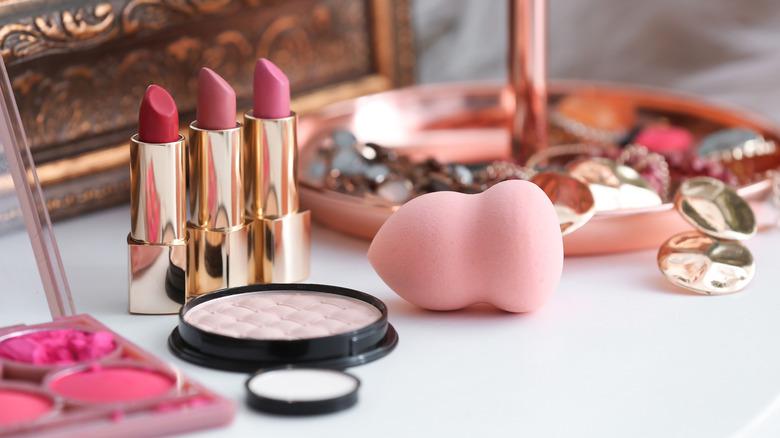 New Africa/Shutterstock
No need to store everything away! You can keep your favorite beauty products out, and we advise you to display your prettiest products, especially those items that you use daily. The gorgeous rose gold organizer can hold your favorite things, from jewelry to skincare items that you use to get ready in the morning or before bed.
5. Hollywood glamour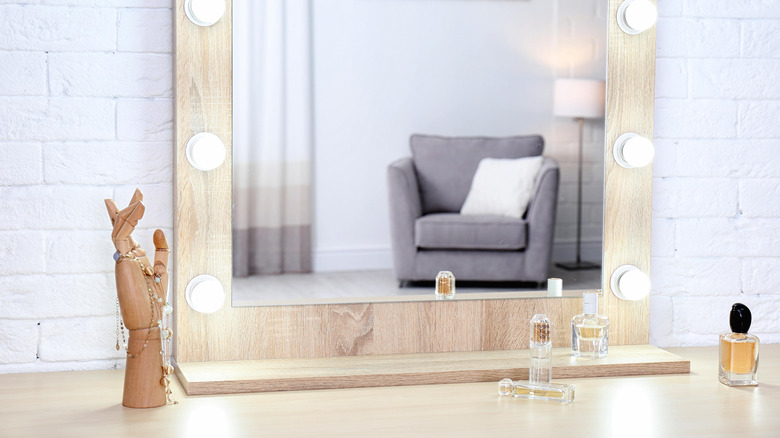 New Africa/Shutterstock
This glowy mirror looks classic, but its size is big enough to ensure you see every detail, and the LED lights will make it so you can actually see what you are doing day or night! It's best to use white light instead of fluorescent or lighting with a pink tint when makeup.
6. A shabby chic mirror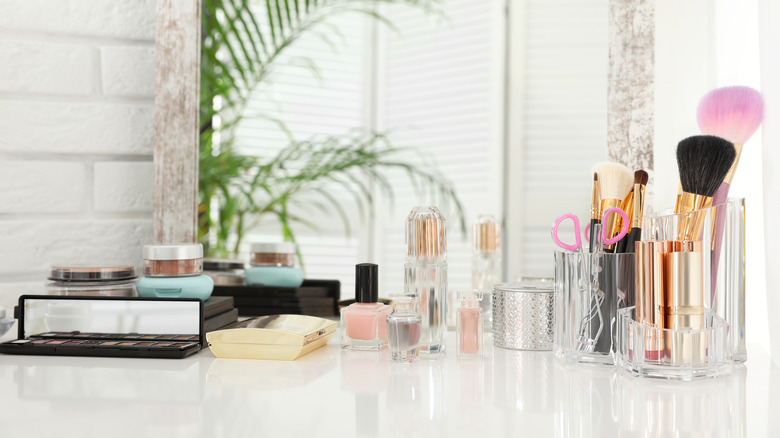 New Africa/Shutterstock
If you want to create a relaxed look for your vanity, we have an easy weekend project for you! You can pick up just about any mirror, and instead of keeping it as is, consider giving it a shabby chic look. Then, set up your table, and you have an excellent spot to apply your makeup.
7. It's the aesthetic for us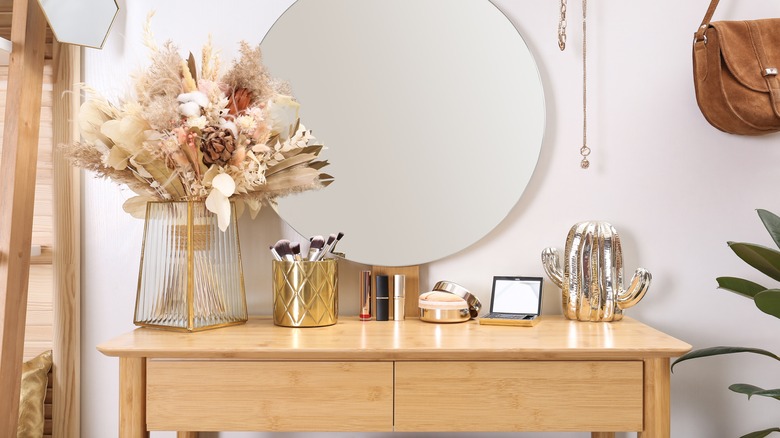 New Africa/Shutterstock
The gorgeous dried flowers, the silver cactus artistic piece, and the round mirror make this vanity a complete standout. The homeowner chose a light wood dressing table with two convenient top drawers, which is the perfect spot to have your organizers filled with your favorite makeup products for easy access.
8. A glam retreat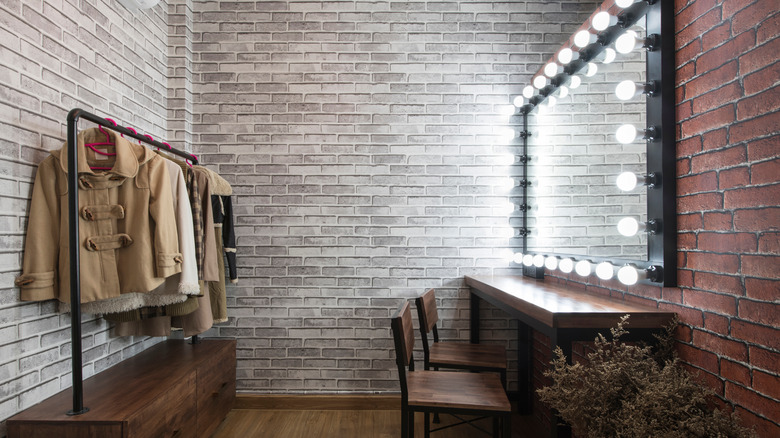 Tonfoto2518/Shutterstock
We would feel like a star if we had a spot like this in our home. The mirror with LED lights and the brick wall would be a dream room for many. A large shelf is used for the vanity, and two chairs make this a fun spot for friends to get ready before a night out.
9. A double vanity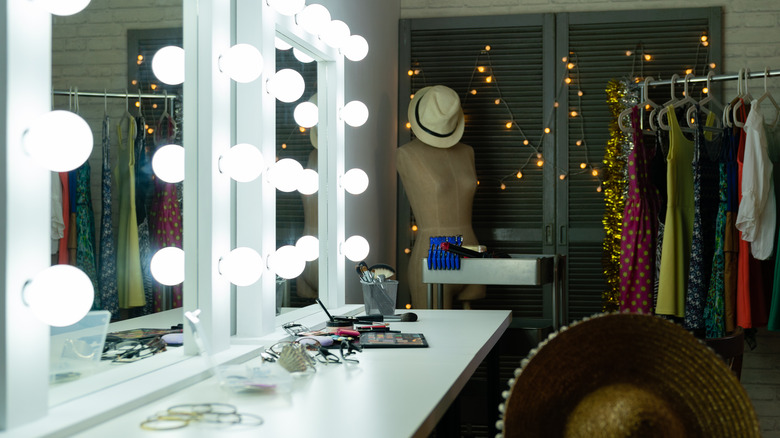 PR Image Factory/Shutterstock
Most couples are on the hunt for a home with a double sink in the bathroom, which brings us to our next point: Why not look for a home with double vanity? If several people in the house need to get ready simultaneously, this idea is exceptionally brilliant.
10. A simple side table works wonders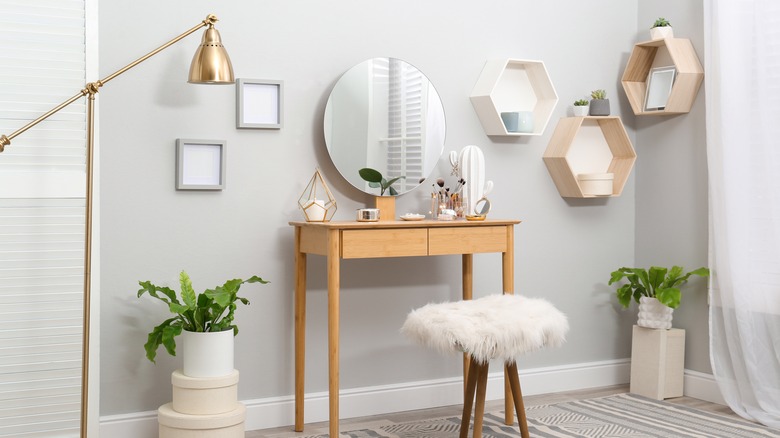 New Africa/Shutterstock
This light wooden side table somehow is made to look extra chic in this bedroom. The stool is accented with faux fur, and the circle mirror creates a gorgeous space for you to start your day, applying your makeup in a beautiful area, no doubt.
11. A classic style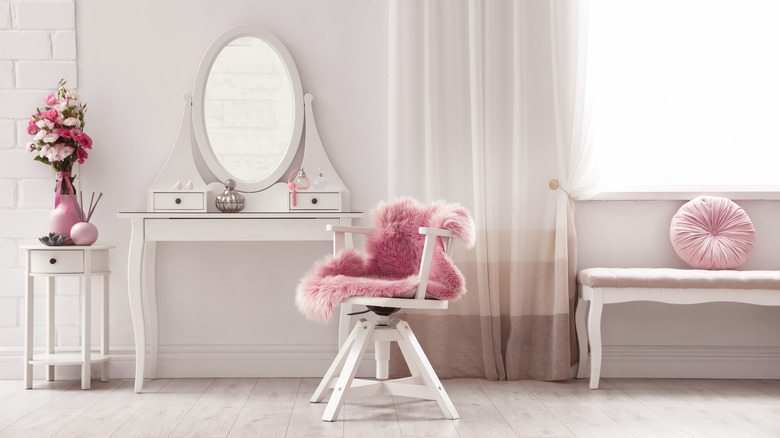 New Africa/Shutterstock
This white vanity is such a classic. Its feminine shape is breathtaking, and we love that it has an oval mirror. The two side drawers are great for hiding away your beauty products. Adding luxe pink faux fur to the chair, a vase on the side table full of flowers, and a pink pillow ties everything together.
12. An artistic retreat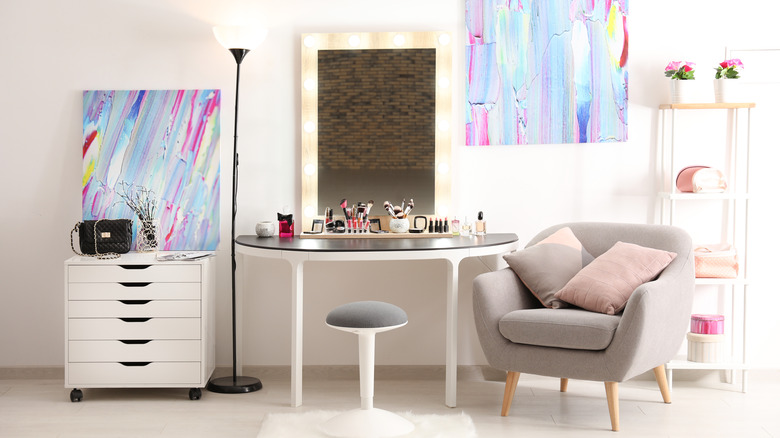 Africa Studio/Shutterstock
The modern beauty room is a dreamy space with an artistic focus. Even the table has an attractive shape, and the LED mirror will make it so your makeup application turns out to perfection. A comfortable gray chair makes it so you can have a guest hang out while you get ready for a night out.
13. A dresser turned vanity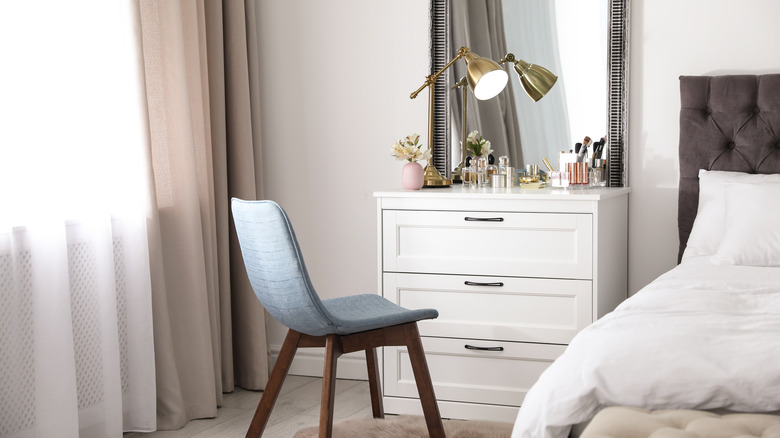 New Africa/Shutterstock
If space is what you lack and you are in a studio apartment, use your furniture as double-duty. A dresser can become the perfect station for you to get ready for the day. Keep a comfy chair nearby, overhead lighting, a large mirror, and set up all of your favorite products and this option is a game-changer.
14. In the spotlight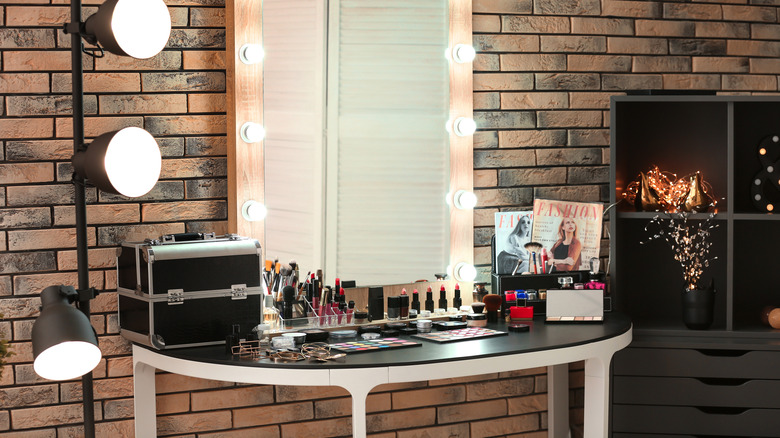 Africa Studio/Shutterstock
Large LED vanity mirror. Check. Savvy makeup display to showcase all of your favorite beauty items. Double-check. Spotlights? Yes, there's that too. Consider adding ample spotlight lighting to the room, which sets the entire mood of the space and can help bring more light to ensure that your makeup is applied in the best way possible.
15. A moody chic space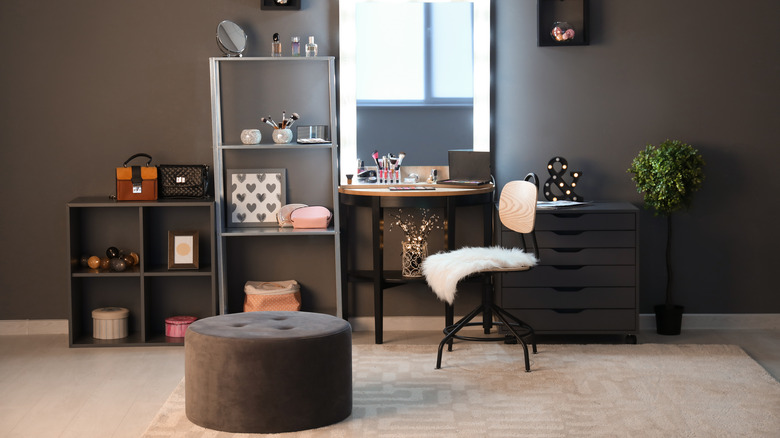 Africa Studio/Shutterstock
A sophisticated dark-gray room looks great with black furniture and eye-popping accessories. The room doubles as an office, wardrobe, and dressing room, so it's more functional. The circular seat in the center of the room reminds us of a retail store, but it's an excellent item to have when friends are over for extra seating.
16. A light-filled dream vanity station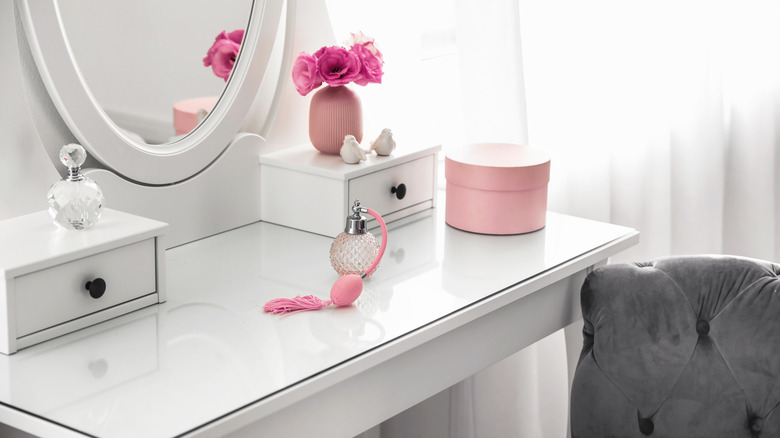 New Africa/Shutterstock
This bright room features a white vanity and ethereal drapery to set the dreamy mood with light pink accessories, including a tiny vase with pink flowers, an old-school perfume bottle, and a light pink box to hold important items. A comfortable plush tufted gray chair in velvet finishes off the space.
17. A rose gold oasis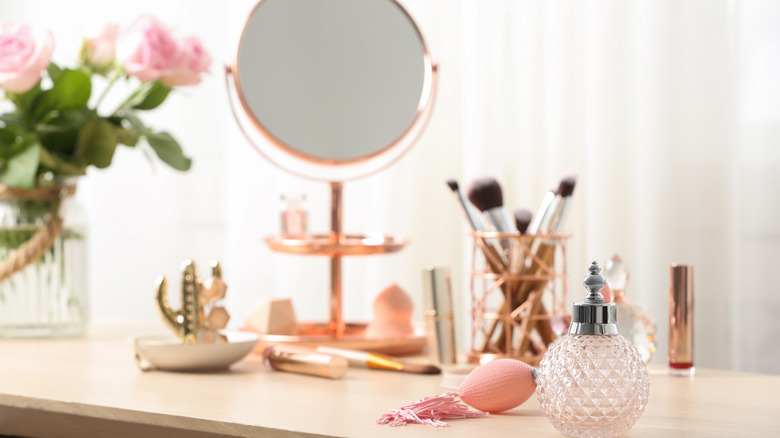 New Africa/Shutterstock
Choose a color scheme and run with it! Chic rose gold accessories make this vanity a luxurious oasis that you would love to sit at each morning as you get ready for the day. The mirror, the makeup brush holder, and the makeup are all in the gorgeous hue atop a simple wooden table.
18. Floating shelve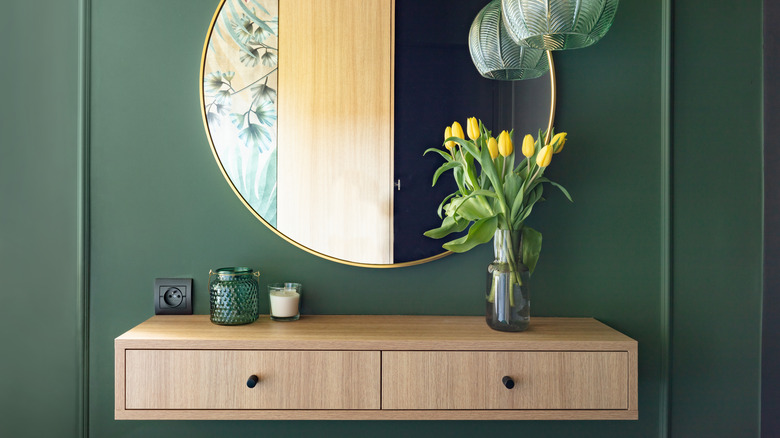 PHOTOCREO Michal Bednarek/Shutterstock
If space is tight for an entire table, floating shelves are an excellent way to add a space for you to get ready in the morning. We adore that these shelves have drawers so that you can store all of your necessities, or if you'd like, you can showcase your favorite things on top of the table, too.
19. A mid-century modern stunner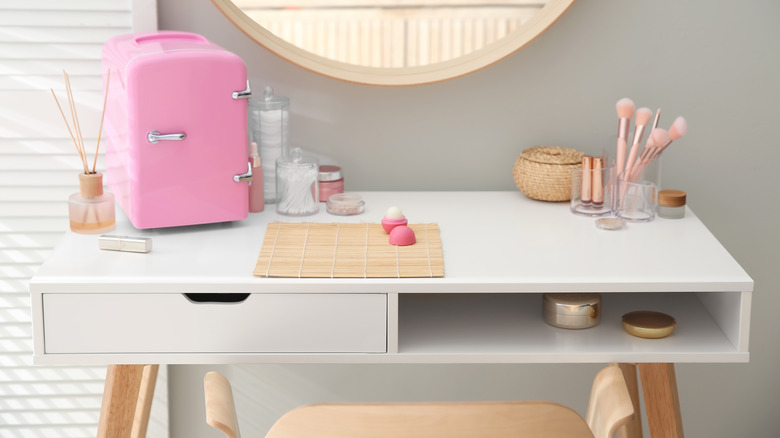 New Africa/Shutterstock
This vanity table could also double as a desk. While it has a drawer, another open section could hold a makeup organizer or your beauty products to be easily accessible. Glass jars filled with necessities are within arm's reach, and we can't get enough of the pink cosmetics refrigerator, which can house all of your products.
20. Chic, girly retro style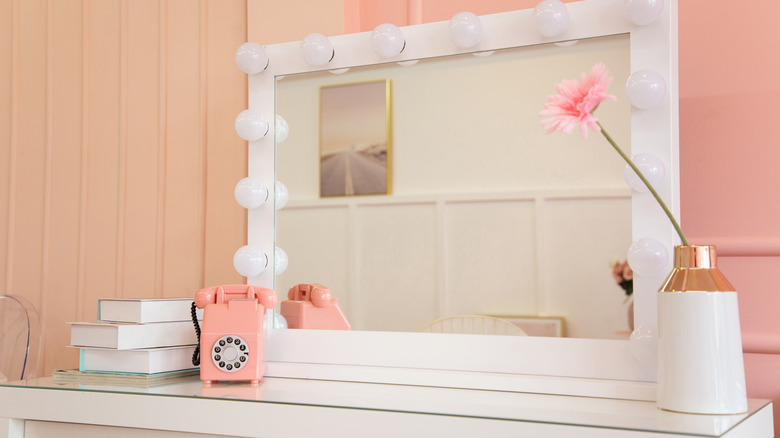 faak/Shutterstock
It couldn't be easier to create an ultimate beauty area. Simply paint your walls a gorgeous peachy pink hue, add a working rotary phone in the same color (how adorable!), and finish it off with a large white vanity mirror with LED lights.