15 Ideas To Spice Up A Boring Fridge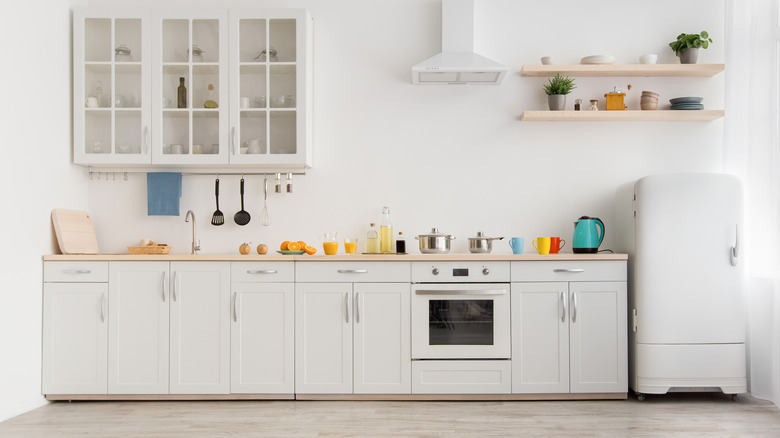 Prostock-studio/Shutterstock
Kitchen appliances are made to last years, but they often become dull and boring after a while. Refrigerators, especially, can lose their charm since they often fit the modern look with a stainless steel or classic white style, according to The Kitchn. They make for a great remodel project, whether that's lining yours with floral wallpaper, painting it a completely new color, or designing your own mural to fit the aesthetic of your kitchen.
Purchasing a new fridge can hurt your bank account due to high costs, but buying a few supplies to DIY can be inexpensive. Whether you're looking for something temporary or permanent, there are a variety of designs that can transform your fridge from mediocre to show-stopping. It takes time and a lot of patience to get it the way you want it to look, but the results will be amazing. Here are a few ideas to get you thinking about your own design.
1. Pop of color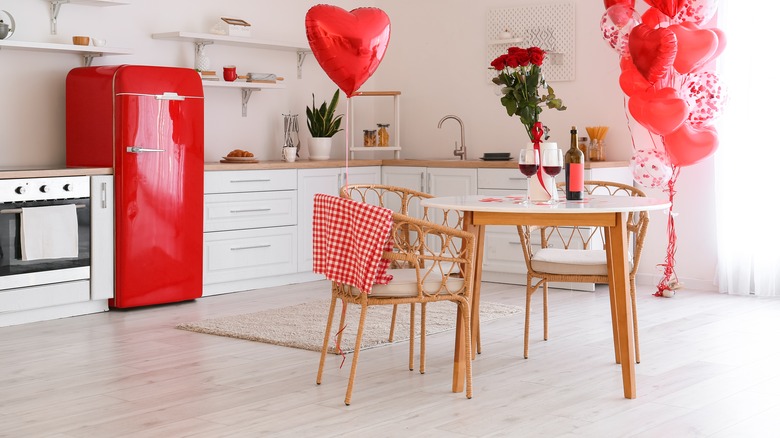 Pixel-Shot/Shutterstock
A bright red fridge in a simple white interior kitchen makes it stand out. While the kitchen is decorated with red balloons, roses, and wine, the fridge would still be the main focus without those items. It definitely beats a plain white fridge or standard stainless steel. 
2. Magnets and drawings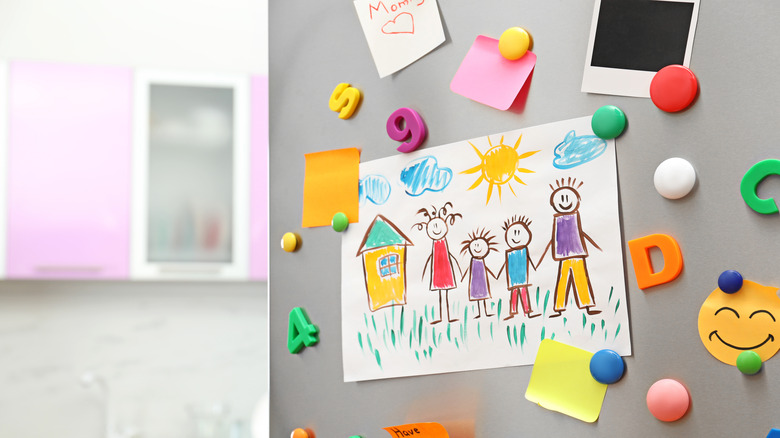 New Africa/Shutterstock
The magnets add color and texture to the fridge along with the drawing and sticky notes. It's a great way to make use of your children's drawings. With a few additional alphabet magnets, you and your family could play some word games and make the fridge fun. 
3. Gold accents
For a more luxurious feel in your kitchen, adding a white fridge with gold accent handles will definitely do the trick. The gold handles match the rest of the accent pieces around the kitchen in a subtle yet noticeable way. 
4. Smart fridge
This sleek, smart fridge complements the white cabinetry with its white trim and black interior with the black background of the cabinets. It blends in with the kitchen, which could be great if you want your counters or backsplash to be the main focus. Even though it's simple, the smart features make the fridge unique. 
5. Wood-style fridge
Camouflaging your fridge with the interior of the kitchen in this way can make it more monochromatic. It all flows together and avoids the standard stainless steel of most fridges. This is also a fun way to surprise guests that may not be expecting a fridge in disguise.
6. Wallpaper fridge
The wallpaper overlay on this fridge is gorgeous and easily removable if you ever want to switch it out for a different print. It adds texture and pops of color to the kitchen. The polaroid pictures provide a nice personal touch as well.
7. Mint fridge
A mint-colored fridge keeps the interior of the kitchen bright and soft while complementing the white cabinets. The silver handles match the microwave and oven as well.
8. Nouveau Damask wallpaper
The wallpaper theme is a strong one since there are so many different designs you could cover your fridge with. This beautiful green and blue Nouveau Damask wallpaper makes the fridge appear more elegant. The gold accents on the wallpaper match perfectly with the wood finish cabinets and granite countertops. 
9. Chalkboard fridge
A great way to get more creative is to turn your fridge into a chalkboard. You can leave messages, draw pictures, or simply keep it blank; the best part is you can always start over if you mess up. 
10. Floral fridge
This floral wallpaper gives the space a gorgeous chic vibe with its light colors and various types of flowers. It stands out in the white interior kitchen, making it a sure attention grabber. 
11. Scalloped fridge
This stunning metallic scalloped fridge makes the fridge glisten in the kitchen. The detail is precise and captures an ocean theme while giving great texture and a funky feeling to the space. 
12. Confetti fridge
If you're short on time, slapping on some rectangular black stickers to your fridge can give it a confetti look. You can switch out the black for other colors so that it looks fun and over the top. Especially when working with a white interior kitchen, you can add a good amount of color to make it pop. 
13. Mix and match fridge
This stunning orange fridge adds personality to the entire kitchen while matching the oven door and range hood. The gray interior balances the orange instead of clashing with it. It's a bold move to have orange as a focal color, but with the right background it works out. 
14. Striped fridge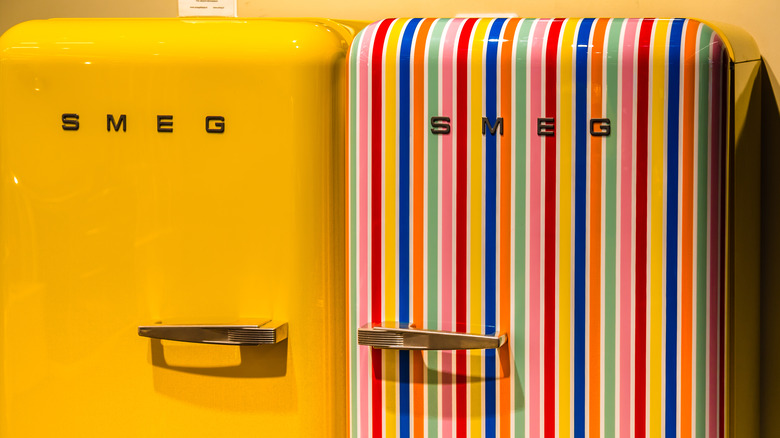 Vivida Photo PC/Shutterstock
If you want an exaggerated-style fridge, this multi-colored striped one will definitely be the talk of your home. It's child-like with the bright rainbow colors, and in order for it to work well in your kitchen, you would likely need a monocolored interior, such as white. 
15. Cartoon fridge
Designing a cartoon-like town on your fridge with a solid colored background brings your kitchen to life, especially with the yellow striped wallpaper and touches of green plants. It's kid-friendly, creative, and fun. There's a mix of colors from a pastel palette that complement each other and illuminate the kitchen.