The Number One Best Reviewed Product At Ikea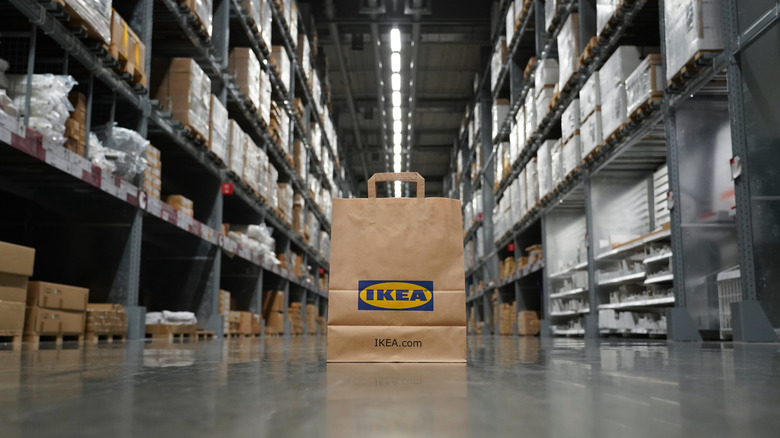 NP27/Shutterstock
It's no doubt that Ikea is one of the most popular furniture retail stores in the world. Statista says the company makes the top ten list of most valuable stores, evidenced by 700 million customers visiting its various outlets worldwide in 2021. Ikea is estimated to be worth over $21 billion in the U.S. alone. According to Shift, it's no surprise as the company is known for producing high-quality furniture at a low cost that anyone can use. 
As a store that is beloved by so many people, we are aware that it has countless reviewed items. Architectural Digest says the most popular item is the Billy bookcase — a simple, plain bookcase that is versatile in its design and can also be used in your closet. And of course, it's also very affordable and accessible. Let's take a look at this item to determine why it's the best-reviewed Ikea product.
A household necessity
This product was initially launched in 1979 and continues to be popular to this day. Per the company, someone purchases a Billy bookcase every five seconds. The bookcase comes in three colors: white, black-brown, and birch veneer, each offered in two sizes: 6.7 feet by 2.7 feet and 6.7 feet by 8 inches. The various colors and sizes make it possible to incorporate the bookcase into any aesthetic or interior design style. 
According to Architectural Digest, although this product is a simple way to store your books, it can host other items, too. Interior designer Steve Mckenzie advises buyers to purchase baskets for additional elements of design that can also help hide disorganization. At Ikea, the price of this bookcase ranges from $69 to $99, depending on the color you desire, which is pretty affordable when looking at other bookcases on the site that cost over $400.