10 Ways To Spruce Up Glass Kitchen Cabinets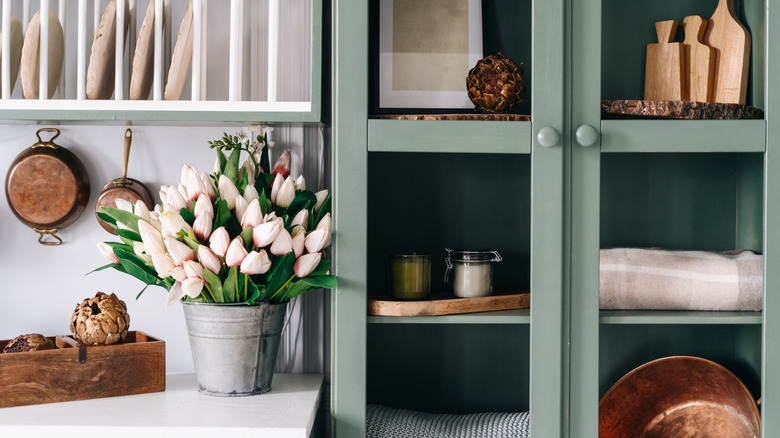 brizmaker/Shutterstock
Glass cabinets are classic and stylish fixtures in kitchens. They're great for seeing what is in the cabinet at a glance but can also be a little bland and boring, and they can show off your less-than-beautiful kitchen contents. While they're amazing at making a space seem bigger, as Woodmaster Kitchens notes, they can break the room with a less appealing display. If you're ready to make a change in your kitchen and want to make a big splash without doing a full renovation, sprucing up your glass cabinets is a great place to start. Our guide will walk you through the best ways to add some visual interest to your glass cabinets, all with simple no-demo DIY instructions.
You don't need to just frost your glass kitchen cabinets — we'll cover glass treatments, paint ideas, and styling tips for you to use in your own home. Best of all, these glass cabinet tips can be tailored to any style and skill level, so you can give your kitchen a refresh on a budget.
1. Add window panes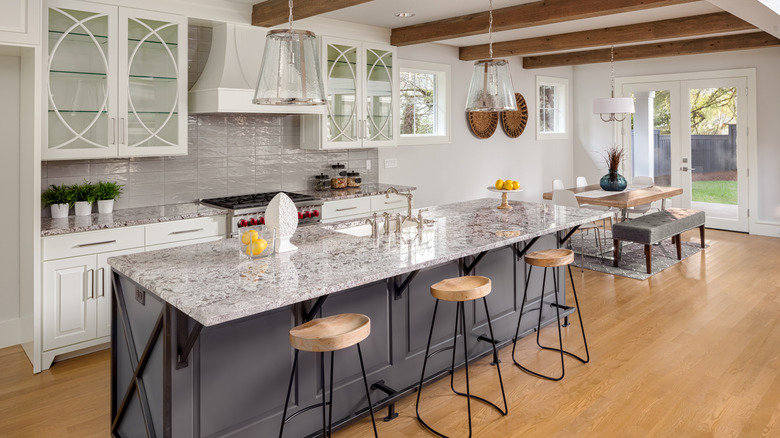 Breadmaker/Shutterstock
Using vinyl molding, you can add window panes to your glass cabinets. The task is an easy one-weekend job but will give the furniture a fantastic rustic feel and look.
2. Put wallpaper on the inside
Adding wallpaper is a great way to add color and patterns to your cabinet. Adding it to the interior of your cabinets is a simple DIY that makes a dramatic impact. Use peel-and-stick wallpaper for a renter-friendly DIY! 
3. Show off your best china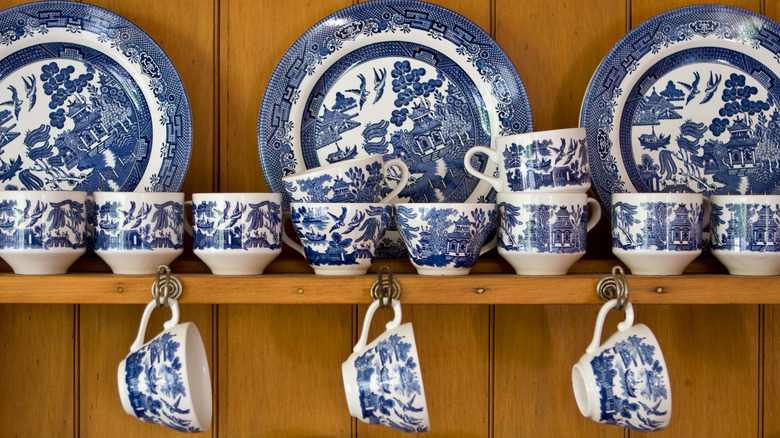 CreativeFireStock/Shutterstock
Don't let your precious china and other special dishes go unseen by hiding them in boxes. Even if you don't use them regularly, they are works of art and can look stunning in glass cabinets. 
4. Add rice paper
Borrowing from Japanese tradition, rice contact paper is an elegant and fast way to spruce up your cabinets. Just find the right rice paper film, cut to size, peel, and stick.
5. Create gathered curtains
Cottagecore isn't going anywhere anytime soon. Add a vibrantly patterned curtain behind your glass cabinets with a basic tension rod for a cozy and chic kitchen update.
6. Play with all the colors of the rainbow
Don't shy away from color in your kitchen cabinets. Thrift stores are a great place to score some affordable vintage colored glass, or you can splurge on a new set. With glassware this gorgeous, no DIY is necessary.
7. Make faux stained glass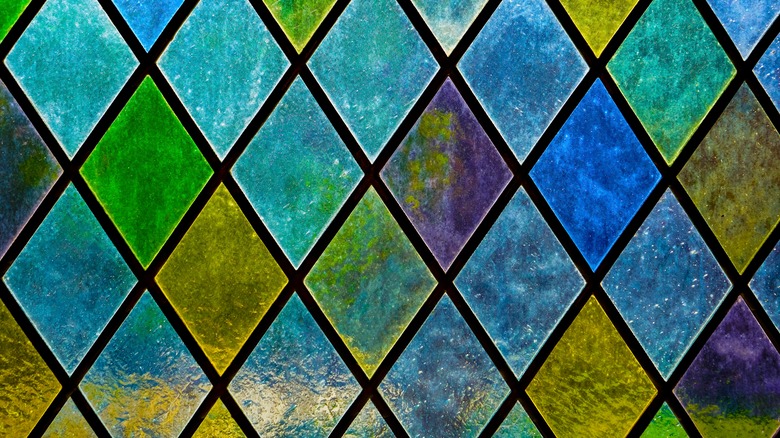 maradon 333/Shutterstock
It's easier than ever to have the beautiful stained glass of Europe's cathedrals right in your own kitchen. All you need is stain glass window film and some know-how to transform your glass cabinets.
8. Paint the inside of your cabinets black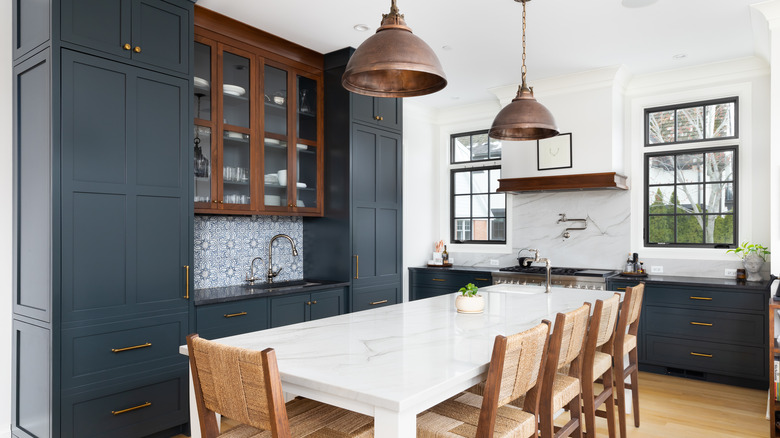 Hendrickson Photography/Shutterstock
Busy patterns and vibrant colors have their place, but sometimes you just need some good contrast to shake things up. For example, painting the interior of your cabinets black makes glassware stand out beautifully.
9. Consider size and scale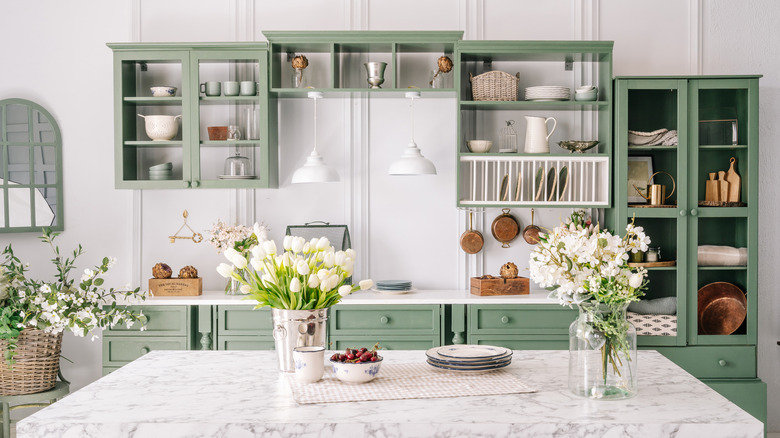 brizmaker/Shutterstock
To make your glass cabinets look styled and cohesive, make sure you are using objects of different sizes throughout the display. Otherwise, it can become visually monotonous. 
10. Play with texture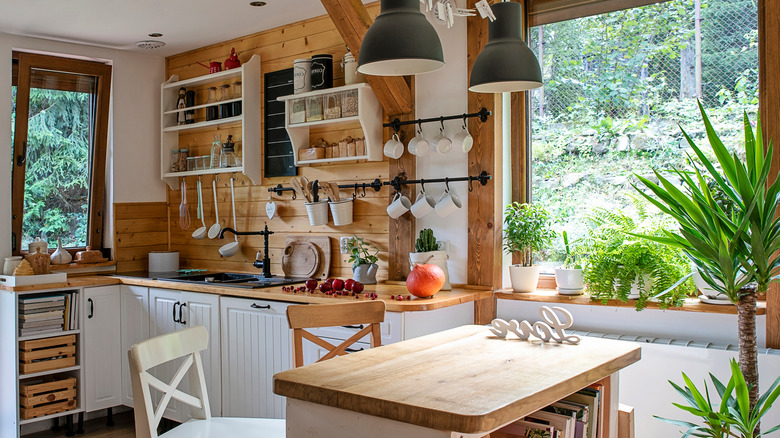 liloon/Shutterstock
Don't limit yourself to just displaying porcelain. Adding other textures like wood, wicker, and metal helps create a more interesting, homey display.