10 Ways To Incorporate Pop Art In Your Home
If you're eager to add some creative flair to your living space, then choosing the perfect artwork for your home is a must. While you could always stick with trendy wall art ideas or might even want to incorporate a surreal aesthetic into your décor, there's also a chance that pop art may pique your interest.
First hitting the scene in both the United States and the United Kingdom back in the 1950s before becoming more mainstream in the 1960s, pop art has never seemed to lose its eye-catching appeal, according to the Tate. It was also a movement that made stars of some of its main figures, which is why you've surely heard of Andy Warhol and Roy Lichtenstein, who MoMA points out as key pop artists. As for what pop art centers around, the name reveals that very thing. It reflects popular culture and often centers around celebrities, the media, and even everyday products. However, it also does so with brightly colored touches or other creative twists.
So, how can you incorporate pop art into your home? We happen to have a few ideas that you'll surely adore!
1. Hang Warhol-like prints
The late Andy Warhol is undeniably one of the most famous pop artists to have ever lived, and his prints of Marilyn Monroe are among some of his most famous works, per MoMA. Get the same kind of look by popping up your own Marilyns or other images in the same colorful and almost surrealist style.
2. Use Warhol colors in other ways
While Andy Warhol focused on prints at one point in his career to capture the bold colors that he seemed to love, you can use that same kind of split shade style for the rest of your room. Just pick two colors that you love and pair them in as many ways as possible.
3. Opt for pop art sculpture
Jeff Koons, another famous name in the pop art scene, is known for creating pieces that aren't always what they seem, such as his "Balloon Dogs." While one of Koons' pups once sold for a whopping $58.4 million, according to Artsy, you may want to track down a more affordable option with the same vibe.
4. Kitschy pop art pieces
While not all pop artists appreciate their art being called kitschy — including Jeff Koons (via YouTube) — there's nothing wrong with kitschy pop art. Pop art can be wonderfully quirky, playful, and undeniably silly, per The Guardian, which is why you might love to have kitschy pop art pieces among your décor.
5. Put up a pop art mural
If you have a blank wall, door, or partition, it might be the perfect place for a larger piece of pop art like a mural. Consider going as big as you can with something like a Roy Lichtenstein comic-inspired image (via NPR) in either black and white, gray tones, or full color. 
6. Opt for pop art pillows
In the home of Dubai interior design expert Miri Najarian Khayat, there are endless examples of eye-catching pop art (via YouTube). One pillow on her couch seems to be inspired by a piece from Andy Warhol that became the famous album cover for The Velvet Underground's "The Velvet Underground & Nico," per HuffPost.
7. Set up a pop art side table
Interior design expert Miri Najarian Khayat explained to Harper's Bazaar Arabia (via YouTube) that when she first saw this side table, it wasn't actually for sale. However, she simply had to have this pop art piece, and it's clear why she would want such an unusual and striking piece in her home.
8. Plug in a pop art neon sign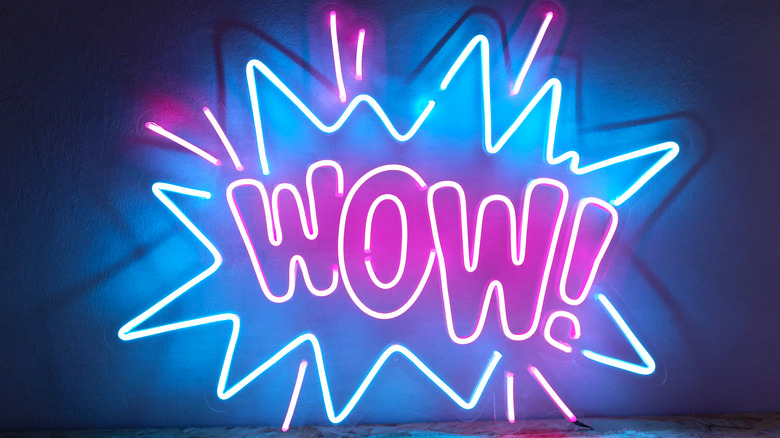 Iana Surman/Shutterstock
Indoor neon signs are a great way to add some flashy pop art flair to your home. Consider one in an iconic shape or that spells out a trendy phrase. Of course, nowadays, it doesn't actually have to be neon. You can get the same kind of vibe from an energy-efficient LED light.
9. Give classics a pop art twist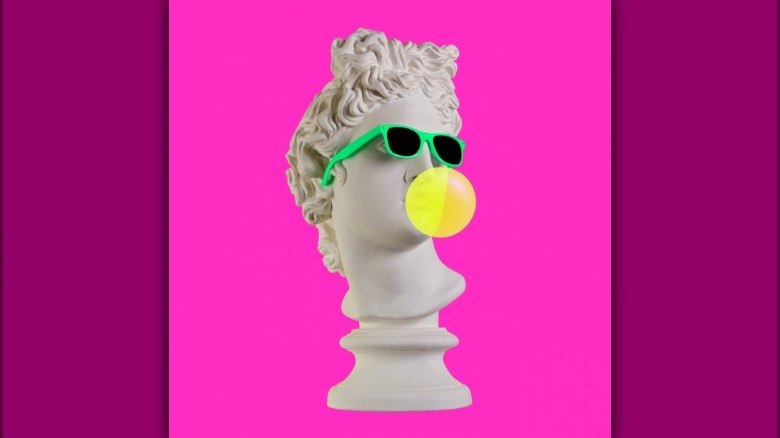 Unknown man/Shutterstock
One of the great things about art is how it can be mixed and matched. In this case, try turning a classic piece of art — such as a Renaissance bust — into a piece of pop art by adding something modern to it, such as sunglasses, a beanie, or even a drawn-on mustache.
10. Embrace unexpected pop art mediums
Pop art has been known to break boundaries which is just what the late Jean-Michel Basquiat was famous for doing. That includes creating his signature art on skateboards, such as the examples in the home of Miri Najarian Khayat, per YouTube. You can do the same with your own pieces using unexpected mediums.