Here's Where You Can Visit The House From The Brady Bunch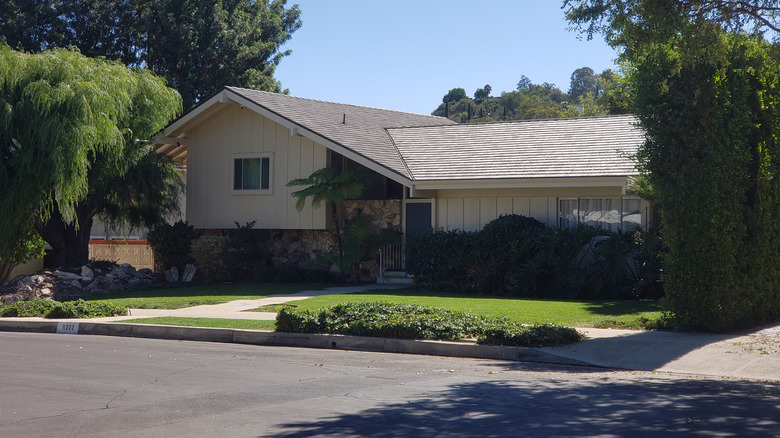 MechaRiley/Shutterstock
While many millennials did not witness the original run of "The Brady Bunch" sitcom, most of us watched reruns of the show on Nick at Nite during the 1990s. As a refresher, "The Brady Bunch" TV series ran from 1969 to 1974 and consisted of nearly 120 episodes, according to IMDb. 
The TV-PG-rated, 30-minutes-long sitcom remains a fan favorite in many American households and has viewers across social backgrounds. "The Brady Bunch" also helped to cinematically normalize blended families by showcasing the experiences of a widow and widower who shared six children between them. Created by Sherwood Schwartz, the show starred Robert Reed, Florence Henderson, and Ann B. Davis, via IMDb. 
And as House Digest regularly explores, many famous homes in the United States share aesthetically pleasing architectural elements and broader film and TV origin stories. These film and TV origin stories inspire scores of visitors to stop by the properties in person for inspiration and a fantastic photo opportunity. Previous art-based real estate examples that people visit include Sam's house from "Sixteen Candles," the famous loft from "New Girl," and the Brentwood, California-based, ivory-hued, colonial house that regaled viewers of "The Fresh Prince of Bel-Air."
The Brady Bunch house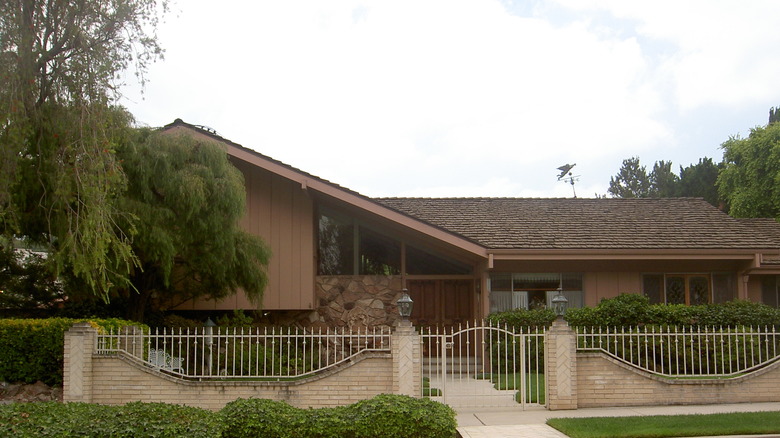 Jason Duplissea/Shutterstock
Visitors who want to stop by "The Brady Bunch" house can prepare to appreciate the ranch-style home beloved by many sitcom viewers. Ranch-style homes can reflect the 1950s architectural sensibilities or the 21st century modernization, as Better Homes & Gardens explored. Typically, they are structurally versatile and have an open concept floorplan, sliding glass doors, and a low-pitched roofline with wide eaves. 
According to House Beautiful, this home is the second most photographed property in the United States. The first-place position, and rightly so, goes to 1600 Pennsylvania Avenue, better known as the White House. As they reported further, HGTV launched a show entitled "A Very Brady Renovation" connected with the famous house. For the modern HGTV show, experts transformed a house into a replica of the actual home used in the sitcom. The renowned sitcom house address is 11222 Dilling Street in Studio City, California, 91602.