The Biggest Secrets HomeGoods Employees Won't Tell You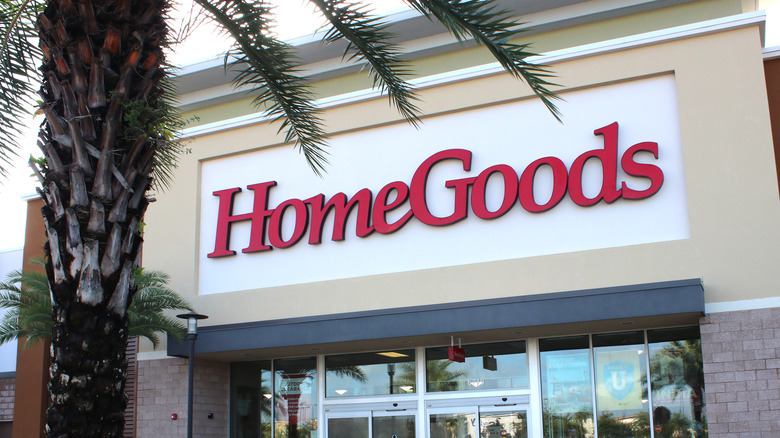 Eric Glenn/Shutterstock
When it comes to having a cozy and comfortable home, accents and décor make all the difference. Whether your style is classic and traditional or you're more into, say, a rustic farmhouse-inspired aesthetic, the finishing touches make a big impact, notes Forbes. While there is no shortage of stores offering home décor, there is one place in particular that has virtually everything you might need to transform your house into a true home — aptly named, HomeGoods. With products ranging from curtains and furniture to pet supplies and tasty snacks, this store has it all under one roof. You're likely to go in search of a speckled enamel saucepan and leave with some etched flamingo cocktail glasses, too.
Shopping at HomeGoods and coming across unexpected items can be addicting, meaning it's easy to spend more money than you had originally planned. The staff at each store is always ready to help, but they won't tell you everything. The good news is that there are several tricks and tips that can help you navigate the store to find awesome deals at exactly the right time. Finding the right look and feel for your home doesn't have to be challenging, and HomeGoods has you covered when it comes to creating a welcoming and inviting living space. Here are some things to keep in mind to make you a savvy HomeGoods shopper. 
Download the app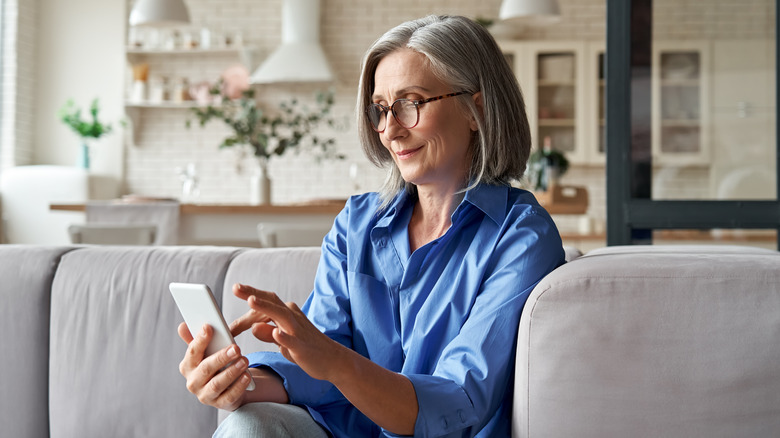 insta_photos/Shutterstock
When you enter the store or visit a cashier, they have ads and promos readily available to share with you. Customer service representatives thrive on going out of their way to offer you a significant discount just for signing up for a credit card or spending a certain amount on merchandise. While some offers are nice, you may be more interested in getting the best deal on new arrivals and hard-to-find items.
HomeGoods is known for selling awesome items, but they can quickly fly off the shelf due to high demand. It's hard to pinpoint exactly when a specific item will be available at your local store and employees are not always allowed to disclose that information, especially over the phone. According to Cosmopolitan, one of the greatest tools is using the store app to plug into what other customers are buying. You will be able to see snaps and reviews from other customers that can show exactly you what is available in real-time at a HomeGoods near you. If something in particular catches your eye, you can even try contacting the store to see if they can put the item on hold for you until you have time to swing by. 
The best time to shop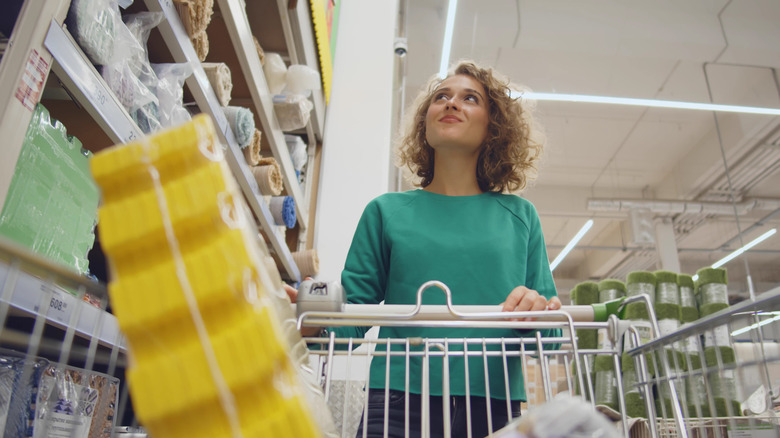 TommyStockProject/Shutterstock
Life can be hectic, and oftentimes, the last thing you want to deal with after a busy week is navigating around a huge crowd of other shoppers cluttering the aisles as you hunt for the perfect piece of décor. Luckily, we've got the inside scoop to make your shopping a breeze. HomeGoods employees may not clue you in, but according to People, the best time to ship is midweek, from late morning to early afternoon. By then, stores have recovered from the weekend rush when many items have been wiped out but the staff hasn't gotten around to re-stocking. By late morning, new shipments will have already arrived and be set out on the shelves. Another tip is to check the front-center section of the store and aisle end-caps for the latest arrivals. 
It can be a huge letdown when you race to the store for a new item, only to find that the last set on the shelf is broken — what a bummer! If you can live with a small chip or flaw, however, it may end up being to your advantage. Employees may not come out and tell you, but according to House Beautiful, they are supposed to offer you a 10% discount on any damaged items. Don't forget to also check clearance hot spots located in the back of the store. HomeGoods routinely offers price reductions every few months, so keep your eye out for mark-downs, notes The Spruce.