Property Brothers' Easy Tips For A Showstopper Bedroom Without Going Broke
Gabe Ginsberg/Getty Images
If you're in the process of putting together or upgrading your bedroom, you know just how expensive it can be to create a swoon-worthy setup. Although social media can be a great source of inspiration, you can also start to feel as though you need the hottest designer accents in order to create a beautiful bedroom. Fortunately, creating a showstopper bedroom isn't as difficult — or expensive — as it might seem.
Home renovation shows are another great way to get inspiration for your next project, though they don't come with the same pressure to have the most expensive setup. In fact, many renovation shows teach you how to achieve your dream layout on a budget. Although the "Property Brothers" always have a sizeable budget for their televised projects — "Property Brothers" guests have to set aside $90,000 or more, according to Country Living — Drew and Jonathan Scott have still taught us some strategies for creating an affordable yet jaw-dropping bedroom over the years.
Cleanliness is key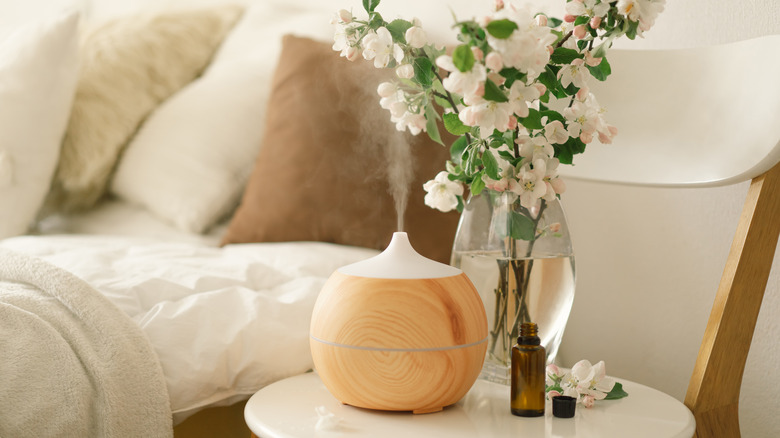 Nastyaofly/Shutterstock
It turns out that you don't need super expensive furniture to have a nice bedroom — you just need to keep everything clean. According to HGTV, small details can go a long way. Make sure that your bed is made, your room is free of clutter, and your furniture is regularly dusted. Looking for a bit more sparkle? Try placing a small centerpiece or fresh flowers on your bedside table (just make sure that it doesn't look too cluttered!). Although you can extend your flowers' lifespan by adding some plant nutrients to the water, they should be replaced once they begin to wilt. Again, the key is making sure that your bedroom looks orderly and maintained.
If you grow flowers in your garden, you might want to use some of your own plants to decorate your bedroom. Not only will the flowers provide a Property Brothers-approved pop of color, but they'll also be far more impressive! Plus, you'll be able to save money as opposed to constantly buying fresh bouquets. Don't have a garden but still want to showcase your green thumb? You can also use a potted plant to brighten up the space!