Here's Where You Can Visit The House From Home Alone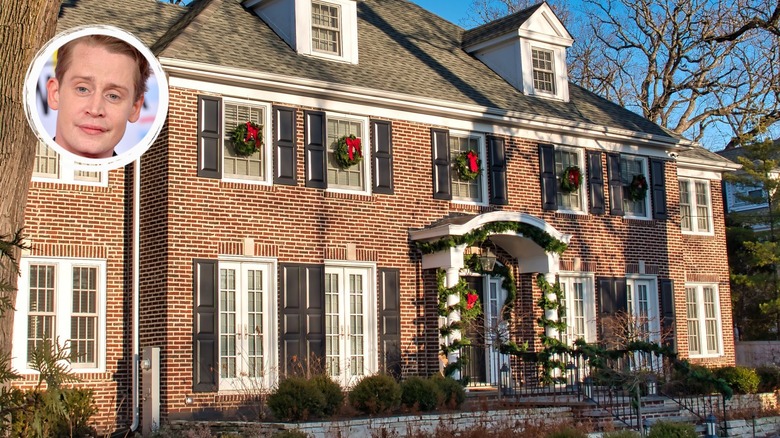 Roberto Valz & Featureflash Photo Agency/Shutterstock
For all of the "Home Alone" fans who want to personally visit the house connected with the 1990 classic film, the time may be now. And as House Beautiful reports, this Winnetka, Illinois property is widely considered to be an art and real estate attraction for film fans. As IMBd notes, Chris Columbus directed the film, and John Hughes wrote the film. Stars include Macaulay Culkin, Joe Pesci, and Daniel Stern. Given the film's 1990 release, cinematic spin-offs, and ubiquity during the 1990s, it stands to reason that many visitors and fans are members of the Millennial generation. The Pew Research Center defines Millennials as people who were born between 1981 to 1996. But, while scores of fans whose childhoods reflected the 1990s imagined themselves as protagonist Kevin McAllister, played by actor Macaulay Culkin, these contemporary adults can physically visit the brick and shuttered two-story home made famous by this film provided that they are willing to travel to the Midwest.
According to Trip Advisor, many people do visit the home. In fact, visiting the "Home Alone" house currently holds the top spot on a list of 12 noteworthy things to do in the general Winnetka, Illinois area. Additional preferred activities include visits to lagoons, woods, parks, a natural trail, and boating. In the Winnetka community, the "Home Alone" house is considered both a point of interest and a landmark, as Trip Advisor reports. 
About the home and area
With respect to the "Home Alone" house, the structure is indeed an architectural beauty. This two-story house boasts different lovely elements, including a striped, red brick exterior with complementary deep-toned shutters and crisp, white trim details. In front of the house, lush landscaping includes trees, shrubs, and flowers. This landscaping leads up to a multi-step entryway linking the pavement to space before the detailed home door. The property is also enclosed by a gate and physically located at 671 Lincoln Avenue in Winnetka, IL 60093, per Trip Advisor.
For many locals, the village of Winnetka holds reverence for a variety of reasons. In particular, Winnetka is appreciated because the village hugs Lake Michigan's North Shore, enabling waterfront access, as the Village of Winnetka explained. Additionally, the village includes tree-dotted streets, sandy beaches, well-regarded schools, and parks and recreational facilities. With an 1869 founding date, the town also holds a name derived from a Native American word that reportedly translates to beautiful land.