Learn John Gidding's Tips For Ultimate Curb Appeal
Ursula Page/Shutterstock
It can seem incredibly difficult to increase your home's curb appeal. While improving your home's interior simply involves painting a room or moving furniture around, it's much more difficult (and expensive) to overhaul your landscaping, repair crumbling bricks, fix broken windows, or redo your roof. If you aren't happy with your home's curb appeal, it seems like an overwhelming job to fix — both in terms of cost and stress levels. Fortunately, it's much simpler to achieve a nice-looking exterior than you might think.
With that being said, it doesn't hurt to get some help from the pros. As the star of HGTV's "Curb Appeal" (and an expert on the subject), John Gidding has a ton of great ideas on how to improve your home's exterior appearance. Fortunately, HGTV recently shared a list of his tips, and most boil down to two simple principles: keep things tidy and focus your energy strategically.
Improving your home's appeal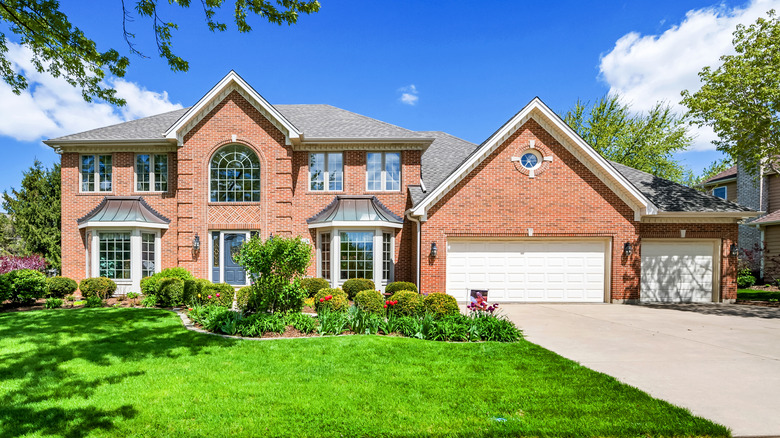 Rob Painter/Shutterstock
Throughout the HGTV article, John Gidding advises focusing on key details (via HGTV). For example, your front door and garage door are the main focal points, so they should look nice. According to Gidding, your front door should be a bold color, and your garage door should be darker than the rest of your home. Gidding also advises that both should be well-kept, so you might want to keep an extra tin of paint on hand for touch-ups as needed.
Greenery can drastically increase your home's curb appeal, but it can also be a major point of frustration if you don't have a green thumb. To save stress, Gidding advises decorating with plants that are native to your area. They'll already be used to the climate, so you won't have to worry about maintenance (other than occasional pruning).
Looking for accent details? Gidding recommends placing potted plants near your front door to make it seem more inviting (as a bonus, potted plants are usually easier to manage than their in-ground counterparts). He also advises staining large patches of concrete (like your driveway) to remove that harsh grey look.