The Right Way To Dispose Of Lighter Fluid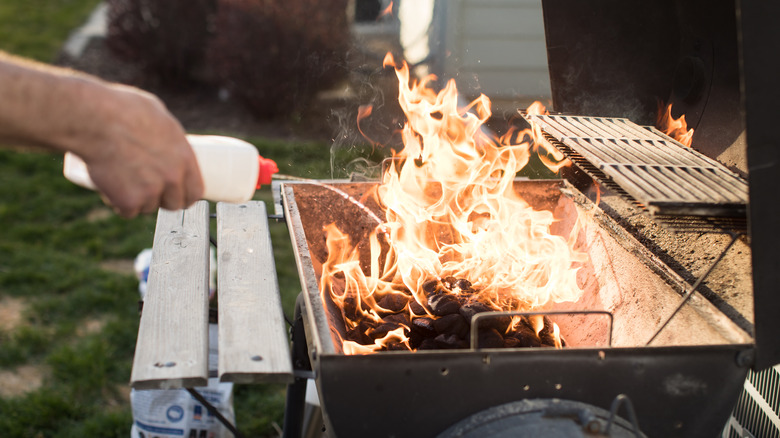 Crystal Madsen/Shutterstock
Lighter fluid is something many people have in their homes, as it is often used to start a grill or make a campfire roar. There are several other household uses for lighter fluid, including cleaning rust, removing labels and stickers, extracting gum from hair, buffing out scuff marks, or getting out oil stains from clothes, suggests Reader's Digest.
With such a variety of uses, you likely have a bottle of lighter fluid sitting around in a cabinet. If you've realized you don't have any use for the leftover fluid in the bottle, or for personal or safety reasons don't want to keep it in your house anymore, you need to know how to safely dispose of it properly. While the obvious choice may be to toss the bottle in the trash or pour the contents down the drain, HomeSteady warns that lighter fluid is highly flammable, which classifies it as hazardous waste, and it needs to be disposed of according to strict Environmental Protection Agency (EPA) guidelines.
Call your local hazardous waste facility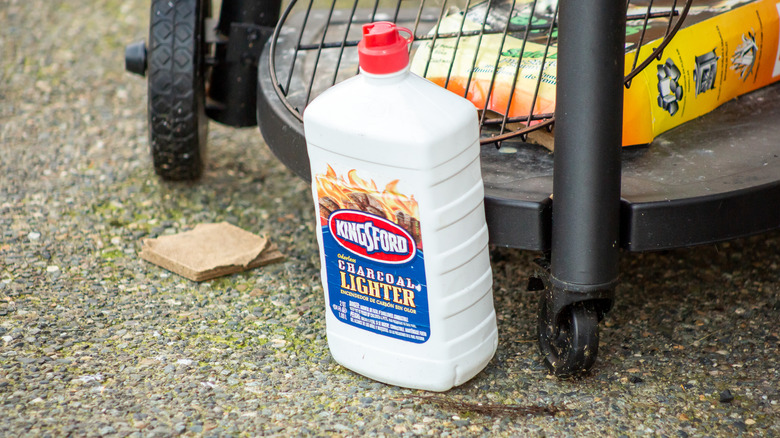 The Image Party/Shutterstock
Since lighter fluid is considered hazardous waste, heavy fines are prescribed for improper disposal. According to HomeSteady, the first thing you should do is contact your local hazardous waste facility. If you're unsure who to call, try your local recycling or trash facility, which will guide you through the next steps. Some cities may ask you to bring it to a designated disposal site during operating hours, while others may organize a home pickup. 
You can also check informative websites such as Earth911, which will help you track down your nearest disposal center. Make sure to give them a call before showing up, though, as they may have specific procedures for disposal. If you're still having a hard time, read the label on the lighter fluid, which may list safe disposal methods, or you can call the manufacturing company and ask for further instructions.