The Five Best West Elm Hacks That Will Change How You DIY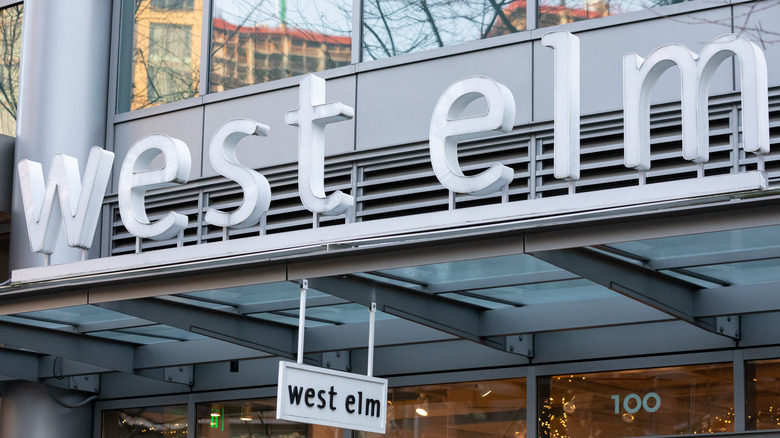 VDB Photos/Shutterstock
Affiliated with Williams Sonoma and Pottery Barn, West Elm has been taking the interior design world by storm since 2002. Known for its sustainably sourced mid-century modern furniture and decor, the home furnishings company has found a nice little niche market with millennials. However, West Elm isn't for everyone.
Despite its increasing popularity, the company has also received some mixed reviews in terms of the quality of its products and its customer service. Dupes of West Elm's products have also been found in other stores such as Target, Wayfair, and World Market for a fraction of the price. DIYers have also been getting in on the fun by perfecting their own versions of West Elm's products, including their fluted furniture and pendant lights. But which West Elm-inspired DIY projects are the best?
Right now, one of the company's biggest products is its planters. Available in a variety of sizes and materials, they range anywhere from $19 for a 4 by 4 1/4 inch terracotta pot to $2,100 for a 27 by 27-inch steel planter. These prices and West Elm's general aesthetic inspired Drew Scott, the owner of a well-known DIY Youtube channel and former West Elm in-home stylist, to inexpensively recreate their terracotta pot collection. Using $8 planters, terracotta spray paint, white acrylic paint, paint brushes, tape, and Sculpey gloss glaze, he not only made pots that resembled West Elm's collection, but he also spent significantly less, coming in at around $20 for three pots.
Crafty and creative savers
Originally sold for almost $40, West Elm's Sculptural Spheres were an easy DIY for Shelley at Crazy Wonderful, who replicated the sculptures in six simple steps for roughly $10. And although her first attempt at the project was a fail, her second try was much more successful. To make the spheres, she used a variety of crafting supplies and tools, including gold Rub n' Buff, oven-bake clay, and needle-nose pliers, along with miscellaneous household objects such as wire hangers and duct tape. Her finished sculptures not only mimicked West Elm's metal ones, but they also saved her money and have stood the test of time in her home.
If you're looking for a West Elm-inspired DIY that's a little more complicated than painting pots and sculpting clay, Tasha, the writer of Kaleidoscope Living and professional DIYer, has the perfect project for you. Rather than paying almost $200 for one of West Elm's Bentwood Pendant Lights, she crafted her own for under $40. To do so, she used a pendant light, wooden quilting hoops, a twin light socket adapter, floral rings, wood glue, twine, wood stain, a hand saw, a pneumatic nail gun, and 5/8 inch nails. With a little bit of help, the DIYer not only crafted a light fixture that resembled West Elm's, but she saved $150 in the process.
Fluted furniture
Considered a classic design style that dates back to ancient Rome and Greece, fluted furniture has grown in popularity and is now sold by a variety of home furnishing brands, including Williams Sonoma and CB2. West Elm currently offers a large selection of fluted furniture and decor that comes with a pretty hefty price tag, so much so that DIYers have been jumping at the opportunity to recreate their favorite fluted pieces. 
In particular, West Elm's fluted side tables are one of the company's longtime best-selling products and are available in multiple colors. Just shy of $200, the table inspired Mae and Casey Hughes of Hughes Home + DIY to build their own. Using pine rounds, wooden dowels, a box of screws and nails, a variety of glues, sandpaper, a drill, a miter saw, a brad nailer, and more, the couple created a side table that would definitely fit in with West Elm's furniture.
Another DIYer, Carrie Walker from Hunker, was inspired by the Hera Side Table, which retails for $199, and crafted a similar fluted table, although she didn't use wooden dowels. Waller instead opted for PVC pipes to give her table a fluted effect. Along with the pipes, she used a miter saw, a pine round, a felt tip marker, construction adhesive, a caulk gun, a sanding sponge, and spray paint to replicate the table. The project's end result not only saved Waller over a hundred dollars, but her DIY table looked almost identical to West Elm's.