The Right Way To Dispose Of Old Medication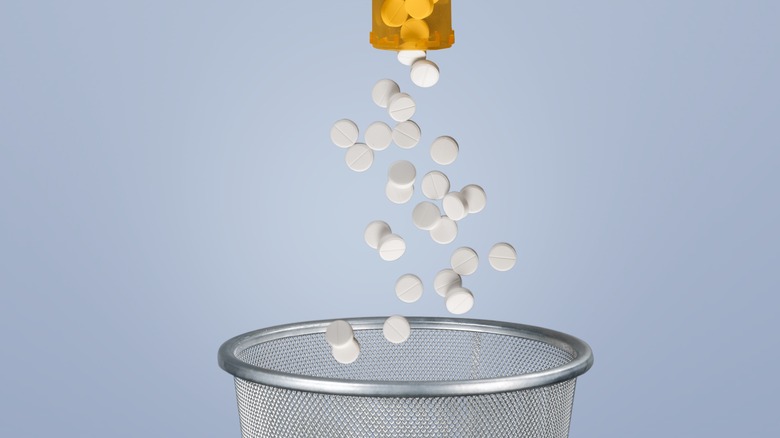 Billion Photos/Shutterstock
You more than likely have a cabinet full of expired and unused medicines in your home, and if you do, it's time to get rid of them. It's important to dispose of unused medicine because what's good for you can be harmful to someone else. According to the U.S. Food & Drug Administration (FDA), there are a number of take-back programs sponsored by the U.S. Drug Enforcement Administration where you can find a DEA-authorized collector near you to dispose of any old medication safely. It's all about your comfort, and everyone has their preference, so if you want to cut out the middle man, you can go ahead while adhering to precautionary measures, right from the comfort of your home.
Not only is properly disposing of old, expired medication a health and safety issue, but it's also an environmental matter, according to Verywell Health. If you don't get rid of medication properly, you can unintentionally create a health hazard for you, your family, visitors, and pets because they are considered toxic household hazardous waste by the Environmental Protection Agency. But don't worry, you've come to the right place if you want to know what to do with expired medicine. Our recommendations are simple and effective.
How to get rid of unused medications in your home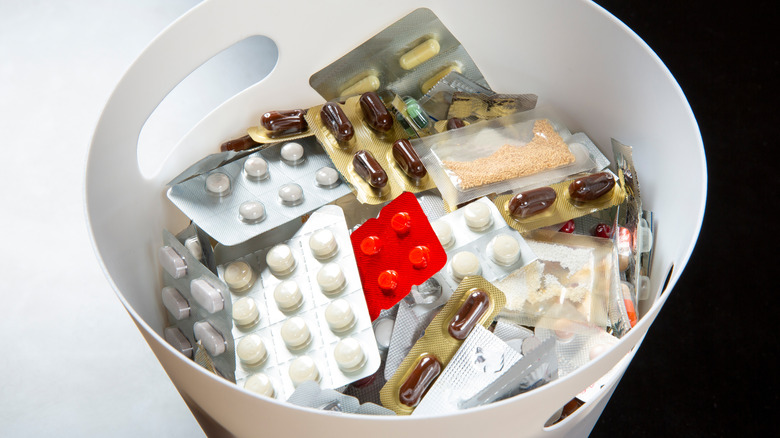 HikoPhotography/Shutterstock
Two proper methods for getting rid of old medication at home are flushing them down the toilet and throwing them away with household trash. It's recommended to flush old medicine down the toilet because some drugs don't have specific instructions for when they're no longer being used. Flushing them down the toilet is easy, and you'll never have to worry about them again. 
When it comes to throwing medication away in the trash, the FDA recommends removing the drugs from their original container and mixing them with a nonconsumable substance such as dirt, cat litter, or even coffee grounds. This makes animals or small children around the home less likely to play with it. You can seal the mixture in a zipper sandwich bag or container to prevent leakage. It's essential to ensure that there isn't any personal identifying information like your name, phone number, or address before throwing any bottle or container away.