How To Repair Hardwood Floors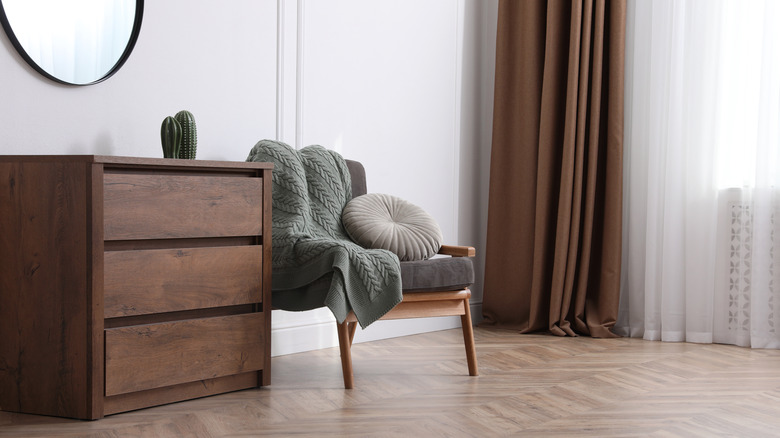 New Africa/Shutterstock
Even the most well-crafted hardwood floors can experience a level of damage that homeowners find themselves needing to address in a timely manner. And as many hardwood floor aficionados may know, forms of hardwood floor damage can vary. Types of damage to hardwood floors may include scratches, gouges, and discoloration, as Home Tips details. The property advice platform further explains that both scratches and gouges on hardwood floors are considered to be inevitable results of wear and tear. This makes sense as many hardwood floors are not only visually appealing, bringing a natural element into the home, but also well-loved by wood-loving adults, children, and pets alike.  
Of course, where there are problems, there are also solutions. One solution for hardwood floor damage is floor refinishing. For hardwood floor refinishing, certain steps must be followed. In particular, people must relocate sitting furniture, use either a drum sander or floor sanders, find ways to protect the rest of the property from dust, respond to any resultant odors, and follow other relevant steps. In general, homeowners are recommended to defer to expertise by hiring a flooring contractor who is trained to remedy hardwood floor damage. Hiring a professional is preferred as opposed to giving it a go as a do-it-yourself (DIY) project. Because hardwood floor expansion and contraction can occur, floorboards may separate or become warped, which can be not only unsightly but also potentially dangerous. Another hardwood floor risk is for nails to loosen. 
Hardwood floor maintenance and repair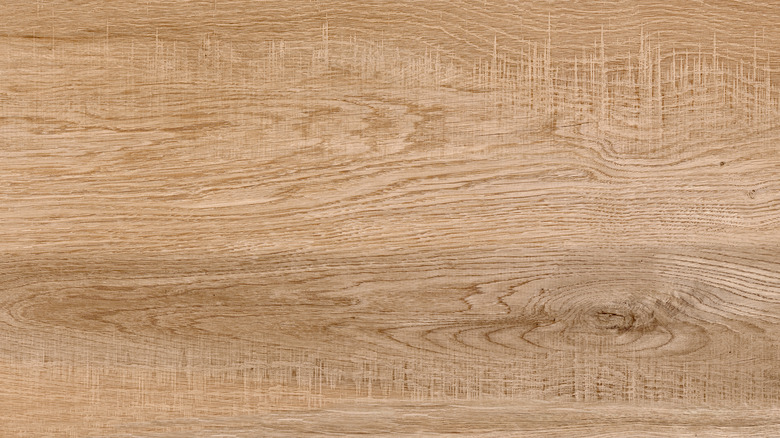 Amelia Benjamin/Shutterstock
In connection with these concerns, one tip for helping to maintain hardwood floors is to perform vacuuming or dry-mopping approximately one time per week, according to Home Tips. However, as Home Tips explains, preventing hardwood floor expansion and contraction can prove difficult in some homes. Because wood is considered to be both fibrous and porous, despite visually appearing smooth and solid, the material can shape-shift in connection with factors including the current temperature and the level of humidity in a specific space. These concerns hold especially true in warm localities.
A variety of flooring-related concerns can occur in one's home; therefore, homeowners are recommended to hire a flooring contractor in order to repair their hardwood floors. In the event of substantial water damage on hardwood floors, homeowners are advised to hire a professional who will address any large, visible staining on the hardwood floors. According to HomeGuide, the average cost for hardwood floor repairs ranges from $2 to $20 per square foot, with the average repair cost totaling between $500 and $1,500.