How Much Does It Cost To Put In Marble Countertops?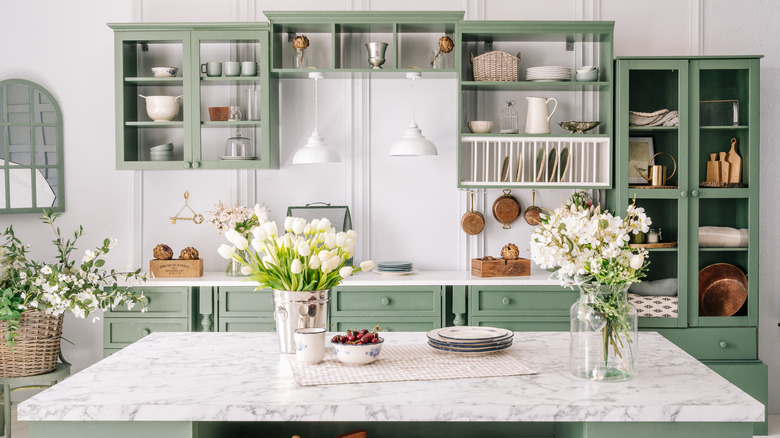 brizmaker/Shutterstock
For centuries, marble has signified elegance and luxury. It's a timeless material option that is certain to make a kitchen feel like a professional designed it. Many homeowners may consider marble an out-of-budget material for their kitchen. Of course, there are some marble slabs that can be costly. But there are many marble options that can work for more conservative budgets. According to Home Advisor, marble slabs can cost between $40 and $100 per square foot. An average slab falls around $60 per square foot.
There are a few factors that contribute to the price of the marble slab, including the type of marble, the finish, and the edge treatment. Maintenance costs are also something to consider when calculating the overall price of marble countertops. To get the final cost of a marble counter installation, you'll also have to factor in the cost of labor. These prices can vary depending on who you hire for the installation. The cost of labor can also depend on where you live.
Cost of marble countertops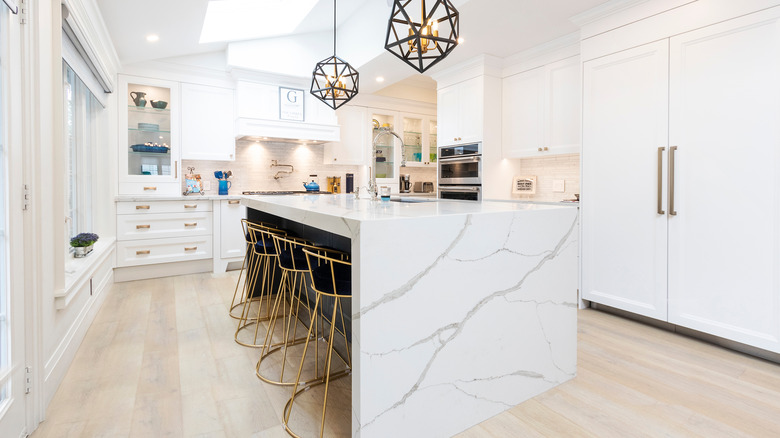 Xi Bai/Shutterstock
Depending on the type, marble can be an expensive material. The average slab costs about $60 per square foot, but there are varieties of marble that fall above and below that price. Italian marble is the most commonly used for kitchen countertops, and the three most popular varieties are Carrara, Calacatta, and Statuary, according to Remodelista.
Carrara is a white slab that features a soft light-gray veining. This is the most common Italian variety and is loved for its clean and chic appearance. It's also an affordable option at about $40 per square foot. For homeowners looking for a unique detail for their kitchen, Calacatta might be a perfect choice. Calacatta marble has swirls of gold and gray throughout the white slab. Rare and luxurious, the price reflects this statement piece at an average of $180 per square foot.
If you're looking for a slab with high contrast, Statuary marble has large, dark gray veins running through a white slab. It's also an affordable option at about $50 per square foot. Black marble is another common color for countertops, and the costs fall around $75 per square foot.
Finishing treatments and maintenance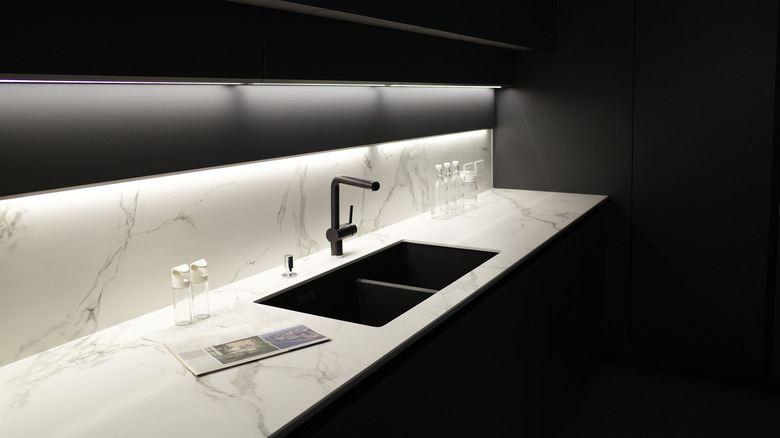 PK-Donovan/Shutterstock
You can take your countertops a step further with custom finishes and edge treatments. These will add an extra cost per square foot to the final price. Of course, these finishing treatments are optional, so if you're on a tighter budget, they aren't necessary. 
Marble comes polished, which most homeowners love. You can add a honed or leather finish for something a little more unique. A honed finish creates a matte look with a velvety texture. This will cost about $10 to $20 per square foot, according to Fixr. A leather finish adds a brushed antique look to the stone. This finish will cost about $20 to $30 per square foot. You can even customize the edges of your marble countertops. Bullnose, beveled, and ogee edges are popular options for marble outside of the standard straight edge. Bullnose and beveled edges cost between $10 to $12 per linear foot. Ogee edges average between $20 and $25 per linear foot.
Another cost associated with marble counters is ongoing maintenance to keep up with the appearance and integrity of the marble. It's recommended to seal your marble every six months to a year to maintain the condition of the stone. This treatment can cost between $0.50 to $2 per square foot.
How much does installation cost?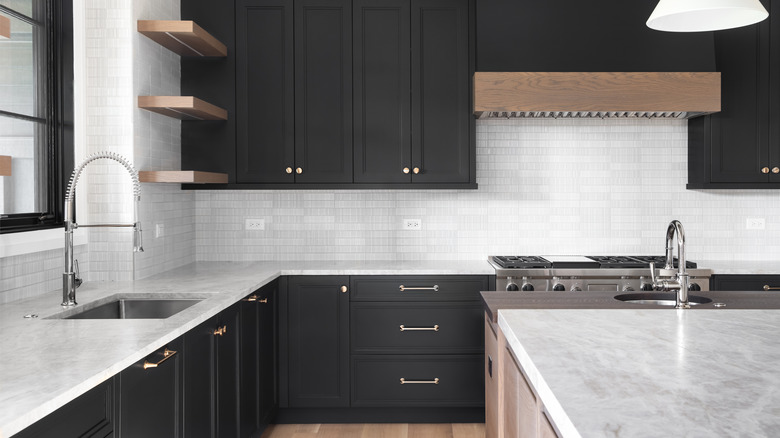 Hendrickson Photography/Shutterstock
Installation costs are typically accompanied by an additional labor fee. Where you live and who you hire both influence the cost of labor. Cities with higher costs of living tend to have a higher cost of labor. So, if you live in a major metropolitan area, be prepared to spend a little more money.
Angi reports that the average installation cost in Los Angeles falls between $2,180 and $4,795. Meanwhile, on the other side of the country, New York's average countertop installation costs $1,735 to $3,945. Material and square footage will also factor into the total installation costs.
On average, you'll find that labor costs between $35 and $45 per hour. Less involved projects like bathrooms and small kitchens won't require the same amount of labor as complex layouts or a large kitchen with a center island. You should keep the scope of your project in mind as you calculate these costs.
Removing and disposing of old countertops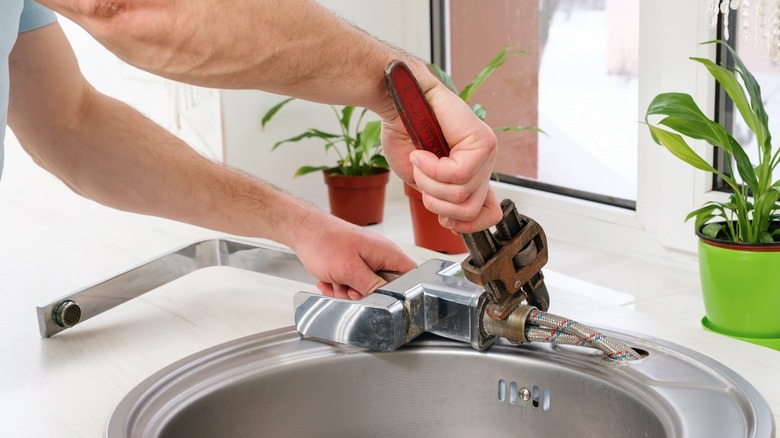 Serhii.suravikin/Shutterstock
The average removal prices, per RemodelingExpense, are based on 8 x 2 feet of countertop area. The basic labor and materials will cost you somewhere between $150 and $300. To have it hauled off and disposed of, it will be between $50 and $175. For both, the estimated cost should land somewhere between $200 and $475.
While you can probably try and remove countertops yourself, you're advised to hire a contractor, so you don't damage your cabinets or hurt your back. Marble, after all, is extremely heavy. In order to get the best price possible, make sure you shop around and ask at least three contractors for quotes. This way, you can receive a price range, ensuring you don't get an inflated quote. Removing counters in the fall or winter is also advised since contractors often give a discount during their off-season.
Cutouts and edging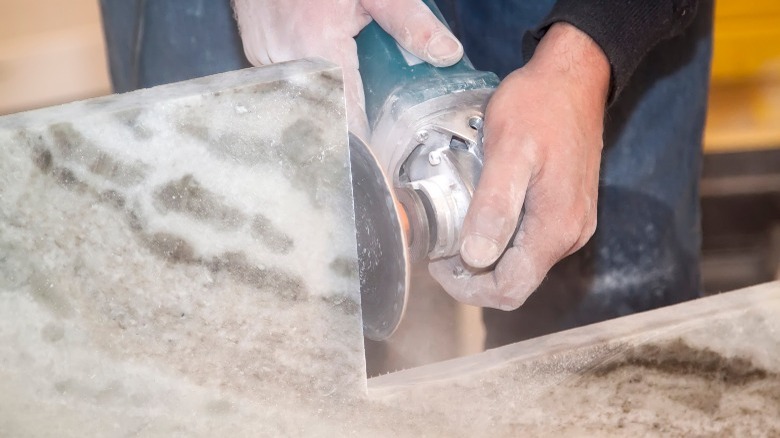 Sommthink/Shutterstock
Most places charge a fee for creating cutouts in your marble, and you can expect to pay anywhere from $20 to $250. You'll need professional cutouts for an undermount sink, holes for the faucets, and the cooktop. For example, Home Depot charges $120 for a cooktop cutout, $20 for a faucet cutout, and $25 for each outlet cutout. If you're remodeling your kitchen, you need the sink and stove installed or present when ordering your marble, so the professional can measure it to create the cutout. Some places, like Home Depot, offer the first drop-in sink and stove cutout for free, helping you save costs. 
However, if you want an undermount sink, which is installed under the counter for a more seamless appearance, that will run you $250 for the cutout. If you would like a farmhouse sink in your kitchen, that will cost you $250+ for the cutout, and it needs to be installed before measuring. 
Installing matching marble backsplash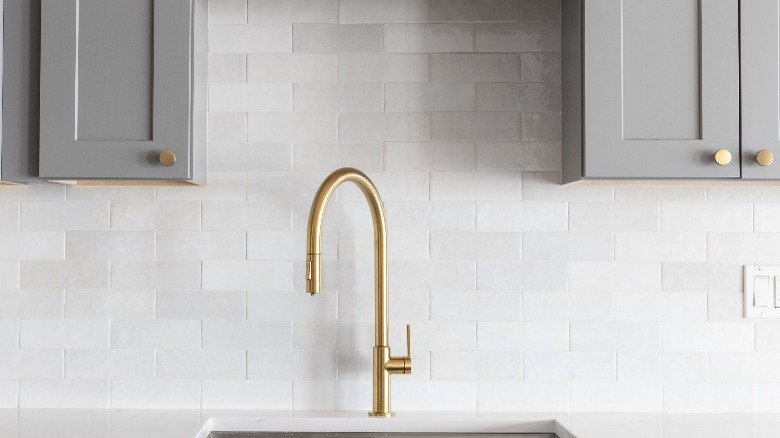 Hendrickson Photography/Shutterstock
Since you're already installing marble countertops, why not go the extra mile with a matching marble backsplash? According to Angi, the average cost of adding this touch ranges from $900 to $3,500. This price includes labor and materials for a typical 30-square-foot backsplash. But depending on whether you use marble tile or a marble slab for this part, it can also run as high as $9,900. Going by per square foot, labor and materials range anywhere from $20 to $130.
One significant variable here is the type of marble you decide to use. By itself, it can range from $12 to $180 per square foot, and even higher for the more expensive types of marble. Using marble tiles instead of a slab for your backsplash is a common and more economical choice, especially since you can install marble tiles yourself, saving labor costs.
Slab thickness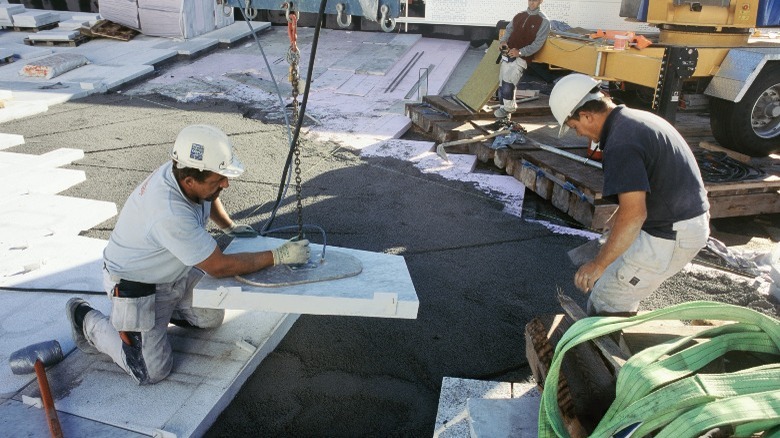 Construction Photography/avalon/Getty
According to Marble.com, the most common slab thicknesses for marble countertops are 2 and 3 centimeters. Between these two choices, there's a 20% to 40% difference in material costs, which is substantial. If you're considering marble countertops in the kitchen, the 3-centimeter thickness is highly recommended for better durability. Any less and plywood will be needed underneath the marble to ensure it can handle the stress it will be subjected to.
The most expensive slabs are 5 centimeters, according to Countertop Specialty. The actual cost of the varying thicknesses depends entirely on your selection of marble. There are many different types and qualities, so this is one of the most important parts. But the thickness of the slab, the kind of marble you choose, and its grade will represent about 70% to 80% of the total cost of having them installed.
Marble grading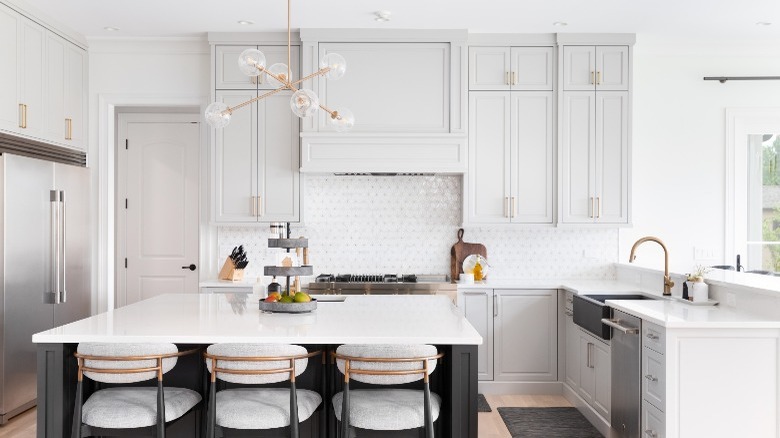 Hendrickson Photography/Shutterstock
Marble grades are based on appearance, specifically blemishes that show on the surface of the marble (per Niayesh Stone). If you're new to the process of choosing marble, there are a few things to note. First off, don't choose the marble you want for your countertops based on a small sample because of the significant variations you can sometimes only see by inspecting the slab. Here are the four different grades of marble.
The first choice grade is the best, and thus the most expensive type of marble, with the least amount of blemishes. The second choice grade is next, with fewer imperfections than lower grades but still has smooth, clean surfaces with uniform color variations. Standard quality grade is more affordable, but may have minor flaws. However, fabricators are typically able to hide any design flaws, and this grade is often used for kitchen countertops. Commercial grade is the lowest quality and the least expensive. This grade has obvious flaws and discoloration and, as such, is typically used for marble tiles.
Marble tile vs. marble slab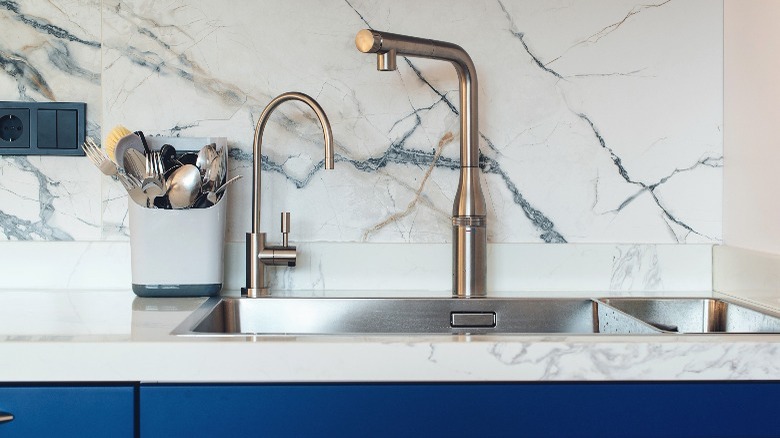 Volurol/Shutterstock
We've talked about marble tiles a bit, but let's discuss the cost differences between using tiles or a slab. Typically, people may choose tiles for the marble backsplash, but they can also be used for countertops. The price difference is 25% to 50% less than slabs, with the price of each tile ranging from $8 to $15 each. However, the tiles must be custom-cut to fit around appliances and cutouts, and installation can be a difficult process. The estimated cost for installing a marble tile countertop is $20 to $40 per square foot.
Marble slab countertops average around $40 to $200 per square foot, with installation costs averaging $65 to $95 per square foot. The thing is, this is only a general quote since there are so many variables. The main difference is, of course, in the amount of marble needed for each type of project. Additionally, a marble tile will have the same maintenance as a marble slab, plus the grout, with less strength and durability. But tile is a less expensive alternative.
Cost of marble countertops vs. quartz, granite, and quartzite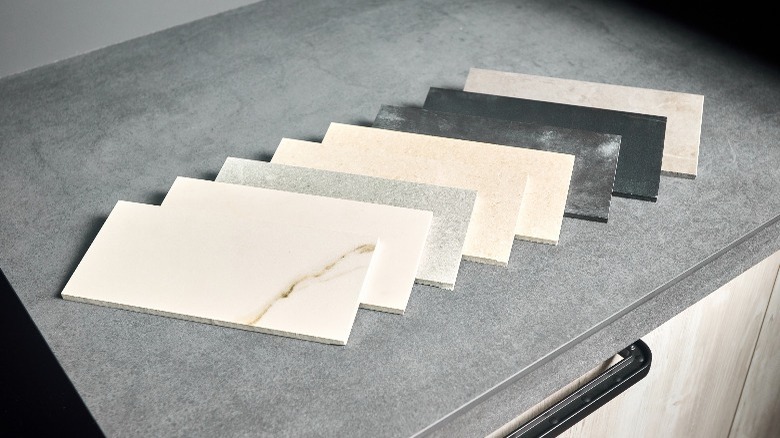 RYosha/Shutterstock
Let's discuss the cost differences between marble vs. quartz, quartzite, and granite. We'll start with marble, which is estimated at $40 to $100 per square foot (material and installation), per HomeAdvisor. The most expensive option, according to Going Granite, is quartzite. Quartzite is a very hard natural stone countertop that comes in light shades, and starts at around $90 per square foot, going up to $175 or more. Because of its seamless look and superior hardness, this is considered the top tier in natural stone countertops.
For quartz, the price range will typically range from $50 to $200 per square foot, but averages at about $95 per square foot. Quartz is made up of mostly natural pieces of stone mixed with resin. Because it's man-made, it can offer a wide range of colors and is considered very high quality. Granite runs at about $40 to $100 per square foot, and is also a high-quality choice. This stone comes notably in darker shades.
Costs of different types of marble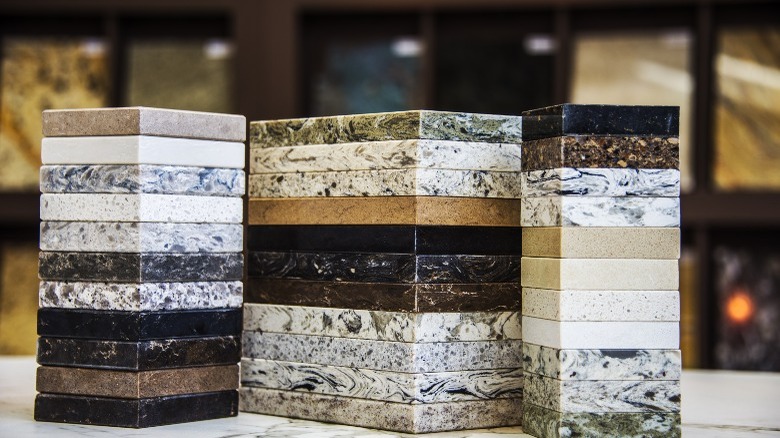 Multimediadean/Getty
This is an extensive list, but we'll try to cover the most common types of marble. According to USA Fabrication, Makrana marble is the least expensive option, although it's known for its quality. It's a milky white in color and averages $12 per square foot. Pink marble is next at $25 per square foot. It's beautiful in color but rare, and may need to be specially ordered. Carrara marble comes in white or blue-gray, and is the most popular choice, averaging $40 per square foot. 
Statuario marble averages $50 per square foot and has highlights of iridescent gold and gray veining. Cultured marble is an average of $65 per square foot, but is a synthetic substitute for natural stone. Travertine (black) marble runs about $75 per square foot, and comes from Spain. Danby marble averages $80 per square foot, and is a dense, light-colored marble. And Calcutta marble is the most expensive choice, running $180 per square foot.
Repair costs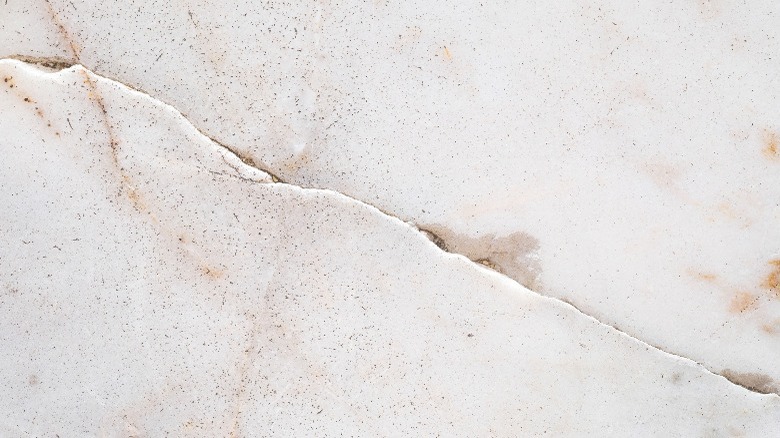 Kenkuza/Getty
Fixr estimates the average cost of repairing marble countertops at between $200 and $1,000. Marble countertops can chip or crack, and they are not stain-resistant. Cosmetic damage is pretty common, and it's likely that they'll eventually need to be resurfaced. For resurfacing, you can pay as much as $1,000, while a chip repair might run between $100 and $500 or more. Fixing just a scratch can even cost $300.
Labor costs from countertop repair businesses typically cost $50 to $100 an hour, plus the cost of materials and supplies. Additionally, you'll likely pay a minimum fee for the call as well, typically between $35 and $75. This fee can be waived, usually depending on the specific repair being done. Additionally, keep in mind the cost of restoring and resealing the countertop, which will be necessary at some point. According to HomeAdvisor, for marble, this can range between $4 and $20 per square foot, but doing this can add up to 15 years of life to your countertops.
Average return on investment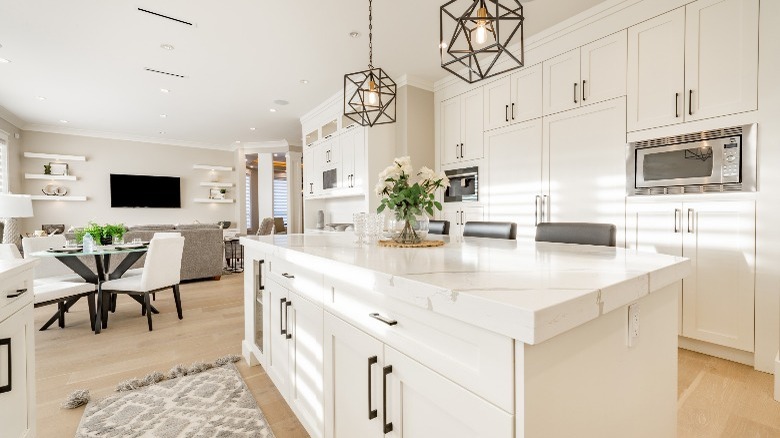 Sheila Say/Shutterstock
Most homeowners considering major purchases like marble countertops are interested in what the return will be on their investment. According to ZeroDown, durable and high-quality marble countertops average 60% to 80% ROI, which is an outstanding number. This is a great justification for spending the kind of money we've been talking about here! Obviously, this can be a significant investment, but remodeling projects like these are notably valuable to buyers. Marble countertops are definitely considered luxurious, and a terrific selling point when you decide to sell your house.
According to Keystone Granite, choosing marble countertops makes an excellent investment because of the impression it makes at a decent price compared to other stone choices. You can use less expensive marble since most people can't tell the difference, and it adds prestige to any kitchen. It's safe to say the cost of putting in marble countertops has an excellent return on investment for homeowners.