How To Create The Perfect Triple Bunk Bed Setup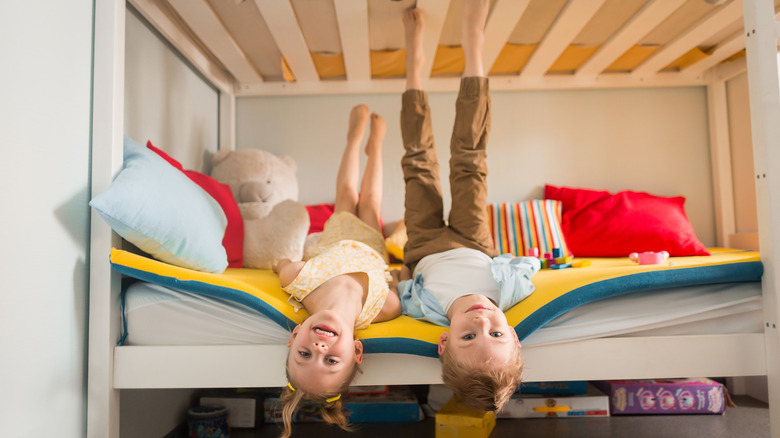 Evgeniya Yantseva/Shutterstock
There are a lot of benefits to siblings sharing a room. According to Moms, it can help create a bond between siblings as well as teach valuable lessons in terms of respect and sharing. Siblings can start sharing a room as early as babies, which can be helpful in setting up a sleep schedule. And as for those pre-sleep chats? Probably the cutest and most interesting thing that can be heard on a baby monitor.
One of the best ways to create space in a shared kids' room is to have bunk beds. Not only are they fun and affordable, but they come in all different styles and colors. In addition, the range of optional extras, like slides, stairs, storage, or bookshelves is limitless. While we often think of bunk beds being just for two, a triple bunk bed can also provide the same space-saving magic, while simultaneously increasing the available sleeping space.
Things to consider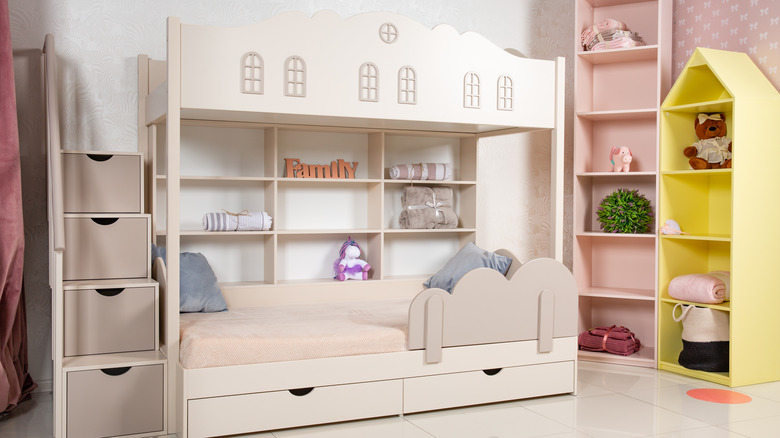 Sherbak_photo/Shutterstock
Triple bunk beds can be a little tricky to create, especially when taking into consideration height, space between beds, and safety. According to Foter Mag, as well as ensuring the model hasn't been recalled, you should thoroughly check the overall construction and support braces when shopping for a new bed. If it feels at all wobbly, it's probably not made of sturdy, hardwearing materials and can be dangerous for little ones who tend to jump and play on them.
Another thing to consider is the style. While a castle-themed bunk bed might be cute for a 5-year-old, they probably won't find it enjoyable as a young teenager, making bedtime more challenging. Additionally, consider a triple bunk bed design that can easily be taken apart and made into single beds. As your children get older, they may not want to sleep in the same room anymore, and you can reuse the existing beds rather than buying new ones.
Style and DIY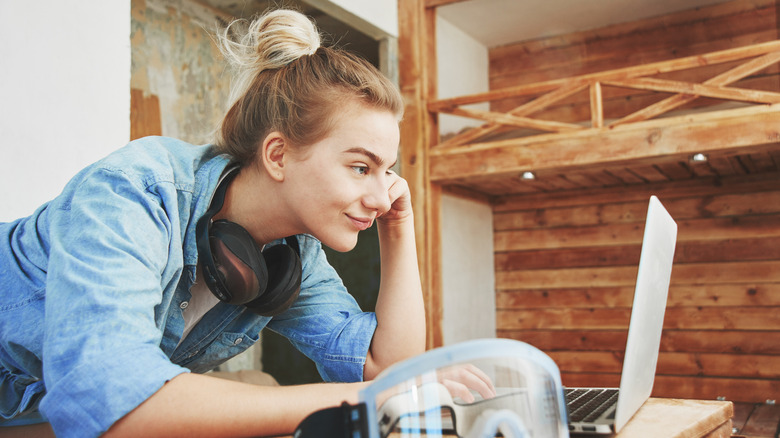 ivan_kislitsin/Shutterstock
While this part of the process can be overwhelming, it's a good idea to look at the room and decide what style of bunk beds would fit best. For inspiration Home Design Lover has some great ideas on bunk bed set-ups. A vertical triple bunk bed will leave the most space for playing, whereas a double bunk bed with a trundle and built-in stairs can provide additional storage and a place for books. Alternatively, an unused corner can be transformed into a triple loft sleeping area. Then there are options extras to consider, such as stairs or even a slide.
If you're into DIY or know someone who loves to build things, a triple bunk bed could be an awesome project. There are many videos online that take give step-by-step instructions for creating the perfect triple bunk bed design that can be customized for your family. We hope these tips help make the process of creating a sleeping space for your three little ones a bit easier.