The Number One Best Reviewed Product At Wayfair
New Africa/Shutterstock
Wayfair is an online furniture retailer known for its stylish yet affordable inventory. Since being founded in 2002, the company has grown to be one of the largest online home retailers in the world, and in the past year, it accumulated about $13.2 billion, serving nearly 26 million shoppers, per Wayfair. The furniture store became popular as it introduced a more expansive inventory for customers to choose from, outsmarting physical stores, whose inventory relies on how much space they have. Over the years, people have bought several items, leaving thousands of great reviews.
According to Newsweek, the number one best-reviewed product is not a furniture item. The KitchenAid Artisan Series 10-Speed 5-Quart Stand Mixer sold on their website for about $450 has nearly 70,000 views bringing its ratings to an astonishing 4.9 of 5.0 stars. Some of you may be scratching your heads wondering what is unique about a mixer, so we'll dive in and inspect the features enticing thousands of consumers.
One in every color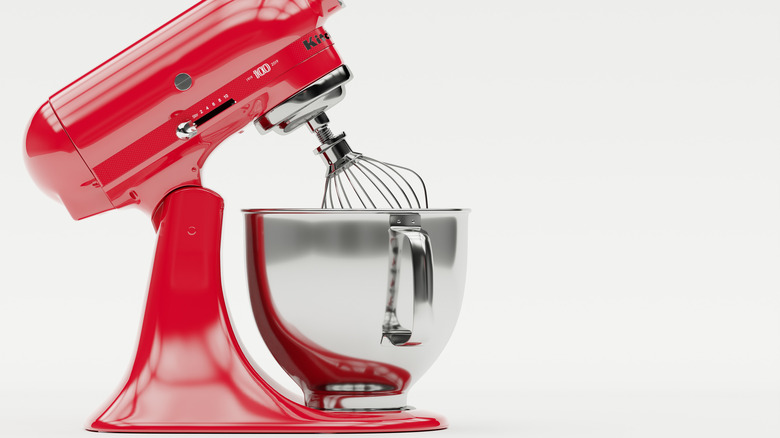 Anoottotle/Shutterstock
Consumers are raving about the KitchenAid Artisan mixer, according to Newsweek. Many reviewers state that Wayfair is where they found the best price and that the device works very well. People especially love it because it comes in 22 colors, but according to Wayfair, out of all the varieties, 10 are currently sold out on the website. The device has been designed to last longer and be sturdy for all your mixing needs. The KitchenAid Artisan mixer comes with a pouring shield, stainless steel bowl, dough hook, flat beater, whisk, and bowl cover.
The various colors are great as they can be the addition of subtle colors your kitchen may need. You can even use it as a design tool to complement other colors in the space. Though, make sure you have enough room for this item before purchasing. It weighs about 26 pounds and is approximately 3 inches high and 8.6 inches wide, and 14 inches deep.