Here's Where You Can Visit The Apartment Building From Rosemary's Baby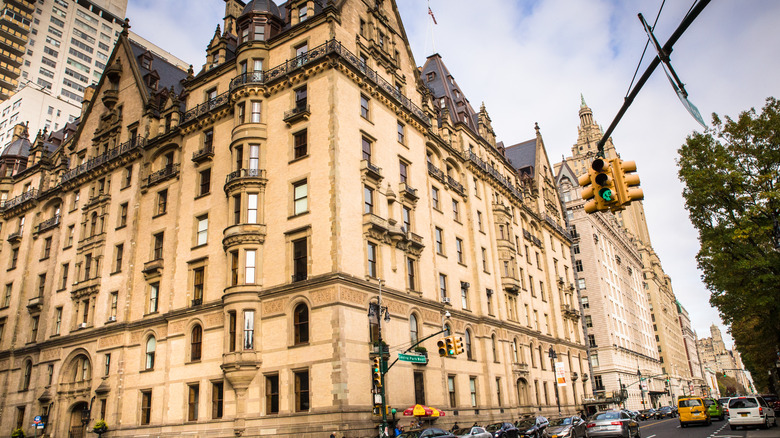 littlenySTOCK/Shutterstock
"Rosemary's Baby" is remembered for many things, including its spooky setting. The Dakota, one of the most recognizable buildings in a city filled with them, provided the backdrop for the horror classic. It is considered to be New York's first luxury apartment building, is the oldest surviving one, and it remains one of its most exclusive, according to Architectural Digest. The Dakota's somewhat grim exterior, turrets, gables, and arched entryways made it an inspired choice to stand in for the movie's creepy and macabre The Bramford. It is almost another character in the movie.
"Rosemary's Baby" and The Dakota have appropriately eerie histories. Rumors of curses abound for both. Vanity Fair reported on the troubles that befell many of those involved in the film. Ill-fated Sharon Tate, the wife of director Roman Polanski, was his original choice to star in it. She supposedly appears in a crowded party scene and, prior to her murder, is said to have become deeply immersed in the occult. The movie's composer died mysteriously in a fall, and its producer was beset by health problems.
The Dakota is allegedly haunted and is now forever linked with the assassination of John Lennon. His widow claims to have seen his ghost sitting at his iconic white piano, and a tearful blond specter also roams the halls, according to Business Insider. There is even a convoluted connection between The Beatles' White Album, Mia Farrow, Charles Manson, and the Beatles' song "Helter Skelter."
A building landmark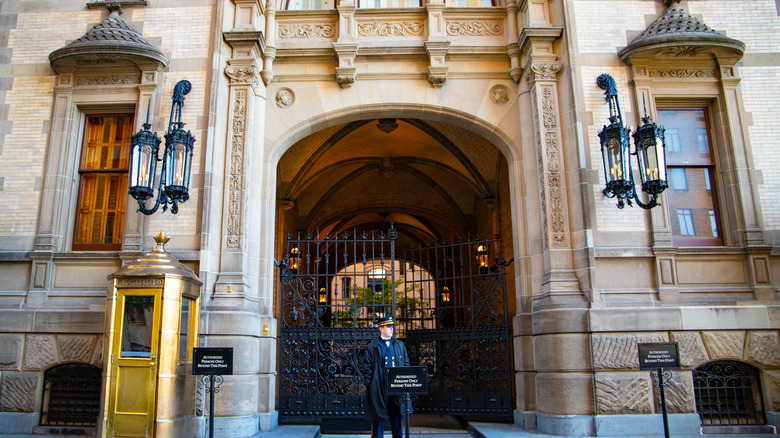 MarinaMonroe/Shutterstock
The Dakota boasts a prime address, 1 West 72nd Street, on New York's Upper West Side. It took four years to build and opened in 1884. Edward Clark, the founder of Singer Sewing Machine Company, owned and developed it. The name was probably derived from his interest in the new American states and territories or possibly inspired by the site's remote location at the time. The Dakota's chief architect was Henry Janeway Hardenbergh, designer of the Plaza Hotel. He incorporated the elements of Renaissance, Gothic and Victorian styles so prominent in "Rosemary's Baby," according to The Bowery Boys. It attained New York City Landmark status in 1969, joined the National Register of Historic Places in 1972, and was designated a National Historic Landmark in 1976.
The Dakota has 10 stories but is actually the equivalent of 15 stories due to its high ceilings. Its striking architecture extends to the interior, where there are oak ceilings, mahogany woodwork, marble fireplaces, and marble floors (owner Clark's were inlaid with sterling silver). Other unique features include an in-house power plant capable of heating a four-block radius, a gated entry, a fountain-adorned courtyard originally designed for horse-drawn carriages, and spaces between floors lined with Central Park mud for fireproofing. Today there are 93 units, with some having as many as 20 rooms. According to CNBC, one apartment boasts a $2 million chandelier, and a cellar storage room was once snatched up for $801,000.
John and Yoko and other celebrities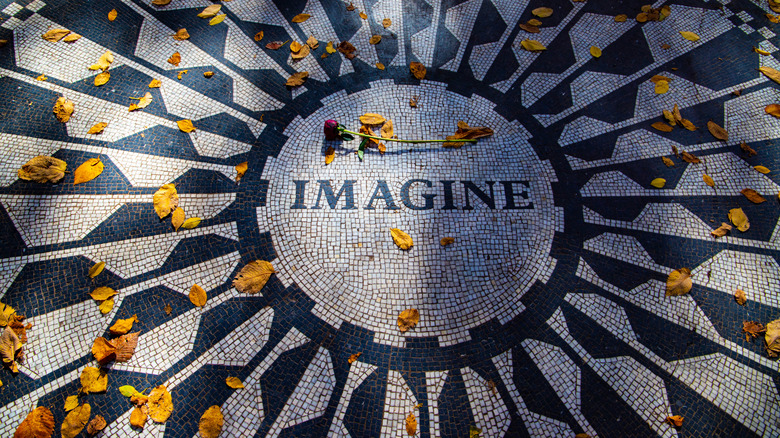 MarinaMonroe/Shutterstock
The Dakota's celebrity connection is part of its cachet, and it goes way back. Prior to its use in "Rosemary's Baby," it appeared in the 1949 film "House of Strangers." It has been featured several times since, most recently in TV's "Only Murders in the Building."
The Dakota has teamed with famous residents throughout the years, including Boris Karloff, Judy Garland, Paul Simon, and Joe Namath. Marilyn Monroe once did a photoshoot in Judy Holiday's apartment there. The composer Pyotr Ilyich Tchaikowsky was set to live there but died before the building's completion. The Dakota co-op board is renowned for being picky, unfortunately so for Madonna, Cher, and A-Rod, who were rejected.
John Lennon and Yoko Ono lived there from 1972 to 1980 in a 7th Floor apartment overlooking Central Park. When they moved in, they were told that $30,000 was buried under the floorboards. However, nobody has tried to remove it — doing so and replacing the expensive floor would cost more than the $30,000 (CNBC)!
Lennon was ambushed at The Dakota and fatally shot as he was trying to enter it. His death, and the subsequent crowds of mourners and gawkers, brought renewed focus to the building. The pair cherished The Dakota and the section of the park nearest to it, which has been christened Strawberry Fields. It features a mosaic in John and Yoko's favored space, with the single word: Imagine.