This Is What Happens When You Pour Grease Down The Sink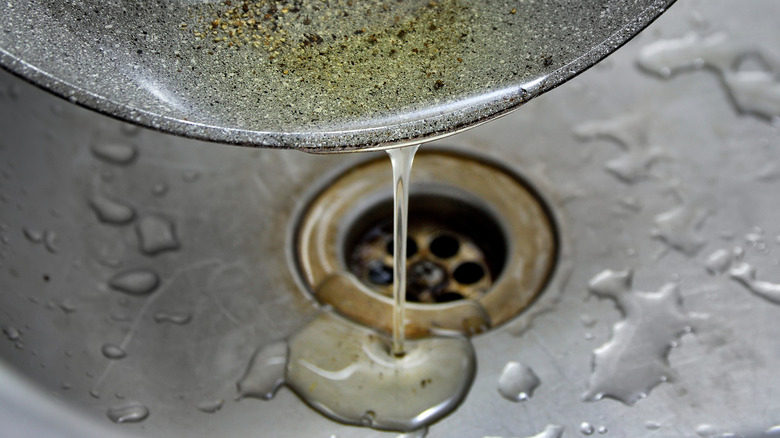 Coryn/Shutterstock
We've all been there. You're exhausted from cooking, there's a tiny bit of liquid grease left in your pan, and you desperately want to be done with the whole process so you can go and sit down. You know you're not supposed to, but you pour the grease down the drain. After all, it's just a little bit. Things can't really be that bad, right?
In the short term, maybe. A little bit of grease probably won't wreak major havoc on your plumbing system. Unfortunately, though, grease deposits build over time, even if you can't tell by looking at your kitchen sink, according to O'Connor Plumbing. One day, that tiny bit of grease could be the tipping point, causing major plumbing headaches. Even though you might be able to dispose of a small amount of grease once or twice in your sink, it really isn't worth the risk — especially since the bad habit might stick.
What happens once the grease is in your pipes?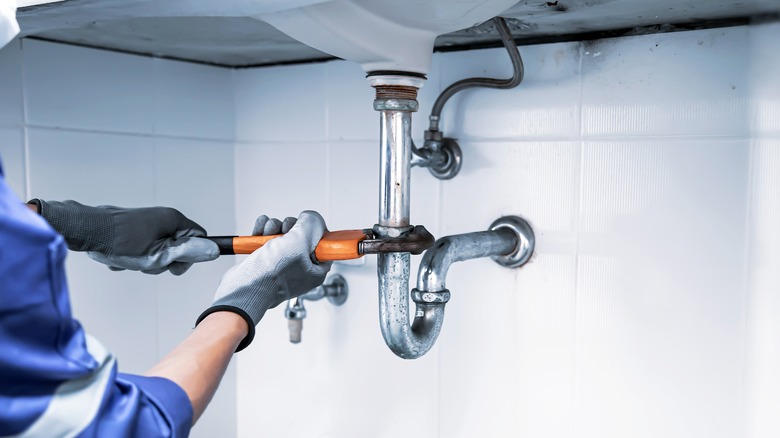 Eakrin Rasadonyindee/Shutterstock
Remember the last time you cooked something really fatty, left the pan to sit for a while (don't worry, we leave dishes for "later" too), and then came back to see the fat solidified? That same process happens inside your pipes — except it's much easier to clean a pan since you can reach the grease. Although you might not notice fat deposits as they begin to build up, you'll definitely see their impact when your pipes are blocked. It's not a fun discovery, especially since the problem is totally preventable.
If the grease is still warm enough, you might think that you're in the clear. After all, it needs to cool to solidify. Unfortunately, not only can the grease cool in your pipes, but if it does travels to the sewer, it can cause even bigger problems. Once it enters the sewage system, the grease can combine with chemicals to form large, gross "fatbergs," or massive fat deposits that can clog sewers, according to Business Insider. In fact, these buildups cause nearly half of all sewer overflows annually. To keep everything working smoothly — both your own pipes and your city's — it's essential to dispose of all grease in the trash.