30 Kitchen Ideas That Will Make You Think Pink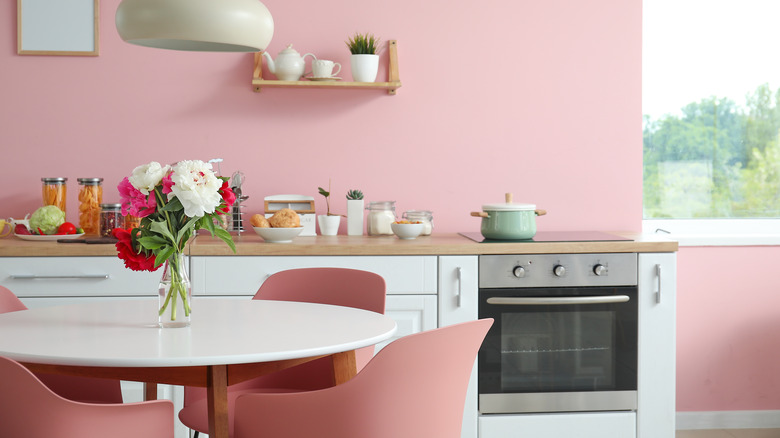 Pixel-Shot/Shutterstock
Your kitchen is one of the most important rooms in your home considering it's where you cook all of your meals and spend a lot of time, so it should reflect the way want your space to look and feel every time you enter it. When it comes to home décor and design, how much better can it get than a pink kitchen? The pink kitchen trend doesn't seem to be going out of style any time soon. It may not be for everyone, but it's a popular go-to, according to My Domaine. Pink can be neutral and simple or bold and beautiful. It's feminine, soft, and the best part is that it comes in a number of shades. You'll have so many tones to choose from you'll never have to feel like you're taking a major risk.
If you're a huge fan of all things pink, you've come to the right place. On the other hand, if you think a bright pink kitchen is too bold, not to worry. There are a number of options for incorporating different degrees of pink into your kitchen, and here you can find the best suggestions. Pink may just add the ultimate decorative touch to your kitchen that you didn't even know you needed. So sit back, relax, and have some fun with pink.
1. Pair up pink and green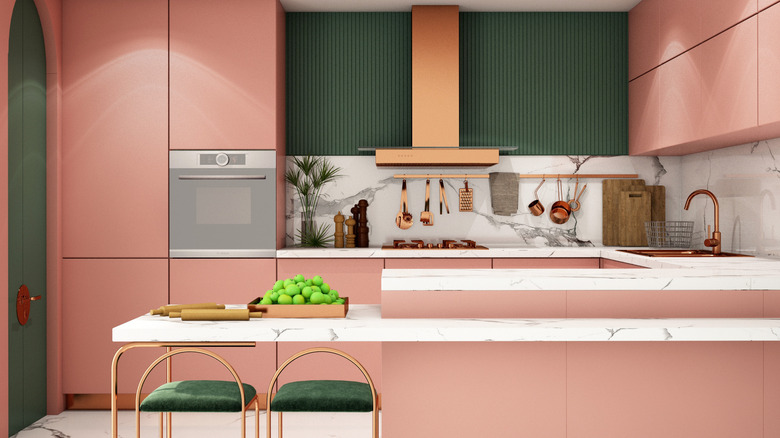 ume illus/iStock
There's something so appealing about the color combination of pink and green. You just can't go wrong by mixing a peach-pink island bar and matching kitchen cabinets with splashes of forest green on the bar stools, a wall, and even the kitchen door. Talk about a beautiful and bold statement.
2. Pink cabinets are adorable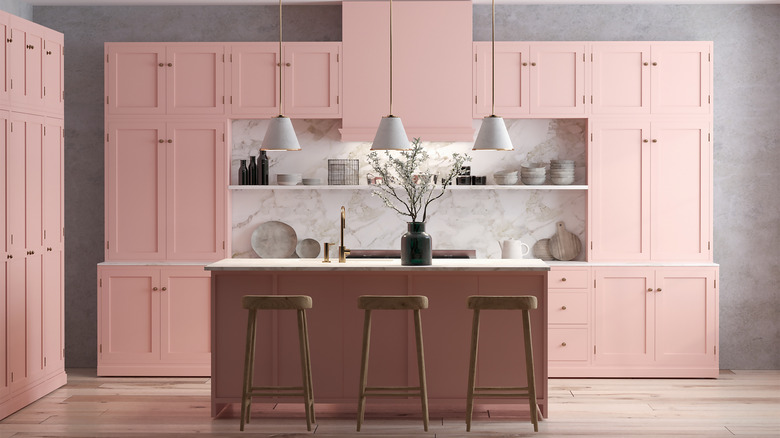 undefined undefined/iStock
Pink cabinets are a game-changer. They're cute yet simple and if you go with a lighter, more neutral tone, it'll definitely brighten up the space. This is especially true when paired with white accents like pendant lights above the island and countertops.
3. Add a pink tile backlash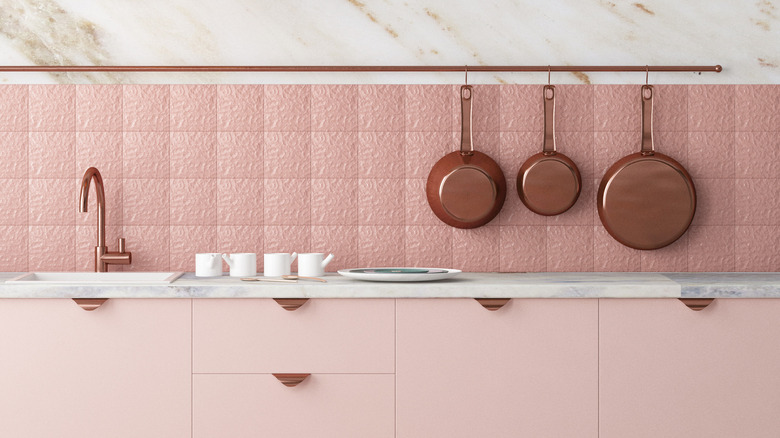 FilL239/iStock
Installing a new and improved pink tile backsplash can give your kitchen an instant makeover. Going with pink tile is subtle yet bold enough to make your kitchen pop. Try matching it with other pink accents, light and dark, to unify the tones throughout the room.
4. A pink island is everything and more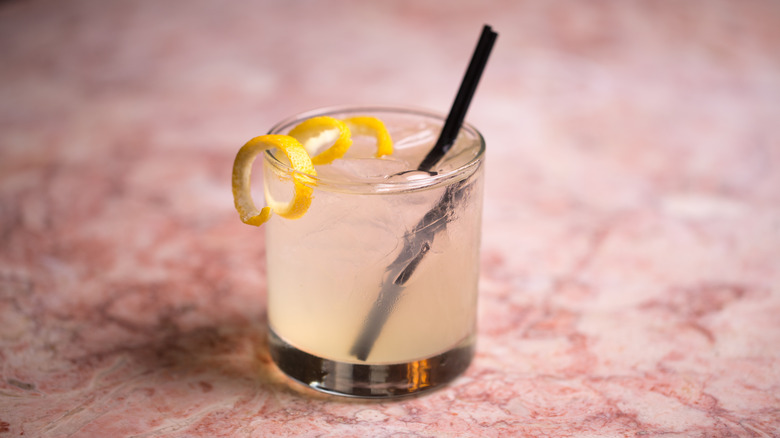 VDB Photos/Shutterstock
How many people can say they have a pink kitchen island? A pink marbled top slab is bougie and feminine, adding a cheeky touch to any kitchen. Choose a shade that will stand out against cabinets and flooring. Your guests will be drawn to your kitchen every time you host!
5. A pink fridge is one of a kind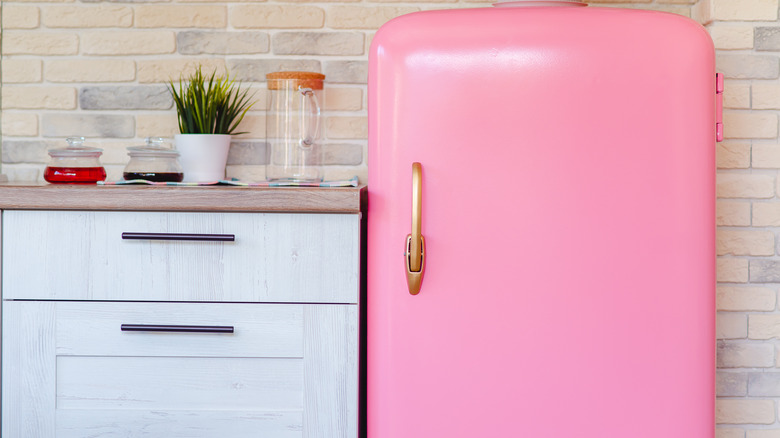 Karana/Shutterstock
A hot pink retro fridge seals the deal for the best home kitchen appliance. It'll spruce up your kitchen like nothing else. To make it really stand out, keep it as the only pink appliance in your kitchen. It'll bring a smile to your face every time you enter the kitchen.
6. Chic countertop appliances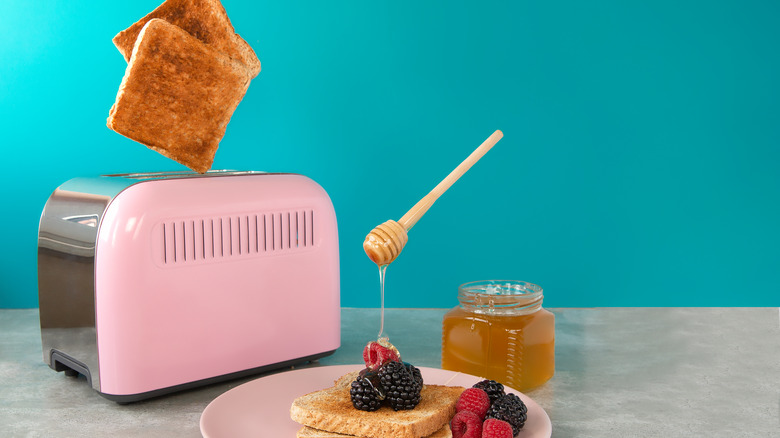 Elena Wein/Shutterstock
If you're looking to add small touches of pink, but you don't want to overdo it, go for pink countertop appliances. Subtle accent pieces like these will give your kitchen that pink vibe without going too far. They'll brighten up the room in a delicate, feminine way.
7. Paint your walls in different shades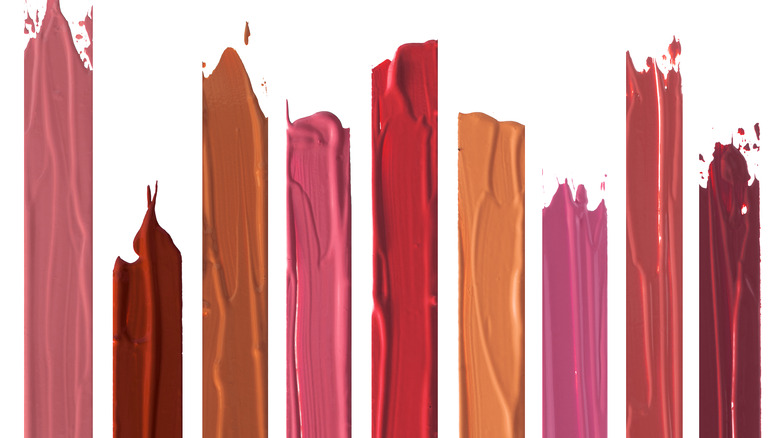 Beautyimage/Shutterstock
A pink kitchen will be one of a kind, especially when each wall is painted a slightly different shade. Use alternating tones from blush to rose to bubblegum. Consider white lighting and countertops again for accentuation. Then add items like a glass jar of pink hard candy for an aesthetically pleasing look.
8. Pink bar stools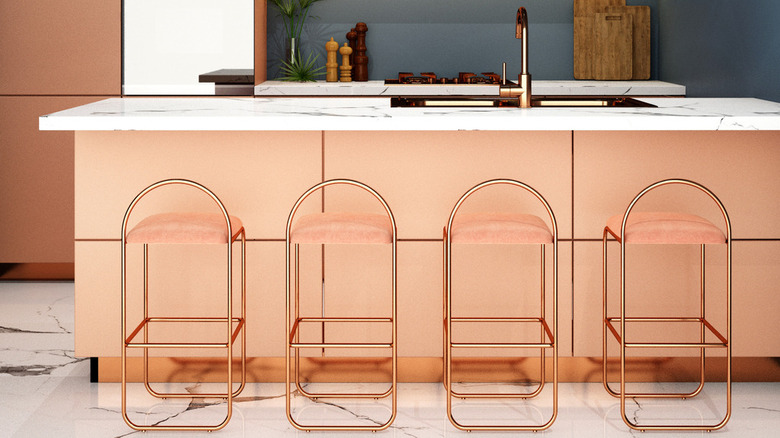 ume illus/iStock
Coordinate pastel peach-pink bar stools to complement your kitchen island. Don't be afraid of a little mixing and matching, because light and dark tones of the same color can go a long way when it comes to creating a gorgeous kitchen.
9. Surround your stove in pipnk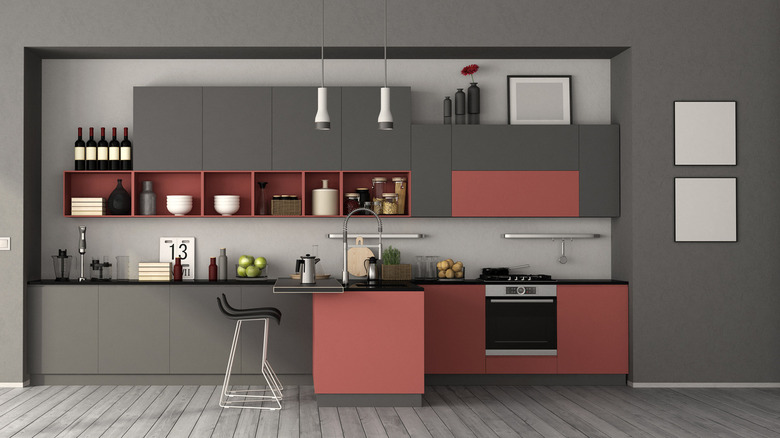 archideaphoto/iStock
A pink stove might be a wishlist item that is difficult to track down, but you can still make your current stove stand out by surrounding it with pink cabinetry. The lighter pink will contrast nicely with the dark grays and black of the appliance. Even small splashes of pink throughout the kitchen can make a bold statement.
10. Rose gold and black
Rose gold is one of the most popular shades of pink used today and when it's paired with black, you've found a beautiful color balance to set the mood of your kitchen. The rose pink cabinets work well with the solid black wall with a matte finish. The look is completed with gold drawer pulls.
11. Pink flooring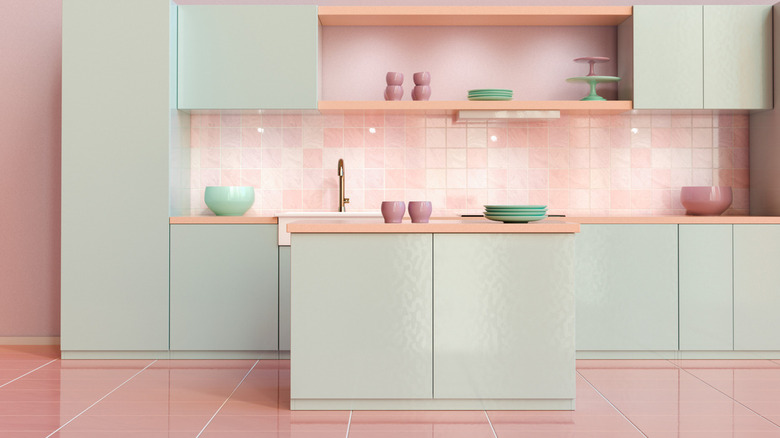 Redphotographer/iStock
Create a truly magical kitchen by incorporating large pink tiles to match other pink accents in the room. The shade you choose for the tile can be as subtle or loud as you'd like. Don't be afraid to play around with complementary colors, like the green shown above, as a way to break up the color palette.
12. Navy blue and pink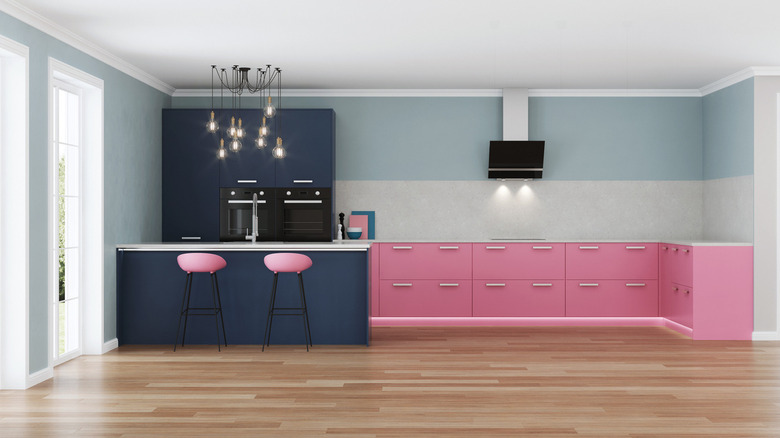 Artem Perevozchikov/iStock
Why commit to one color when you can play with two? Navy blue mixed with pink creates a sophisticated color combination. Navy blue on the island and wall cabinets give a sense of grounding to the room, while the magenta makes the bar stools and counter drawers pop. It's edgy yet clean and modern.
13. Pink dining chairs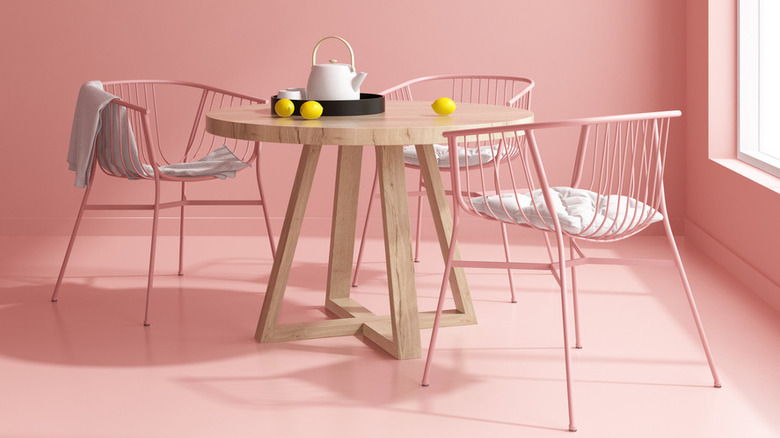 hemul75/iStock
Nothing brings out a room like aesthetically pleasing chairs chosen to match the walls and flooring. This modern kitchen proves that there is no such thing as too much pink if you keep décor and furniture minimal.
14. Mix and match textures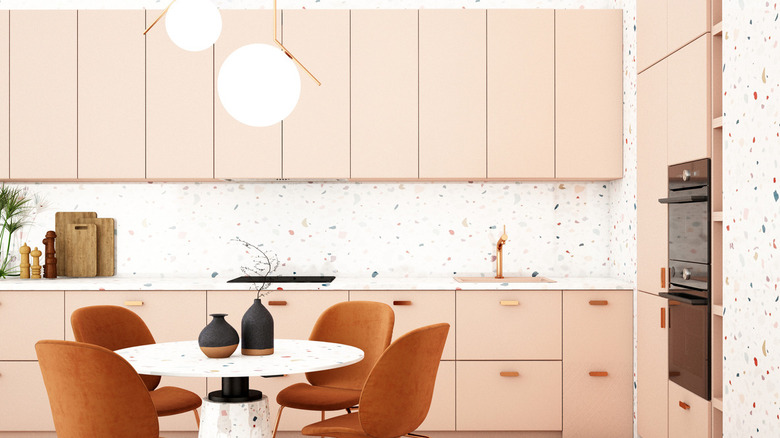 ume illus/iStock
Mixing and matching can be good for design, especially when you're using different textures like matte pink paint and polished metallic drawer pulls. The pastel cabinets allow the copper to shine and pop. The textured background also adds a modern playfulness to the room.
15. Bench seating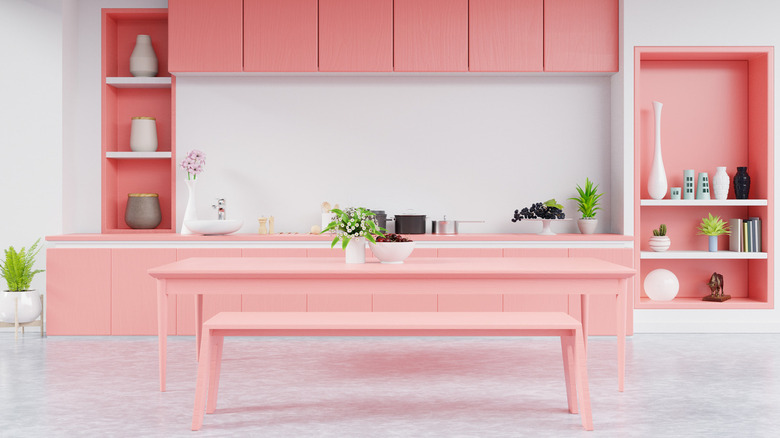 Vanit Janthra/iStock
Have an old picnic table you'd like to repurpose? Paint the bench bubble gum pink to bring a soothing energy to your kitchen. While you're at it, you can paint the table too. The Zen-like simplicity will give a relaxed, peaceful vibe to the space.
16. All pink everything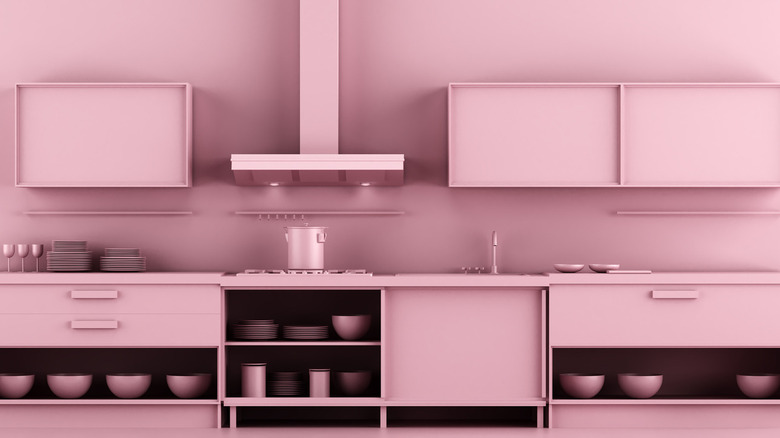 jp_3d/iStock
Celebrate the power of pink with an all-pink kitchen. It's bold, it shows you aren't afraid to go all in, and it brings a sleek modern aesthetic to the kitchen that most people aren't used to. Adding matching accessories like pots, cups, bowls, and plates will enhance the unified effect you're going for.
17. A pink couch can go a long way
KatarzynaBialasiewicz/iStock
If your kitchen and living room are interconnected, invest in a pink upholstered couch to keep your décor simple yet still chic. Consider buying pastel pink accessories like a kettle or mugs to match the couch. This is perfect for anyone who wants some pink but not too much.
18. Subtle pink walls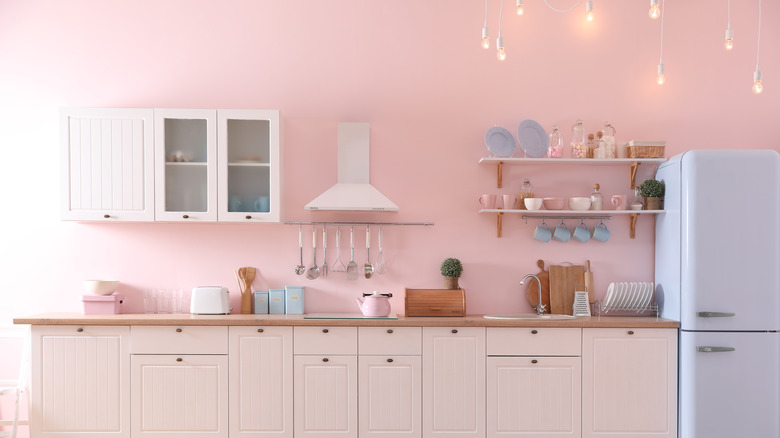 New Africa/Shutterstock
Pastel pink will lighten up any space, especially when it's the color of your kitchen wall. It's feminine, soft, and it adds a whimsical brightness to the room, when paired with white counters and cabinets. Mix and match the colors of your appliances and accessories using pastel blues and purples. The lighter the better.
19. White and pink is the way to go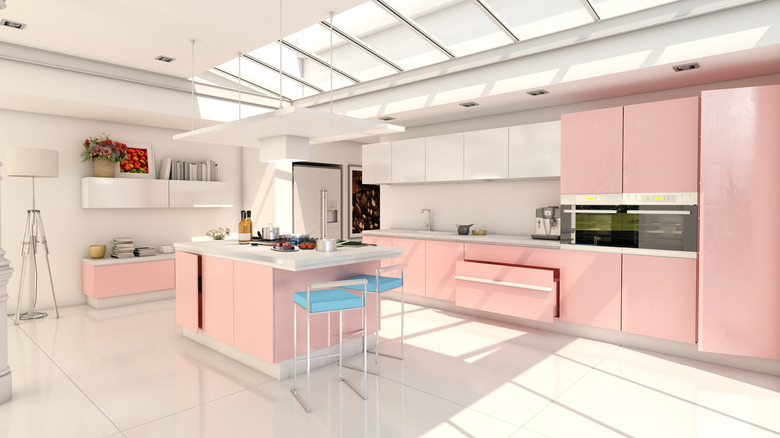 Franck-Boston/iStock
White and pink are a gorgeous color combination, especially in an airy, well-lit kitchen. Paint the base of your island and half of your kitchen cabinets a soft baby pink while leaving the rest white. Keep your walls and flooring white in order to amplify the natural light coming from the windows.
20. Wallpaper is wall power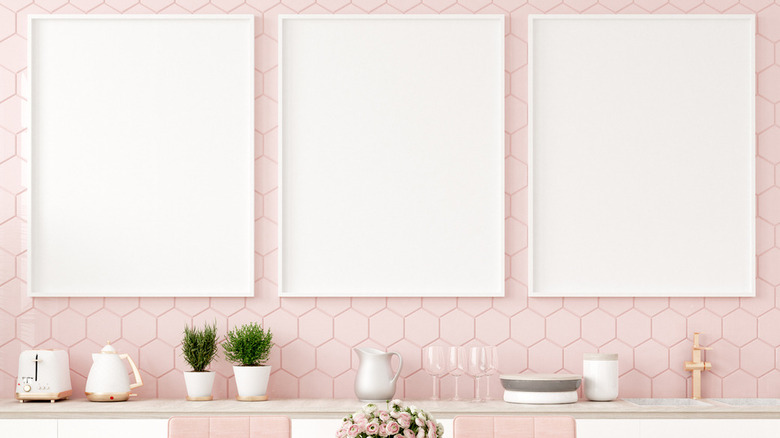 Artjafara/iStock
For kitchen wallpaper, incorporating shapes will draw attention to the wall. Try a temporary stick-on pastel pink hexagon patterned wallpaper for a powerful affect on the room. Then add accents like a vase of flowers that match the wallpaper. Have fun with it and switch up different shades of pink as often as you'd like.
21. Pink door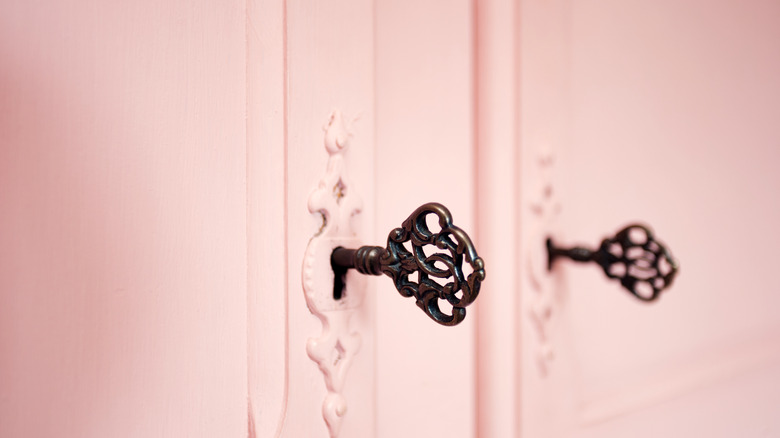 A-photographyy/Shutterstock
You may like the color pink, but you may not want it to completely take over your kitchen. Something as simple as a painted kitchen door can offer a delightfully subtle touch. If you'd like to bring more attention to the door, go for dark walls to build contrast.
22. Kitchen interior backdrop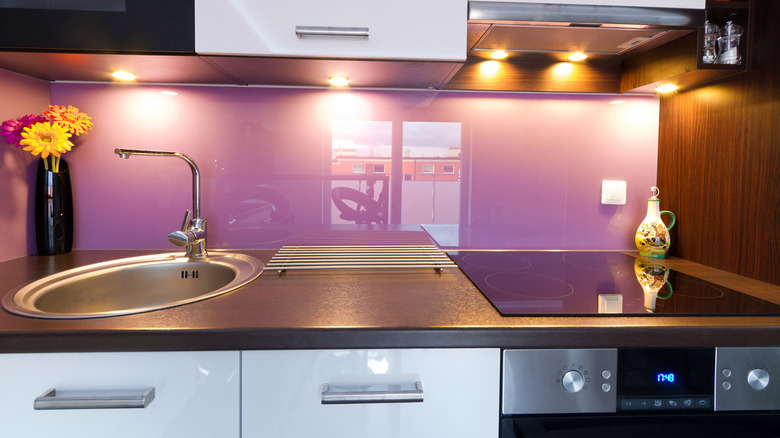 Patryk_Kosmider/iStock
If you're trying not to do too much, a simple magenta backdrop may be all your kitchen needs. This is perfect for anyone just looking to add a dash of pink to the overall décor.
23. Pink utensils are a must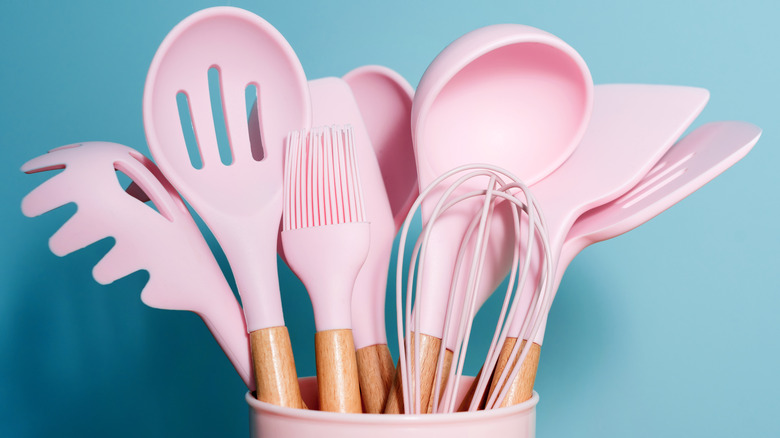 IMG Stock Studio/Shutterstock
Dare to be different. What's a pink kitchen without pink utensils to match? Whether you want to go all out with pink or simply add small touches, pink utensils are stylish additions that will complete the look of your kitchen.
24. Keep it neutral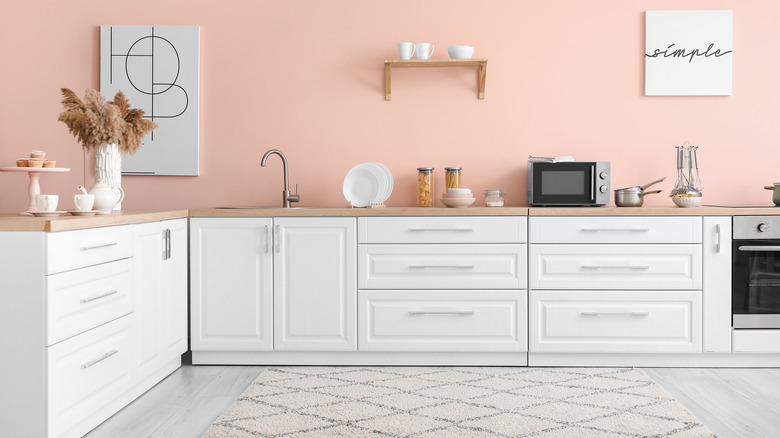 Pixel-Shot/Shutterstock
Pink kitchens don't always need to be over the top. Don't hesitate to keep things neutral with a basic look. Blond wood such as maple countertops pair nicely with pastel pink walls. The more neutral, the more soft and clean your kitchen will look.
25. Pink curtains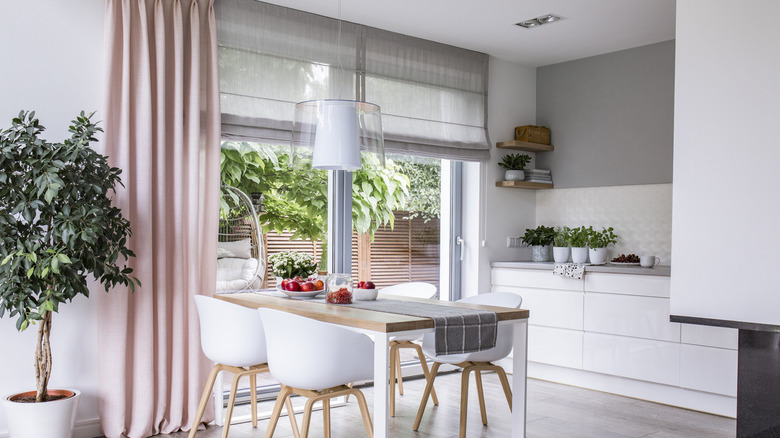 KatarzynaBialasiewicz/iStock
Keep your kitchen simple by adding a subtle touch of pink with curtains. Alongside white walls and furniture, the pink curtains bring a calm and comfortable vibe to the kitchen.
26. Add a floral pattern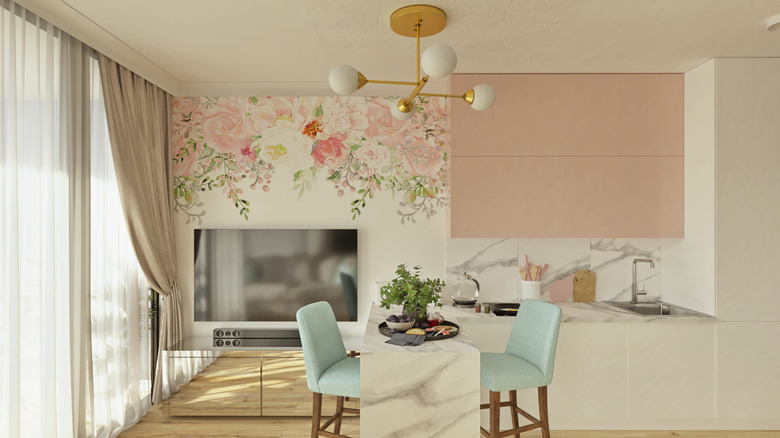 zelyanodzevo/iStock
A pink-infused floral design on the wall creates an elegant focal point that will catch your eye every time you walk into the kitchen.
27. Clean and cute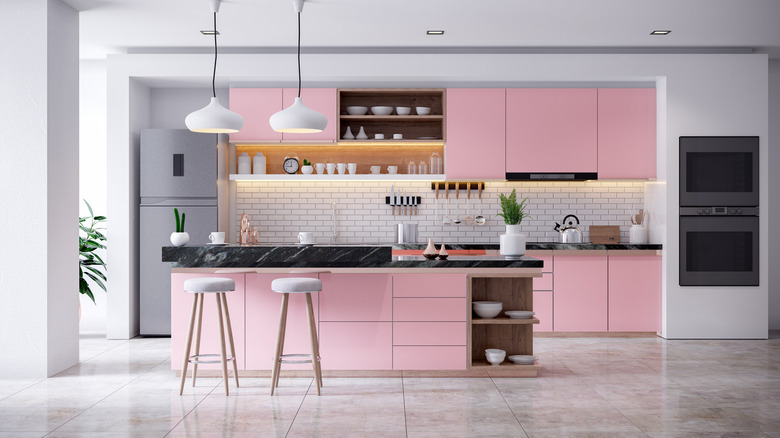 LEK_3DPHOTO/iStock
Keep it clean and cute by combining all pink cabinets with a white tile backsplash and white pendant lights. Then finish off the contemporary design with black marble or granite countertops.
28. Play with your backsplash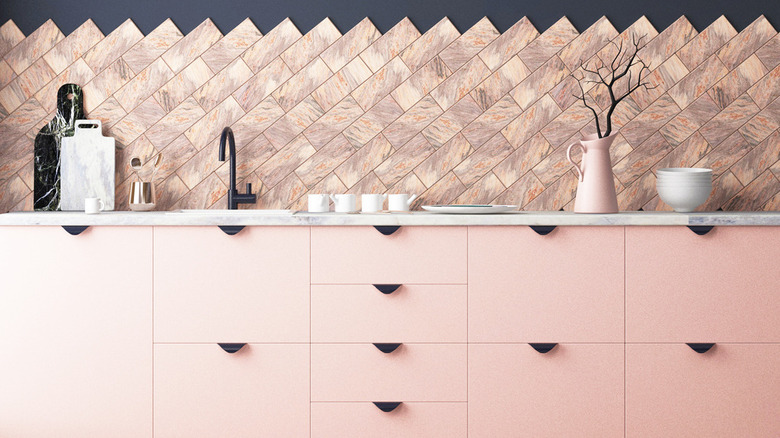 FilL239/iStock
Choose a textured backsplash with spurts of pink for an open kitchen. You can also play around with the angles to create a dramatic effect.
29. Aesthetics are your friend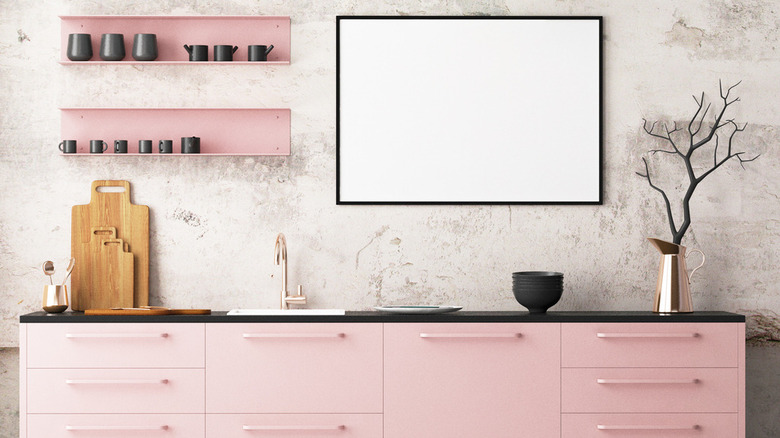 FilL239/iStock
Who wouldn't love an aesthetically pleasing kitchen with matching pink and black decorum? Play with the hues of the wall, take advantage of open shelving, and go for classy yet minimal décor.
30. Ballet pink is a favorite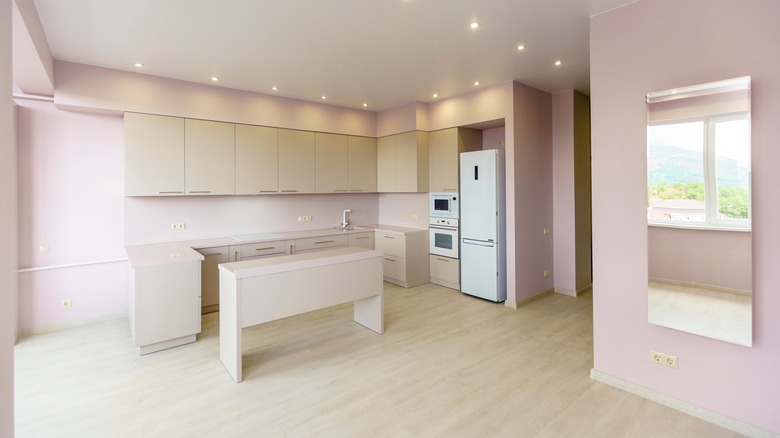 AleksNT/Shutterstock
Ballet pink mixed with creamy white creates a beautiful combination, especially within a minimalist concept. It can make a room feel clean and feminine.