This Unexpected Item Has The Best Reviews At IKEA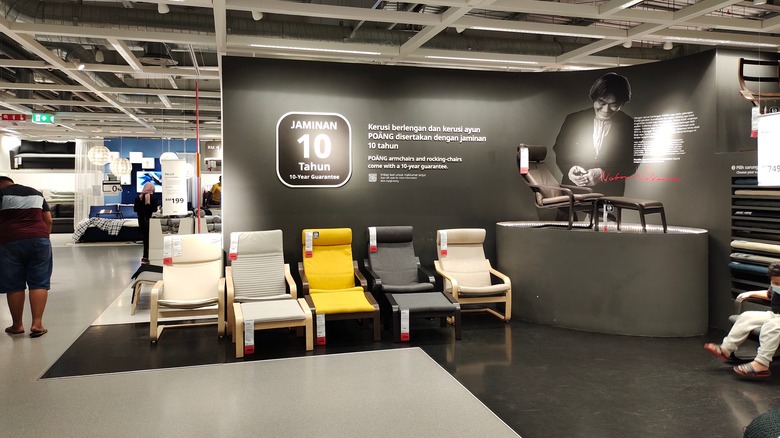 muhammad afzan bin awang/Shutterstock
IKEA is a Swedish-based furniture retail company; the large, maze-like store is found at locations all across the world. Its products are most loved for their low prices while still remaining good quality and aesthetically pleasing. The store was valued at a whopping $19 million in 2020, ranking the seventh most valuable retailer globally, according to Comfy Living.
The sheer number of products offered in the store can become quite overwhelming and tiring, with many people leaving completely exhausted. HuffPost even wrote an article poking fun at the different emotional stages of an IKEA trip.
This fatigue can be avoided by having a clear goal and idea of what you want before heading into the furniture labyrinth. One of the major challenges of IKEA shopping is knowing what furniture is the best. If you pull up the website while in the store, you can conveniently see reviews for all the products you're interested in. But what is the best of the best in terms of IKEA's offered catalog?
Kallax shelves
According to BestLife, one of the most highly rated items offered at IKEA is the Kallax line of cube shelves. The shelving unit is nearly 58 inches tall and a little over 30 inches wide when stood vertically, and prices start at only $80 (per IKEA). It has eight square cubes and comes in a variety of colors, including white, a walnut-finished light gray, high gloss white, high gloss gray, gray with a wood finish, and black-brown. The color and finish affect the price, ranging anywhere from $80 to $100.
BestLife says the reasons for its popularity include its sturdiness and clean, streamlined design. With a solid five-star rating, over 1,200 reviews, and more than 1,000 five-star reviews, this sentiment is clearly echoed by buyers. Positive reviewers say it's sturdy, an excellent value, and very versatile. Some reviewers say they've used it for a bookshelf, others as a TV stand, and others still for crafting storage areas and workstations.