Mash-Up Our Home Stars Share Tips For Negotiating On Home Decor
If you're currently living in or planning to move into a new place with your spouse, home decor is one of the most important decisions you can make together as a couple. When it comes to negotiating what works and what doesn't, HGTV's "Mash-Up Our Home" married reality stars Kele Dobrinski and Christina Valencia have all the best tips and tricks for making unified decoration decisions that will please both you and your significant other. The fifth episode of season one, called "New Old World," according to Realtor, aired on April 9, 2022, and this time the husband and wife dynamic duo are assisting couple Mario and Jenny in Sacramento, California.
Of course, they both have different aesthetics for the home decor vibe they're going for: Mario is mesmerized by dark and simple old-fashioned Italian-styled decor, while Jenny favors a more modern and contemporary look. If there's anyone that can combine their opposite home decor styles, it's Dobrinski and Valencia. It's okay if you and your partner want different things as long as you're able to compromise and meet somewhere in the middle. With $150,000 and 16 weeks to get the job done, according to Realtor, Dobrinski and Valencia combine the two differing styles together and make it work. If this couple can do it, you can too.
Your home is where your heart is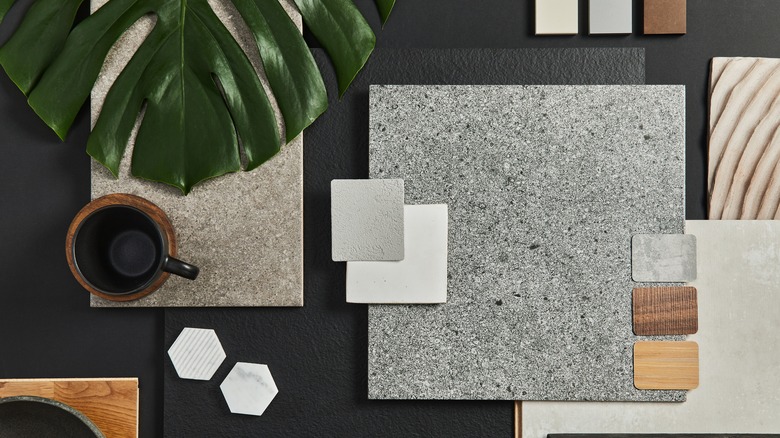 Followtheflow/Shutterstock
Mario pictures dark colors in the space like deep reds, purple, and black, while Jenny's learning more toward light colors like white and beige, according to Realtor. To figure out what works best, the married home decor experts focus on what preferences the California couple have in common. They decide to go with light blue and green to represent the ocean, classic white, and beachy colors to remind one of the beach and nature. 
With a spacious sunroom in the back of the house with a built-in bar, Dobrinski and Valencia decide to rip it out to make space for an office desk to go against the wall and complete the room with a daybed and bean bag furniture for the kids. They add a dry bar in the dining room to replace the original bar in the sunroom. To expand and connect the living room, dining room, and kitchen, they added bright, woody pillars to support the ceiling as well as match the floor and ceiling beams. They install an old vintage chandelier in the dining room for Mario and replace the glass on the lights with exposed bulbs to fit Jenny's modern style. 
Combining styles offers a great way to compromise while making the home a happy place for both!